Posted at 11:00 - 24th June - Tony White
The Casio CT-S1 is a little lightweight keyboard that is perfect for beginners, however the sound quality is so good that it also makes an ideal portable instrument for more experienced players. It really does have a great sound for such a small keyboard and is comparable to some of the more semi-professional instruments on the market.
Despite its size, this cracking little keyboard comes with an array of options and built-in 'extras'.
In terms of power supply, it comes with a mains adapter and can also be battery operated, making it a fully-portable instrument.
In addition, you can also purchase a sustainer pedal to give you the full piano playing experience. Options here include either the small, square plastic pedal which is a little like an errant toy left on the floor and is very easy to kick around. Perhaps a better option would be a more robust metal pedal, as it is the same type you'd get on an acoustic piano, which provides a more complete playing experience.
If wireless tech is your thing, there is also a Bluetooth adapter available. This is a tiny bit of kit that plugs straight into the back of the keyboard and provides complete wireless connectivity that is both Bluetooth Midi and Bluetooth Audio.
With Bluetooth Midi, this enables the keyboard to communicate with a range of apps on the market, including Casio's own Cordana Play app.
Bluetooth Audio allows you to use the CT-S1 speakers to stream music from any compatible music device (such as iPad or iPhone), which essentially means you've got a quality portable piano and bluetooth speakers all rolled into one brilliant little package.
---
Casio hasn't scrimped on the look or feel of this keyboard either.
This is an instrument made for pianists and is equipped with a 5 octave keyboard (61 keys). These keys are velocity sensitive, which means that the sound responds both in volume and tone for expressive playing, enabling the player to vary the sound produced depending on the music style. They are also box-fronted, giving the appearance of solid piano keys as opposed to the skinny keys found on many entry-level keyboards.
Further enhancing the look is a strip of red velvet behind the keys, a nice nod to the styling of a more traditional acoustic piano. If, however, you don't want to be entirely traditional and wish to have something with a bit more flair than the classic black, the Casio CT-S1 doesn't disappoint as it is also available in white and red.
---
The CT-S1 offers ten different choices when it comes to acoustic piano voices, providing a range of styles of music.
It has a very simple and intuitive design, uncomplicated by too many functions and gadgets, allowing the user to simply switch it on and start playing. This makes it ideal as a starter piano, especially for younger players as there aren't too many distractions to divert their attention from the principle of learning to play the piano!
That said, there are some great hidden features, one of which is the octave shift, which allows you to drop a whole octave up or down, thus providing the full 8-octave (88 keys) sound of a grand piano.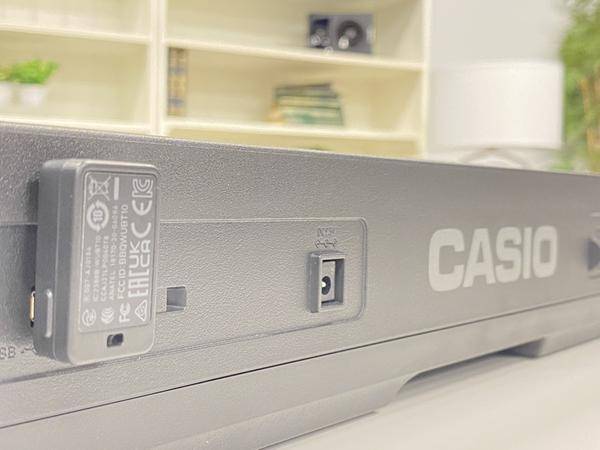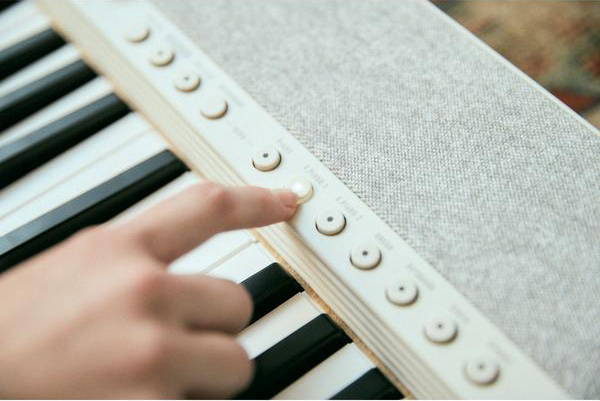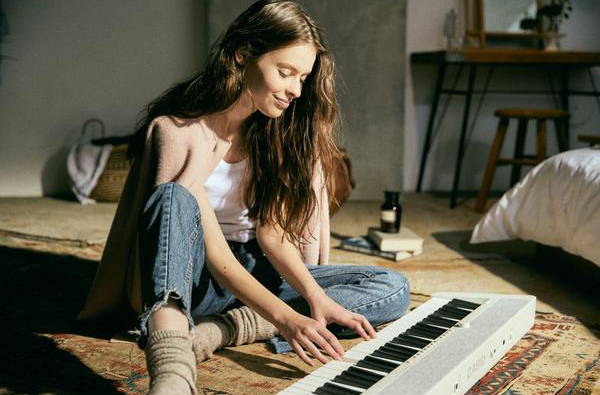 ---
For such a simple keyboard, the CT-S1 really does have a fantastic range of sounds, with a total of 61 individual voices, with the most popular ones being accessible via the Category panel.
These voices produce a lovely variety of sounds including strings, electric piano, organs and synthesisers. If you're feeling somewhat nostalgic, Casio have also included a bank of sounds from their very first portable keyboard, the VLTone (from the 80's).
Another very useful function is the 'split-keyboard' voice which essentially splits the keyboard so you have a different sound on your left hand than on your right. This works especially well alongside the built-in record feature which is great for practicing. For example, you can play a piece with your left hand, record it, play it back and practice with your right hand over the top of it.
And finally, where would any pianist be without a metronome? Fear not, the CT-S1 includes a built-in one which you can start and stop at the touch of a button. It even allows you to change the speed and tempo which is great for practicing.
---
The Casio CT-S1 is an excellent little keyboard. It is ideal for beginners who are learning to play the piano, especially if you want something small for a child's bedroom.
However, it is also really good for experienced players due to the quality of the sound and it feels and plays very nicely. It is a great accompaniment if you're on the road a lot and just need a little practice instrument to take into hotels, and even has a headphone jack so you can play to your heart's content without risk of upsetting your neighbours.
---
---
See the Casio CT-S1 in action