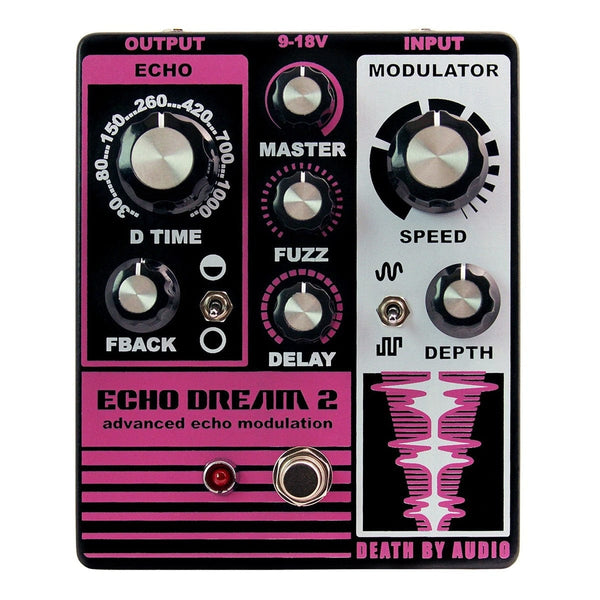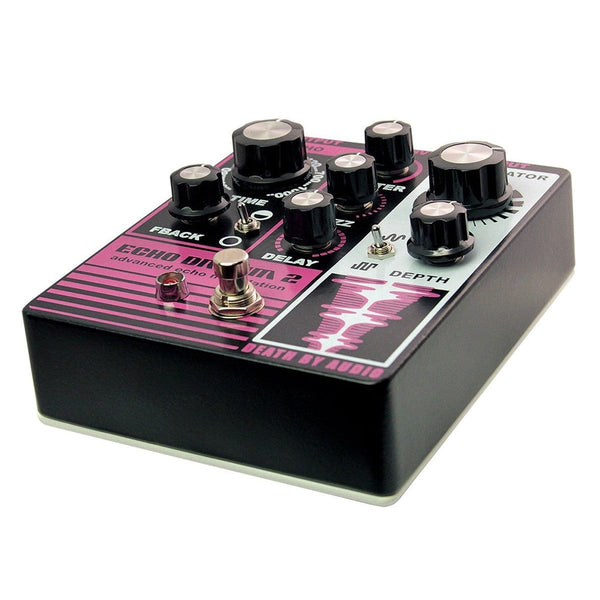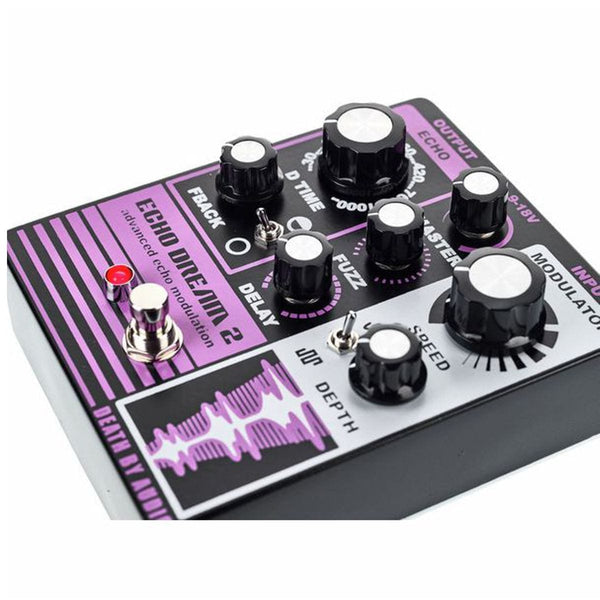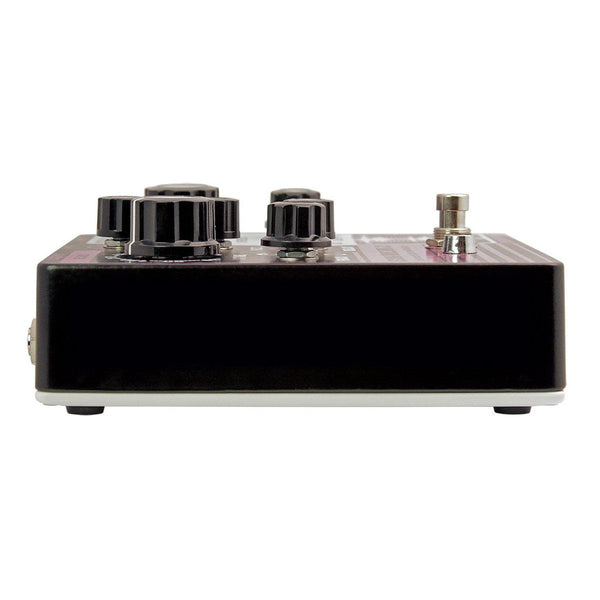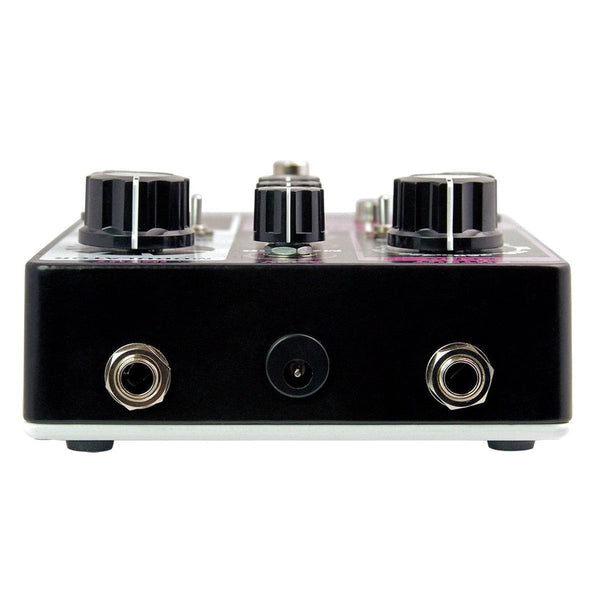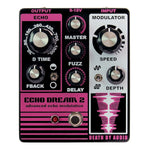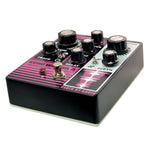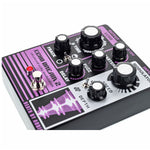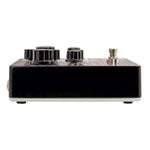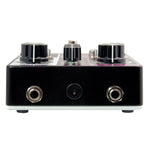 Death By Audio Echo Dream II Modulated Delay Echo Effects Pedal
Product Code: PF2678
Description
Delivery & Lead Times
Spread The Cost With Finance
Description
Death By Audio Echo Dream II Modulated Delay Echo Effects Pedal
You Can Sleep When You're Dead
Delays come in many shapes and forms. There are vintage sounding pedals which attempt to rekindle the past. There are modern digital ones designed to provide shimmering clarity and ease of use. Then there are horrific, lumbering monstrosities designed to shake the very fabric of your perceived existence and send it shattering into pieces all around you as you stare, mouth agape, frozen in horrific wonder at what stands before you. This pedal is from that last category.
Echoooooo!
As the name might suggest, at the core of this pedal is a delay effect. As with most Death By Audio pedals, it is rarely that simple, but nevertheless, the delay portion is the point from which everything spawns. The delay effect is produced by a lovely analogue circuit which produces beautiful, ethereal style delay. Everything from slight, subtle slapback, all the way to long, swooping, all-encompassing trails that disappear into the ether. 
The big knob on the top left controls delay time. This ranges from a widdly 20 milliseconds to a sizable 1.2 seconds. When venturing into the longer delay times, don't be surprised to be confronted by some flutter, noise, and even distortion. The pedal makers designed the Echo Dream 2 to venture past the point of comfort deep into the unknown pushing the components past where they expect to be resulting in some unexpected, chaotic results. As should be made clear, when talking about Death By Audio pedals, traditional boundaries are something to be scoffed at.
To accompany the delay time knob in the top left are the feedback and delay volume controls. The feedback knob is the control which dictates how out of control things are getting. With the knob turned counter-clockwise, you'll be in slapback territory with just a few repeats of each delayed note. Turning the knob clockwise moves you further and further into madness. The notes will start to last longer and longer moving from a deep swimming sea into realms of the Ouroboros and self-oscillation. The delay volume controls how prevalent the delay signal is in the mix.
The final facet to the delay controls is the toggle switch next to the feedback control. This toggle allows you to kill your dry tone completely. In the up position the pedal works as standard with our dry tone present in the mix. Your lucid dreaming. When the switch is flicked downward you relinquish control and the dry signal is removed completely. Here you only have the wet signal from the pedal. Just the repeats, no source.
Wobbly, Wobbly Goodness
Facet two to this many headed Hydra is the modulation function. Here's where things really start to come off the rails in the best of ways. The modulation works by moving the delay time to create everything from a light chorus style effect to a huge, warping, slippery motion that sways and warbles and groans. Winding up the modulation control creates a really, truly unique soundscape that shifts and lumbers from side to side like a drunken Goliath.
The modulation can be controlled by the speed, depth, and wave controls. The speed knob dictates how quickly the modulation is swept to and fro. The depth knob controls how far into the depths the modulation plunges with each swing. Finally, the wave switch allows you to choose between a sine or square wave movement. The sine mode sways in a smooth drunken fashion whilst the square moves far more abruptly and sharply. This feature to the pedal is great, taking the concept of modulation within a delay to entirely new levels.
Making it Snarl
As if everything previously mentioned wasn't enough, the Echo Dream 2 also has an inbuilt fuzz section. This is controlled by one solitary knob which simply adds in a hefty, gritty, snarling fuzz effect. As mentioned, the modulation control and the time controls ability to hyper extend already pushes the pedal past the limits of reality. The fuzz is the knockout punch. Adding in a decent pinch of fuzz into an already creaking, swaying, unstable sound is the final straw allowing your tone and playing to fully succumb to the dream. It will really kick your sound in the stomach causing it to collapse in on itself with a dying shout. It's such a clever addition which is the cherry on top of an already incredibly decadent (if not slightly horrifying) cake.
Take a Ride on the Sleepwalking Colossus
The Echo Dream 2 isn't your average delay pedal. Heck, it isn't your average pedal. It's a self-devouring chaotic fever dream into the depths of your imagination if you want it to be. It can be fully tamed to function as a truly lovely warm and pretty simple delay with some light modulation, but where's the fun in that. This is a pedal meant to be pushed to the max. Slam your foot on the accelerator as hard as you can and don't blink.
Who are Death By Audio Effects?
Death By Audio handmake all of their pedals in an underground lair beneath the busy streets of Queens, New York. All of their effects are designed with the utmost attention to detail and care with the best available components to ensure sturdiness and sonic supremacy. They aren't your traditional pedal company though. Each box is designed to push the boundaries and challenge your traditional view on what a pedal of that type might deliver. Though they can do the job it says on the tin, when pushed, they are designed to realm deep into uncharted territory. This is a company designed to turn heads. A company for the adventurous and the experimental.
Why Bonners?
Here at Bonners Music you have the opportunity to try one of these great Death By Audio effects pedals yourself. Just give us a call on 01323 636141 or better still, visit our showroom! If you can't see the Death By Audio pedal listed that you are after just call 01323 636141 for availability and the best price.
Model: Death By Audio Echo Dream II
Master Control: Sets the overall volume.
Fuzz Control: Sets the amount of gain, from clean to fuzzed-out bliss.
Delay Control: Sets the volume of the delayed signal.
D Time Control: Controls the delay time (numbers shown in milliseconds) between 20 ms and 1.2 seconds. Long delay times can create flutter, noise, and distortion.
FBack Control: Controls the feedback of the delays, from slapback to wild runaway oscillation.
Left Toggle: Up for clean blend, down to kill the dry signal and hear only the repeats.
Speed Control: Controls how fast the modulator runs.
Depth Control: Sets how far the modulator will swing the delay time. At high intervals, the pitch of the repeats will shift several semitones!
Right Toggle: Up for a smoother modulator waveform, down for a sharp, square-shaped wave.
Dimensions: 5.87" x 4.72" x 2.35" (including hardware).
Weight: 21 oz.
Power: 9V (runs on standard 2.1mm negative center 9V adapter or included 9V battery).
Current Draw: 40 mA.
Delivery & Lead Times
Delivery ETA's 
For accurate delivery information, please contact our sales team on sales@bonnersmusic.co.uk or call 01323 639335. As a guide, despatch times are detailed below.
Additional charges will be made for delivery of heavy items to some areas. Charges may also apply to upgrades including (but not limited to) timed deliveries, piano assembly, delivery of large items, and when matching deals from other retailers. If you are unsure about our delivery charges, please contact us.
In Stock Products
Products that are shown as in stock will be sent using our standard delivery service within 2 working days from when payment is received. This excludes piano deliveries with full installation - see below.
Pre-Order Products
Products which are shown as pre-order are not in stock, but can be ordered and reserved for you from the next available shipment. Order today to reserve your place in the queue! Call or email us for the latest lead times on pre-order products.
Digital Piano Deliveries:
We have many flexible delivery options for most delivery pianos, based on your location and whether you require it flat-packed, or fully assembled in your home. Digital piano delivery options are shown at checkout. 
Piano Deliveries
If you purchase a piano which is supplied with full installation, we will contact you once your order is received to arrange a convenient delivery date & time. Delivery & installation is usually within 14 days, but often sooner. Call us for current lead times on pianos.
Digital Piano Deliveries For Self-Assembly
Click here to see our specific information relating to piano deliveries.
If you choose our courier delivery/flat pack delivery method, please be aware that with larger items such as digital pianos, the courier is not contracted to carry them up any steps or stairs. If there are stairs leading to the front door of the delivery address, or you live in an apartment which is not on pavement level, it is your responsibility to arrange transportation from the pavement level to the delivery address. In this instance, the delivery driver may, at their own discretion assist you in carrying the parcels to the delivery address, but they are not contracted nor obliged to do so.
Do you need delivery upstairs, or delivery at a specific time?
For some larger items which need to be delivered upstairs - including pianos, we offer a timed delivery service using our own van and drivers. This service is free on some items and chargeable on others. Call us on 01323 639335 to discuss your specific delivery requirements.
No-one at home?
Our courier will try and deliver your parcel(s) twice. After the second failed attempt, your goods will be returned to our warehouse. If you would like us to try and deliver them again, we will charge the delivery charges associated with your order again.
Delivery Surcharges For Larger Items
For some larger items, delivery surcharges may apply to the following areas: Scotland, Wales, Channel Islands, Isle Of Wight, Cornwall, Ireland, North Of England above Leeds. Call us on 01323 639335 to check before ordering.
Spread The Cost With Finance
If you're set on buying your new instrument, there's no need to get weighed down by the total cost of it straight away. If you break it down into monthly payments over time, it's much more manageable than you might think. And our fixed interest rates mean you'll know exactly what you're paying from the start.
How it works
The finance options available are displayed on our individual product pages - just click the button under the price to see the available options for each product. Finance is available for most new and used instruments over £400.

Pay a fixed deposit, and the rest is split into monthly payments. At the end of your contract when you've made your final payment, the instrument or equipment is all yours. You could own that dream guitar, piano or keyboard sooner than you thought!

Which Finance Options Are Available?
Most products on our website show the available finance options. Some are interest free, and some are interest bearing. The options shown on the site are an example of what is available - if you would like to pay over a different period, give us a call on 01323 639335 and we'll try and arrange a finance option that suits your budget.

How To Apply For Finance
To apply for finance, please add the product to your cart, proceed through checkout and select 'Apply For Finance' as your payment option where you can complete the application form online.

The Lender
Bonners Ltd acts as a credit broker and only offers credit products from Secure Trust Bank PLC trading as V12 Retail Finance. Bonners Ltd is authorised and regulated by the Financial Conduct Authority. Our registration number is 718966. Bonners Ltd is registered in England and Wales 1994113. Registered office 34 North St, Hailsham, East Sussex BN27 1DW.

Secure Trust Bank is registered in England and Wales 541132. Registered office: One Arleston Way, Solihull, B90 4LH. Authorised by the Prudential Regulation Authority and regulated by the Financial Conduct Authority and the Prudential Regulation Authority. Registration number: 204550.
Not all products offered by Secure Trust Bank T/A V12 Retail Finance are regulated by the FCA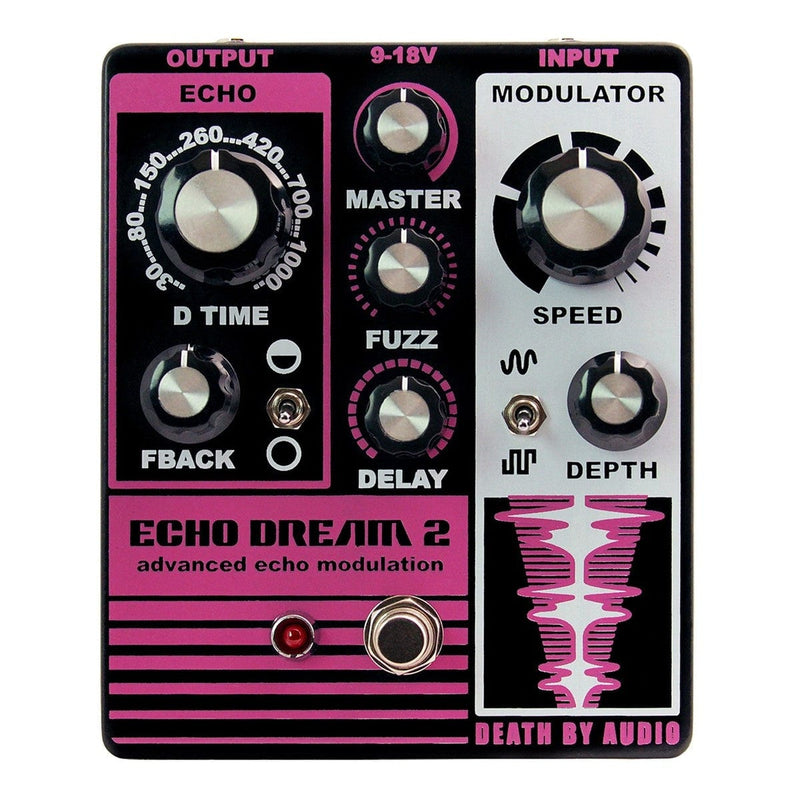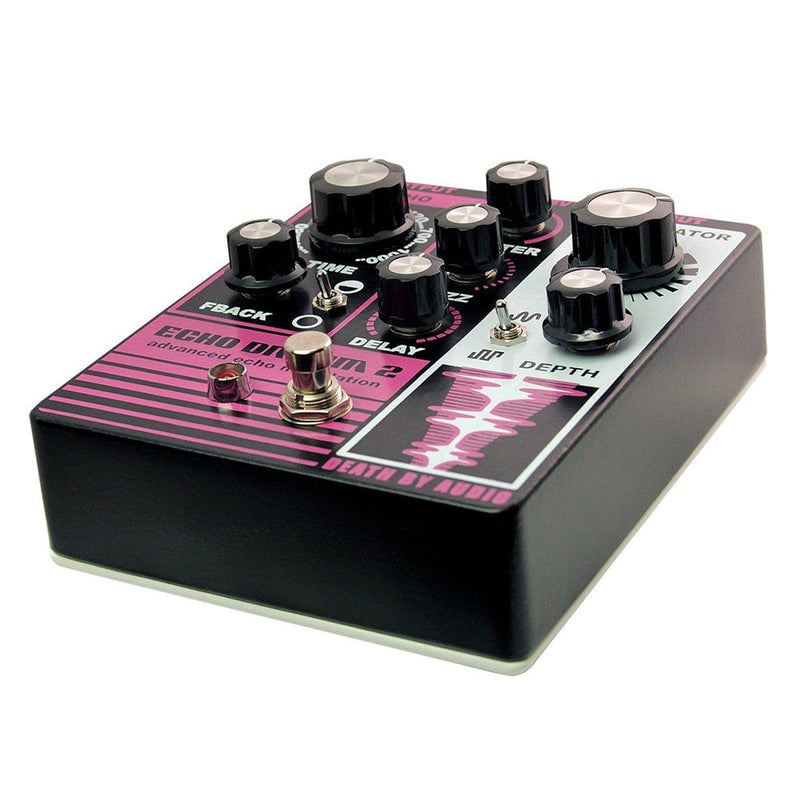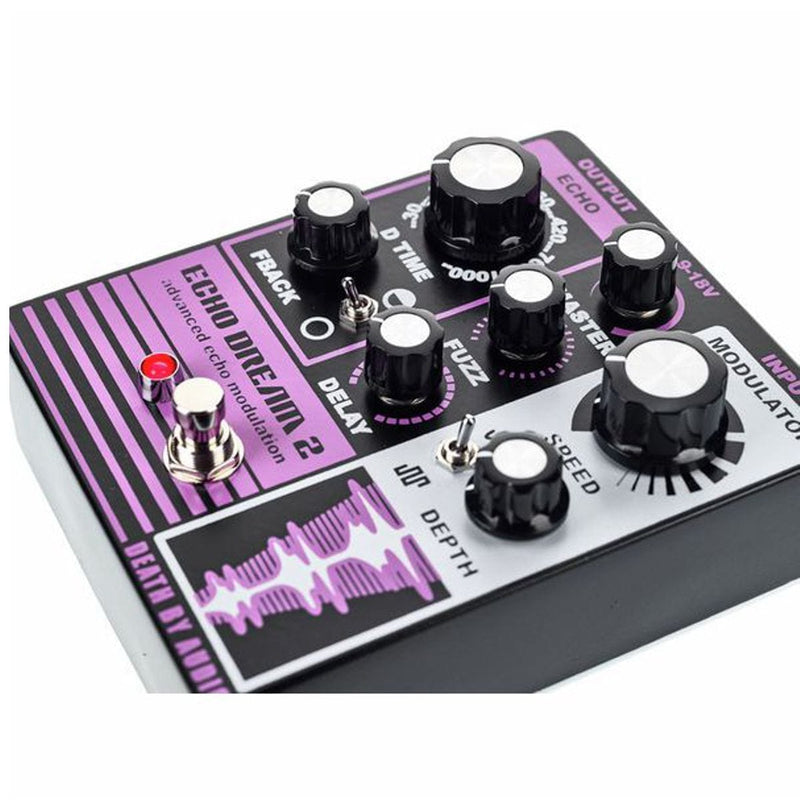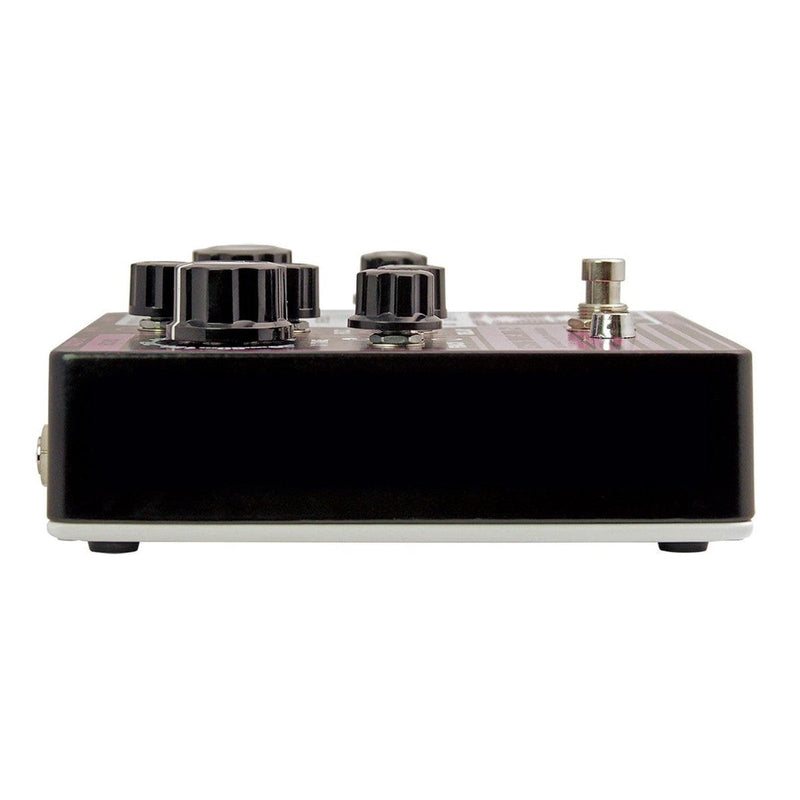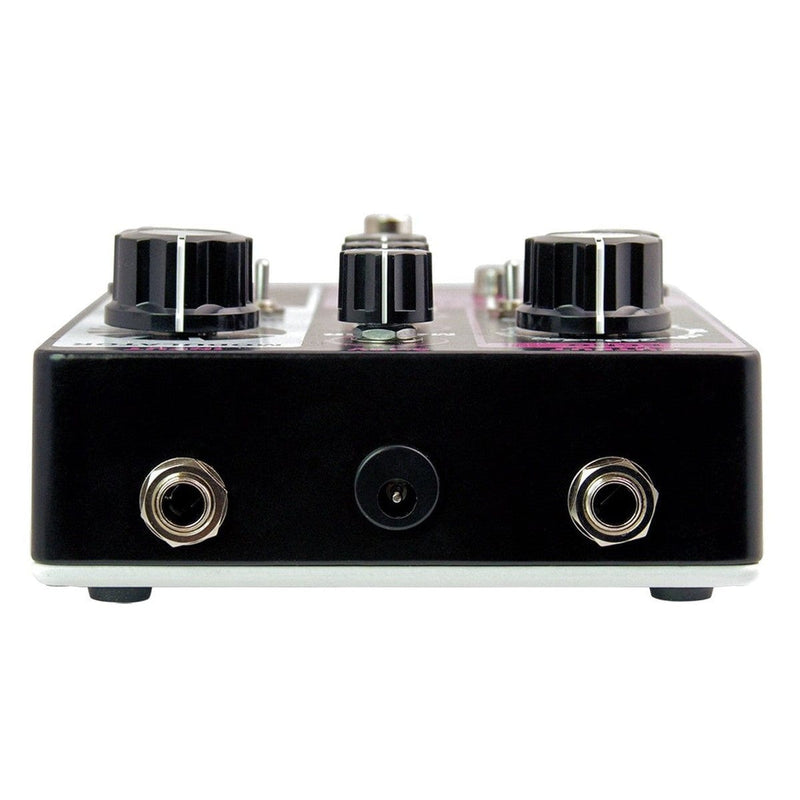 Death By Audio Echo Dream II Modulated Delay Echo Effects Pedal
PF2678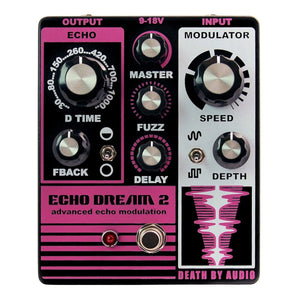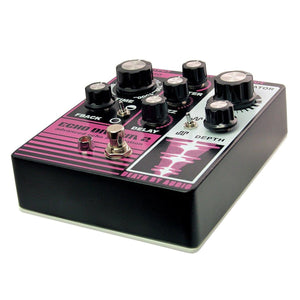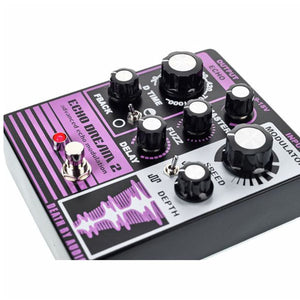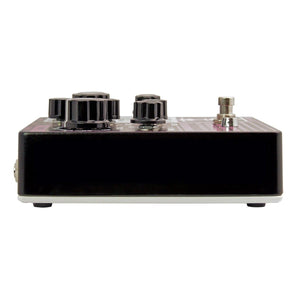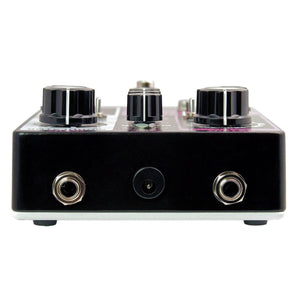 See & Try In Store
*Piano Cabinet Finishes Of Showroom Models May Vary
Request Price Match
We are only too happy to try and match a legitimate UK based musical instrument retailer's quote. We have been in business for over 30 years and will always do our best to be as competitive as possible.
If you have seen a product that you wish to purchase cheaper on another UK based retailer's website or shop, please call us on 01323 639335 or complete the form below. We will try and match (or beat) their quote – and still give you our award-winning service.
Alternatively, complete the form below and we'll get right back to you with our best price. Price matches are dependent upon stock availability.