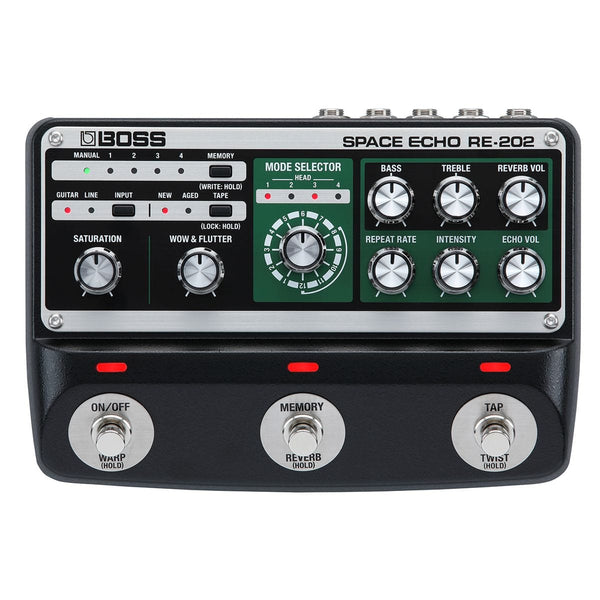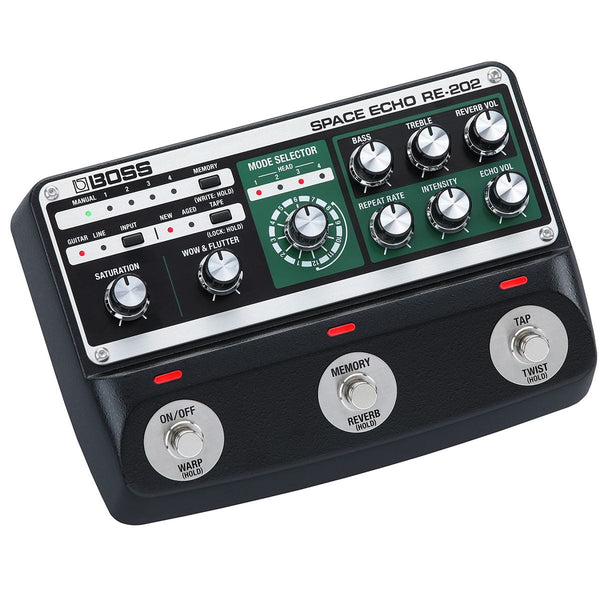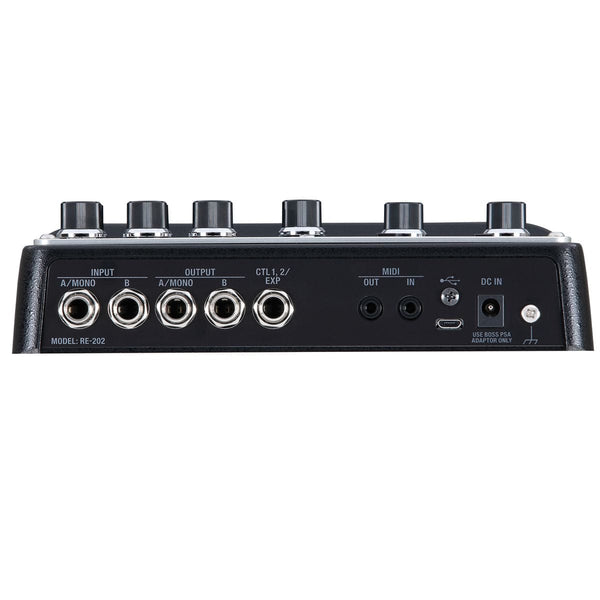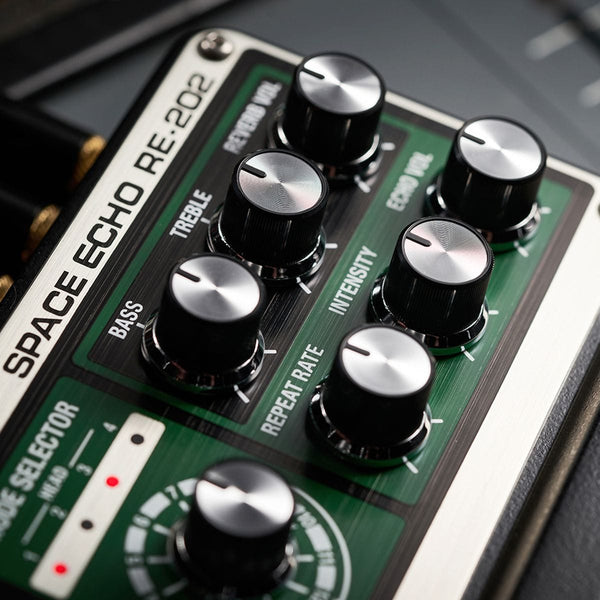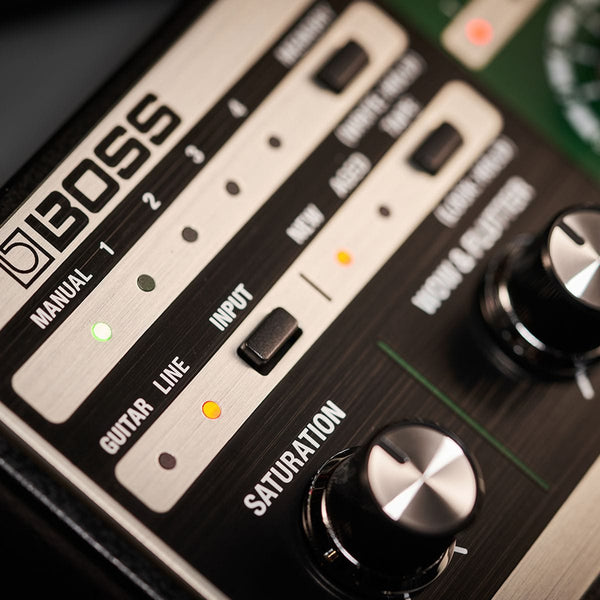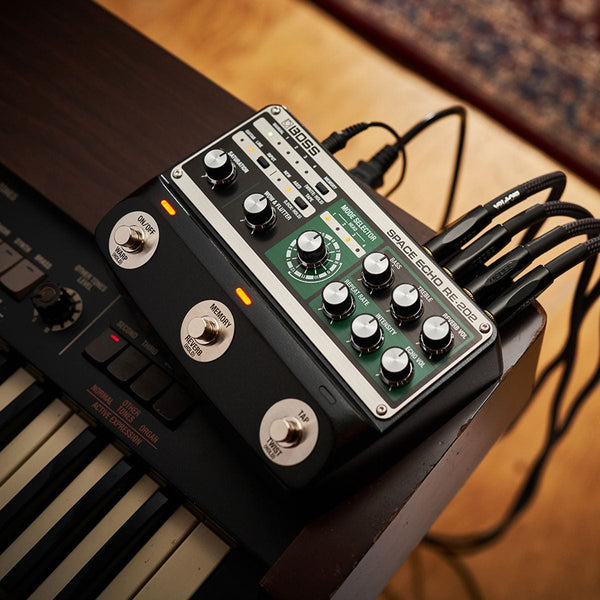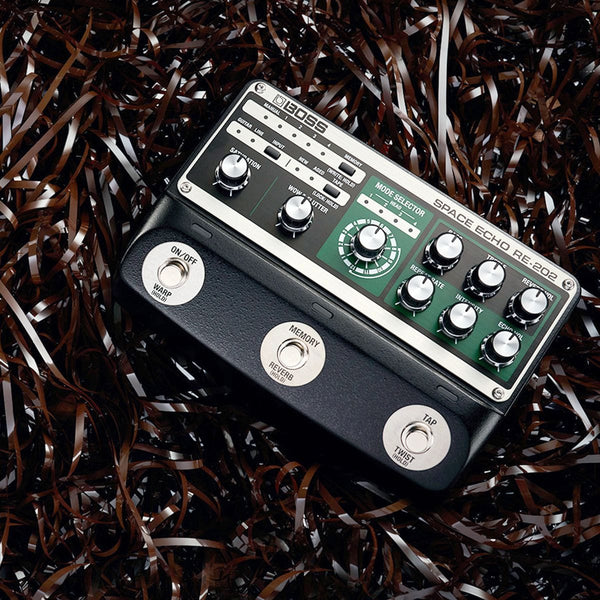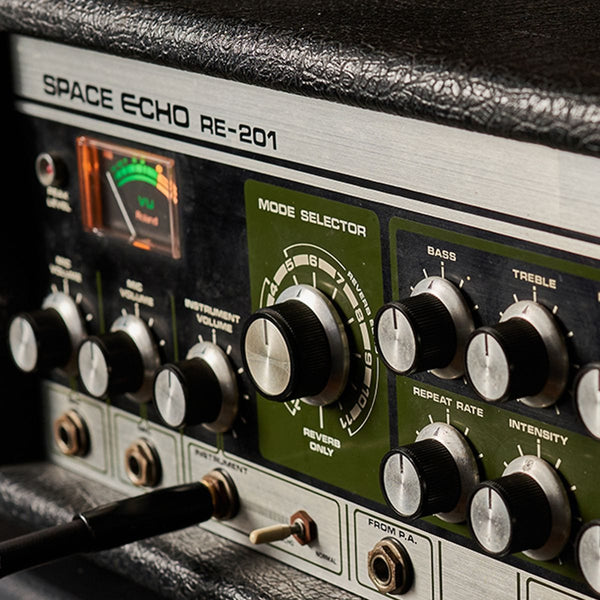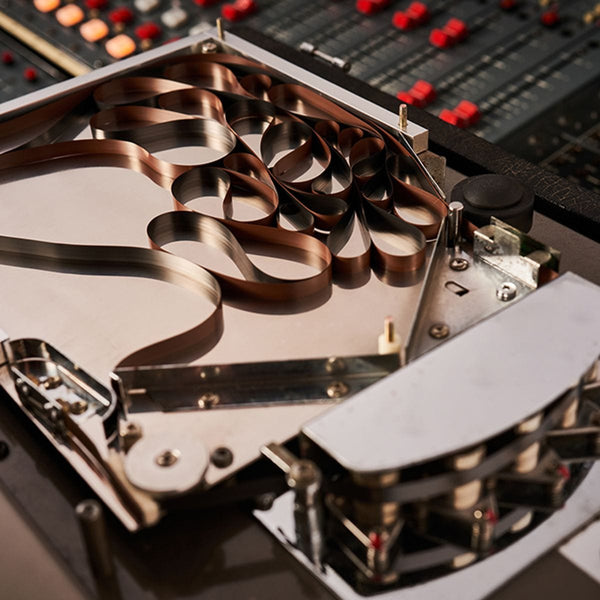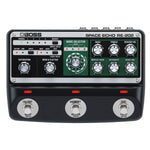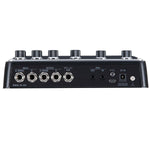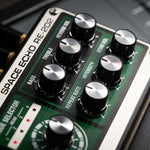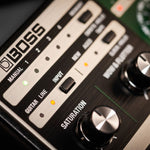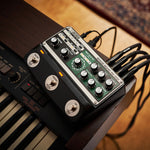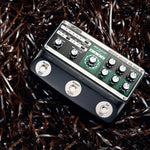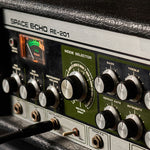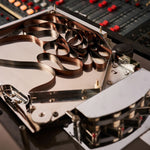 Boss RE202 Space Echo Guitar Effects Pedal
Product Code: BOSSRE202
Description
Delivery & Lead Times
Spread The Cost With Finance
Description
Boss RE202 Space Echo Effects Pedal Features

Sampling Frequency

48 kHz

AD Conversion

24 bits + AF method
AF method (Adaptive Focus method) This is a proprietary method from Roland & BOSS that vastly improves the signal-to-noise (SN) ratio of the AD converter.

DA Conversion

32 bits

Processing

32-bit floating point

Modes

12 modes

Memory

127 + Manual

Nominal Input Level

INPUT A/MONO, INPUT B: -10 dBu

Maximum Input Level

INPUT A/MONO, INPUT B: +7 dBu

Input Impedance

INPUT A/MONO, INPUT B: 1 M ohm

Nominal Output Level

OUTPUT A/MONO, OUTPUT B: -10 dBu

Maximum Output Level

OUTPUT A/MONO, OUTPUT B: +7 dBu

Output Impedance

OUTPUT A/MONO, OUTPUT B: 1 k ohm

Recommended Load Impedance

OUTPUT A/MONO, OUTPUT B: 10 k ohms or greater

Bypass

Buffered bypass

Controls

ON/OFF switch
MEMORY switch
TAP switch
SATURATION knob
WOW & FLUTTER knob
MODE SELECTOR knob
BASS knob
TREBLE knob
REVERB VOL knob
REPEAT RATE knob
INTENSITY knob
ECHO VOL knob
MEMORY button
INPUT button
TAPE button

Connectors

INPUT A/MONO jack, INTPUT B jack, OUTPUT A/MONO jack, OUTPUT B jack: 1/4-inch phone type
CTL 1, 2/EXP jack: 1/4-inch TRS phone type
MIDI (IN, OUT) jacks: Stereo miniature phone type
DC IN jack
USB port: USB micro B-type (program update only)

Power Supply

AC adaptor

Accessories

AC adaptor
Owner's Manual
Leaflet ("USING THE UNIT SAFELY," "IMPORTANT NOTES," and "Information")
Rubber foot

SIZE AND WEIGHT

Width Depth Height

H 192 x D 133 x H 52 mm

Weight

860 g
Boss RE-202 Space Echo Guitar Effects Pedal
A Masterpiece Returns in the Modern Era
Introduced in 1974, the Roland RE-201 Space Echo stands among the most legendary and sought-after effect units ever produced. This tape-based classic remained in production for over 14 straight years, and its distinctive rhythmic echo sounds, warm character, and highly playable sonic quirks still inspire musicians, producers, and audio mixers over four decades on.

Backed by intensive R&D and our latest innovations, the RE-202 faithfully delivers the authentic sound and behaviour of the Space Echo-like never before. Built by the company that designed the original, this advanced pedal captures the RE-201's magic in flawless detail, from the magnetic tape and motor properties to the vibrant spring reverb and colorful preamp circuit. And to take things even further, we've expanded the vintage Space Echo experience with lots of new features tuned for today's music.
Standard Features
Authentically recreates the sound and behaviour of the legendary Roland RE-201 Space Echo
Classic multi-head tape echo sound with an expanded delay time
Original three-head configuration plus additional tape head for 12 unique echo combinations
Independent stereo reverb section with original spring reverb type plus hall, plate, room, and ambience
Saturation control for adding magnetic tape compression and preamp colouration
Wow & Flutter control for introducing varying levels of natural tape modulation
Choose between new and aged tape conditions
Selectable input modes for optimum performance with instruments and line-level gear
Warp and Twist effects with footswitch control
Select between the unprocessed analog dry signal or the modelled sound of the original Space Echo preamp
Four onboard memories plus the current panel settings
Save and select 127 memories via external MIDI program change
Tap tempo and carryover functions
True stereo input and output
Expandable control via external footswitches, an expression pedal, or MIDI
Tape Echo Magic
Tape echo was the first delay effect and one of the first effect processors available for electronic musicians. In contrast with today's CPU-based digital units, a tape echo is a simple machine that uses a motor to pull magnetic tape across one or more record/playback heads. Warm, full, and dynamic, the tape echo sound is influenced by many factors. The ever-changing input level colors the sound with varying amounts of tape saturation and compression. In addition, motor speed fluctuations, friction, wow and flutter, and other elements introduce an appealing modulated character that's subtle and continually evolving.
RE-201 Space Echo: Simply Legendary
The RE-201 was a benchmark Roland product and one of the leading tape echo units of its era. It featured three evenly spaced heads that produced a wider range of echo effects than typical single-head designs, plus an innovative free-running tape system that provided superior performance with minimal tape wear. Grab-and-go controls enabled quick access to clean, single delays or various head combinations for dense, rhythmic echoes. A spring reverb tank was included too, making the RE-201 a one-stop-shop for quality ambience effects. Last but not least, analog preamp circuitry was another key ingredient in the Space Echo's rich sonic recipe.
Sonic Enhancements
The RE-202 includes many new features that extend the Space Echo for today's musicians. Twice the delay time is available, along with a fourth virtual tape head that unlocks five additional sound combinations. There's also an echo type that changes the distance between the heads, something not possible with the original. In contrast with the mono RE-201, the RE-202 provides true stereo I/O and selectable operation for guitar or line-level devices. For the dry sound, you can choose between the warm and fat RE-201 preamp tone or a clean signal with zero processing.
Also included is a stereo version of the original spring reverb sound from the RE-201, along with hall, plate, room, and ambience types for additional versatility. Expressive Warp and Twist effects are available as well, allowing you to launch the sound into outer space with the press of a footswitch while performing.
Boss RE202 Space Echo Effects Pedal Features

Sampling Frequency

48 kHz

AD Conversion

24 bits + AF method
AF method (Adaptive Focus method) This is a proprietary method from Roland & BOSS that vastly improves the signal-to-noise (SN) ratio of the AD converter.

DA Conversion

32 bits

Processing

32-bit floating point

Modes

12 modes

Memory

127 + Manual

Nominal Input Level

INPUT A/MONO, INPUT B: -10 dBu

Maximum Input Level

INPUT A/MONO, INPUT B: +7 dBu

Input Impedance

INPUT A/MONO, INPUT B: 1 M ohm

Nominal Output Level

OUTPUT A/MONO, OUTPUT B: -10 dBu

Maximum Output Level

OUTPUT A/MONO, OUTPUT B: +7 dBu

Output Impedance

OUTPUT A/MONO, OUTPUT B: 1 k ohm

Recommended Load Impedance

OUTPUT A/MONO, OUTPUT B: 10 k ohms or greater

Bypass

Buffered bypass

Controls

ON/OFF switch
MEMORY switch
TAP switch
SATURATION knob
WOW & FLUTTER knob
MODE SELECTOR knob
BASS knob
TREBLE knob
REVERB VOL knob
REPEAT RATE knob
INTENSITY knob
ECHO VOL knob
MEMORY button
INPUT button
TAPE button

Connectors

INPUT A/MONO jack, INTPUT B jack, OUTPUT A/MONO jack, OUTPUT B jack: 1/4-inch phone type
CTL 1, 2/EXP jack: 1/4-inch TRS phone type
MIDI (IN, OUT) jacks: Stereo miniature phone type
DC IN jack
USB port: USB micro B-type (program update only)

Power Supply

AC adaptor

Accessories

AC adaptor
Owner's Manual
Leaflet ("USING THE UNIT SAFELY," "IMPORTANT NOTES," and "Information")
Rubber foot

SIZE AND WEIGHT

Width Depth Height

H 192 x D 133 x H 52 mm

Weight

860 g
Delivery & Lead Times
Delivery ETA's 
For accurate delivery information, please contact our sales team on sales@bonnersmusic.co.uk or call 01323 639335. As a guide, despatch times are detailed below.
Additional charges will be made for delivery of heavy items to some areas. Charges may also apply to upgrades including (but not limited to) timed deliveries, piano assembly, delivery of large items, and when matching deals from other retailers. If you are unsure about our delivery charges, please contact us.
In Stock Products
Products that are shown as in stock will be sent using our standard delivery service within 2 working days from when payment is received. This excludes piano deliveries with full installation - see below.
Pre-Order Products
Products which are shown as pre-order are not in stock, but can be ordered and reserved for you from the next available shipment. Order today to reserve your place in the queue! Call or email us for the latest lead times on pre-order products.
Digital Piano Deliveries:
We have many flexible delivery options for most delivery pianos, based on your location and whether you require it flat-packed, or fully assembled in your home. Digital piano delivery options are shown at checkout. 
Piano Deliveries
If you purchase a piano which is supplied with full installation, we will contact you once your order is received to arrange a convenient delivery date & time. Delivery & installation is usually within 14 days, but often sooner. Call us for current lead times on pianos.
Digital Piano Deliveries For Self-Assembly
Click here to see our specific information relating to piano deliveries.
If you choose our courier delivery/flat pack delivery method, please be aware that with larger items such as digital pianos, the courier is not contracted to carry them up any steps or stairs. If there are stairs leading to the front door of the delivery address, or you live in an apartment which is not on pavement level, it is your responsibility to arrange transportation from the pavement level to the delivery address. In this instance, the delivery driver may, at their own discretion assist you in carrying the parcels to the delivery address, but they are not contracted nor obliged to do so.
Do you need delivery upstairs, or delivery at a specific time?
For some larger items which need to be delivered upstairs - including pianos, we offer a timed delivery service using our own van and drivers. This service is free on some items and chargeable on others. Call us on 01323 639335 to discuss your specific delivery requirements.
No-one at home?
Our courier will try and deliver your parcel(s) twice. After the second failed attempt, your goods will be returned to our warehouse. If you would like us to try and deliver them again, we will charge the delivery charges associated with your order again.
Delivery Surcharges For Larger Items
For some larger items, delivery surcharges may apply to the following areas: Scotland, Wales, Channel Islands, Isle Of Wight, Cornwall, Ireland, North Of England above Leeds. Call us on 01323 639335 to check before ordering.
Spread The Cost With Finance
If you're set on buying your new instrument, there's no need to get weighed down by the total cost of it straight away. If you break it down into monthly payments over time, it's much more manageable than you might think. And our fixed interest rates mean you'll know exactly what you're paying from the start.
How it works
The finance options available are displayed on our individual product pages - just click the button under the price to see the available options for each product. Finance is available for most new and used instruments over £400.

Pay a fixed deposit, and the rest is split into monthly payments. At the end of your contract when you've made your final payment, the instrument or equipment is all yours. You could own that dream guitar, piano or keyboard sooner than you thought!

Which Finance Options Are Available?
Most products on our website show the available finance options. Some are interest free, and some are interest bearing. The options shown on the site are an example of what is available - if you would like to pay over a different period, give us a call on 01323 639335 and we'll try and arrange a finance option that suits your budget.

How To Apply For Finance
To apply for finance, please add the product to your cart, proceed through checkout and select 'Apply For Finance' as your payment option where you can complete the application form online.

The Lender
Bonners Ltd acts as a credit broker and only offers credit products from Secure Trust Bank PLC trading as V12 Retail Finance. Bonners Ltd is authorised and regulated by the Financial Conduct Authority. Our registration number is 718966. Bonners Ltd is registered in England and Wales 1994113. Registered office 34 North St, Hailsham, East Sussex BN27 1DW.

Secure Trust Bank is registered in England and Wales 541132. Registered office: One Arleston Way, Solihull, B90 4LH. Authorised by the Prudential Regulation Authority and regulated by the Financial Conduct Authority and the Prudential Regulation Authority. Registration number: 204550.
Not all products offered by Secure Trust Bank T/A V12 Retail Finance are regulated by the FCA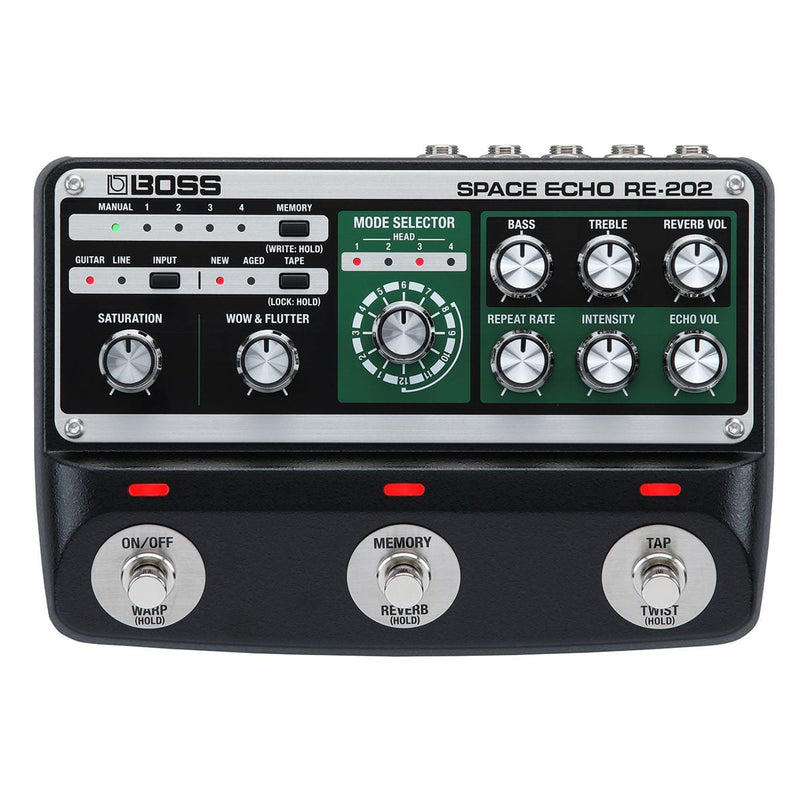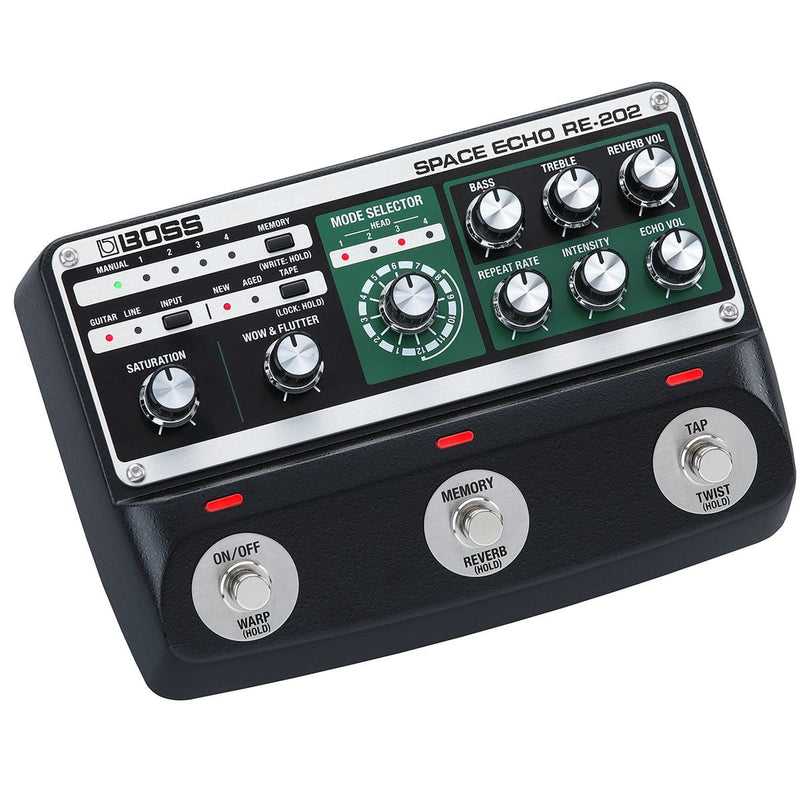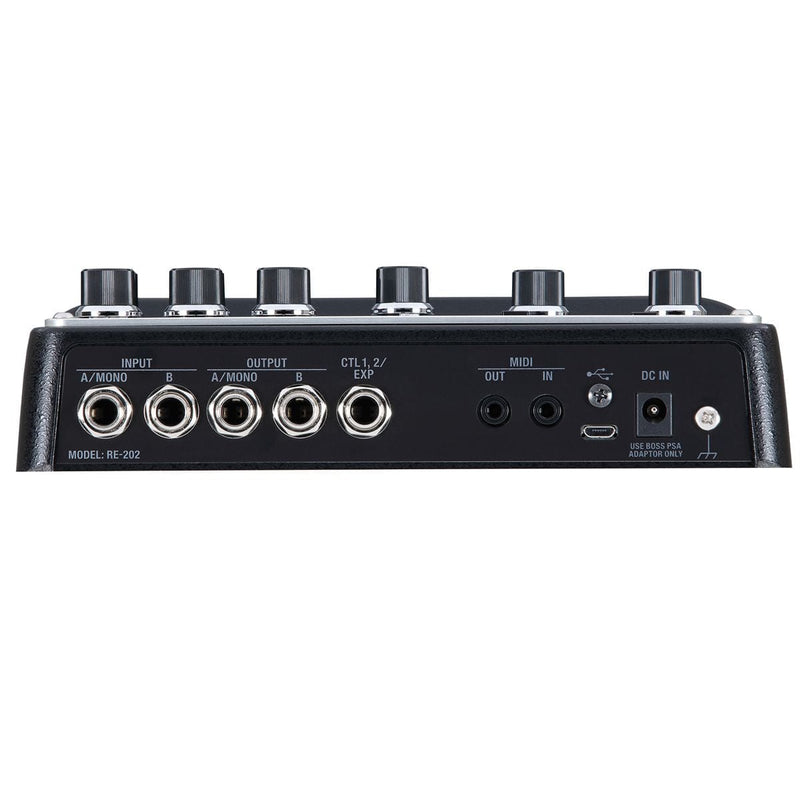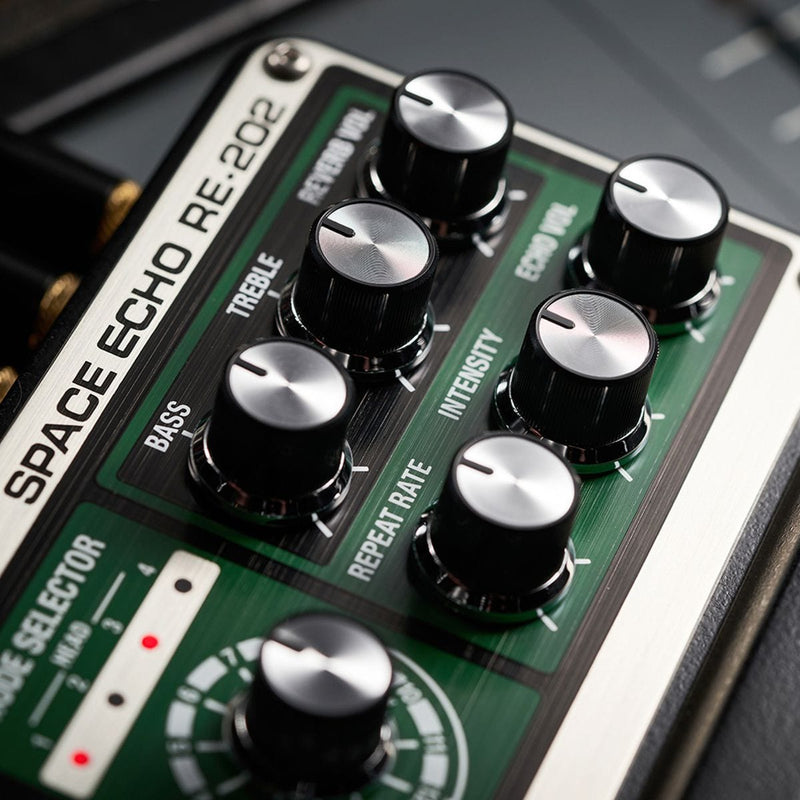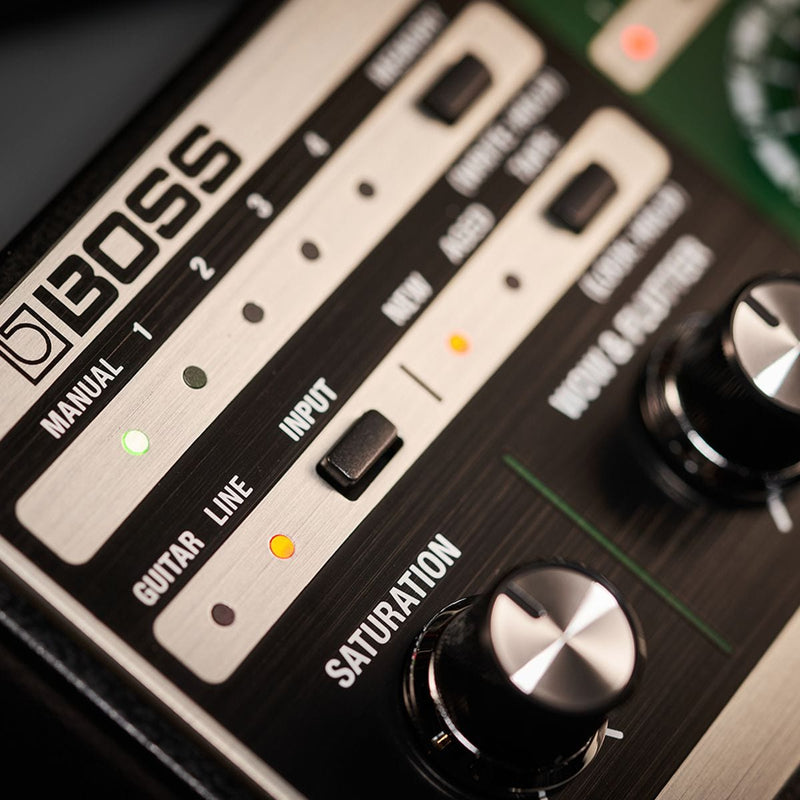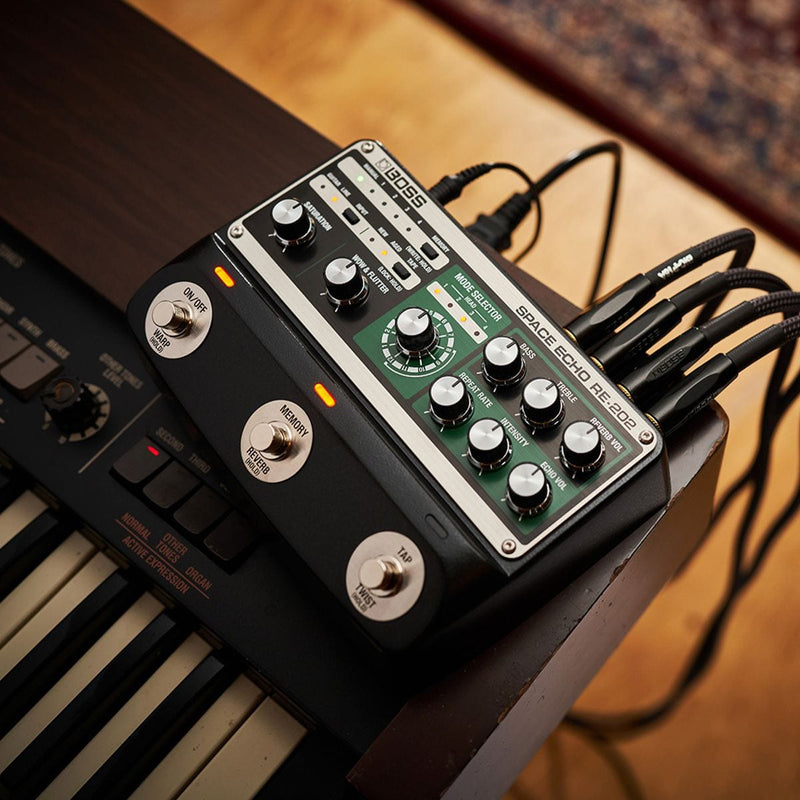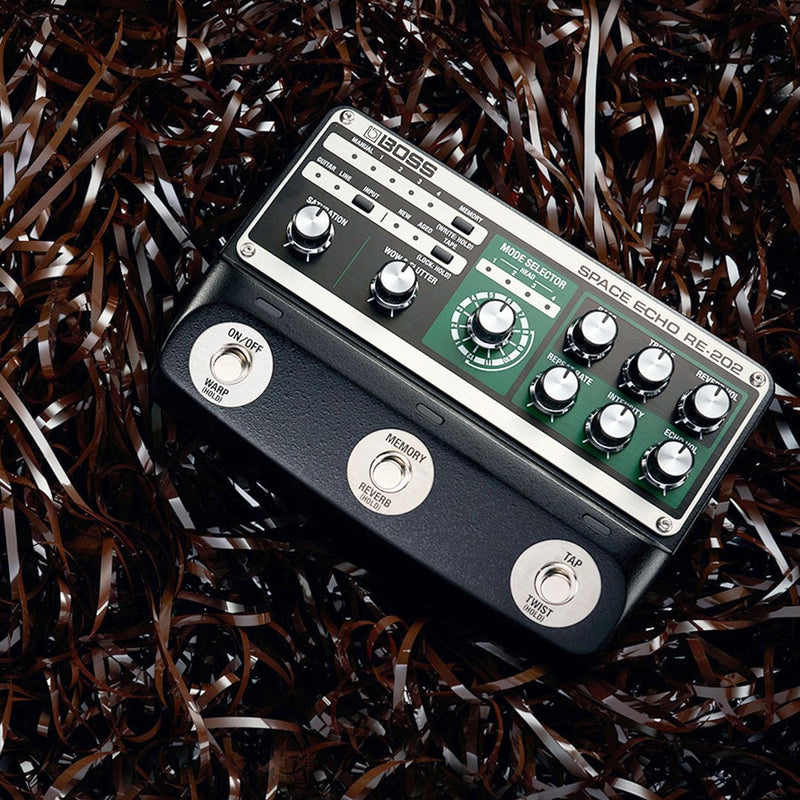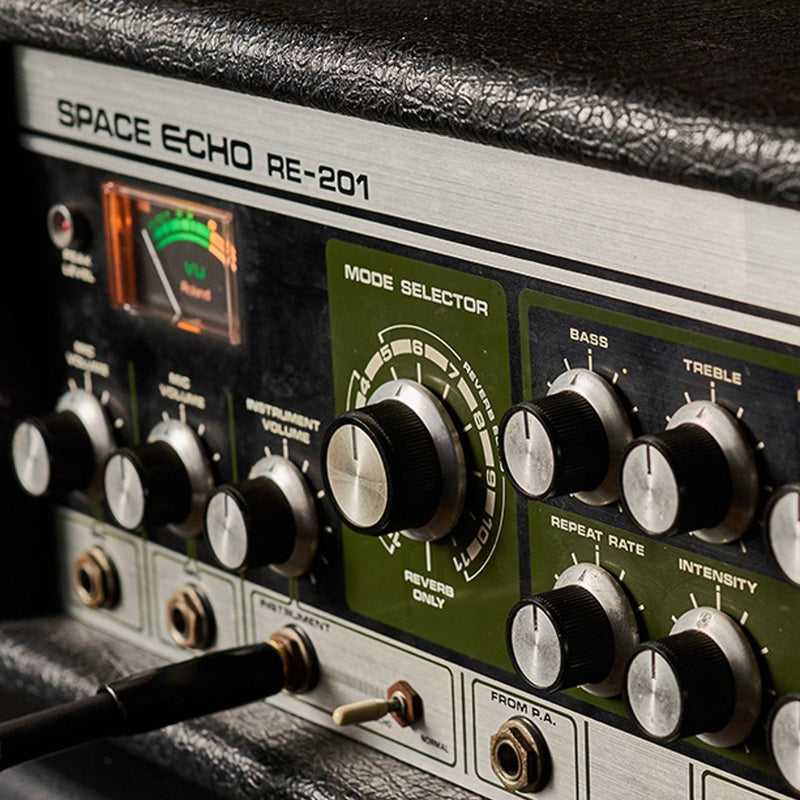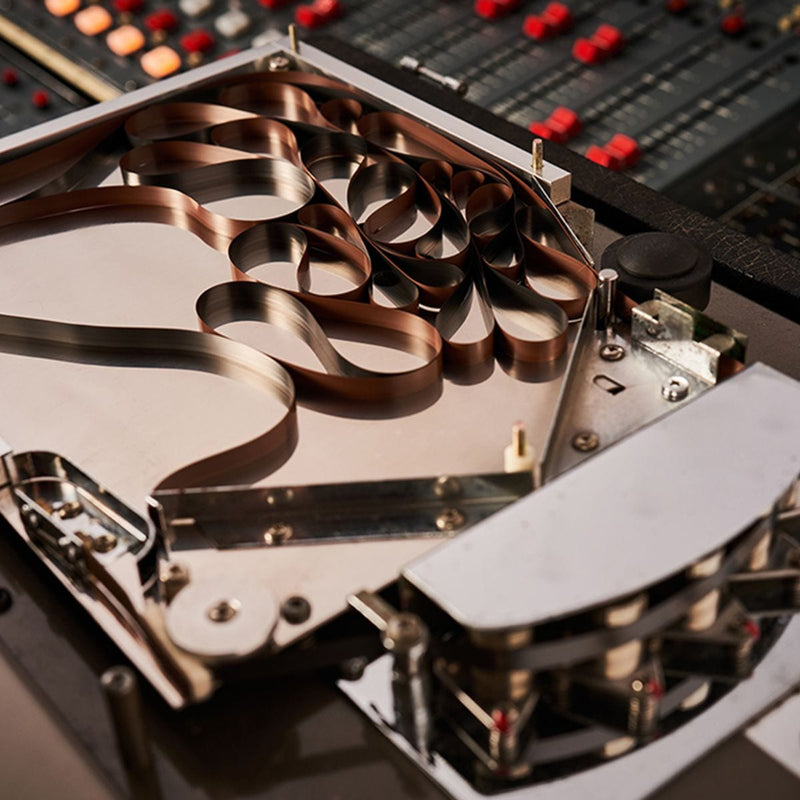 Boss RE202 Space Echo Guitar Effects Pedal
BOSSRE202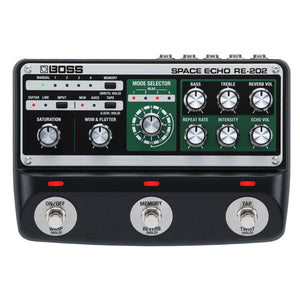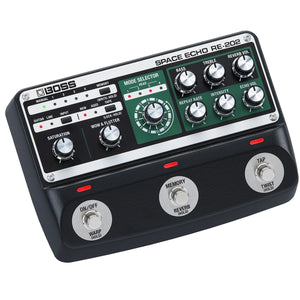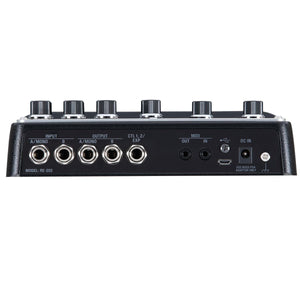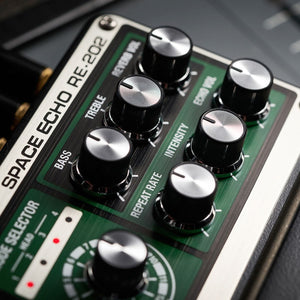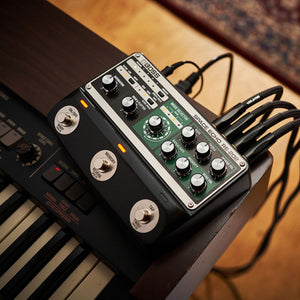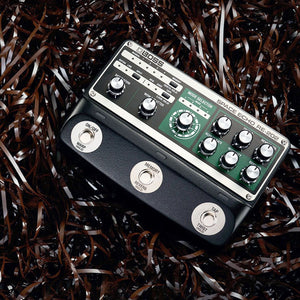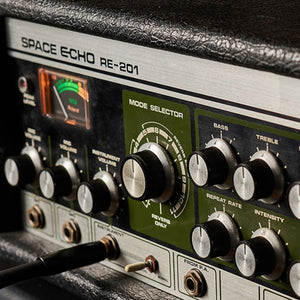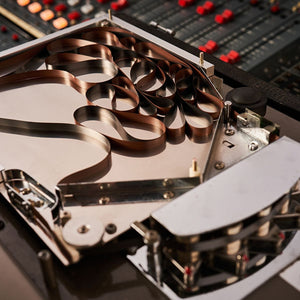 See & Try In Store
*Piano Cabinet Finishes Of Showroom Models May Vary
Request Price Match
We are only too happy to try and match a legitimate UK based musical instrument retailer's quote. We have been in business for over 30 years and will always do our best to be as competitive as possible.
If you have seen a product that you wish to purchase cheaper on another UK based retailer's website or shop, please call us on 01323 639335 or complete the form below. We will try and match (or beat) their quote – and still give you our award-winning service.
Alternatively, complete the form below and we'll get right back to you with our best price. Price matches are dependent upon stock availability.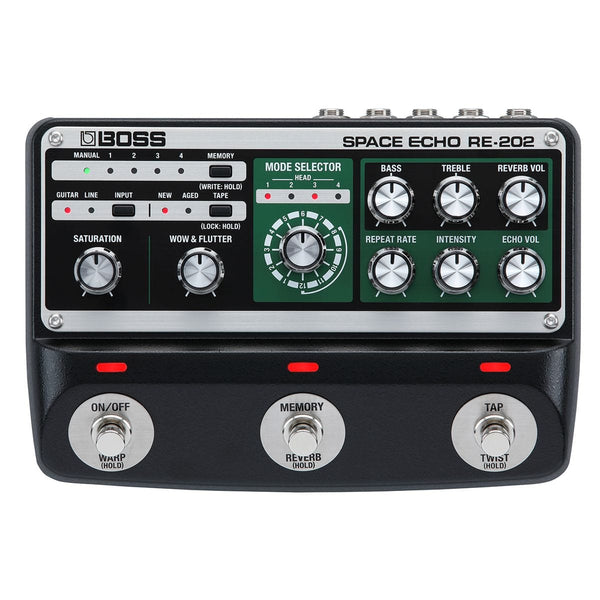 Boss RE202 Space Echo Guitar Effects Pedal
£289.00