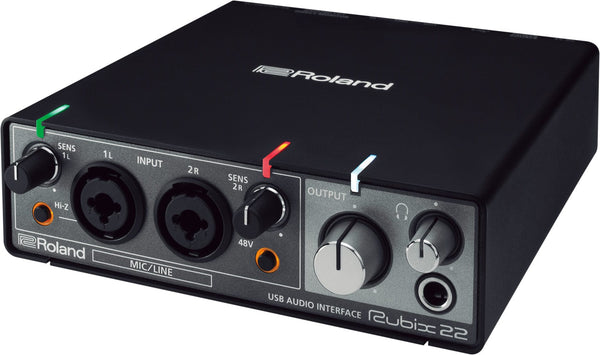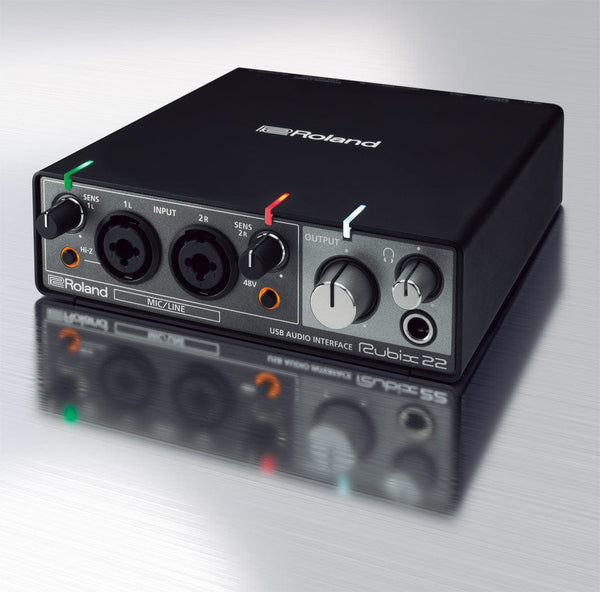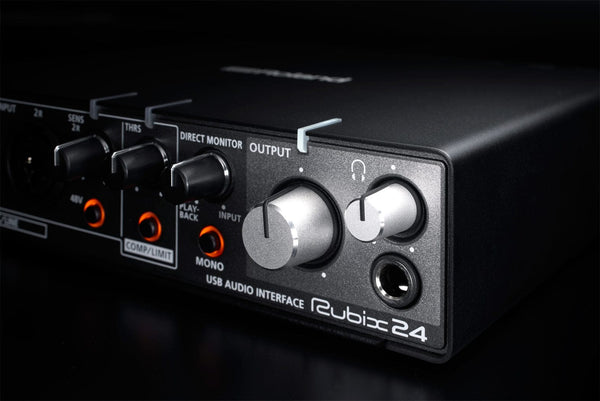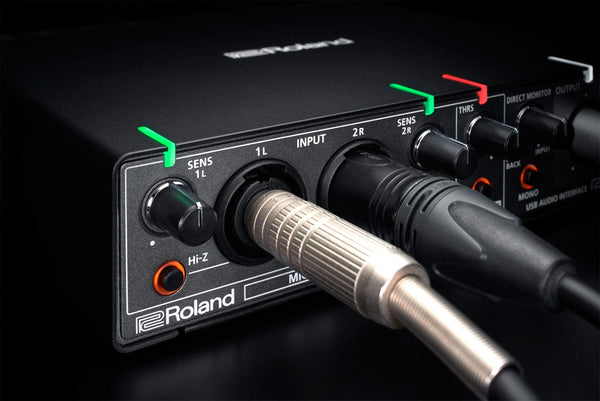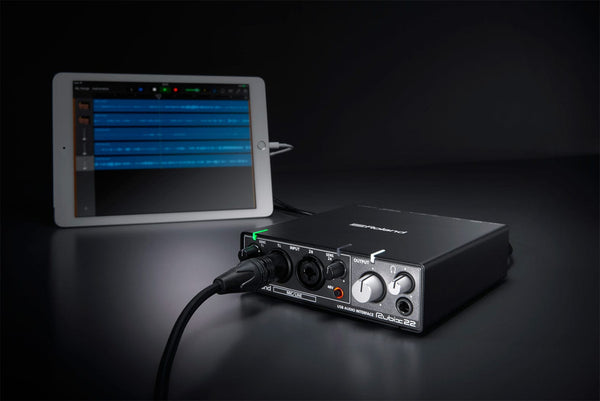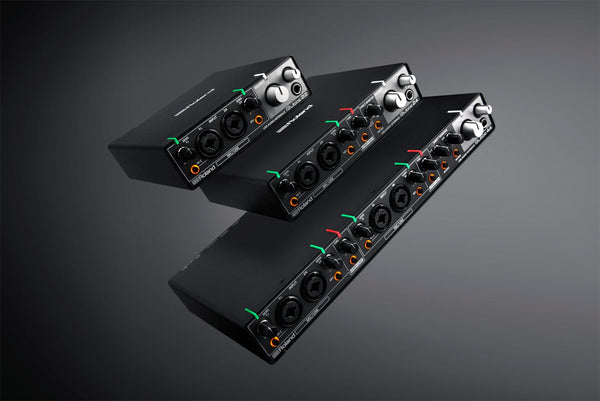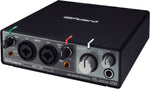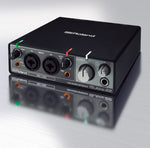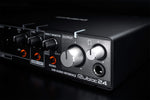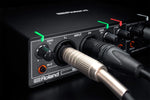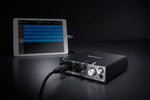 Roland Rubix 22 USB Audio Interface
Product Code: RUBIX22
Description
Delivery & Lead Times
Spread The Cost With Finance
Description
Roland Rubix 22 USB Audio Interface

Number of Audio Record/Playback Channels

Record: 2 channels
Playback: 2 channels

Signal Processing

PC interface: 24 bits
AD/DA conversion: 24 bits

Sampling Frequency

AD/DA conversion: 44.1 kHz, 48 kHz, 96 kHz, 192 kHz

Interface

Hi-Speed USB
MIDI IN, OUT

Connectors

INPUT (1L, 2R) connectors: XLR type (balanced, phantom power: +48 V, 6 mA Max *1)
INPUT (1L, 2R) jacks *2: 1/4-inch TRS phone type (balanced)
PHONES jack: Stereo 1/4-inch phone type
OUTPUT (1L, 2R) jacks: 1/4-inch TRS phone type (impedance balanced)
MIDI (IN, OUT) connectors
USB port: USB Type B
DC 5V port: USB Type micro B
*1 Current value per channel.
*2 INPUT 1L supports high impedance

Controllers

SENS 1L, 2R knobs
Hi-Z switch
48V switch
OUTPUT knob
PHONES knob
POWER SOURCE switch
DIRECT MONITOR switch
GROUND LIFT switch

Indicator

Level indicators (1L, 2R)
POWER indicator
Hi-Z indicator
48V indicator

CHARACTERISTICS

Nominal Input Level

INPUT (1L, 2R) connectors (XLR type): -60-- -12 dBu
INPUT (1L, 2R) jacks (1/4-inch TRS phone type): -44--+4 dBu

Maximum Input Level

INPUT (1L, 2R) connectors (XLR type): +2 dBu
INPUT (1L, 2R) jacks (1/4-inch TRS phone type): +18 dBu

Nominal Output Level

OUTPUT (1L, 2R) jacks: -6 dBu (impedance balanced)

Maximum Output Level

OUTPUT (1L, 2R) jacks: +8 dBu (impedance balanced)

PHONES Maximum Output Power

20 mW + 20 mW (L + R, 47 ohms load)

Headroom

14 dB

Input Impedance

INPUT (1L, 2R) connectors (XLR type): 4 k ohms or greater (balanced)
INPUT (1L, 2R) jacks (1/4-inch TRS phone type): 15 k ohms or greater (balanced)
INPUT (1L) jack (1/4-inch phone type *3): 500 k ohms or greater
*3 When the Hi-Z is turned on

Output Impedance

OUTPUT (1L, 2R) jacks: 2 k ohms (balanced)
PHONES jack: 47 ohms

Residual Noise Level

INPUT (1L, 2R) --> OUTPUT (1L, 2R): -94 dBu typ. (SENS 1L, SENS 2R knobs: min., input terminated with 600 ohms, IHF-A, typ.)

Dynamic Range

AD block INPUT (1L, 2R) jacks: 104 dB typ. (SENS 1L, SENS 2R knobs: min.)
DA block OUTPUT (1L, 2R) jacks: 109 dB typ.

OTHER

Power Supply

Supplied from the computer via USB, DC 5V

Current Draw

500 mA

Operating System

Microsoft(R) Windows(R) 7, Windows(R) 8, Windows(R) 8.1, Windows(R) 10
Apple Mac OS X 10.10 or later
Apple iOS 9 or later

* Although Roland has tested numerous configurations, and has determined that on average, a computer system similar to that described above will permit normal operation of the Rubix, Roland cannot guarantee that a given computer can be used satisfactorily with the Rubix based solely on the fact that it meets the above requirements. This is because there are too many other variables that may influence the processing environment, including differences in motherboard design and the particular combination of other devices involved.

Dimensions

145 (W) x 165 (D) x 46 (H) mm

Weight (main unit only)

1.0 kg

Accessories

Setup Guide
Leaflet "USING THE UNIT SAFELY"
USB cable
* 0 dBu = 0.775 Vrms
Roland Rubix 22 USB Audio Interface
2-IN/2-OUT, HIGH-RESOLUTION INTERFACE FOR MAC, PC AND IPAD
Rubix22 offers a perfect balance of high-fidelity sound, solid build quality, compact size, affordable price, and crucial features for today's musicians and producers. With support for high-resolution audio up to 24-bit/192kHz, Rubix22 sounds clear and defined and is carefully engineered to have extremely low noise from input to output. Its near universal USB support means it works seamlessly with Mac and PC computers, and even supports iPads, for the ultimate in portable music production and performance.
2-in/2-out USB audio interface
2 low-noise mic preamps with XLR combo jacks
Hi-Z input for guitar and other high impedance sources
MIDI In/Out ports
Extensively shielded, low-noise design
Sturdy and compact metal construction
Big, easy-to-read indicators show vital information
Low latency, class compliant drivers
Ground lifts for quiet operation in a variety of venues
Includes six months of

 

Roland Cloud Pro

 

membership
Studio-grade sound you can take anywhere
Nothing is more important than sound quality when it comes to audio interfaces. And you shouldn't have to sacrifice sound quality to have an affordable interface that you can take with you. Rubix sounds clean and detailed with transparent, low noise mic preamps and supports audio resolutions up 24-bit/192kHz. It's made of durable metal, and a lot went into its compact, low-noise design. With all the places Rubix22 can go, you'll appreciate its extensive shielding and ground lifts, making sure you get good clean audio just about anywhere.
2 high quality mic preamps
Rubix22's dual microphone preamps are designed for low noise and high definition. They sound clean and transparent with plenty of headroom for capturing all the impact and detail of whatever you're recording. And the flexible combo jacks mean you can easily connect a wide variety of sources without the need for adapters or special cables.
Built for Mac, PC and iPad
Rubix22 is ultra-portable and ultra-flexible. It has low latency class compliant drivers for Mac and PC, so it's simple to get up and running with smooth, reliable audio performance. And it also supports iPad giving you an extremely compact system for on-location recording, on-the-go production, or live performance. It even includes six months free of Roland Cloud Pro membership with full access to Zenbeats multi-platform music creation app, software synthesizers like ZENOLOGY Pro, TR-808, and D-50, and much more.
Roland Rubix 22 USB Audio Interface

Number of Audio Record/Playback Channels

Record: 2 channels
Playback: 2 channels

Signal Processing

PC interface: 24 bits
AD/DA conversion: 24 bits

Sampling Frequency

AD/DA conversion: 44.1 kHz, 48 kHz, 96 kHz, 192 kHz

Interface

Hi-Speed USB
MIDI IN, OUT

Connectors

INPUT (1L, 2R) connectors: XLR type (balanced, phantom power: +48 V, 6 mA Max *1)
INPUT (1L, 2R) jacks *2: 1/4-inch TRS phone type (balanced)
PHONES jack: Stereo 1/4-inch phone type
OUTPUT (1L, 2R) jacks: 1/4-inch TRS phone type (impedance balanced)
MIDI (IN, OUT) connectors
USB port: USB Type B
DC 5V port: USB Type micro B
*1 Current value per channel.
*2 INPUT 1L supports high impedance

Controllers

SENS 1L, 2R knobs
Hi-Z switch
48V switch
OUTPUT knob
PHONES knob
POWER SOURCE switch
DIRECT MONITOR switch
GROUND LIFT switch

Indicator

Level indicators (1L, 2R)
POWER indicator
Hi-Z indicator
48V indicator

CHARACTERISTICS

Nominal Input Level

INPUT (1L, 2R) connectors (XLR type): -60-- -12 dBu
INPUT (1L, 2R) jacks (1/4-inch TRS phone type): -44--+4 dBu

Maximum Input Level

INPUT (1L, 2R) connectors (XLR type): +2 dBu
INPUT (1L, 2R) jacks (1/4-inch TRS phone type): +18 dBu

Nominal Output Level

OUTPUT (1L, 2R) jacks: -6 dBu (impedance balanced)

Maximum Output Level

OUTPUT (1L, 2R) jacks: +8 dBu (impedance balanced)

PHONES Maximum Output Power

20 mW + 20 mW (L + R, 47 ohms load)

Headroom

14 dB

Input Impedance

INPUT (1L, 2R) connectors (XLR type): 4 k ohms or greater (balanced)
INPUT (1L, 2R) jacks (1/4-inch TRS phone type): 15 k ohms or greater (balanced)
INPUT (1L) jack (1/4-inch phone type *3): 500 k ohms or greater
*3 When the Hi-Z is turned on

Output Impedance

OUTPUT (1L, 2R) jacks: 2 k ohms (balanced)
PHONES jack: 47 ohms

Residual Noise Level

INPUT (1L, 2R) --> OUTPUT (1L, 2R): -94 dBu typ. (SENS 1L, SENS 2R knobs: min., input terminated with 600 ohms, IHF-A, typ.)

Dynamic Range

AD block INPUT (1L, 2R) jacks: 104 dB typ. (SENS 1L, SENS 2R knobs: min.)
DA block OUTPUT (1L, 2R) jacks: 109 dB typ.

OTHER

Power Supply

Supplied from the computer via USB, DC 5V

Current Draw

500 mA

Operating System

Microsoft(R) Windows(R) 7, Windows(R) 8, Windows(R) 8.1, Windows(R) 10
Apple Mac OS X 10.10 or later
Apple iOS 9 or later

* Although Roland has tested numerous configurations, and has determined that on average, a computer system similar to that described above will permit normal operation of the Rubix, Roland cannot guarantee that a given computer can be used satisfactorily with the Rubix based solely on the fact that it meets the above requirements. This is because there are too many other variables that may influence the processing environment, including differences in motherboard design and the particular combination of other devices involved.

Dimensions

145 (W) x 165 (D) x 46 (H) mm

Weight (main unit only)

1.0 kg

Accessories

Setup Guide
Leaflet "USING THE UNIT SAFELY"
USB cable
* 0 dBu = 0.775 Vrms
Delivery & Lead Times
Delivery ETA's 
For accurate delivery information, please contact our sales team on sales@bonnersmusic.co.uk or call 01323 639335. As a guide, despatch times are detailed below.
Additional charges will be made for delivery of heavy items to some areas. Charges may also apply to upgrades including (but not limited to) timed deliveries, piano assembly, delivery of large items, and when matching deals from other retailers. If you are unsure about our delivery charges, please contact us.
In Stock Products
Products that are shown as in stock will be sent using our standard delivery service within 2 working days from when payment is received. This excludes piano deliveries with full installation - see below.
Pre-Order Products
Products which are shown as pre-order are not in stock, but can be ordered and reserved for you from the next available shipment. Order today to reserve your place in the queue! Call or email us for the latest lead times on pre-order products.
Digital Piano Deliveries:
We have many flexible delivery options for most delivery pianos, based on your location and whether you require it flat-packed, or fully assembled in your home. Digital piano delivery options are shown at checkout. 
Piano Deliveries
If you purchase a piano which is supplied with full installation, we will contact you once your order is received to arrange a convenient delivery date & time. Delivery & installation is usually within 14 days, but often sooner. Call us for current lead times on pianos.
Digital Piano Deliveries For Self-Assembly
Click here to see our specific information relating to piano deliveries.
If you choose our courier delivery/flat pack delivery method, please be aware that with larger items such as digital pianos, the courier is not contracted to carry them up any steps or stairs. If there are stairs leading to the front door of the delivery address, or you live in an apartment which is not on pavement level, it is your responsibility to arrange transportation from the pavement level to the delivery address. In this instance, the delivery driver may, at their own discretion assist you in carrying the parcels to the delivery address, but they are not contracted nor obliged to do so.
Do you need delivery upstairs, or delivery at a specific time?
For some larger items which need to be delivered upstairs - including pianos, we offer a timed delivery service using our own van and drivers. This service is free on some items and chargeable on others. Call us on 01323 639335 to discuss your specific delivery requirements.
No-one at home?
Our courier will try and deliver your parcel(s) twice. After the second failed attempt, your goods will be returned to our warehouse. If you would like us to try and deliver them again, we will charge the delivery charges associated with your order again.
Delivery Surcharges For Larger Items
For some larger items, delivery surcharges may apply to the following areas: Scotland, Wales, Channel Islands, Isle Of Wight, Cornwall, Ireland, North Of England above Leeds. Call us on 01323 639335 to check before ordering.
Spread The Cost With Finance
If you're set on buying your new instrument, there's no need to get weighed down by the total cost of it straight away. If you break it down into monthly payments over time, it's much more manageable than you might think. And our fixed interest rates mean you'll know exactly what you're paying from the start.
How it works
The finance options available are displayed on our individual product pages - just click the button under the price to see the available options for each product. Finance is available for most new and used instruments over £400.

Pay a fixed deposit, and the rest is split into monthly payments. At the end of your contract when you've made your final payment, the instrument or equipment is all yours. You could own that dream guitar, piano or keyboard sooner than you thought!

Which Finance Options Are Available?
Most products on our website show the available finance options. Some are interest free, and some are interest bearing. The options shown on the site are an example of what is available - if you would like to pay over a different period, give us a call on 01323 639335 and we'll try and arrange a finance option that suits your budget.

How To Apply For Finance
To apply for finance, please add the product to your cart, proceed through checkout and select 'Apply For Finance' as your payment option where you can complete the application form online.

The Lender
Bonners Ltd acts as a credit broker and only offers credit products from Secure Trust Bank PLC trading as V12 Retail Finance. Bonners Ltd is authorised and regulated by the Financial Conduct Authority. Our registration number is 718966. Bonners Ltd is registered in England and Wales 1994113. Registered office 34 North St, Hailsham, East Sussex BN27 1DW.

Secure Trust Bank is registered in England and Wales 541132. Registered office: One Arleston Way, Solihull, B90 4LH. Authorised by the Prudential Regulation Authority and regulated by the Financial Conduct Authority and the Prudential Regulation Authority. Registration number: 204550.
Not all products offered by Secure Trust Bank T/A V12 Retail Finance are regulated by the FCA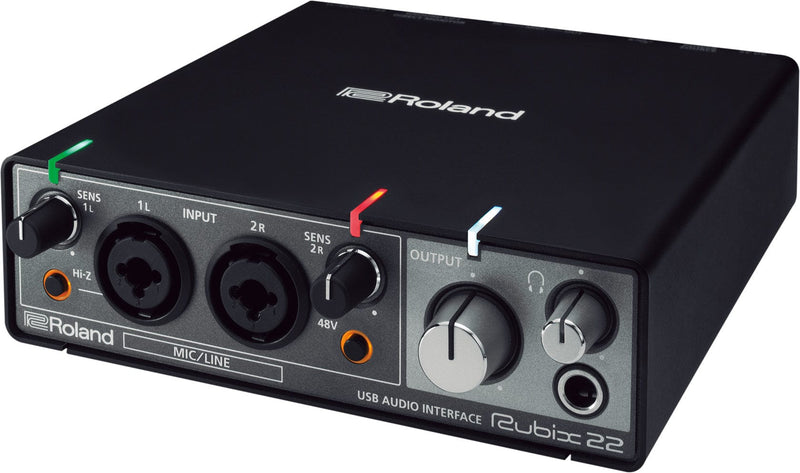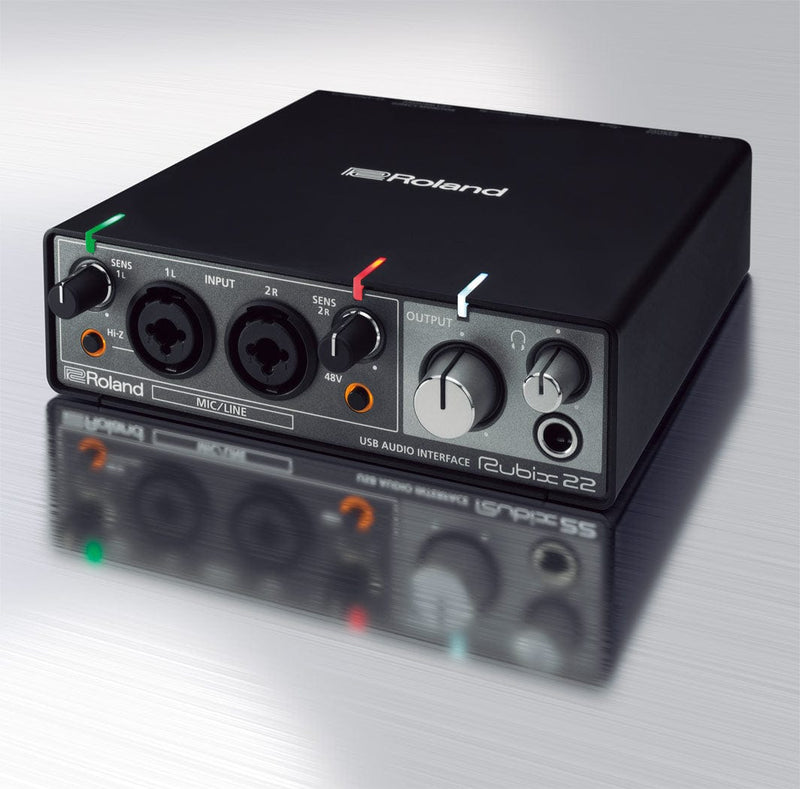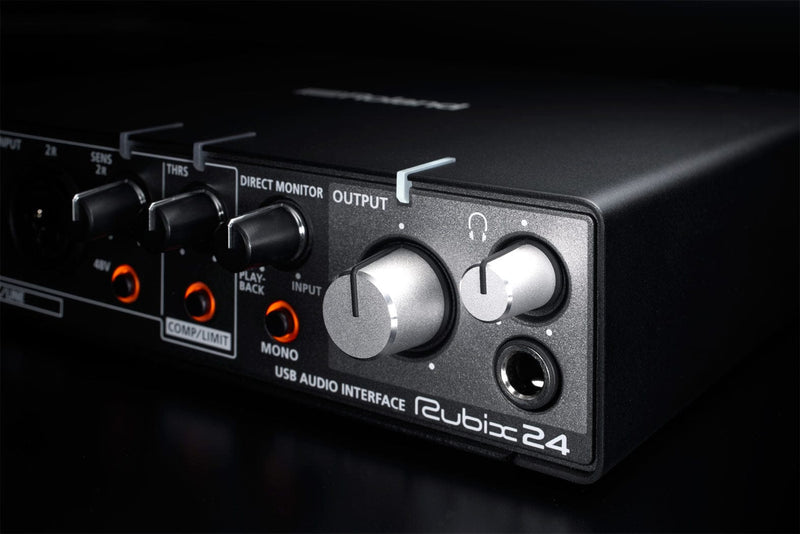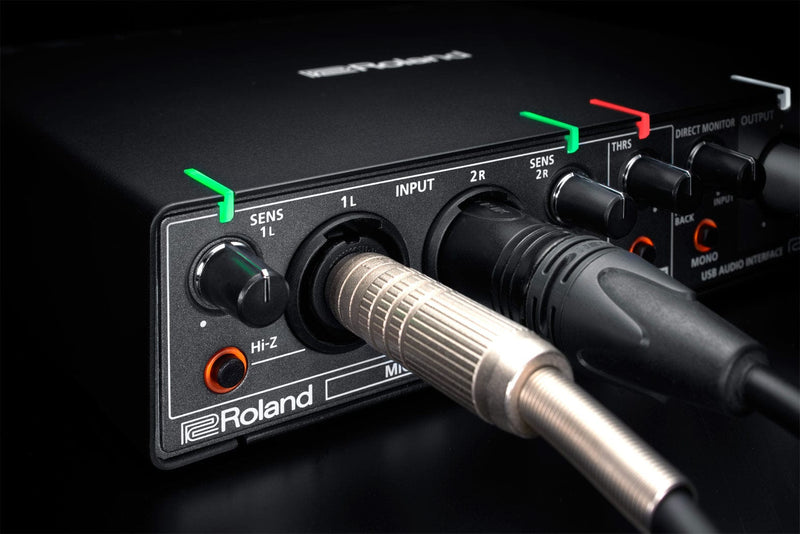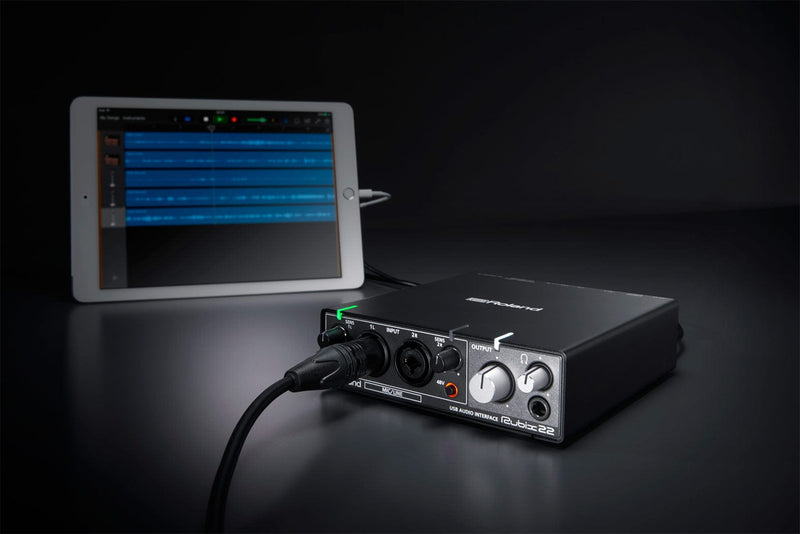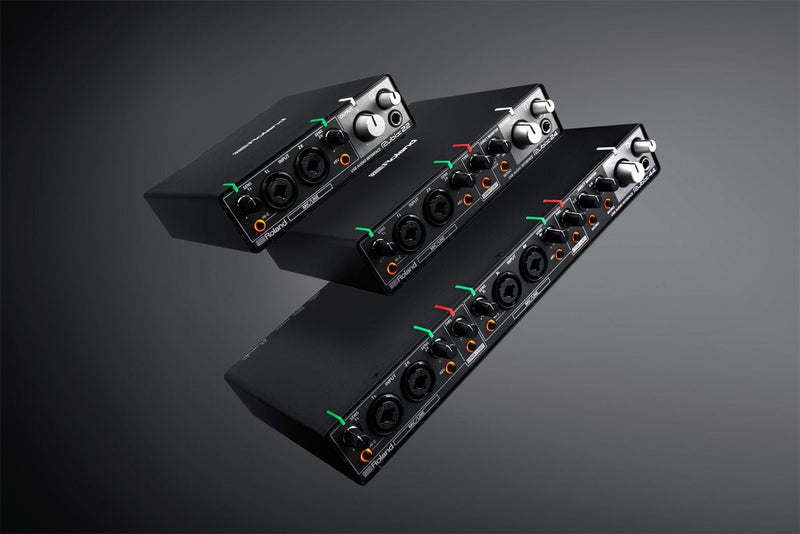 Roland Rubix 22 USB Audio Interface
RUBIX22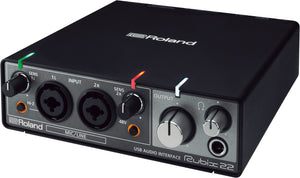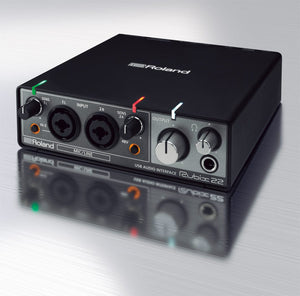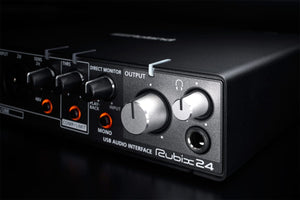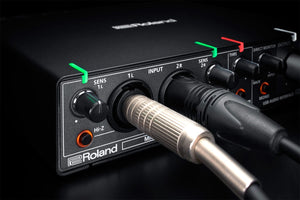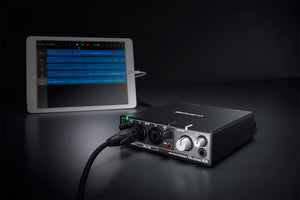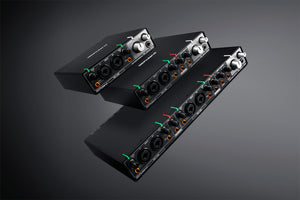 See & Try In Store
*Piano Cabinet Finishes Of Showroom Models May Vary
Request Price Match
We are only too happy to try and match a legitimate UK based musical instrument retailer's quote. We have been in business for over 30 years and will always do our best to be as competitive as possible.
If you have seen a product that you wish to purchase cheaper on another UK based retailer's website or shop, please call us on 01323 639335 or complete the form below. We will try and match (or beat) their quote – and still give you our award-winning service.
Alternatively, complete the form below and we'll get right back to you with our best price. Price matches are dependent upon stock availability.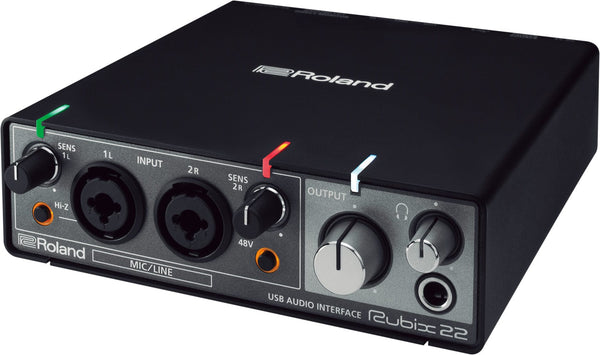 Roland Rubix 22 USB Audio Interface
£135.00