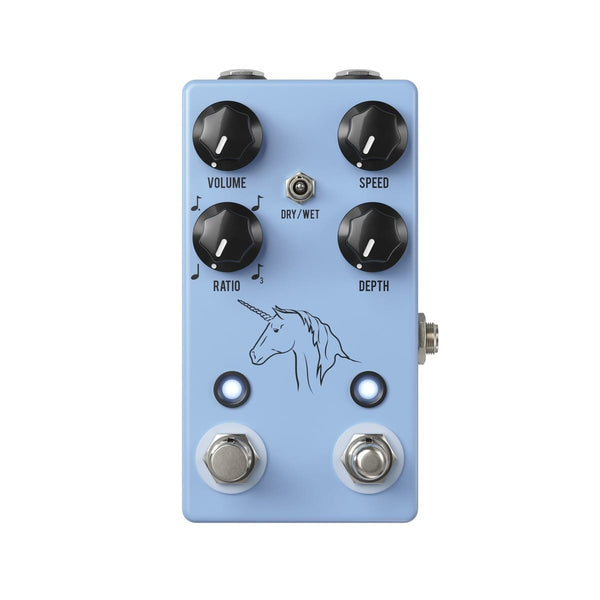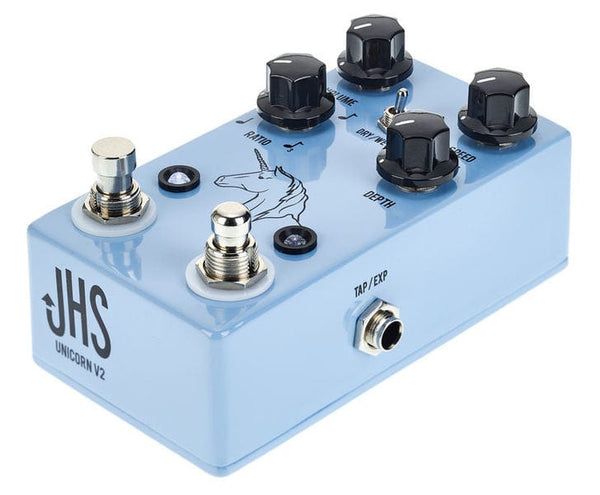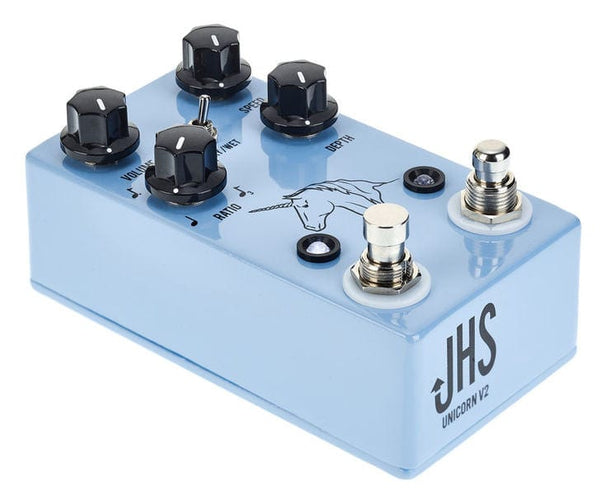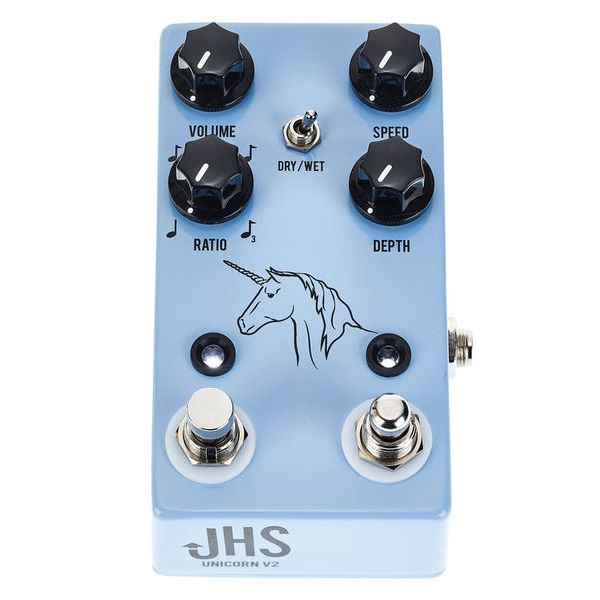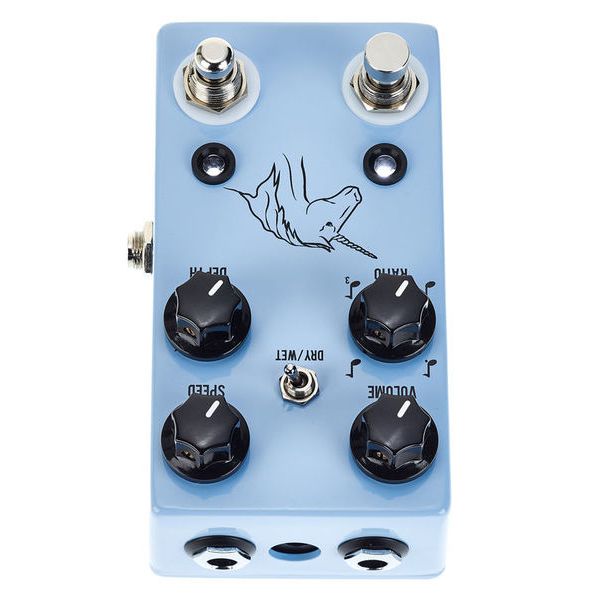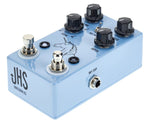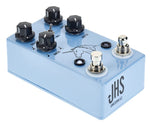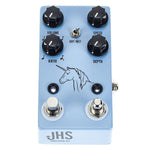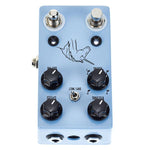 JHS Pedals Unicorn V2 Univibe Effects Pedal
Product Code: KN9143
Description
Delivery & Lead Times
Spread The Cost With Finance
Description
JHS Pedals Unicorn V2 Uni-Vibe Effects Pedal
What is Uni-Vibe? 
When looking at iconic effects that have etched their names into the hard, eternal marble adorning the pantheon of guitar playing history, near the top of the list would have to be the Uni-Vibe. This classic, beautiful effect has warbled and washed its way into the annals of history on such iconic songs as "Breathe" by Pink Floyd, "Bridge Of Sighs" by Robin Trower, but probably most notably by Jimi Hendrix with his iconic version of "The Star-Spangled Banner" at Woodstock in 1969.
The Uni-Vibe is an effect created to emulate the sound of the rotary speakers that were typically being used by organ players at the time. Quickly though, these rotary speaker cabinets began to be used by guitarists to create these huge, sweeping, phasing sounds on recordings and even live.
Uni-Vibe style pedals were initially created to simulate the thick and all-consuming character of these rotary speakers but in a much more portable and inexpensive fashion. There have been many ways of trying to simulate that sound, some more accurate than others.
Ironically though, some of the more popular versions of the effect ended up being the types that missed the mark. The ones that carry the most romance and desirability are the ones which didn't emulate the rotary effect too strictly but added some extra spice and flavour. Whether it be by happy accident or intentional styling it was pedals like the Uni-Vibe that really took off and had a sound all their own.
What Made The Uni-Vibe Special
The Uni-Vibe more than most had its own personality. It was murkier, stickier, more in-your-face. It sounded like a pedal effect and not necessarily an organic movement of air which really appealed to guitarists of the time. The secret ingredient in the Uni-Vibe recipe is its use of photocells. It works by pulsing a light that is surrounded by 4 light-sensitive cells which trigger what is essentially a 4-stage-phaser. The utilisation of these photocells is the key to properly capturing the unique and rich character of the original pedal from the 60's.
Capturing The Unicorn
Here's where JHS come in. Yet again, their dedication to authenticity and their quest for pure tone mean that they have gone above and beyond in order to capture this historic effect with the utmost care and attention. The Unicorn is the result of this quest.
The Unicorn is 100% analogue and photocell-based. It fully captures the spirit of those vintage forays into modulation and rotary emulation. What's more, uniquely, the Unicorn is the only one of these vintage-correct pedals to offer tap-tempo.
The Unicorn also does the same as the units of old insomuch as it has the same switch allowing you to switch between vibe and straight vibrato sounds. All in all, the Unicorn is a streamlined exterior housing all the original, fully analogue, photocell based goodness to recreate those unbelievably lush, vintage-correct vibe tones straight from the '60s.
Taming The Unicorn
JHS has not only made an incredibly realistic and authentic version of the Uni-Vibe but, furthermore, they have also made it incredibly easy to use. This is one of the key strengths of the pedal. Everything you can use to control and tame the stallion is operable through just four knobs.
Top left is a fairly self-explanatory, "volume" control, how loud would you like the pedal to be. To it's left you'll find a "speed" control. This controls how quickly you'd like the pedal to fluctuate through vibe town. Below that is the "depth" control. This dictates how powerful the effect is, how deep into the vibe vortex you wish to plunge on each voyage. Finally, to its left, you'll find a "ratio" control. This is a cool control as it allows you to shift the movement of the vibe sweeps away from the standard beat however you'd like. You can place the movement of the pedal onto quarter-note, dotted eighth, or triplet rhythms just by the simple twist of a four-way-selector.
Riding The Unicorn
Once you've got the hang of the reigns, your tush firmly in the saddle, and feet in the stirrups, the Unicorn actually has a really fully-fledged number of riding styles. The most immediate is to use the pedal as it is. You can use the right-hand unlatching footswitch to tap in the tempo you wish the pedal to adhere to. You can also use the "ratio" control to set which subdivisions you want the pulses to follow.
Another way is to use the side-mounted "TAP/EXP" jack input to plug in an external footswitch. This can take the place of the existing unlatching footswitch on the pedal itself and instead move it to a separate location. This makes the tap-tempo control a little easier to operate and minimises the amount of tap-dancing prowess needed to use the pedal cleanly. 
The third way to use the pedal actually, again, harkens back to the effect's origins. You can plug in an expression pedal to the "TAP/EXP" input jack and control the rate in a variable style. This allows you to sweep through the rate in real-time in exactly the same way as you were able to with the original Uni-Vibe unit. If you're looking for some proper 60's, acid infused sounds, this is how to achieve them!
What's New In Version Two?
Not a lot! JHS hit the nail so squarely on the head the first time around that they didn't need to make any changes to the internals or the sound of the pedal. The only changes made from the mark 1 were to make the pedal half the size and to lower the price point. So, that's a win-win. All the original, vintage-correct internals and tone but in a far more pedalboard friendly footprint,. Not to mention all the extra wonga it'll leave in your pocket to help pay for all that Unicorn food.
Why Bonners?
Here at Bonners Music, you have the opportunity to try one of these great JHS effects pedals yourself. Just give us a call on 01323 636141 or better still, visit our showroom! If you can't see the JHS pedal listed that you are after just call 01323 636141 for availability and the best price. 
Delivery & Lead Times
Delivery ETA's 
For accurate delivery information, please contact our sales team on sales@bonnersmusic.co.uk or call 01323 639335. As a guide, despatch times are detailed below.
Additional charges will be made for delivery of heavy items to some areas. Charges may also apply to upgrades including (but not limited to) timed deliveries, piano assembly, delivery of large items, and when matching deals from other retailers. If you are unsure about our delivery charges, please contact us.
In Stock Products
Products that are shown as in stock will be sent using our standard delivery service within 2 working days from when payment is received. This excludes piano deliveries with full installation - see below.
Pre-Order Products
Products which are shown as pre-order are not in stock, but can be ordered and reserved for you from the next available shipment. Order today to reserve your place in the queue! Call or email us for the latest lead times on pre-order products.
Digital Piano Deliveries:
We have many flexible delivery options for most delivery pianos, based on your location and whether you require it flat-packed, or fully assembled in your home. Digital piano delivery options are shown at checkout. 
Piano Deliveries
If you purchase a piano which is supplied with full installation, we will contact you once your order is received to arrange a convenient delivery date & time. Delivery & installation is usually within 14 days, but often sooner. Call us for current lead times on pianos.
Digital Piano Deliveries For Self-Assembly
Click here to see our specific information relating to piano deliveries.
If you choose our courier delivery/flat pack delivery method, please be aware that with larger items such as digital pianos, the courier is not contracted to carry them up any steps or stairs. If there are stairs leading to the front door of the delivery address, or you live in an apartment which is not on pavement level, it is your responsibility to arrange transportation from the pavement level to the delivery address. In this instance, the delivery driver may, at their own discretion assist you in carrying the parcels to the delivery address, but they are not contracted nor obliged to do so.
Do you need delivery upstairs, or delivery at a specific time?
For some larger items which need to be delivered upstairs - including pianos, we offer a timed delivery service using our own van and drivers. This service is free on some items and chargeable on others. Call us on 01323 639335 to discuss your specific delivery requirements.
No-one at home?
Our courier will try and deliver your parcel(s) twice. After the second failed attempt, your goods will be returned to our warehouse. If you would like us to try and deliver them again, we will charge the delivery charges associated with your order again.
Delivery Surcharges For Larger Items
For some larger items, delivery surcharges may apply to the following areas: Scotland, Wales, Channel Islands, Isle Of Wight, Cornwall, Ireland, North Of England above Leeds. Call us on 01323 639335 to check before ordering.
Spread The Cost With Finance
If you're set on buying your new instrument, there's no need to get weighed down by the total cost of it straight away. If you break it down into monthly payments over time, it's much more manageable than you might think. And our fixed interest rates mean you'll know exactly what you're paying from the start.
How it works
The finance options available are displayed on our individual product pages - just click the button under the price to see the available options for each product. Finance is available for most new and used instruments over £400.

Pay a fixed deposit, and the rest is split into monthly payments. At the end of your contract when you've made your final payment, the instrument or equipment is all yours. You could own that dream guitar, piano or keyboard sooner than you thought!

Which Finance Options Are Available?
Most products on our website show the available finance options. Some are interest free, and some are interest bearing. The options shown on the site are an example of what is available - if you would like to pay over a different period, give us a call on 01323 639335 and we'll try and arrange a finance option that suits your budget.

How To Apply For Finance
To apply for finance, please add the product to your cart, proceed through checkout and select 'Apply For Finance' as your payment option where you can complete the application form online.

The Lender
Bonners Ltd acts as a credit broker and only offers credit products from Secure Trust Bank PLC trading as V12 Retail Finance. Bonners Ltd is authorised and regulated by the Financial Conduct Authority. Our registration number is 718966. Bonners Ltd is registered in England and Wales 1994113. Registered office 34 North St, Hailsham, East Sussex BN27 1DW.

Secure Trust Bank is registered in England and Wales 541132. Registered office: One Arleston Way, Solihull, B90 4LH. Authorised by the Prudential Regulation Authority and regulated by the Financial Conduct Authority and the Prudential Regulation Authority. Registration number: 204550.
Not all products offered by Secure Trust Bank T/A V12 Retail Finance are regulated by the FCA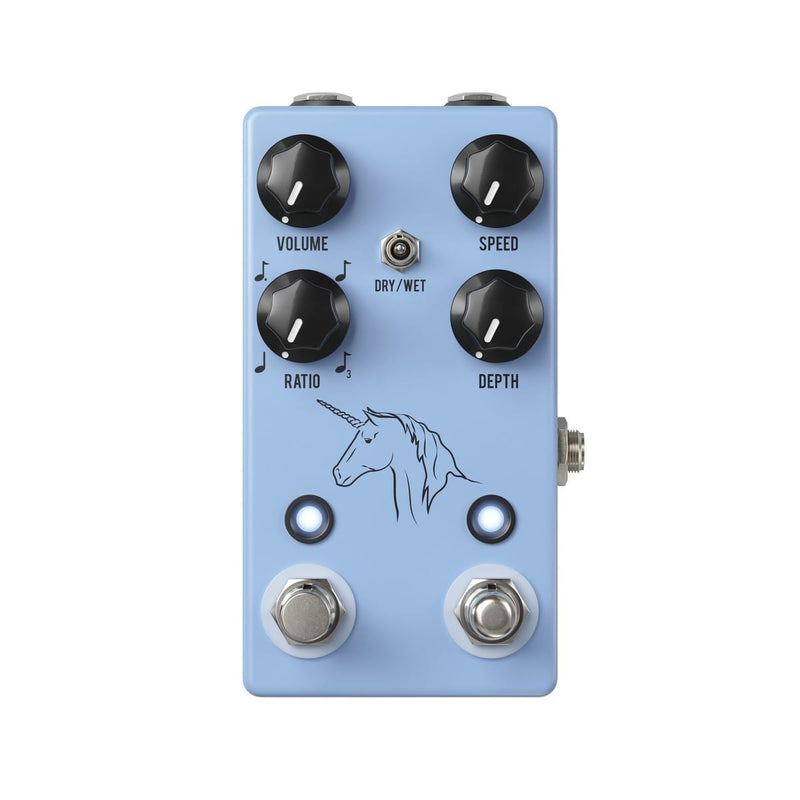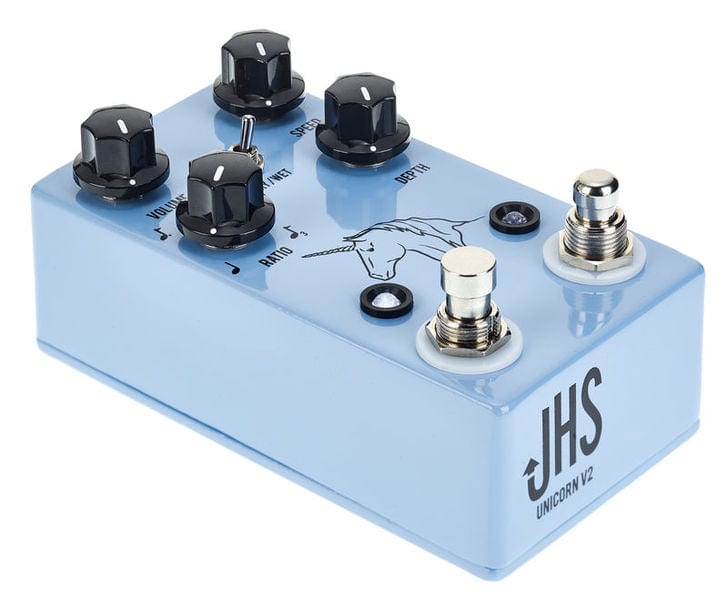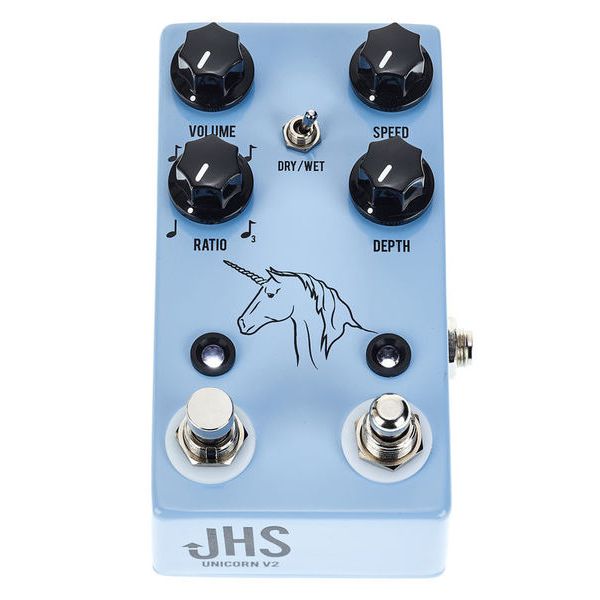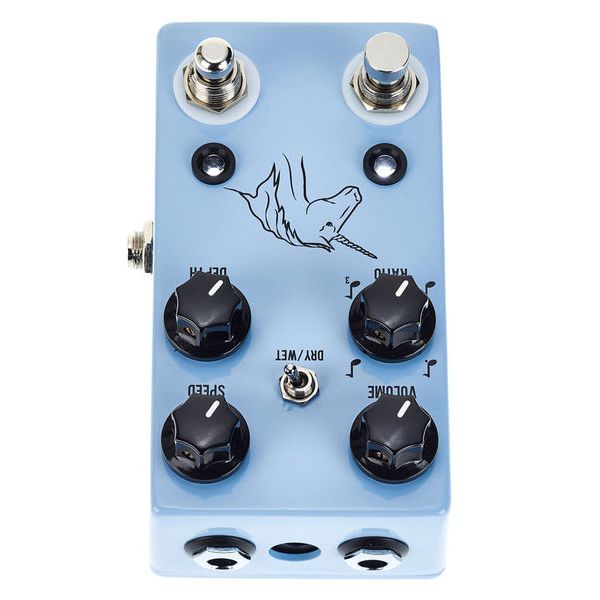 JHS Pedals Unicorn V2 Univibe Effects Pedal
KN9143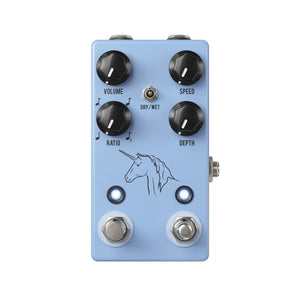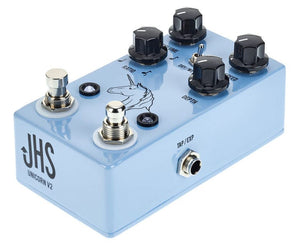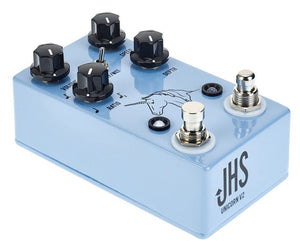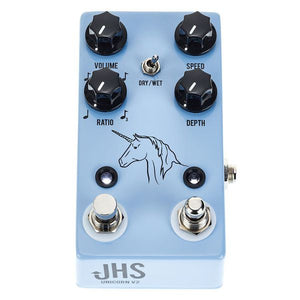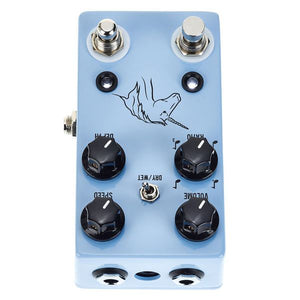 See & Try In Store
*Piano Cabinet Finishes Of Showroom Models May Vary
Request Price Match
We are only too happy to try and match a legitimate UK based musical instrument retailer's quote. We have been in business for over 30 years and will always do our best to be as competitive as possible.
If you have seen a product that you wish to purchase cheaper on another UK based retailer's website or shop, please call us on 01323 639335 or complete the form below. We will try and match (or beat) their quote – and still give you our award-winning service.
Alternatively, complete the form below and we'll get right back to you with our best price. Price matches are dependent upon stock availability.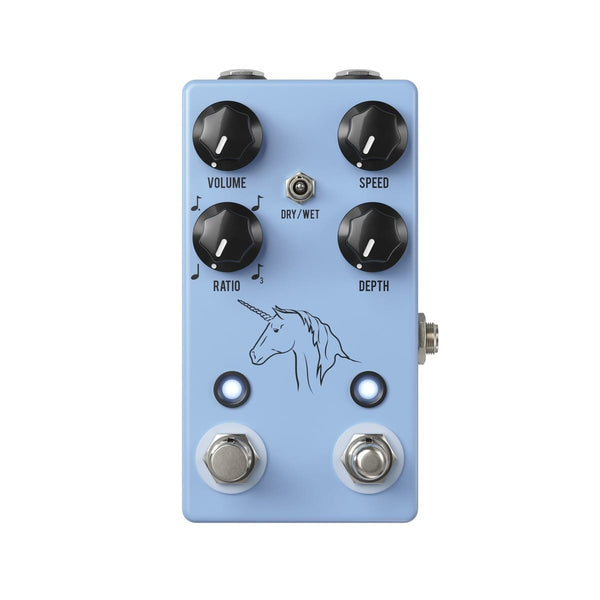 JHS Pedals Unicorn V2 Univibe Effects Pedal
£225.00