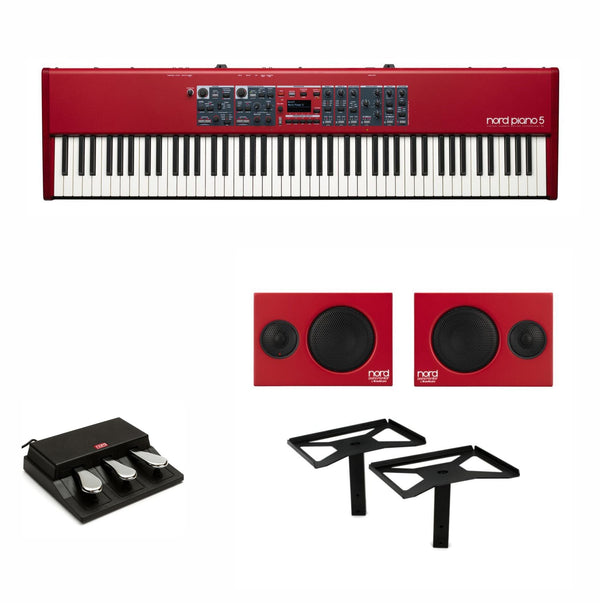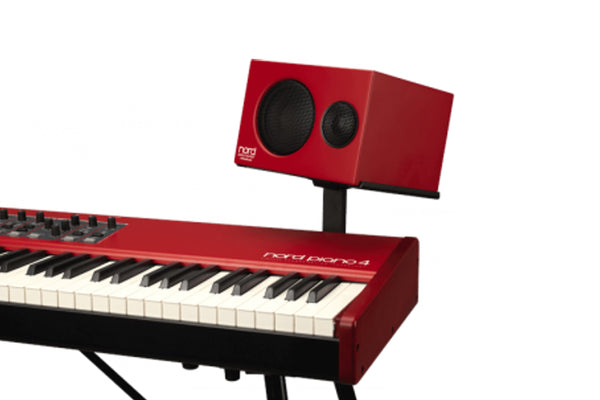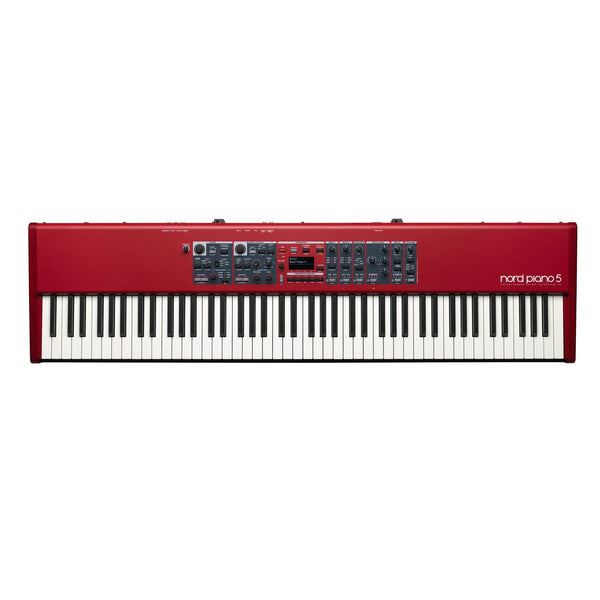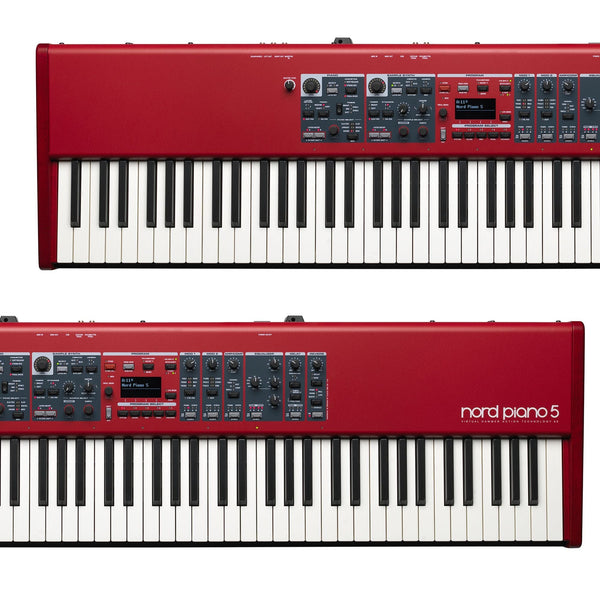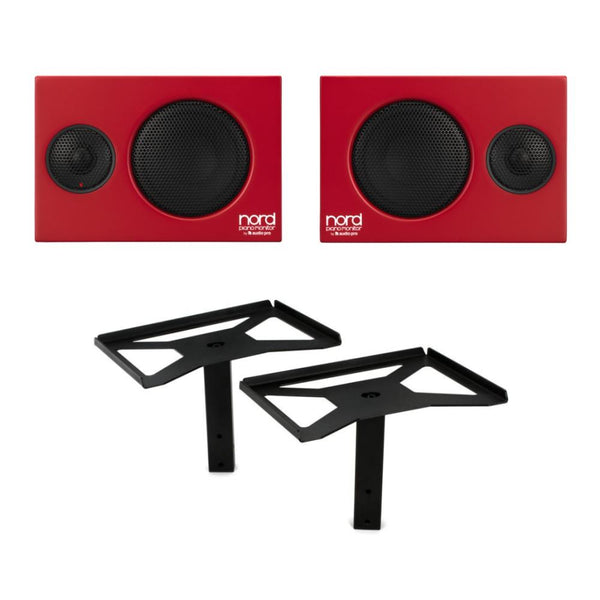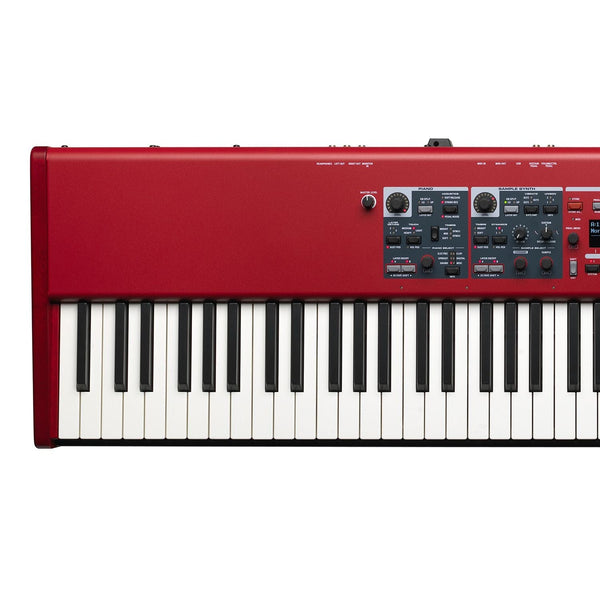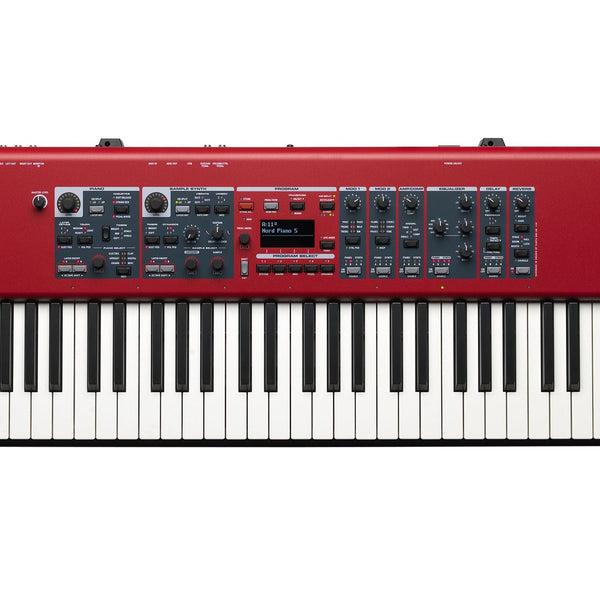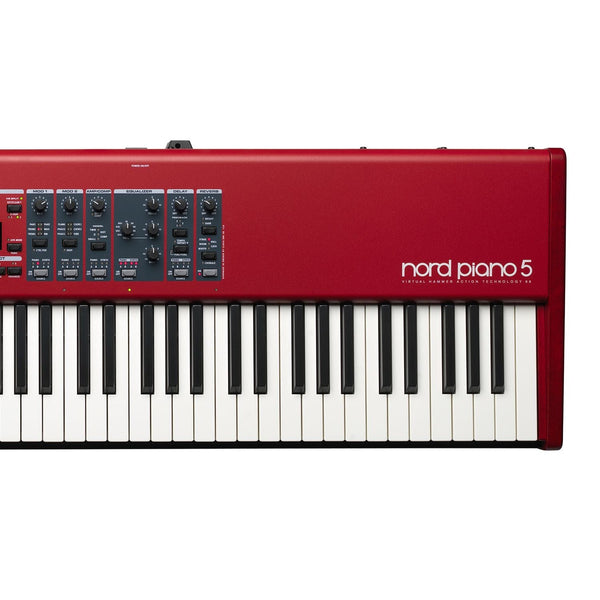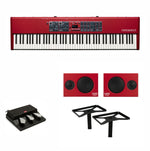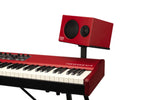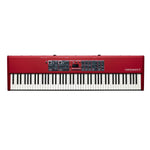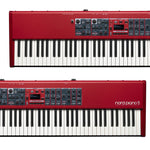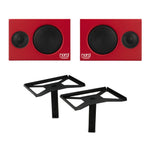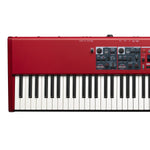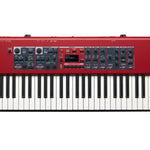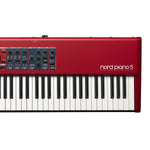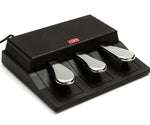 Nord Piano 5 88 Bundle Incl Monitor Speakers
Product Code: NOR0090-3
Description
Delivery & Lead Times
Spread The Cost With Finance
Description
Nord Piano 5 Features
KEYBOARD OPTIONS:
88-Note or 73-Note Triple Sensor keybed with grand weighted action
VOICE LAYERING:
Advanced Layering (2 Pianos + 2 Sample Synths)
KEYBOARD SPLIT:
Advanced KB Split with optional crossfades
SEAMLESS TRANSITIONS:
YES
DISPLAY SCREEN
VIBRATO AND CHORUS: Digital Scanner • Buttons: Upper On, Lower On
OVERDRIVE: Digital, 4 programs • Control: On, Amount
MULTI EFFECTS: 8 programs for Organ/Extra Voice individually • Control: On, Amount
EQUALIZER
INTERNAL LESLIE: Advanced Digital, 2 Rotors • Buttons: Bypass, Stop, Fast
REVERB: Digital, 11 programs • Control: On, Depth
Master Equalizer
PATCHES
OLED display for excellent overview
PIANO SECTION:
2 independent Piano Layers with 120 voice polyphony
SYNTH SECTION:
2 independent Sample Synth Layers
SAMPLE MEMORY:
Approx. 1 GB dedicated to the Nord Sample Library
EFFECTS:
High quality stereo effects modelled after classic stomp boxes
CONNECTIONS:
2 Audio outputs L & R - ¼", 6,35 mm jacks, unbalanced
1 Monitor input - 1/8", 3,5 mm stereo jack
1 Headphone output - ¼", 6,35 mm stereo jack
1 Sustain Pedal input - ¼", 6,35 mm jack. Use the included Nord Triple Pedal or a momentary pedal.
1 Volume Pedal input - ¼", 6,35 mm TRS stereo jack. Use a Control/Expression pedal like e.g. Yamaha FC-7, Roland EV-5 etc
MIDI In, MIDI Out - 5 pin DIN connectors
USB - type B connector - for transferring sounds and USB-MIDI
IEC C14 power connector
DIMENSIONS
Nord Piano 5 73: 73: 1070mm (42,1"), 342mm (13.4") 120mm (4.7")
Nord Piano 5 88: 1287 mm (50.7"), 342mm (13.4"), 120mm (4.7")
WEIGHT
Nord Piano 5 88: 18,5 kg (40.1 lbs)
Nord Piano 5 73: 15,5 kg (34.1 lbs)
INCLUDED ACCESSORIES:
Nord Triple Pedal
User Manual
Power cord
Nord Piano 5 88 Key Stage Piano Bundle Incl Monitor Speakers
Hand-Picked Accessories Included In this Bundle:
Nord Piano Monitors V2 Inc Brackets
Nord Triple Pedal Unit (in box)
The Nord Piano 5 is a high-quality stage piano that is available in two keyboard versions - 88 or 73 keys. Both instruments feature a Triple Sensor keybed with grand weighted action. The only difference between the two models is the number of keys - and, of course, the overall product weight. The 73 key model weighs just 15.5kg and the 88 note version weighs 18.5kg.
---
Nord has become the go-to piano for so many live performers in the past 10 years. The Piano 5 is a serious upgrade over the former model and I love the way that two piano voices can be layered together, along with two synth voices at the same time. It's possible to get some really BIG sound textures with this new model, and the reintroduction of the 73 key model (missing in the range since the Piano 3) is a very welcome addition.
---
At A Glance:
88-note Triple Sensor keybed with grand weighted action NEW
Nord Virtual Hammer Action Technology
Advanced Layering (2 Pianos + 2 Sample Synths) NEW
Advanced KB Split with optional crossfades NEW
Seamless Transitions
OLED display for an excellent overview
Part Exchange
Do you already own a keyboard that you would like to upgrade to the new Nord Piano 5? Email details of what you have (photos always help us to value it) to partex@bonners.co.uk and we'll get right back to you with a trade-in valuation. Trading in your old keyboard saves you the hassle of advertising it on the private market and we offer fair prices too. You could have the new Nord Piano 5 in your hands quicker than you thought!
Authentic Keyboard Touch
Nord's unique Virtual Hammer Action Technology in conjunction with the physical hammer movements deliver outstanding authenticity and dynamic response resulting in a keyboard action that handles dynamic playing with amazing control at any velocity level.
Two independent Pianos and Sample Synths
The Piano and Sample Synth sections of the Nord Piano 5 each contain two independent Layers. The two Pianos and two Sample Synths can be used simultaneously in a variety of split or Layer configurations. Combined with the versatile effects routing, a wide range of combinations can be achieved from classic ensemble settings to rich soundscapes.
The Nord Piano Experience
The Nord Piano 5 ships with an amazing 9 Grands, 9 Uprights, 10 Electric Pianos plus Clavinet, Digital Pianos and both a Marimba and a Vibraphone. Even more pianos are downloadable for free from www.nordkeyboards.com.
Advanced String Resonance
Nord's unique Advanced String Resonance accurately reproduces the complex interplay of the piano strings and also adds the rich ambience of a real piano when playing with the pedal down.


Nord Triple Pedal INCLUDED!
The Nord Triple Pedal includes Soft and Sostenuto Pedals in addition to a unique Dynamic Sustain Pedal. The Triple Pedal also enables our Pedal Noise feature that dynamically simulates the mechanical sounds of lifting and releasing the damper mechanism.
SAMPLE SYNTH SECTION
Two brand new independent Sample Synths with greatly expanded memory for the sounds in the Nord Sample Library. The Sample Synth Section contains a completely reworked selection of high-quality sounds from the Nord Sample Library including exclusively licensed sounds from the legendary Mellotron and Chamberlin as well as a selection of samples from the Symphobia and Swing! libraries by ProjectSAM. All sounds can be quickly replaced using the Nord Sound Manager. The Sample Synth section provides two fully-featured and independent Layers and is equipped with intuitive controls for attack, decay/release and dynamic velocity response. You can also create your own sample instruments using the unique free Nord Sample Editor software for Mac and Windows.
EFFECT SECTION
The Effect section has a wide selection of instantly tweakable high-quality stereo effects modelled after classic stompboxes. An effect can be assigned freely to any layer in the Piano and Sample Synth section. The Nord Piano 5 Effect section includes Tremolo, Phaser, Chorus, Pan, Wah, RM, Flanger, Vibe, EQ, Delay and Reverb. The Reverb effect has five different sizes (Booth, Room, Stage, Hall and Cathedral) for adding ambience to your sounds. The Bright and Dark modes allows for enhanced or reduced treble. The new Chorale option adds a lush modulation effect.
Piano Section Highlights
2 independent Piano Layers NEW

2x memory for Nord Piano Library NEW

120 Voice Polyphony

Creative Piano Timbre options including Dyno filter

3 Dynamic Curves to suit any playing style

Dynamic Pedal Noise with Nord Triple Pedal

Advanced String Resonance

Soft Release

All sounds are replaceable
Synth Section Highlights
2 independent Sample Synth Layers NEW

2x memory for Nord Sample Library NEW

Soft and Bright filters NEW

Tru-Vibrato NEW

Unison mode for rich, ensemble sounds NEW

Attack, Decay/Release and Dynamic controls

All sounds are replaceable
DIMENSIONS
Nord Piano 5 88: 1287 mm (50.7"), 342mm (13.4"), 120mm (4.7")


Nord Triple Pedal: 264 mm (10.4"), 224 mm (8.8"), 70 mm (2.8")
WEIGHT
Nord Piano 5 88: 18,5 kg (40.1 lbs)

Pedal: 2 kg (4.4 lbs)

Nord Piano 5 Features
KEYBOARD OPTIONS:
88-Note or 73-Note Triple Sensor keybed with grand weighted action
VOICE LAYERING:
Advanced Layering (2 Pianos + 2 Sample Synths)
KEYBOARD SPLIT:
Advanced KB Split with optional crossfades
SEAMLESS TRANSITIONS:
YES
DISPLAY SCREEN
VIBRATO AND CHORUS: Digital Scanner • Buttons: Upper On, Lower On
OVERDRIVE: Digital, 4 programs • Control: On, Amount
MULTI EFFECTS: 8 programs for Organ/Extra Voice individually • Control: On, Amount
EQUALIZER
INTERNAL LESLIE: Advanced Digital, 2 Rotors • Buttons: Bypass, Stop, Fast
REVERB: Digital, 11 programs • Control: On, Depth
Master Equalizer
PATCHES
OLED display for excellent overview
PIANO SECTION:
2 independent Piano Layers with 120 voice polyphony
SYNTH SECTION:
2 independent Sample Synth Layers
SAMPLE MEMORY:
Approx. 1 GB dedicated to the Nord Sample Library
EFFECTS:
High quality stereo effects modelled after classic stomp boxes
CONNECTIONS:
2 Audio outputs L & R - ¼", 6,35 mm jacks, unbalanced
1 Monitor input - 1/8", 3,5 mm stereo jack
1 Headphone output - ¼", 6,35 mm stereo jack
1 Sustain Pedal input - ¼", 6,35 mm jack. Use the included Nord Triple Pedal or a momentary pedal.
1 Volume Pedal input - ¼", 6,35 mm TRS stereo jack. Use a Control/Expression pedal like e.g. Yamaha FC-7, Roland EV-5 etc
MIDI In, MIDI Out - 5 pin DIN connectors
USB - type B connector - for transferring sounds and USB-MIDI
IEC C14 power connector
DIMENSIONS
Nord Piano 5 73: 73: 1070mm (42,1"), 342mm (13.4") 120mm (4.7")
Nord Piano 5 88: 1287 mm (50.7"), 342mm (13.4"), 120mm (4.7")
WEIGHT
Nord Piano 5 88: 18,5 kg (40.1 lbs)
Nord Piano 5 73: 15,5 kg (34.1 lbs)
INCLUDED ACCESSORIES:
Nord Triple Pedal
User Manual
Power cord
Delivery & Lead Times
Delivery ETA's 
For accurate delivery information, please contact our sales team on sales@bonnersmusic.co.uk or call 01323 639335. As a guide, despatch times are detailed below.
Additional charges will be made for delivery of heavy items to some areas. Charges may also apply to upgrades including (but not limited to) timed deliveries, piano assembly, delivery of large items, and when matching deals from other retailers. If you are unsure about our delivery charges, please contact us.
In Stock Products
Products that are shown as in stock will be sent using our standard delivery service within 2 working days from when payment is received. This excludes piano deliveries with full installation - see below.
Pre-Order Products
Products which are shown as pre-order are not in stock, but can be ordered and reserved for you from the next available shipment. Order today to reserve your place in the queue! Call or email us for the latest lead times on pre-order products.
Digital Piano Deliveries:
We have many flexible delivery options for most delivery pianos, based on your location and whether you require it flat-packed, or fully assembled in your home. Digital piano delivery options are shown at checkout. 
Piano Deliveries
If you purchase a piano which is supplied with full installation, we will contact you once your order is received to arrange a convenient delivery date & time. Delivery & installation is usually within 14 days, but often sooner. Call us for current lead times on pianos.
Digital Piano Deliveries For Self-Assembly
Click here to see our specific information relating to piano deliveries.
If you choose our courier delivery/flat pack delivery method, please be aware that with larger items such as digital pianos, the courier is not contracted to carry them up any steps or stairs. If there are stairs leading to the front door of the delivery address, or you live in an apartment which is not on pavement level, it is your responsibility to arrange transportation from the pavement level to the delivery address. In this instance, the delivery driver may, at their own discretion assist you in carrying the parcels to the delivery address, but they are not contracted nor obliged to do so.
Do you need delivery upstairs, or delivery at a specific time?
For some larger items which need to be delivered upstairs - including pianos, we offer a timed delivery service using our own van and drivers. This service is free on some items and chargeable on others. Call us on 01323 639335 to discuss your specific delivery requirements.
No-one at home?
Our courier will try and deliver your parcel(s) twice. After the second failed attempt, your goods will be returned to our warehouse. If you would like us to try and deliver them again, we will charge the delivery charges associated with your order again.
Delivery Surcharges For Larger Items
For some larger items, delivery surcharges may apply to the following areas: Scotland, Wales, Channel Islands, Isle Of Wight, Cornwall, Ireland, North Of England above Leeds. Call us on 01323 639335 to check before ordering.
Spread The Cost With Finance
If you're set on buying your new instrument, there's no need to get weighed down by the total cost of it straight away. If you break it down into monthly payments over time, it's much more manageable than you might think. And our fixed interest rates mean you'll know exactly what you're paying from the start.
How it works
The finance options available are displayed on our individual product pages - just click the button under the price to see the available options for each product. Finance is available for most new and used instruments over £400.

Pay a fixed deposit, and the rest is split into monthly payments. At the end of your contract when you've made your final payment, the instrument or equipment is all yours. You could own that dream guitar, piano or keyboard sooner than you thought!

Which Finance Options Are Available?
Most products on our website show the available finance options. Some are interest free, and some are interest bearing. The options shown on the site are an example of what is available - if you would like to pay over a different period, give us a call on 01323 639335 and we'll try and arrange a finance option that suits your budget.

How To Apply For Finance
To apply for finance, please add the product to your cart, proceed through checkout and select 'Apply For Finance' as your payment option where you can complete the application form online.

The Lender
Bonners Ltd acts as a credit broker and only offers credit products from Secure Trust Bank PLC trading as V12 Retail Finance. Bonners Ltd is authorised and regulated by the Financial Conduct Authority. Our registration number is 718966. Bonners Ltd is registered in England and Wales 1994113. Registered office 34 North St, Hailsham, East Sussex BN27 1DW.

Secure Trust Bank is registered in England and Wales 541132. Registered office: One Arleston Way, Solihull, B90 4LH. Authorised by the Prudential Regulation Authority and regulated by the Financial Conduct Authority and the Prudential Regulation Authority. Registration number: 204550.
Not all products offered by Secure Trust Bank T/A V12 Retail Finance are regulated by the FCA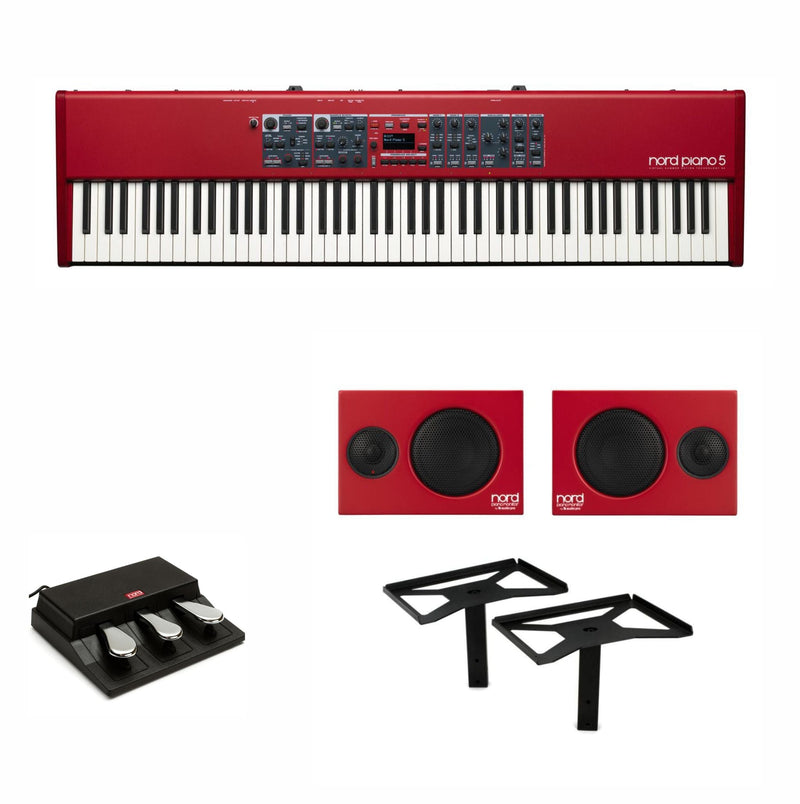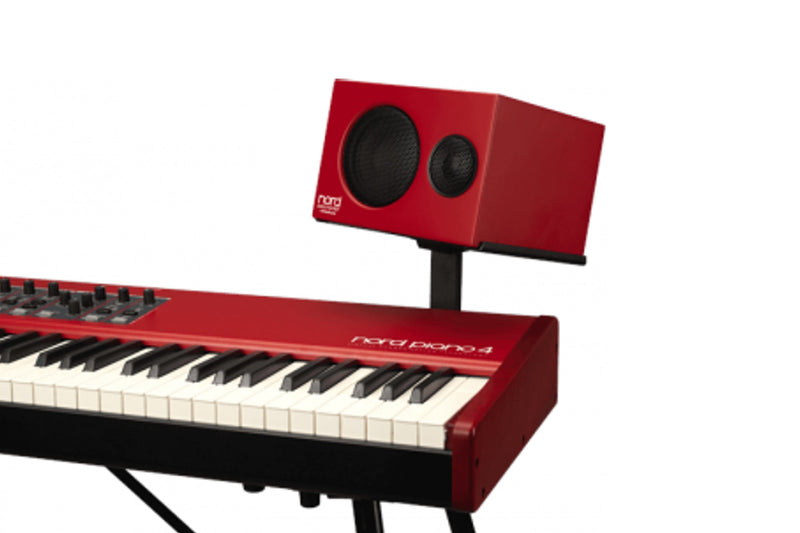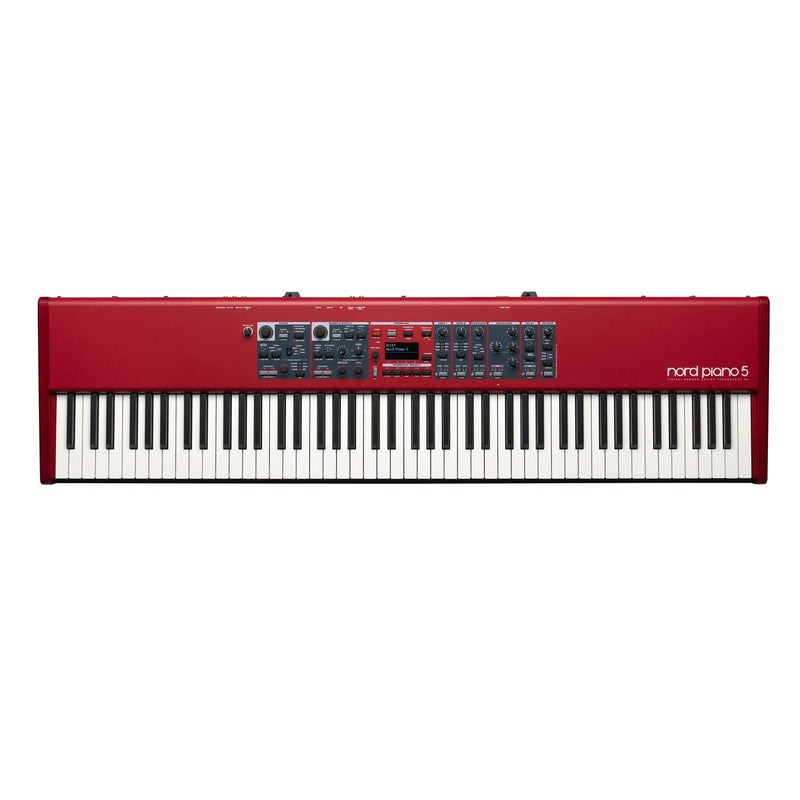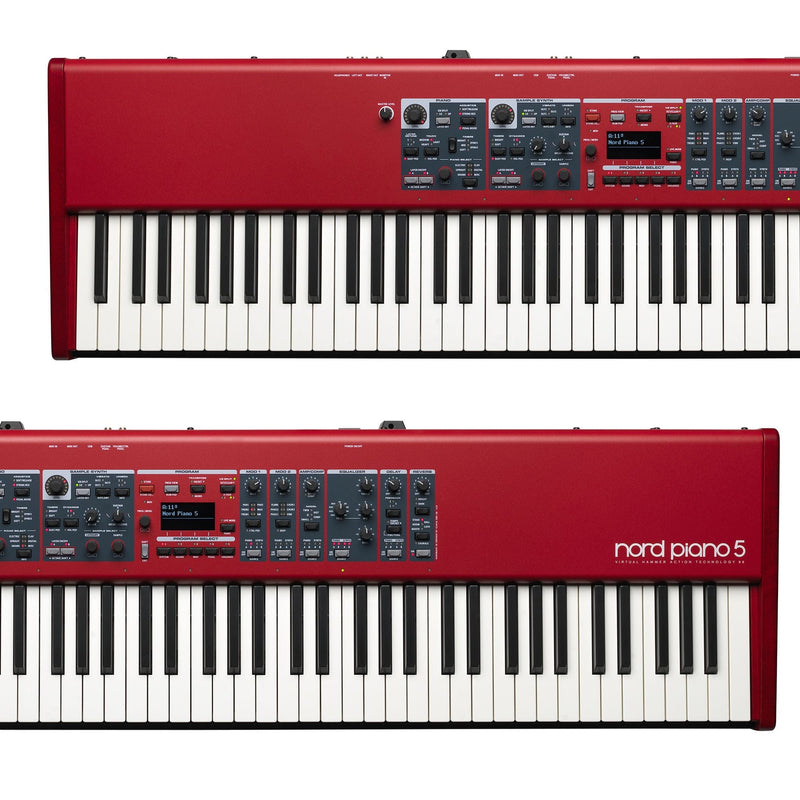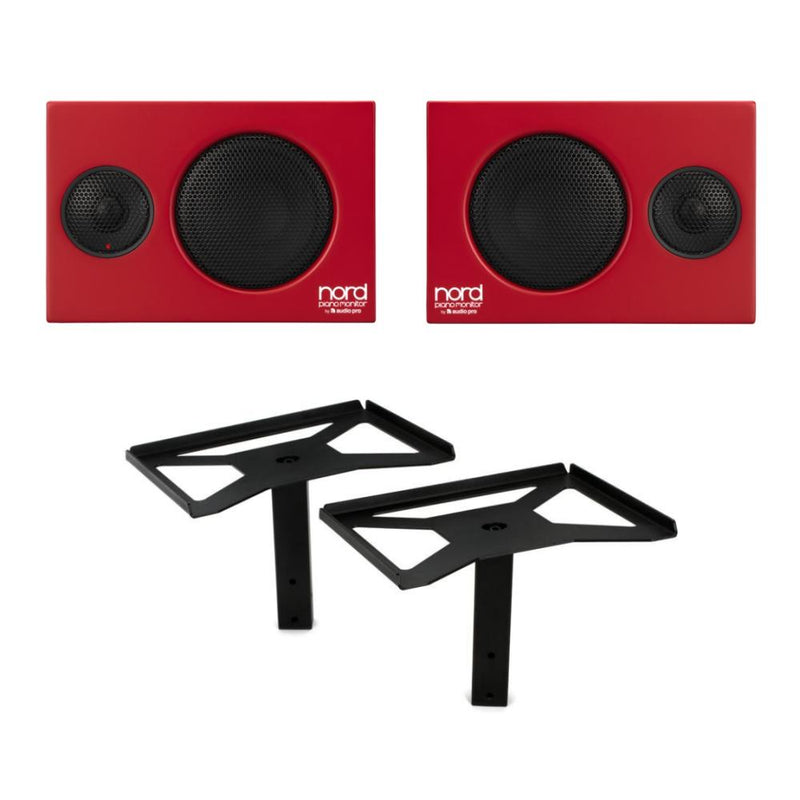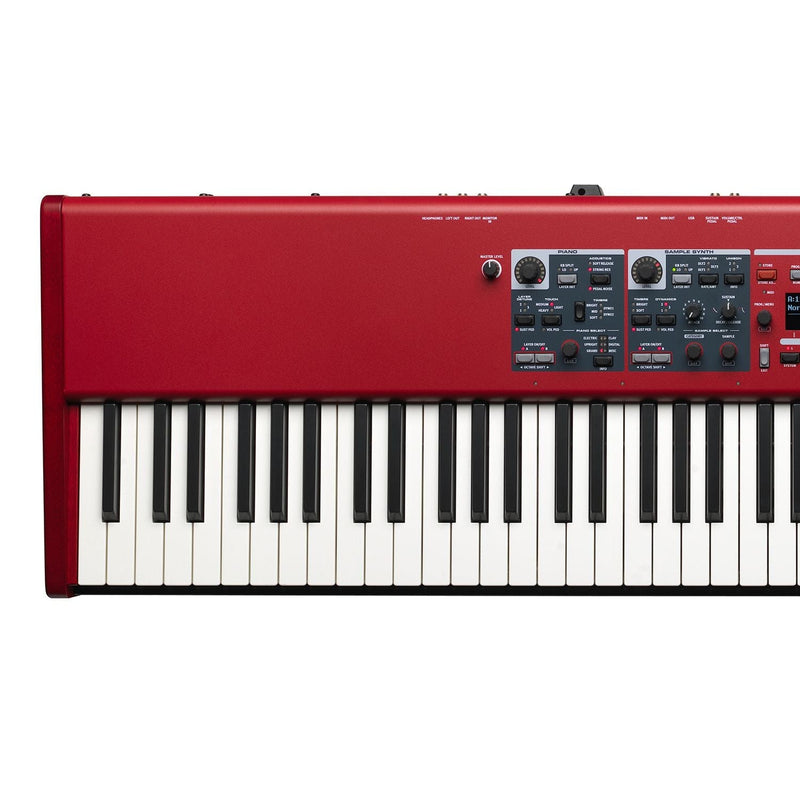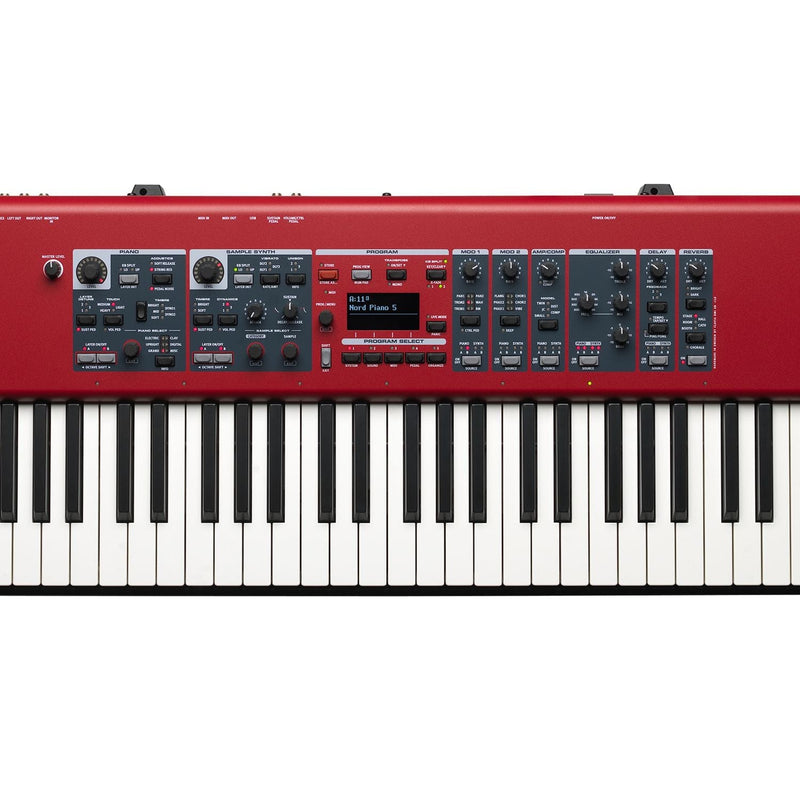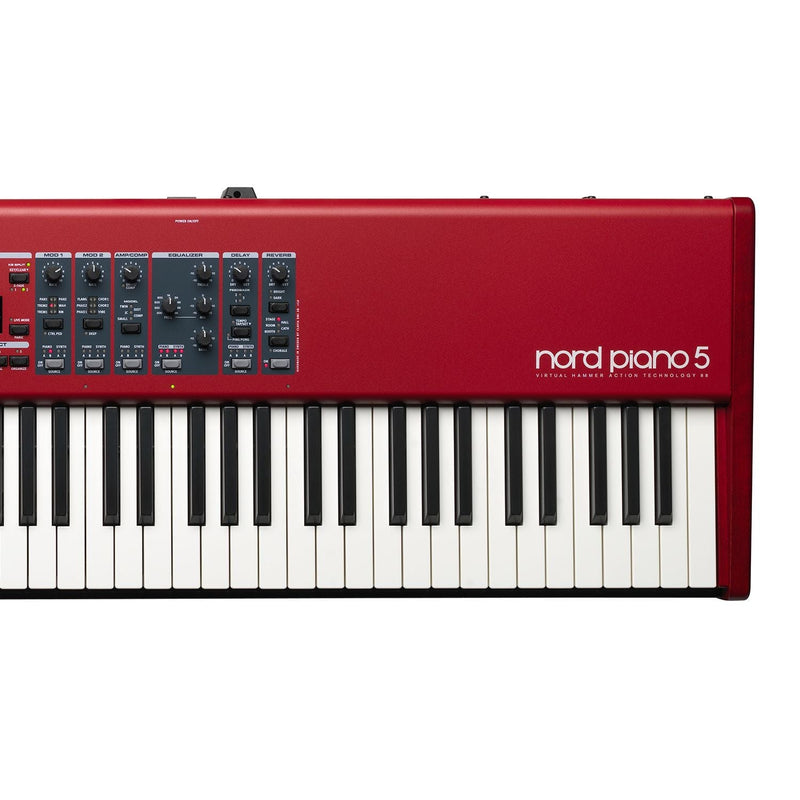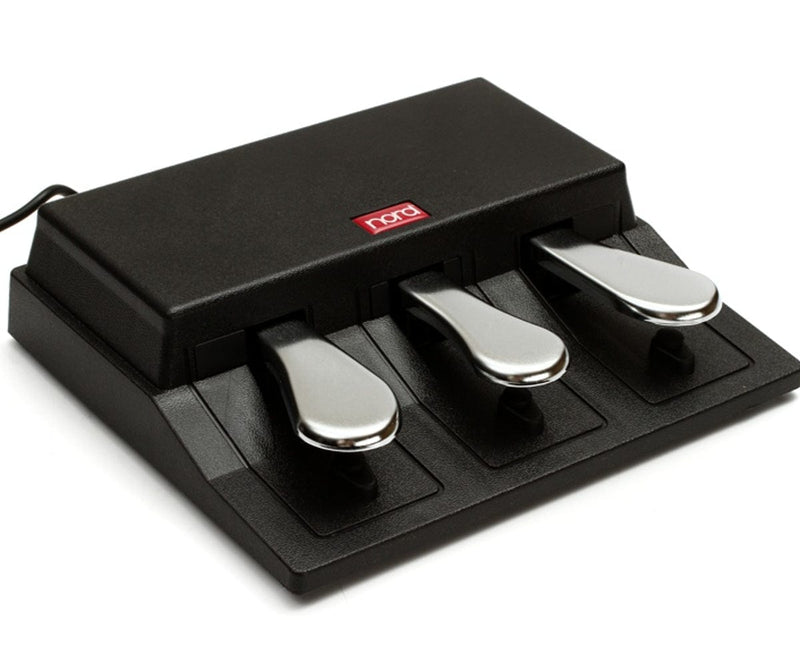 Nord Piano 5 88 Bundle Incl Monitor Speakers
NOR0090-3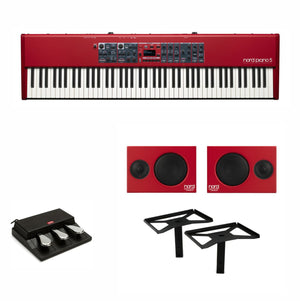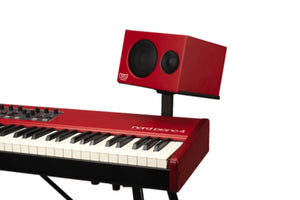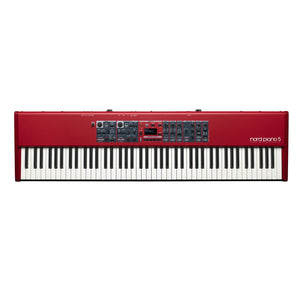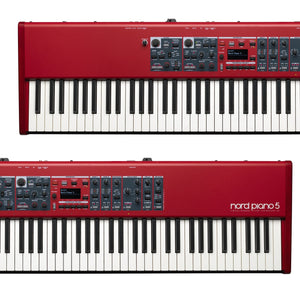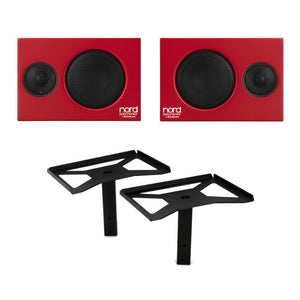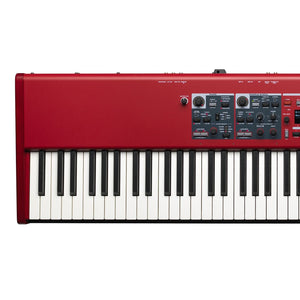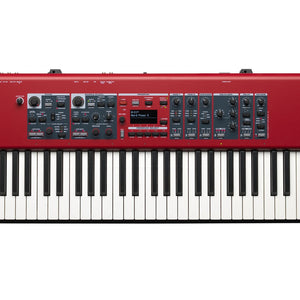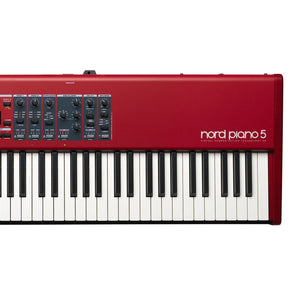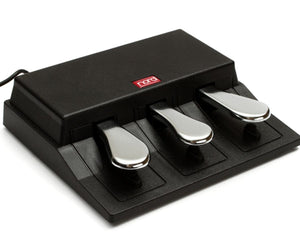 See & Try In Store
1 Ward Road
Bletchley
Milton Keynes
MK1 1JA

*Piano Cabinet Finishes Of Showroom Models May Vary
Request Price Match
We are only too happy to try and match a legitimate UK based musical instrument retailer's quote. We have been in business for over 30 years and will always do our best to be as competitive as possible.
If you have seen a product that you wish to purchase cheaper on another UK based retailer's website or shop, please call us on 01323 639335 or complete the form below. We will try and match (or beat) their quote – and still give you our award-winning service.
Alternatively, complete the form below and we'll get right back to you with our best price. Price matches are dependent upon stock availability.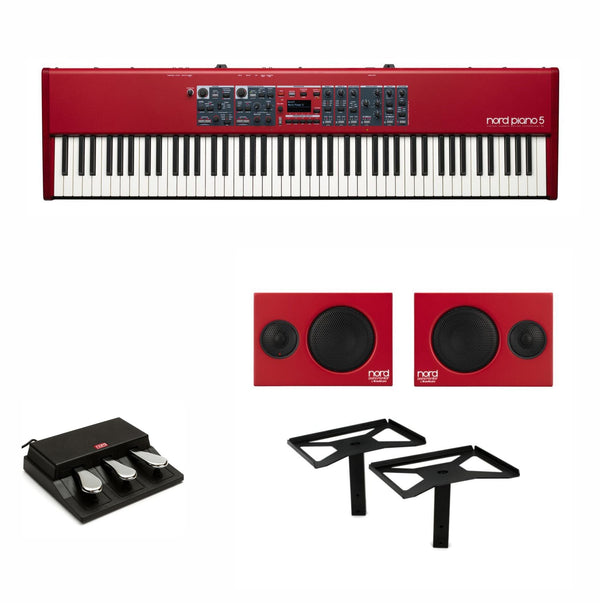 Nord Piano 5 88 Bundle Incl Monitor Speakers
£3,514.00