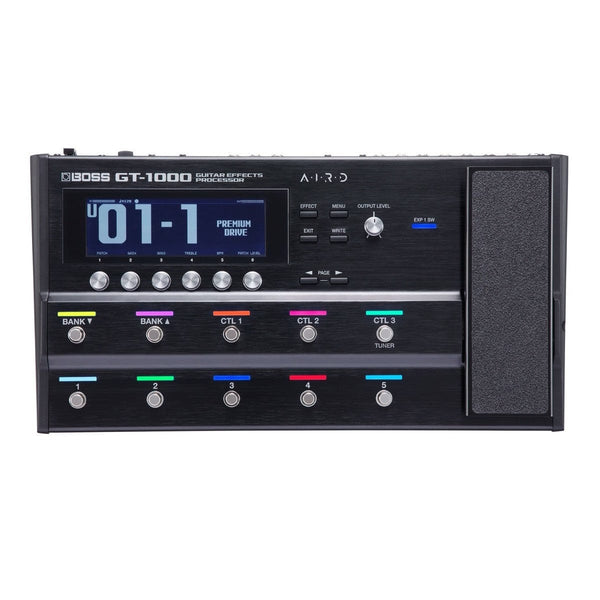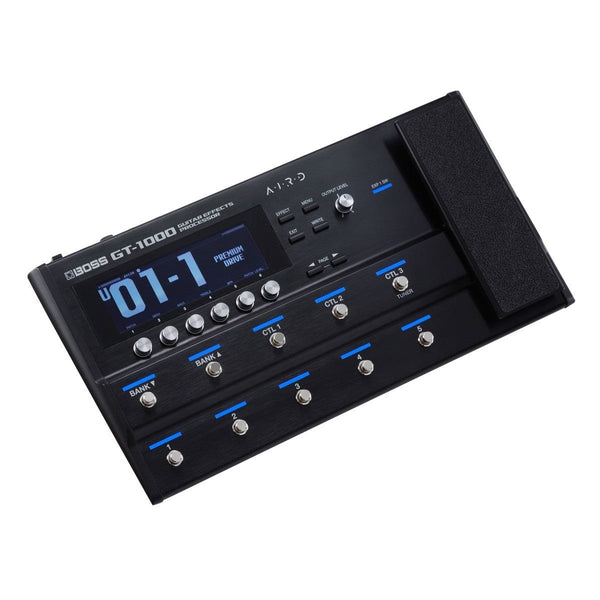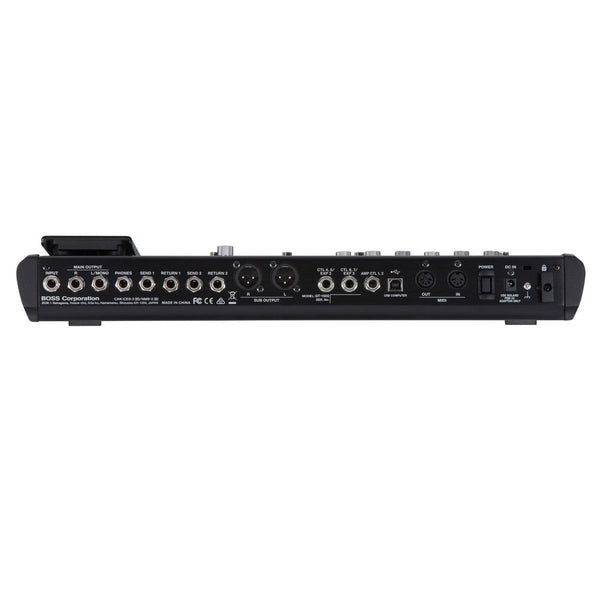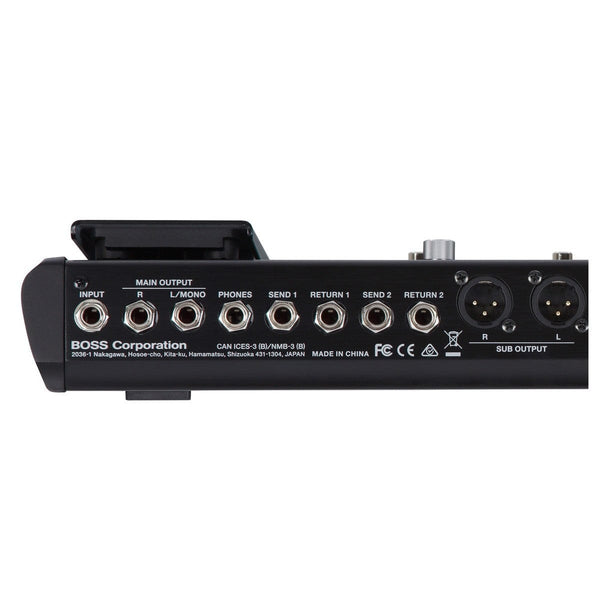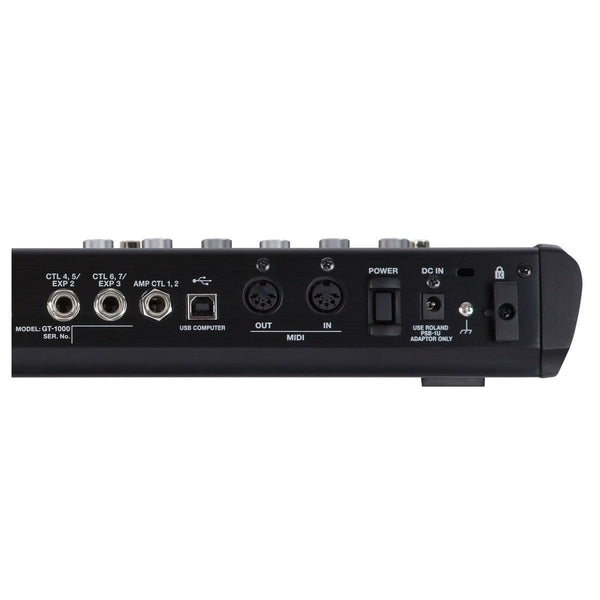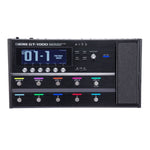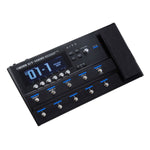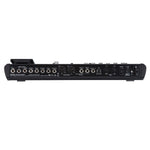 Boss GT1000 Guitar Effects Processor
Product Code: KN8318
RRP £1,089.00
SAVE £170.00
Description
Delivery & Lead Times
Spread The Cost With Finance
Description
Boss GT1000 Guitar Effects Processor Features

Sampling Frequency

96 kHz

AD Conversion

32 bits + AF method
* AF method (Adaptive Focus method) is a proprietary method from Roland & BOSS that vastly improves the signal-to-noise (SN) ratio of the AD and DA converters.

DA Conversion

32 bits

Effects

145 types

Patches

250 (User) + 250 (Preset)

Phrase Loop

38 sec. (MONO)
19 sec. (STEREO)

Tuner Internal Detection

+/-0.1 cent

Nominal Input Level

INPUT: -10 dBu
RETURN1: -10 dBu
RETURN2: -10 dBu

Maximum Input Level

INPUT: +18 dBu
RETURN1: +8 dBu
RETURN2: +8 dBu

Input Impedance

INPUT: 1 M ohm
RETURN1: 1 M ohm
RETURN2: 1 M ohm

Nominal Output Level

MAIN OUTPUT (L/MONO, R): -10 dBu
SUB OUTPUT (L, R): +4 dBu
PHONES: -10 dBu
SEND1: -10 dBu
SEND2: -10 dBu

Output Impedance

MAIN OUTPUT (L/MONO, R): 1 k ohm
SUB OUTPUT (L, R): 600 ohms
PHONES: 20 ohms
SEND1: 1 k ohm
SEND2: 1 k ohm

Recommended Load Impedance

MAIN OUTPUT (L/MONO, R): 10 k ohms or greater
SUB OUTPUT (L, R): 600 ohms or greater
PHONES: 44 ohms or greater
SEND1: 10 k ohms or greater
SEND2: 10 k ohms or greater

Controls

DOWN switch, UP switch CTL1--3 switches, 1--5 switches, POWER switch
EFFECT button, MENU button, EXIT button, WRITE button, PAGE button
1--6 knobs, OUTPUT LEVEL knob
Expression pedal

Display

Graphic LCD (512 x 160 dots, backlit LCD)

Connectors

INPUT jack, MAIN OUTPUT (L/MONO, R) jacks, SEND1 jack, RETURN1 jack, SEND2 jack, RETURN2 jack: 1/4-inch phone type
SUB OUTPUT (L, R) connectors: XLR type
PHONES jack: Stereo 1/4-inch phone type
CTL4, 5/EXP2 jack, CTL6, 7/EXP3 jack, AMP CTL1, 2 jack: 1/4-inch TRS phone type
USB COMPUTER port: USB B type
DC IN jack
MIDI (IN, OUT) connectors

Power Supply

AC adaptor

Accessories

AC adaptor (PSB-1U + AC Cord Set)
Owner's manual
Leaflet

SIZE AND WEIGHT

Width Depth Height

W 462 x D 248 x H 70

Weight

3.6 kg
Boss GT1000 Guitar Effects Processor 
The Boss GT1000 is a top-of-the-range guitar multi-effects pedal that has premium sound quality and introduces a new era of performance in guitar effect processors. Pioneering AIRD (Augmented Impulse Response Dynamics) technology through many years of Boss research, 32 bit super fast DSP and 96kHz sampling rate.
Based on BOSS's acclaimed Tube Logic approach, the comprehensive AIRD system in the Boss GT-1000 brings unparalleled musical response and flexibility to a digital guitar processor. AIRD amplifiers live and breathe like real tube amps, providing inspiring feel and authentic tonal dynamics that were previously unattainable. And with sophisticated AIRD Output Select functionality, you're able to consistently achieve this amazing sound with any setup, from standard guitar amps to direct recording and full-range stage monitoring applications.
The Boss GT-1000 also features a huge range of cutting-edge BOSS effects to enhance your tones, with numerous routing options and extensive real-time control at your command. And with the convenience of built-in Bluetooth®, you can adjust sounds, configure control assignments, and organize patches wirelessly from your mobile device using the BOSS Tone Studio app. Packing immense creative power in a streamlined pro design, the Boss GT-1000 is a game changer that brings new levels of musical expression to guitarists everywhere. 
Flagship amp/effects processor with uncompromising sound quality and unmatched expressiveness
Industry-leading 32-bit AD/DA, 32-bit floating-point processing, and 96 kHz sampling rate throughout
Next-generation BOSS DSP engine, custom designed specifically for music applications
AIRD (Augmented Impulse Response Dynamics) technology realizes BOSS's acclaimed Tube Logic concept in a digital guitar processor, delivering natural feel and optimized integration with all types of external devices
Highly expressive amplifiers, meticulously crafted with AIRD
Massive selection of onboard BOSS effects, including MDP effects and algorithms directly ported from the 500 series
Amps and effects can be routed in numerous series and parallel combinations
Ultra-fast patch switching and delay carryover
Innovative Stompbox feature greatly simplifies using common effects settings in many different patches
Easy operation with large display and six user-assignable switching knobs
Ten footswitches and integrated expression pedal with user-configurable assignments and LED colors
High-resolution tuner with two display modes and mono or polyphonic operation
¼-inch main outputs and XLR sub outputs with independent AIRD Output Select settings; loop for external stereo or mono effects
Support for external control via footswitches, expression pedals, MIDI, and USB
Built-in Bluetooth for wireless editing via BOSS Tone Studio app for iOS and Android mobile devices
USB audio/MIDI interface for computer-based recording and editing
16 locations for loading WAV-format speaker impulse responses
Dedicated mode for bass guitar applications

Latest GT-1000 Update: Version 3.2
The GT-1000 continues to evolve through ongoing firmware development that adds new features and functionality enhancements requested by users.
Mastering FX—Eleven different Mastering FX allow you to shape the overall sound at the line output for different styles and playing situations.
New Master Delay Types—Five delay algorithms from the historic BOSS/Roland library have been added: S D E-3000, DD-20 Standard and DD-20 Analog, and Warm and Glitch from the DD-8.
More Onboard Speaker IRs for Recording—The speaker IR selection in Recording mode has been greatly expanded with the ability to use "Original" speaker types from different amplifiers.
More Mic Types—A new RBN121 mic type and three mic blend types have been added to the Speaker Simulator block.
EV-1-WL Support—Use the EV-1-WL Wireless MIDI Expression Pedal for cable-free effects control via

 

Bluetooth.
Designed for Unparalleled Sound Quality
The GT-1000 brings you no-compromise audio performance backed by the latest BOSS technologies. It's the first-ever guitar multi-effects unit with 32-bit AD/DA, 32-bit floating-point processing, and 96 kHz sampling rate throughout, while the custom DSP engine packs over three times the power of previous generations. This immense processing muscle unlocks far greater sonic detail than ever before possible, making it easy to get the sounds you're after without endless parameter tweaks and microscopic EQ adjustments.
AIRD: A Revolution in Digital Amp Processing
At its core, the GT-1000 harnesses BOSS's breakthrough AIRD technology for previously unattained musical power. Based on the comprehensive Tube Logic concept behind the renowned Katana, Waza, Nextone, and Blues Cube amplifiers, AIRD takes the amp processor to a new level of performance, flexibility, and practical usability.

The tube amplifiers that guitarists love are interactive, highly expressive musical instruments that are far more than the sum of their individual components. The Tube Logic design philosophy fully realizes this interactive experience, and it's been hugely successful in the self-contained guitar amps where it's been employed. However, bringing this approach to a guitar processor like the GT-1000 introduces many challenges, because players will use it with a variety of external amplification systems that add their own characteristics to the sound. BOSS developed AIRD to address these challenges, employing sophisticated techniques to ensure that the GT-1000's groundbreaking musical response can be consistently experienced with any rig.
Highly Musical Guitar Amplifiers, Crafted with AIRD
The GT-1000 is loaded with immensely expressive guitar amplifiers, all meticulously crafted with AIRD. In contrast to traditional modeling methods, AIRD reproduces the complex internal component interactions of tube amps in every way, from guitar input to speaker output and everything in-between. The result is a complete interactive system that's a living, breathing instrument, just like your favorite high-end tube amp.

A key focus of AIRD is the reactive amp/speaker relationship, which is essential to the dynamic feel and musical responsiveness of tube amplifiers. This vital relationship is fully brought to life with the GT-1000's amps, producing guitar tones that are alive with punch, presence, and depth. Thanks to AIRD, your sound always feels great under your fingers and "sits in the mix" properly, delivering a truly organic musical experience that's never been available from a digital guitar processor until now.

The GT-1000 features a wide range of BOSS original amplifiers suitable for all guitar styles, from super-clean to ultra-heavy. A number of amp types employ Multi-Dimensional Processing (MDP) technology for dynamic, nuanced tone that reaches beyond the capabilities of analog designs. Classic tube amps throughout history are included as well, from coveted vintage combos to modern high-gain heads. Two amps can be used at once in a single patch, so you're able to switch between two sounds, blend amps for complex tones, or achieve big, expansive sound in stereo setups.
Optimized Performance for Every Playing Application
AIRD enables the GT-1000 to flow smoothly into any setup with minimal adjustments. By choosing from the large selection of onboard AIRD Output Select types, you can perfectly tailor the GT-1000 for any destination, whether it's a guitar amp input, an amp effects return, an FRFR monitoring system, or house PA. In addition to the onboard options, there are two user locations for loading more types with the GT-1000 AIRD Output Select Library software.

AIRD is integrated into the GT-1000's amplifiers at every level, so you'll always experience their authentic sound and interactive response with any setup. Going further, you can apply different AIRD Output Select settings to the main and sub outputs to optimize the sound for two destinations at once. Independent ground-lift functions are also available to tackle hum issues when connecting external devices.
Extraordinary Effects
The GT-1000 comes loaded with all types of effects, from BOSS classics and retro stompboxes to modern MDP effects and advanced algorithms from the BOSS 500 series. Multiple series and parallel routings are easy to set up via the intuitive interface. And with the clever Stompbox feature, you can adjust commonly used amp and effects settings across multiple patches at once. There are also two effects loops for patching in your favorite external effects and preamps.
Bass Multi-Effects Flagship
The GT-1000 takes bass processing to new heights with next-generation sound quality and ultra-flexible performance features. Three AIRD bass preamps are provided for shaping your core tone, while eight different overdrive/distortion effects are available for additional color and gain. There's an MDP bass compressor as well, plus chorus, flanger, touch wah, and many other effect types specially tuned for bass.
Intensive Performance Control
With its ten footswitches and expression pedal with toe switch, the GT-1000 provides comprehensive creative control wherever you play. And you can go even deeper with external switches, pedals, MIDI, and USB. The onboard controls come with default assignments for preset selection and per-patch control targets, but you can easily reassign them to operate nearly any function. Manual and Pedalboard modes are also available to instantly reconfigure the footswitches for additional control in the heat of the moment.
USB Audio/MIDI and Wireless Editing via Bluetooth
The GT-1000 comes equipped with Bluetooth—a first for a pro-level amp/effects processor—allowing you to wirelessly manage sounds from the BOSS Tone Studio app for iOS and Android. You can comfortably tweak the processor from your mobile device without having to bend over and edit with the hardware. It's even possible to record a riff with the GT-1000's looper and adjust tones from the audience position!

There's also a multi-channel USB audio/MIDI interface for flexible computer recording and efficient re-amping. The dedicated Recording mode offers a variety of built-in speaker and mic types, and it's possible to import WAV-format speaker impulse responses with the GT-1000 IR Loader software. In addition, USB provides a connection for detailed patch editing and sound organization with the desktop version of BOSS Tone Studio.
Boss GT1000 Guitar Effects Processor Features

Sampling Frequency

96 kHz

AD Conversion

32 bits + AF method
* AF method (Adaptive Focus method) is a proprietary method from Roland & BOSS that vastly improves the signal-to-noise (SN) ratio of the AD and DA converters.

DA Conversion

32 bits

Effects

145 types

Patches

250 (User) + 250 (Preset)

Phrase Loop

38 sec. (MONO)
19 sec. (STEREO)

Tuner Internal Detection

+/-0.1 cent

Nominal Input Level

INPUT: -10 dBu
RETURN1: -10 dBu
RETURN2: -10 dBu

Maximum Input Level

INPUT: +18 dBu
RETURN1: +8 dBu
RETURN2: +8 dBu

Input Impedance

INPUT: 1 M ohm
RETURN1: 1 M ohm
RETURN2: 1 M ohm

Nominal Output Level

MAIN OUTPUT (L/MONO, R): -10 dBu
SUB OUTPUT (L, R): +4 dBu
PHONES: -10 dBu
SEND1: -10 dBu
SEND2: -10 dBu

Output Impedance

MAIN OUTPUT (L/MONO, R): 1 k ohm
SUB OUTPUT (L, R): 600 ohms
PHONES: 20 ohms
SEND1: 1 k ohm
SEND2: 1 k ohm

Recommended Load Impedance

MAIN OUTPUT (L/MONO, R): 10 k ohms or greater
SUB OUTPUT (L, R): 600 ohms or greater
PHONES: 44 ohms or greater
SEND1: 10 k ohms or greater
SEND2: 10 k ohms or greater

Controls

DOWN switch, UP switch CTL1--3 switches, 1--5 switches, POWER switch
EFFECT button, MENU button, EXIT button, WRITE button, PAGE button
1--6 knobs, OUTPUT LEVEL knob
Expression pedal

Display

Graphic LCD (512 x 160 dots, backlit LCD)

Connectors

INPUT jack, MAIN OUTPUT (L/MONO, R) jacks, SEND1 jack, RETURN1 jack, SEND2 jack, RETURN2 jack: 1/4-inch phone type
SUB OUTPUT (L, R) connectors: XLR type
PHONES jack: Stereo 1/4-inch phone type
CTL4, 5/EXP2 jack, CTL6, 7/EXP3 jack, AMP CTL1, 2 jack: 1/4-inch TRS phone type
USB COMPUTER port: USB B type
DC IN jack
MIDI (IN, OUT) connectors

Power Supply

AC adaptor

Accessories

AC adaptor (PSB-1U + AC Cord Set)
Owner's manual
Leaflet

SIZE AND WEIGHT

Width Depth Height

W 462 x D 248 x H 70

Weight

3.6 kg
Delivery & Lead Times
Delivery ETA's 
For accurate delivery information, please contact our sales team on sales@bonnersmusic.co.uk or call 01323 639335. As a guide, despatch times are detailed below.
Additional charges will be made for delivery of heavy items to some areas. Charges may also apply to upgrades including (but not limited to) timed deliveries, piano assembly, delivery of large items, and when matching deals from other retailers. If you are unsure about our delivery charges, please contact us.
In Stock Products
Products that are shown as in stock will be sent using our standard delivery service within 2 working days from when payment is received. This excludes piano deliveries with full installation - see below.
Pre-Order Products
Products which are shown as pre-order are not in stock, but can be ordered and reserved for you from the next available shipment. Order today to reserve your place in the queue! Call or email us for the latest lead times on pre-order products.
Digital Piano Deliveries:
We have many flexible delivery options for most delivery pianos, based on your location and whether you require it flat-packed, or fully assembled in your home. Digital piano delivery options are shown at checkout. 
Piano Deliveries
If you purchase a piano which is supplied with full installation, we will contact you once your order is received to arrange a convenient delivery date & time. Delivery & installation is usually within 14 days, but often sooner. Call us for current lead times on pianos.
Digital Piano Deliveries For Self-Assembly
Click here to see our specific information relating to piano deliveries.
If you choose our courier delivery/flat pack delivery method, please be aware that with larger items such as digital pianos, the courier is not contracted to carry them up any steps or stairs. If there are stairs leading to the front door of the delivery address, or you live in an apartment which is not on pavement level, it is your responsibility to arrange transportation from the pavement level to the delivery address. In this instance, the delivery driver may, at their own discretion assist you in carrying the parcels to the delivery address, but they are not contracted nor obliged to do so.
Do you need delivery upstairs, or delivery at a specific time?
For some larger items which need to be delivered upstairs - including pianos, we offer a timed delivery service using our own van and drivers. This service is free on some items and chargeable on others. Call us on 01323 639335 to discuss your specific delivery requirements.
No-one at home?
Our courier will try and deliver your parcel(s) twice. After the second failed attempt, your goods will be returned to our warehouse. If you would like us to try and deliver them again, we will charge the delivery charges associated with your order again.
Delivery Surcharges For Larger Items
For some larger items, delivery surcharges may apply to the following areas: Scotland, Wales, Channel Islands, Isle Of Wight, Cornwall, Ireland, North Of England above Leeds. Call us on 01323 639335 to check before ordering.
Spread The Cost With Finance
If you're set on buying your new instrument, there's no need to get weighed down by the total cost of it straight away. If you break it down into monthly payments over time, it's much more manageable than you might think. And our fixed interest rates mean you'll know exactly what you're paying from the start.
How it works
The finance options available are displayed on our individual product pages - just click the button under the price to see the available options for each product. Finance is available for most new and used instruments over £400.

Pay a fixed deposit, and the rest is split into monthly payments. At the end of your contract when you've made your final payment, the instrument or equipment is all yours. You could own that dream guitar, piano or keyboard sooner than you thought!

Which Finance Options Are Available?
Most products on our website show the available finance options. Some are interest free, and some are interest bearing. The options shown on the site are an example of what is available - if you would like to pay over a different period, give us a call on 01323 639335 and we'll try and arrange a finance option that suits your budget.

How To Apply For Finance
To apply for finance, please add the product to your cart, proceed through checkout and select 'Apply For Finance' as your payment option where you can complete the application form online.

The Lender
Bonners Ltd acts as a credit broker and only offers credit products from Secure Trust Bank PLC trading as V12 Retail Finance. Bonners Ltd is authorised and regulated by the Financial Conduct Authority. Our registration number is 718966. Bonners Ltd is registered in England and Wales 1994113. Registered office 34 North St, Hailsham, East Sussex BN27 1DW.

Secure Trust Bank is registered in England and Wales 541132. Registered office: One Arleston Way, Solihull, B90 4LH. Authorised by the Prudential Regulation Authority and regulated by the Financial Conduct Authority and the Prudential Regulation Authority. Registration number: 204550.
Not all products offered by Secure Trust Bank T/A V12 Retail Finance are regulated by the FCA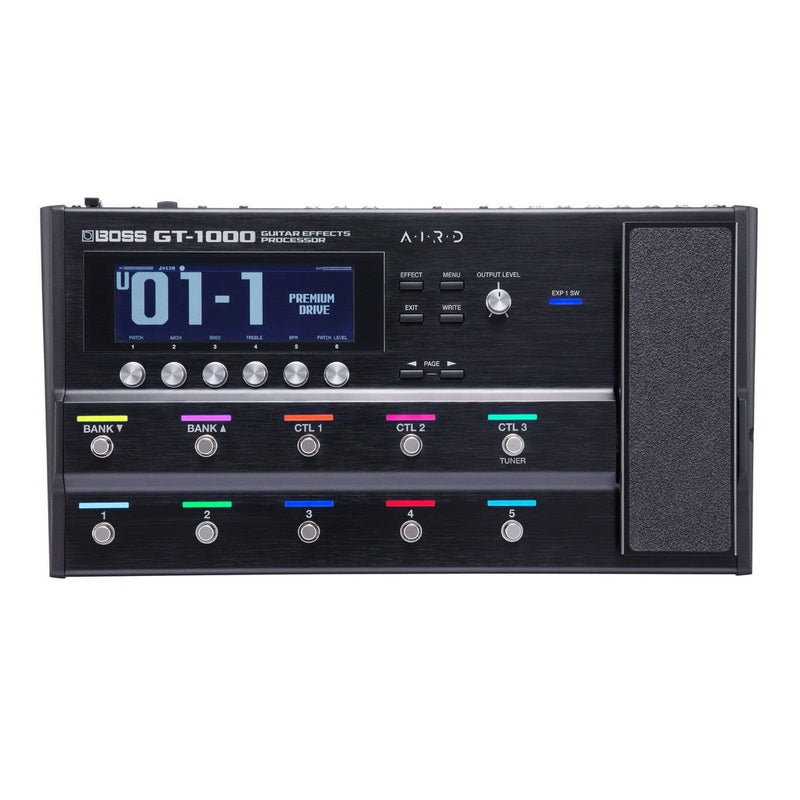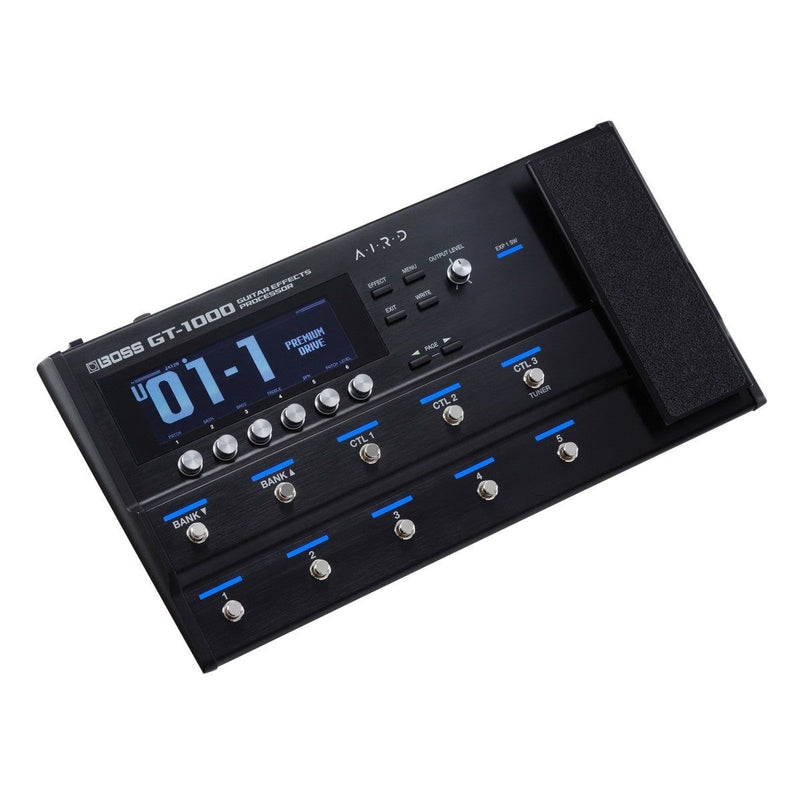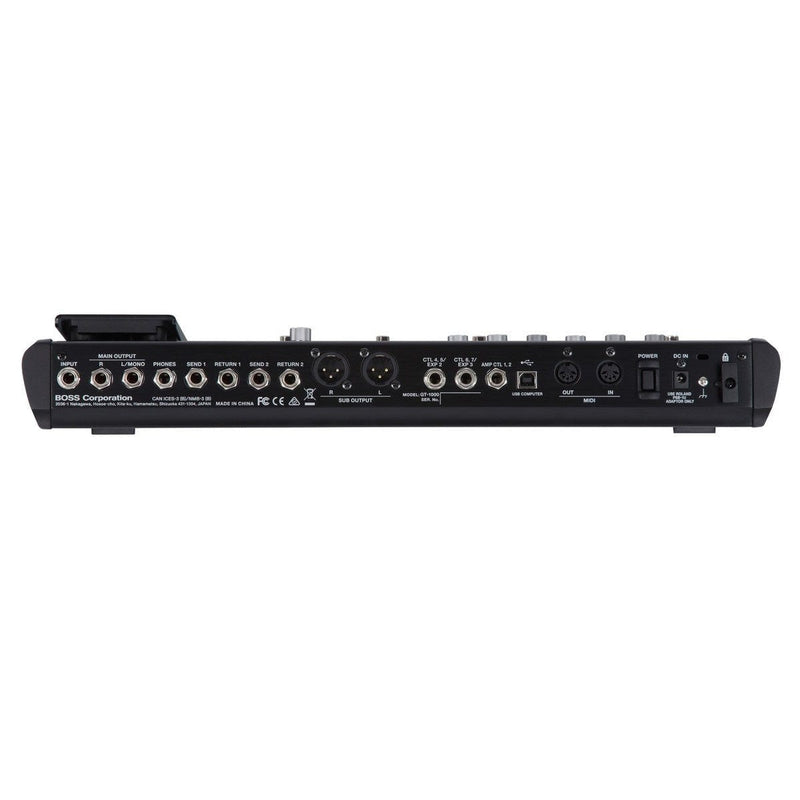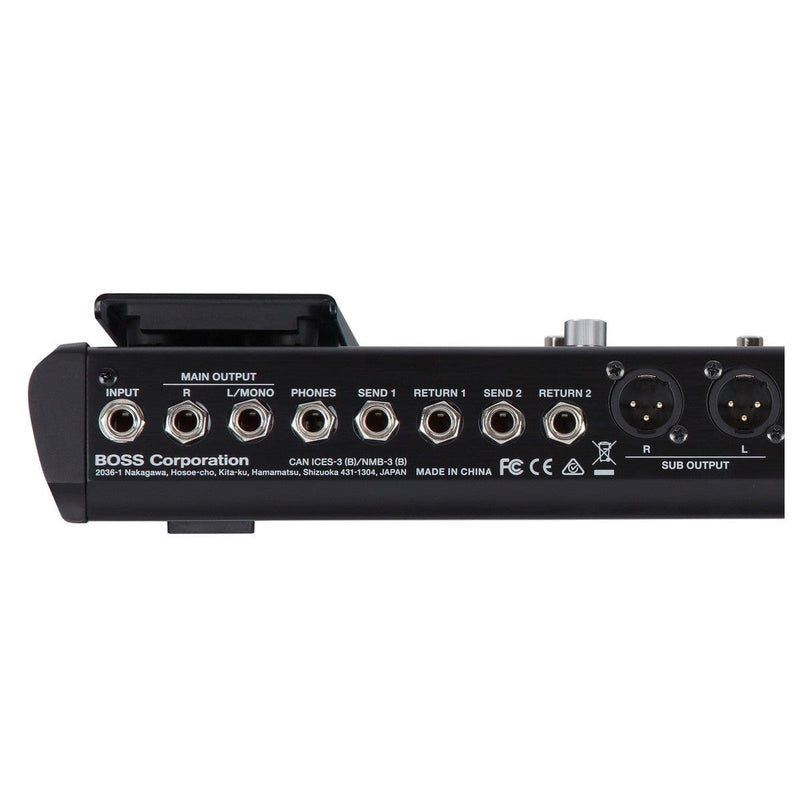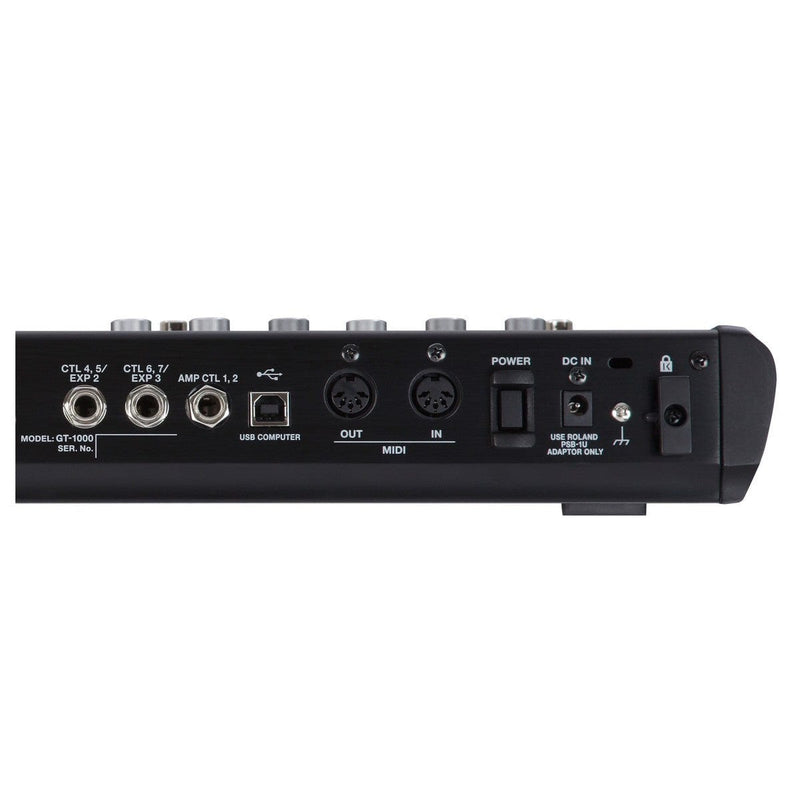 Boss GT1000 Guitar Effects Processor
KN8318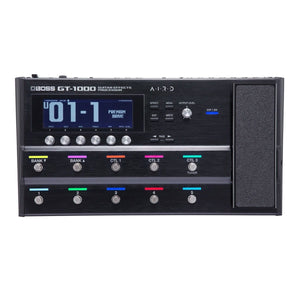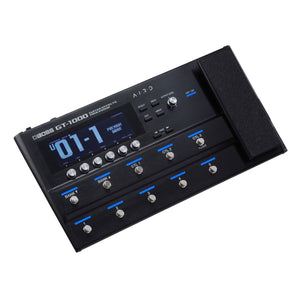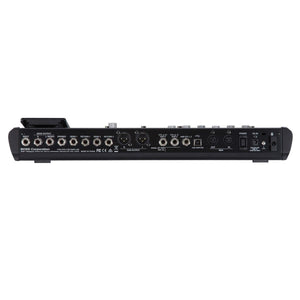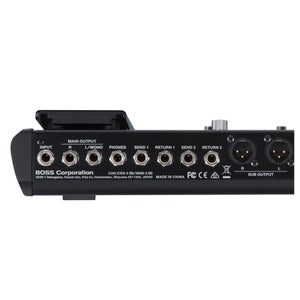 See & Try In Store
*Piano Cabinet Finishes Of Showroom Models May Vary
Request Price Match
We are only too happy to try and match a legitimate UK based musical instrument retailer's quote. We have been in business for over 30 years and will always do our best to be as competitive as possible.
If you have seen a product that you wish to purchase cheaper on another UK based retailer's website or shop, please call us on 01323 639335 or complete the form below. We will try and match (or beat) their quote – and still give you our award-winning service.
Alternatively, complete the form below and we'll get right back to you with our best price. Price matches are dependent upon stock availability.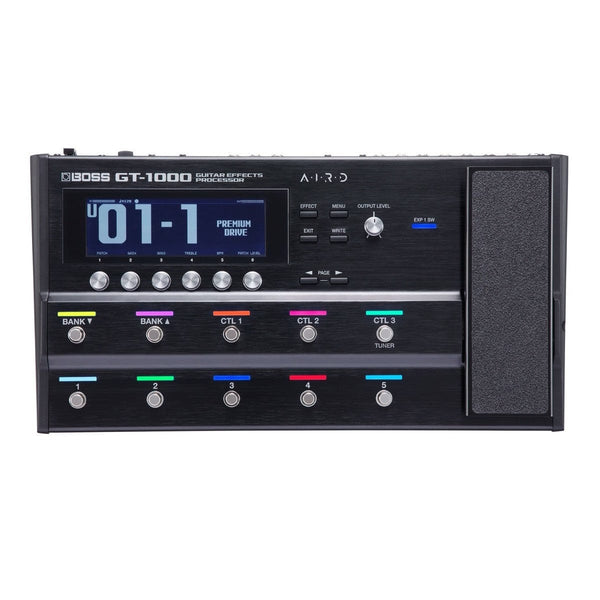 Boss GT1000 Guitar Effects Processor
£919.00