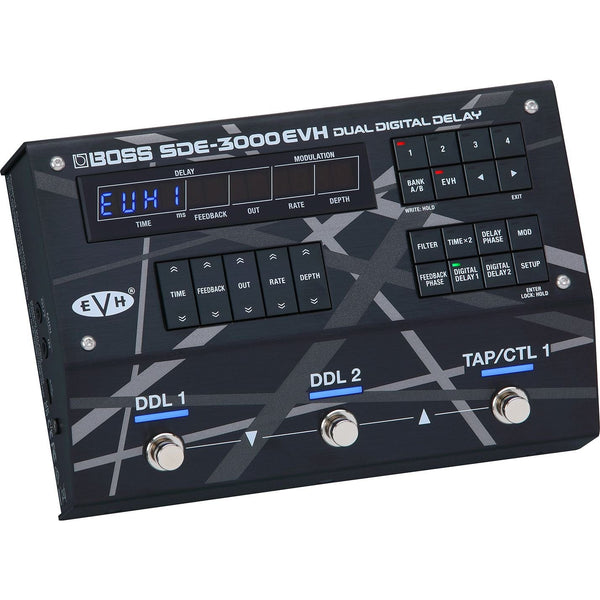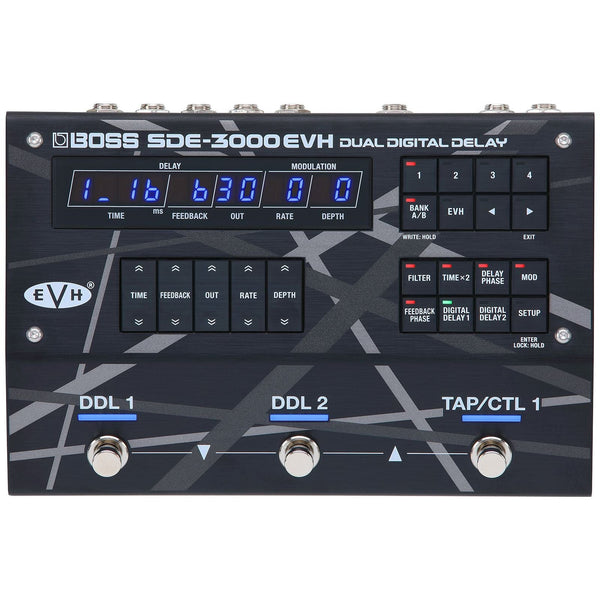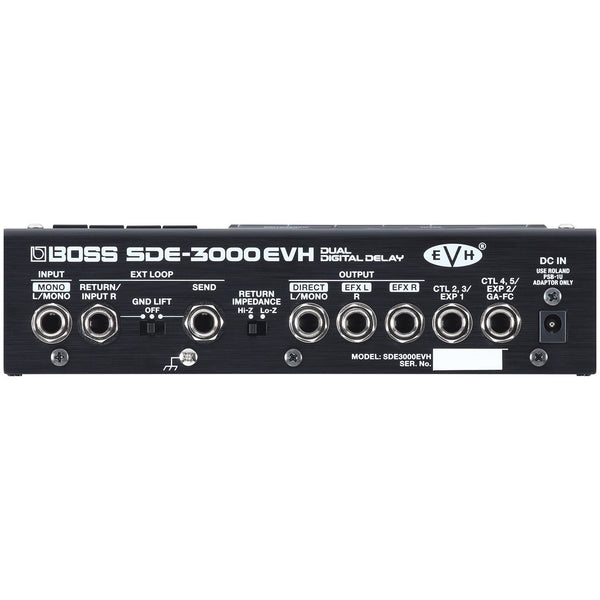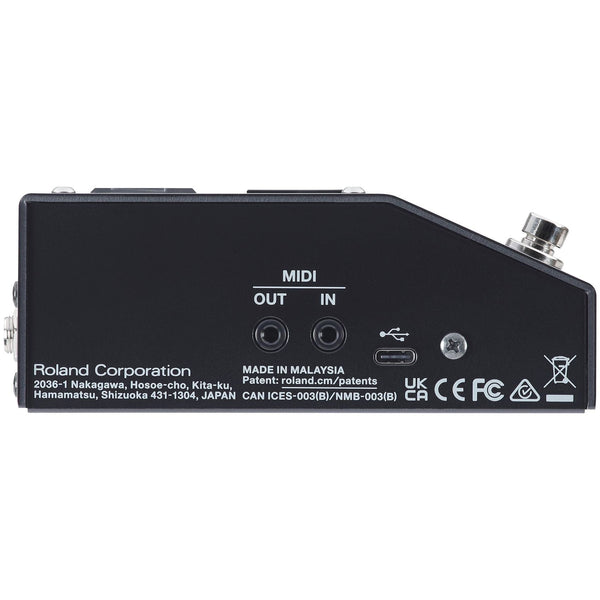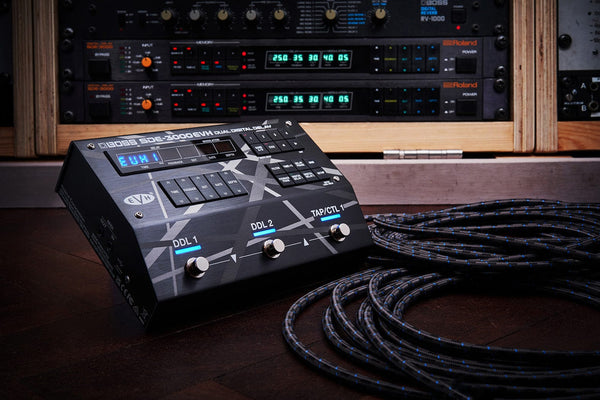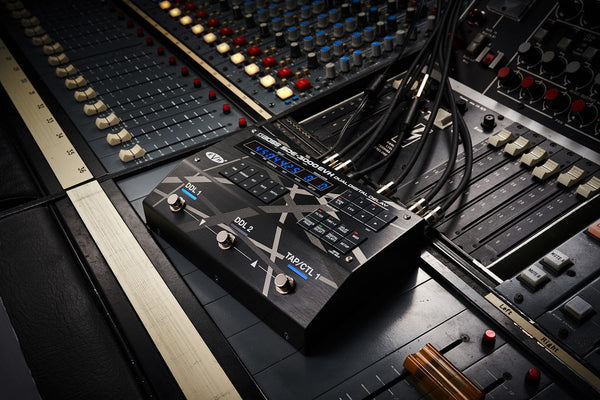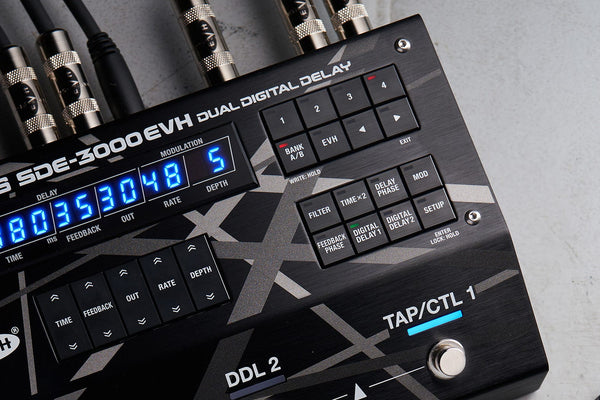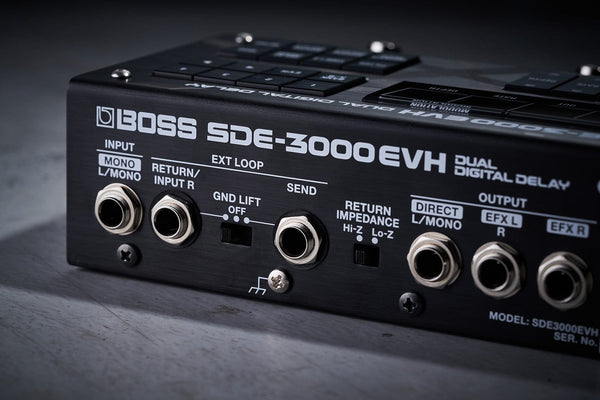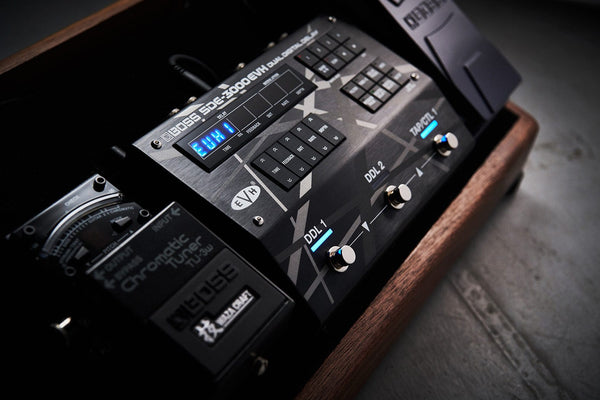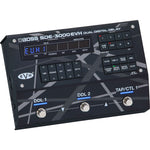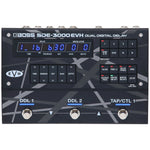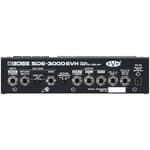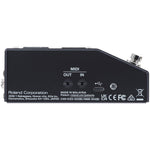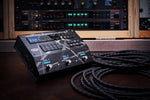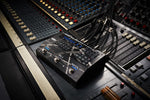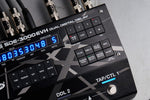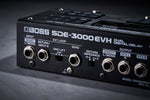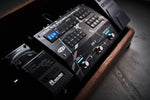 Boss SDE-3000EVH Dual Digital Delay Effect Pedal
Product Code: SDE-3000EVH
Description
Delivery & Lead Times
Spread The Cost With Finance
Description
Boss SDE-3000EVH Main Features
Sampling Frequency
48 kHz
AD Conversion
24 bits + AF method
DA Conversion
32 bits
Processing
32-bit floating point
Effects
SDE-3000 STEREO DELAY x2
NOISE SUPPRESSOR
FOOT VOLUME
Memories
100
Nominal Input Level
INPUT MONO: -10 dBu
INPUT L/MONO: -10 dBu
RETURN/INPUT R: -10 dBu
Maximum Input Level
INPUT MONO: +12 dBu
INPUT L/MONO: +12 dBu
RETURN/INPUT R: +12 dBu
Input Impedance
INPUT MONO: 1 M ohm
INPUT L/MONO: 1 M ohm
RETURN/INPUT R: 1 M ohm or 180 k ohm (switching)
Nominal Output
OUTPUT (DIRECT, EFX L, EFX R): -10 dBu
OUTPUT (L/MONO, R): -10 dBu
SEND: -10 dBu
Output Impedance
OUTPUT (DIRECT, EFX L, EFX R): 1 k ohm
OUTPUT (L/MONO, R): 1 k ohm
SEND: 1 k ohm
Recommended Load Impedance
OUTPUT (DIRECT, EFX L, EFX R): 10 k ohms or greater
OUTPUT (L/MONO, R): 10 k ohms or greater
SEND: 10 k ohms or greater
Controls
TIME button, FEEDBACK button, OUT button, RATE button, DEPTH button,
1--4 buttons, BANK A/B button, EVH button, LEFT button, RIGHT button,
FILTER button, TIME×2 button, DELAY PHASE button, MOD button,
FEEDBACK PHASE button, DIGITAL DELAY1 button, DIGITAL DELAY2 button,
SETUP button, DDL1 switch, DDL2 switch,
TAP/CTL1 switch, GND LIFT switch, RETURN IMPEDANCE switch
Display
7 segments, 12 digits LED
Connectors
INPUT MONO jack, INPUT L/MONO jack, OUTPUT (DIRECT, EFX L, EFX R) jacks,
OUTPUT (L/MONO, R) jacks, SEND jack, RETURN/INPUT R jack: 1/4-inch phone
CTL2,3/EXP1 jack, CTL4,5/EXP2/GA-FC jack: 1/4-inch TRS phone type
MIDI (IN, OUT) jacks: Stereo miniature phone type
USB port: USB Type-C(R)
DC IN jack
Power Supply
AC adaptor
Accessories
AC adaptor (PSB-1U + AC Cord Set)
GND LIFT CABLE x 3
STARTUP GUIDE
Leaflet ""USING THE UNIT SAFELY""
Leaflet ""USAGE OF GND LIFT CABLE""
Rubber foot x 4
Dimensions
W: 199 x D: 135 x H: 54
Weight
1.1 Kg
Boss SDE-3000EVH Dual Digital Delay Effect Pedal
BOSS and EVH Unite to Bring You the Legendary Eddie Van Halen Dual Delay Sound
EVH and BOSS join forces to bring you the SDE-3000EVH Dual Digital Delay, an authentic recreation of the stereo delays at the heart of Eddie Van Halen's massive three-cabinet live stage guitar sound. Based on the vintage Roland SDE-3000 rackmount delay, this powerhouse processor puts two fully featured SDE-3000s in one floor-based pedal, coupled with extensive connectivity to build a wet/dry/wet rig just like Eddie's. You also get eight presets curated by EVH with the exact settings from his actual delay units, allowing you to experience the master's expansive spatial delay tone in your own setup.
Special edition dual delay pedal jointly developed by EVH and BOSS
Based on the legendary Roland SDE-3000 rackmount digital delay from the 1980s
Eight EVH presets with the exact settings from the two SDE-3000 delays in Eddie Van Halen's live rig (the EVH presets are locked internally but allow for output level adjustments)
Versatile connectivity for creating an EVH wet/dry/wet rig and integrating with various mono and stereo setups
Classic appearance with the signature EVH logo and stripes
Warm vintage digital delay sound with extended features for modern rigs
Distinctive retro display and panel controls based on the original SDE-3000
Includes two full-featured delays, each with independent parameters, mono/stereo modulation, and panning
Widely adjustable delay time with two range settings: 0–1500 ms and 0–3000 ms
Characterful modulation inspired by the original circuit design
Phase switches for the primary delay and delay feedback loop
Adjustable low-cut and high-cut filters for shaping delay feedback sounds
Send/return functionality for patching in an effect pedal or using the four-cable method
Selectable impedance on the effect return for optimizing tone with different amplifiers
Selectable series or parallel operation for the two delays
Save and recall sounds with 92 user memories
Adjustable noise suppressor
Assignable onboard footswitch control for tap tempo, hold, and more
Jacks for extended operation with up to four footswitches, two expression pedals, or the GA-FC/GA-FC EX foot controller
MIDI I/O on space-saving mini TRS jacks
Includes three ground-lift cables for eliminating hum with multi-amplifier setups
Eddie Van Halen and the SDE-3000
Eddie Van Halen is one of the greatest and most influential guitarists of all time, and his effortless musicality, spirited performances, and otherworldly techniques will continue to inspire players for generations to come. Eddie's amazing tone is equally legendary, and he continually refined his amplifier and effect choices throughout his career to achieve the very best sound possible.

The Roland SDE-3000 delays were perfect for his unique wet/dry/wet live rig approach, providing rich, high-quality tone and special delay parameters that allowed him to perfectly tweak the sound to his exacting preferences. After years of using the SDE-3000s, the ever-ambitious and competitive Eddie tried to see if he could improve his sound with a rival product. But he never found another delay that worked better, and his two SDE-3000s remained core components of his stage rig throughout his long career.

"We went through a process for about two weeks of comparing many delay products. And in the end, Ed concluded that the SDE-3000s were the best." — Matt Bruck, EVH Managing Director
EVH and BOSS Unite to Create the SDE-3000EVH
EVH carries on Eddie's legacy, sharing his visionary ideas for guitar gear with musicians around the world. A few years ago, EVH and BOSS began discussing the idea of bringing the legend's distinctive approach with the vintage SDE-3000s to everyone.

EVH and BOSS worked closely in the development of the SDE-3000EVH to ensure it delivers Eddie's personal delay tone with complete authenticity. We prepared many test units for the EVH team, which were meticulously compared with the guitarist's settings and sounds at his famous 5150 recording studio. After a long process of testing and feedback, we're proud to bring you the finished product, filled with exact sonic replicas of his presets and emblazoned with the signature EVH stripes.

"Ed always really enjoyed seeing what people did with certain things that he created. We thought it would be cool to enshrine his unique delay approach and let others find their own inspiration with it." — Matt Bruck
Wet/Dry/Wet Configuration Made Easy

Eddie pioneered his three-cabinet wet/dry/wet setup in the early 1990s, using a dry path from a single amplifier in the center cab and left and right cabs amplified with wet-only delay effects for a wide, multi-dimensional soundstage. With the multiple outputs and versatile routing modes in the SDE-3000EVH, it's possible to recreate this setup with your own amps.

"When Ed became aware of wet/dry/wet and implemented it into his rig, he had achieved the greatest amount of dimension, the greatest amount of depth and impression that his live rig had ever put forth." — Matt Bruck

One-Touch EVH Presets

The SDE-3000EVH features eight EVH presets accessed via a dedicated panel switch. The first four presets are designed for a wet/dry/wet setup, and they represent the actual presets Eddie used in his live rig. The next four presets provide the same sounds, adapted for a standard stereo amplifier setup.

"The EVH presets are exactly like the presets in Eddie's rack. There's no difference in mix levels, input levels, or delay times—it's one-to-one." — Matt Bruck
Vintage Delay Reborn
In contrast with the clear, precise tones of other digital delays in the 1980s, the SDE-3000 stood out from the crowd with its beautiful warm sound and inviting musicality. This was the result of clever and complex internal digital processing coupled with nonlinear behaviors from the supporting analog circuitry. These behaviors included variable frequency response in the preamp based on input gain, magnetic saturation in the anti-alias filter, and evolving modulation produced by the components of the time. BOSS deeply analyzed these many factors in creating the SDE-3000EVH, bringing the complete character of this time-honored classic alive for the modern era.
Authentic Details, Modern Enhancements
The SDE-3000EVH includes nearly every parameter from the SDE-3000, accessed via a retro interface derived from the vintage hardware. Two selectable delay ranges offer different frequency characteristics like the original, and the distinctive modulation circuit has been recreated as well. Along with depth and rate controls, it's possible to independently switch the phase of the initial delay and the delay feedback loop, which influences the way the modulation reacts. Many enhanced features are also available, including 92 user memories, carryover, and more.
Two SDE-3000s in One Pedal
The SDE-3000EVH provides two discrete delays with independent parameters and mono or stereo modulation on each. Run the delays in parallel and pan them for ever-evolving stereo colors. Or chain them in series to create complex rhythms and reverb-like depth. And along with the EVH wet/dry/wet configuration, the flexible I/O supports a variety of mono and stereo setups. There's an external loop as well, allowing you to insert external pedals or interface with an amplifier's effects loop via the four-cable method, complete with selectable impedance for optimum tone.
Modern Compact Power
With its pedal-based design and expanded control options, the SDE-3000EVH offers much greater versatility than its rackmount inspiration. Three onboard footswitches provide instant control of memory selection, tap tempo, delay hold, momentary effect engagement, and more. Two control jacks allow you to connect up to four footswitches, two expression pedals, or a GA-FC/GA-FC EX for external operation, and TRS MIDI I/O is also included. There's a large selection of assignable targets to choose from, delivering deep real-time control that reaches far beyond the capabilities of the original SDE-3000.
Boss SDE-3000EVH Main Features
Sampling Frequency
48 kHz
AD Conversion
24 bits + AF method
DA Conversion
32 bits
Processing
32-bit floating point
Effects
SDE-3000 STEREO DELAY x2
NOISE SUPPRESSOR
FOOT VOLUME
Memories
100
Nominal Input Level
INPUT MONO: -10 dBu
INPUT L/MONO: -10 dBu
RETURN/INPUT R: -10 dBu
Maximum Input Level
INPUT MONO: +12 dBu
INPUT L/MONO: +12 dBu
RETURN/INPUT R: +12 dBu
Input Impedance
INPUT MONO: 1 M ohm
INPUT L/MONO: 1 M ohm
RETURN/INPUT R: 1 M ohm or 180 k ohm (switching)
Nominal Output
OUTPUT (DIRECT, EFX L, EFX R): -10 dBu
OUTPUT (L/MONO, R): -10 dBu
SEND: -10 dBu
Output Impedance
OUTPUT (DIRECT, EFX L, EFX R): 1 k ohm
OUTPUT (L/MONO, R): 1 k ohm
SEND: 1 k ohm
Recommended Load Impedance
OUTPUT (DIRECT, EFX L, EFX R): 10 k ohms or greater
OUTPUT (L/MONO, R): 10 k ohms or greater
SEND: 10 k ohms or greater
Controls
TIME button, FEEDBACK button, OUT button, RATE button, DEPTH button,
1--4 buttons, BANK A/B button, EVH button, LEFT button, RIGHT button,
FILTER button, TIME×2 button, DELAY PHASE button, MOD button,
FEEDBACK PHASE button, DIGITAL DELAY1 button, DIGITAL DELAY2 button,
SETUP button, DDL1 switch, DDL2 switch,
TAP/CTL1 switch, GND LIFT switch, RETURN IMPEDANCE switch
Display
7 segments, 12 digits LED
Connectors
INPUT MONO jack, INPUT L/MONO jack, OUTPUT (DIRECT, EFX L, EFX R) jacks,
OUTPUT (L/MONO, R) jacks, SEND jack, RETURN/INPUT R jack: 1/4-inch phone
CTL2,3/EXP1 jack, CTL4,5/EXP2/GA-FC jack: 1/4-inch TRS phone type
MIDI (IN, OUT) jacks: Stereo miniature phone type
USB port: USB Type-C(R)
DC IN jack
Power Supply
AC adaptor
Accessories
AC adaptor (PSB-1U + AC Cord Set)
GND LIFT CABLE x 3
STARTUP GUIDE
Leaflet ""USING THE UNIT SAFELY""
Leaflet ""USAGE OF GND LIFT CABLE""
Rubber foot x 4
Dimensions
W: 199 x D: 135 x H: 54
Weight
1.1 Kg
Delivery & Lead Times
Delivery ETA's 
For accurate delivery information, please contact our sales team on sales@bonnersmusic.co.uk or call 01323 639335. As a guide, despatch times are detailed below.
Additional charges will be made for delivery of heavy items to some areas. Charges may also apply to upgrades including (but not limited to) timed deliveries, piano assembly, delivery of large items, and when matching deals from other retailers. If you are unsure about our delivery charges, please contact us.
In Stock Products
Products that are shown as in stock will be sent using our standard delivery service within 2 working days from when payment is received. This excludes piano deliveries with full installation - see below.
Pre-Order Products
Products which are shown as pre-order are not in stock, but can be ordered and reserved for you from the next available shipment. Order today to reserve your place in the queue! Call or email us for the latest lead times on pre-order products.
Digital Piano Deliveries:
We have many flexible delivery options for most delivery pianos, based on your location and whether you require it flat-packed, or fully assembled in your home. Digital piano delivery options are shown at checkout. 
Piano Deliveries
If you purchase a piano which is supplied with full installation, we will contact you once your order is received to arrange a convenient delivery date & time. Delivery & installation is usually within 14 days, but often sooner. Call us for current lead times on pianos.
Digital Piano Deliveries For Self-Assembly
Click here to see our specific information relating to piano deliveries.
If you choose our courier delivery/flat pack delivery method, please be aware that with larger items such as digital pianos, the courier is not contracted to carry them up any steps or stairs. If there are stairs leading to the front door of the delivery address, or you live in an apartment which is not on pavement level, it is your responsibility to arrange transportation from the pavement level to the delivery address. In this instance, the delivery driver may, at their own discretion assist you in carrying the parcels to the delivery address, but they are not contracted nor obliged to do so.
Do you need delivery upstairs, or delivery at a specific time?
For some larger items which need to be delivered upstairs - including pianos, we offer a timed delivery service using our own van and drivers. This service is free on some items and chargeable on others. Call us on 01323 639335 to discuss your specific delivery requirements.
No-one at home?
Our courier will try and deliver your parcel(s) twice. After the second failed attempt, your goods will be returned to our warehouse. If you would like us to try and deliver them again, we will charge the delivery charges associated with your order again.
Delivery Surcharges For Larger Items
For some larger items, delivery surcharges may apply to the following areas: Scotland, Wales, Channel Islands, Isle Of Wight, Cornwall, Ireland, North Of England above Leeds. Call us on 01323 639335 to check before ordering.
Spread The Cost With Finance
If you're set on buying your new instrument, there's no need to get weighed down by the total cost of it straight away. If you break it down into monthly payments over time, it's much more manageable than you might think. And our fixed interest rates mean you'll know exactly what you're paying from the start.
How it works
The finance options available are displayed on our individual product pages - just click the button under the price to see the available options for each product. Finance is available for most new and used instruments over £400.

Pay a fixed deposit, and the rest is split into monthly payments. At the end of your contract when you've made your final payment, the instrument or equipment is all yours. You could own that dream guitar, piano or keyboard sooner than you thought!

Which Finance Options Are Available?
Most products on our website show the available finance options. Some are interest free, and some are interest bearing. The options shown on the site are an example of what is available - if you would like to pay over a different period, give us a call on 01323 639335 and we'll try and arrange a finance option that suits your budget.

How To Apply For Finance
To apply for finance, please add the product to your cart, proceed through checkout and select 'Apply For Finance' as your payment option where you can complete the application form online.

The Lender
Bonners Ltd acts as a credit broker and only offers credit products from Secure Trust Bank PLC trading as V12 Retail Finance. Bonners Ltd is authorised and regulated by the Financial Conduct Authority. Our registration number is 718966. Bonners Ltd is registered in England and Wales 1994113. Registered office 34 North St, Hailsham, East Sussex BN27 1DW.

Secure Trust Bank is registered in England and Wales 541132. Registered office: One Arleston Way, Solihull, B90 4LH. Authorised by the Prudential Regulation Authority and regulated by the Financial Conduct Authority and the Prudential Regulation Authority. Registration number: 204550.
Not all products offered by Secure Trust Bank T/A V12 Retail Finance are regulated by the FCA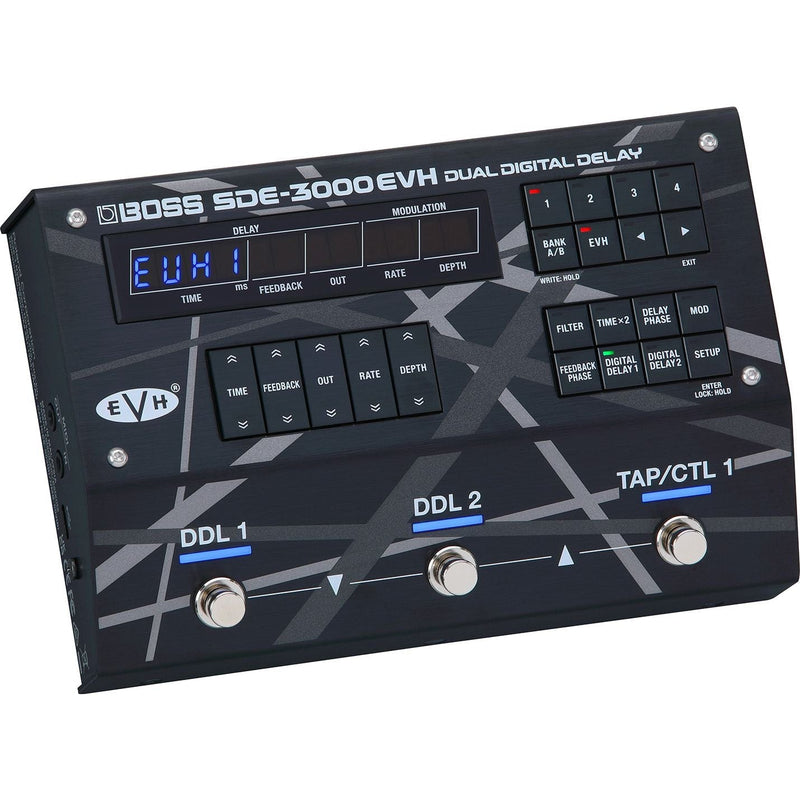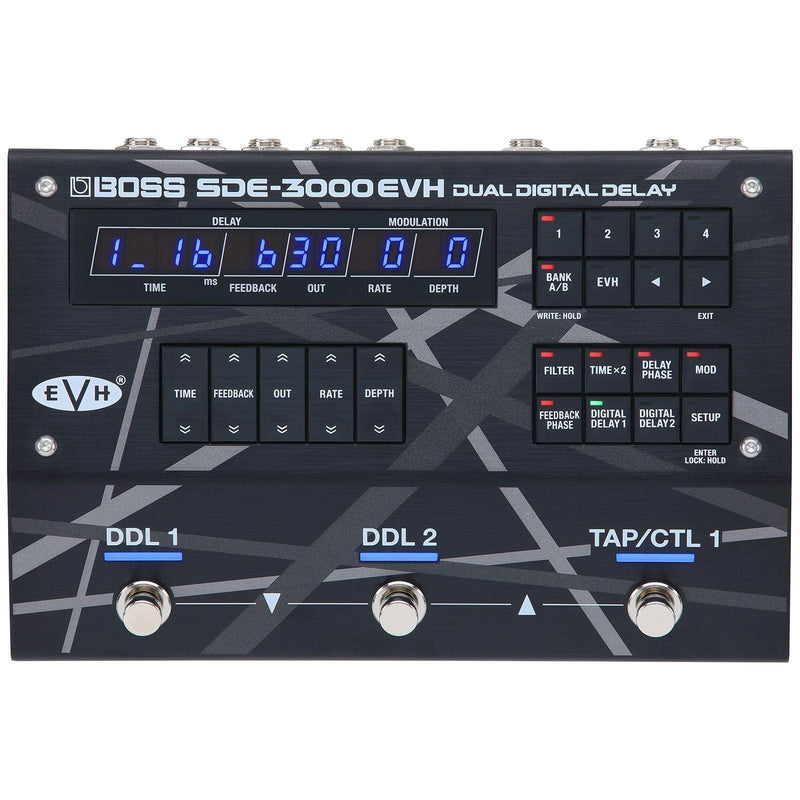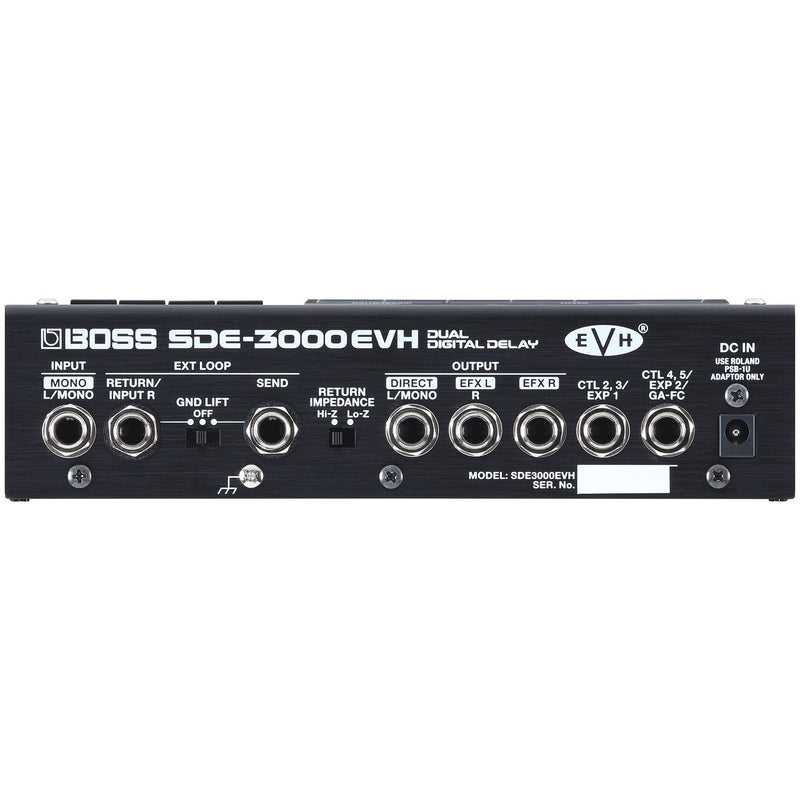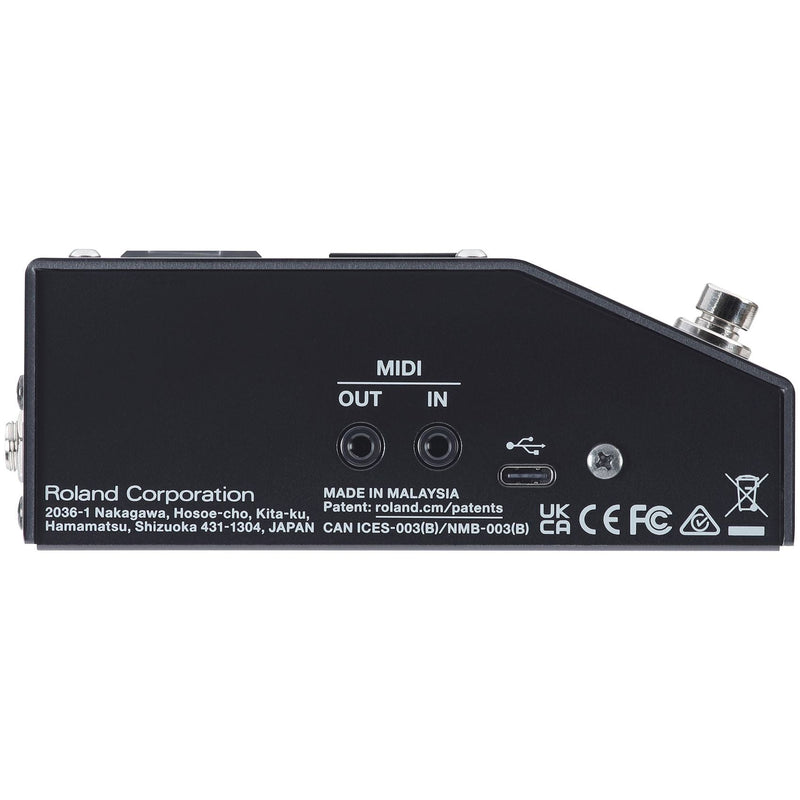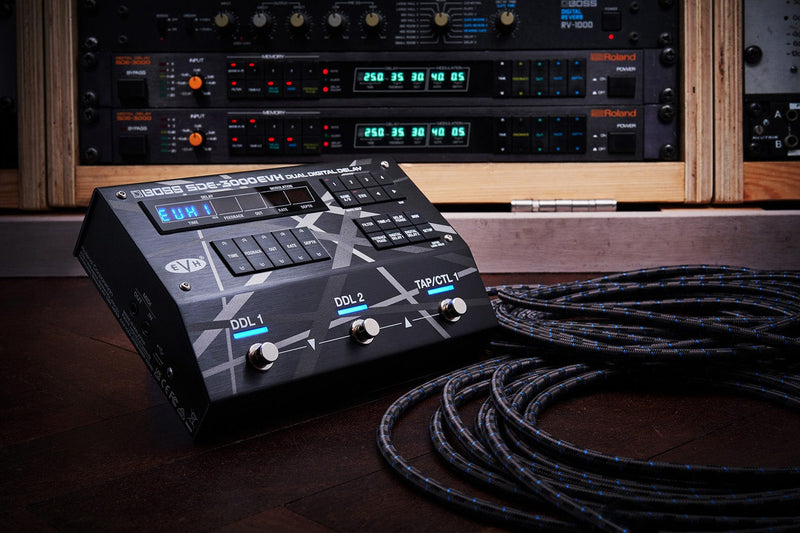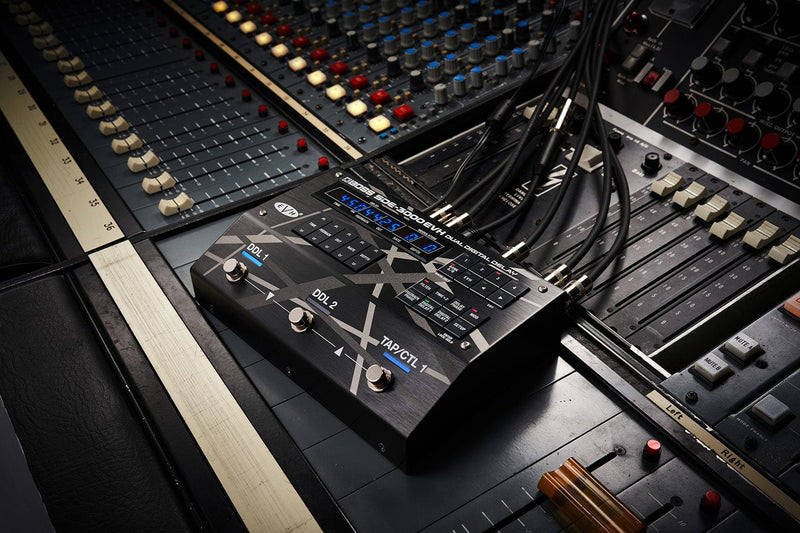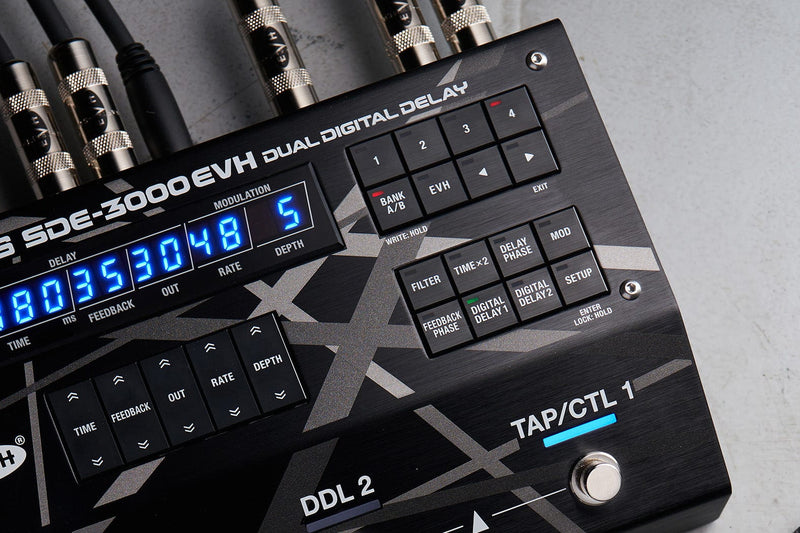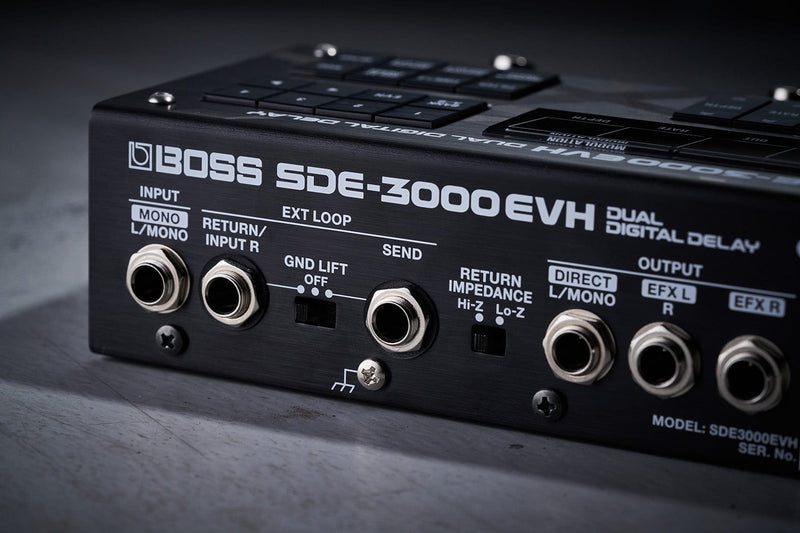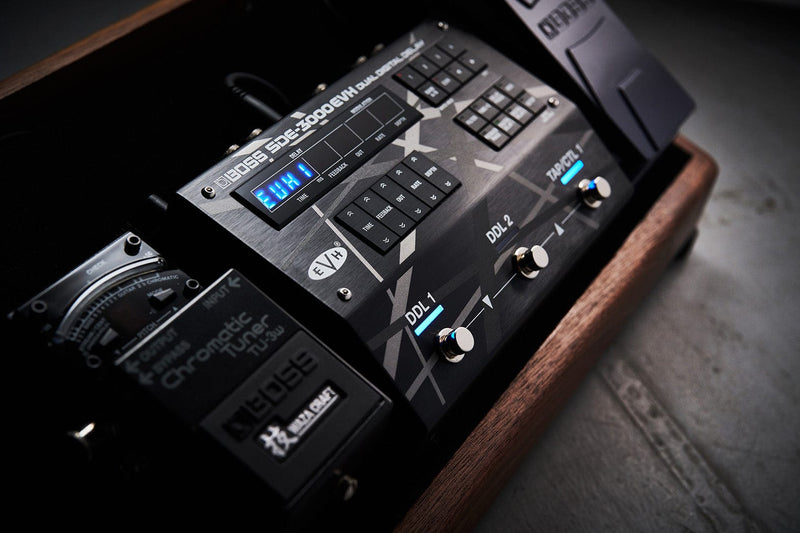 Boss SDE-3000EVH Dual Digital Delay Effect Pedal
SDE-3000EVH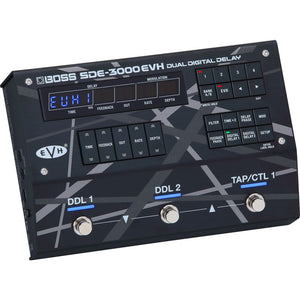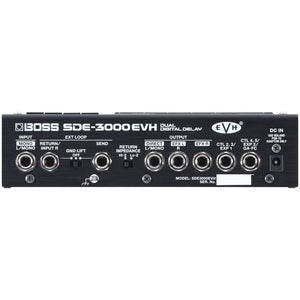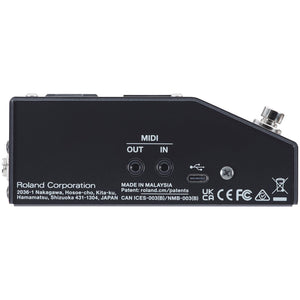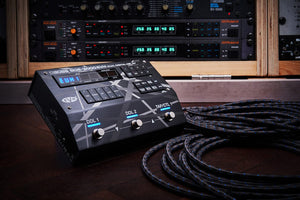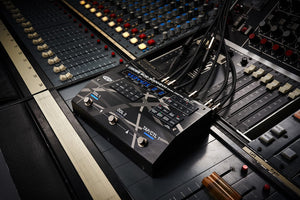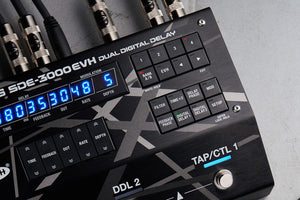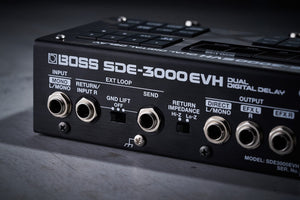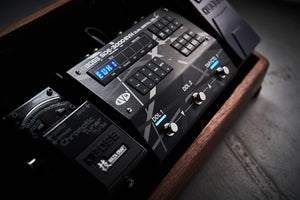 See & Try In Store
*Piano Cabinet Finishes Of Showroom Models May Vary
Request Price Match
We are only too happy to try and match a legitimate UK based musical instrument retailer's quote. We have been in business for over 30 years and will always do our best to be as competitive as possible.
If you have seen a product that you wish to purchase cheaper on another UK based retailer's website or shop, please call us on 01323 639335 or complete the form below. We will try and match (or beat) their quote – and still give you our award-winning service.
Alternatively, complete the form below and we'll get right back to you with our best price. Price matches are dependent upon stock availability.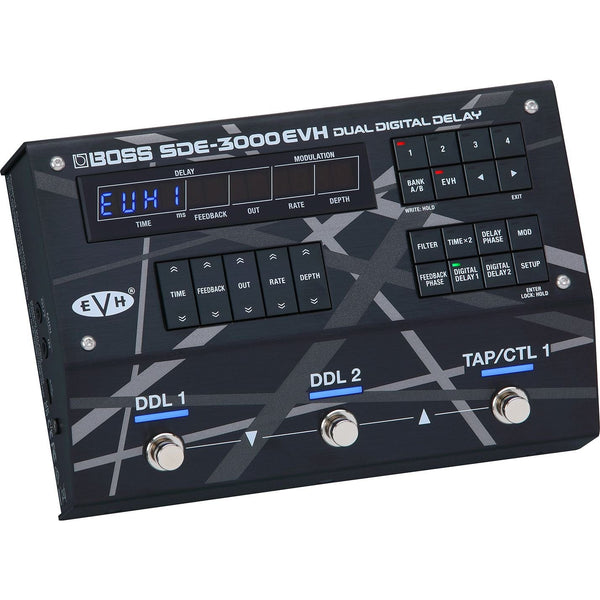 Boss SDE-3000EVH Dual Digital Delay Effect Pedal
£445.00