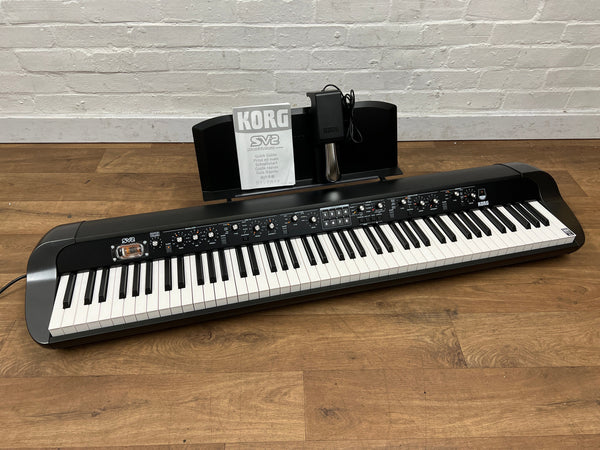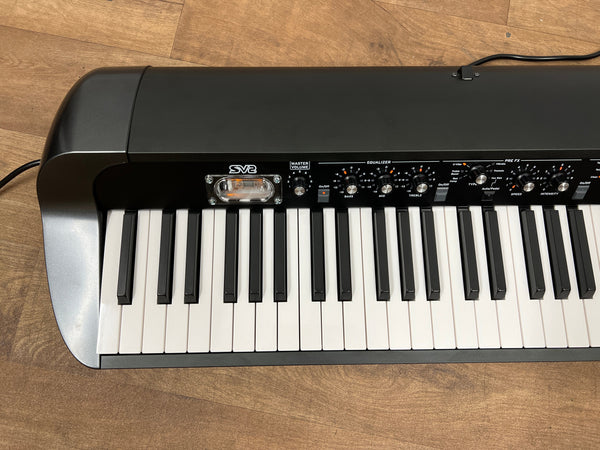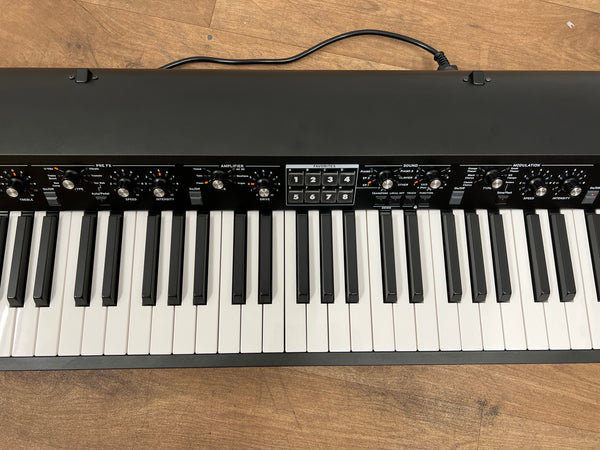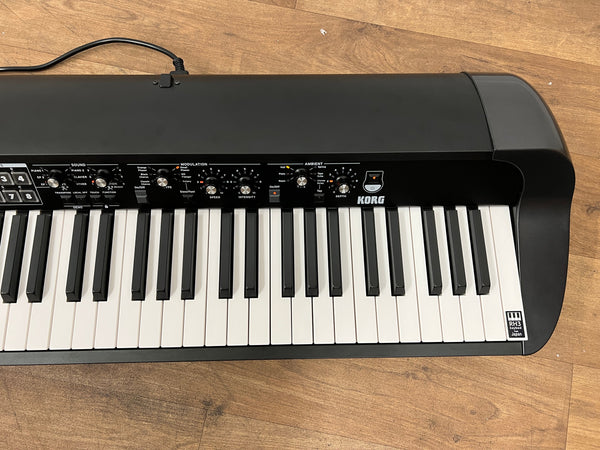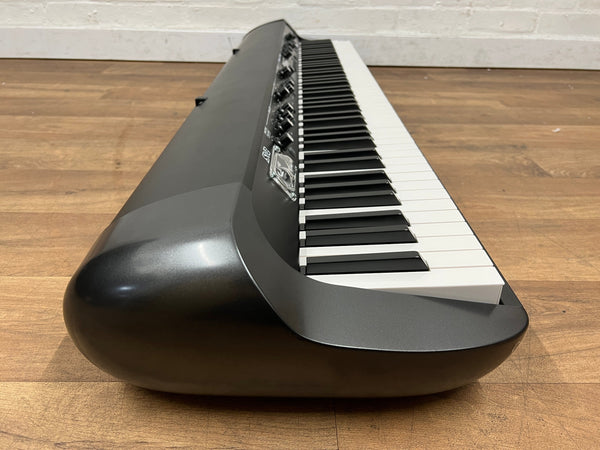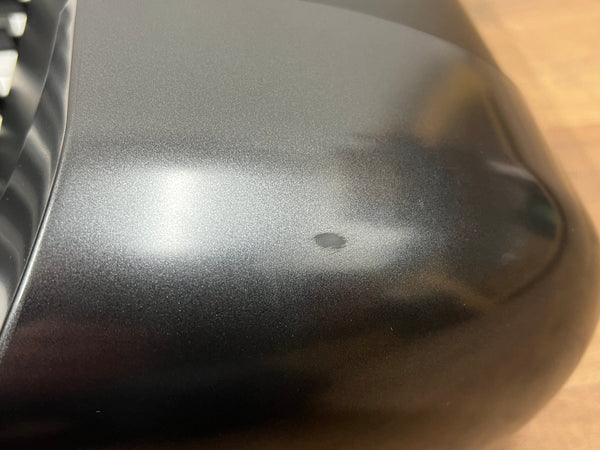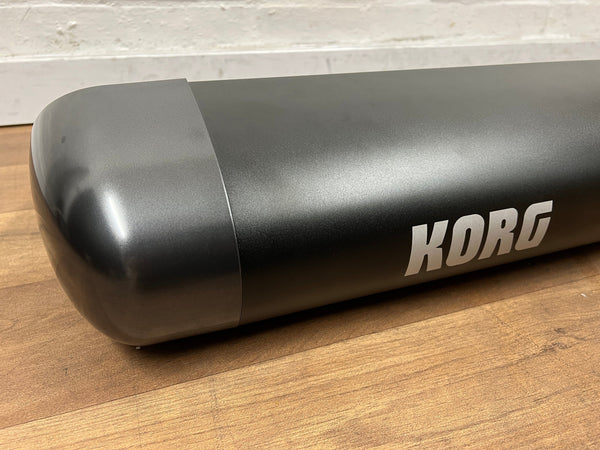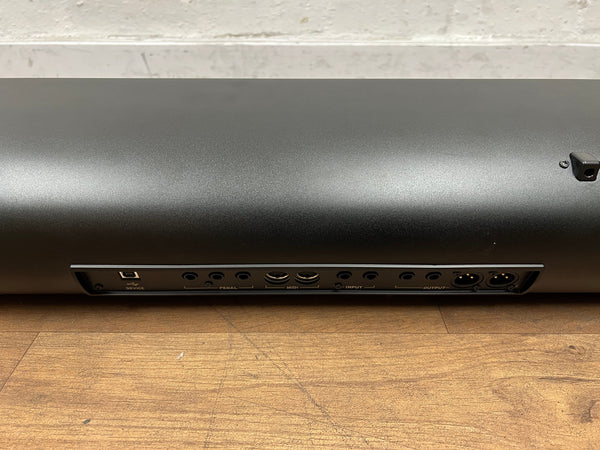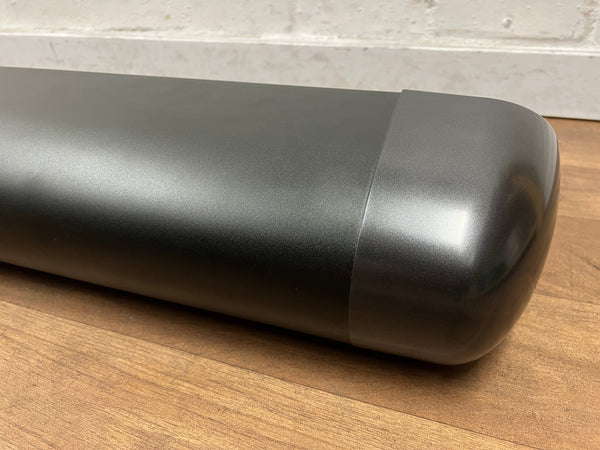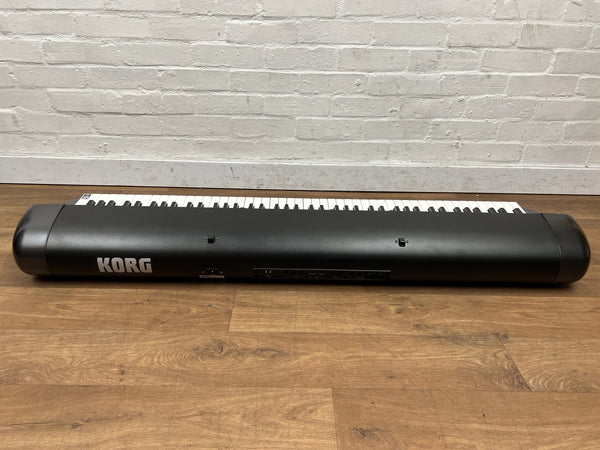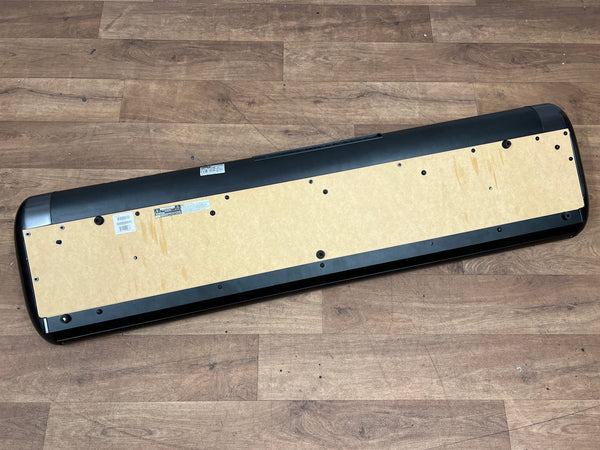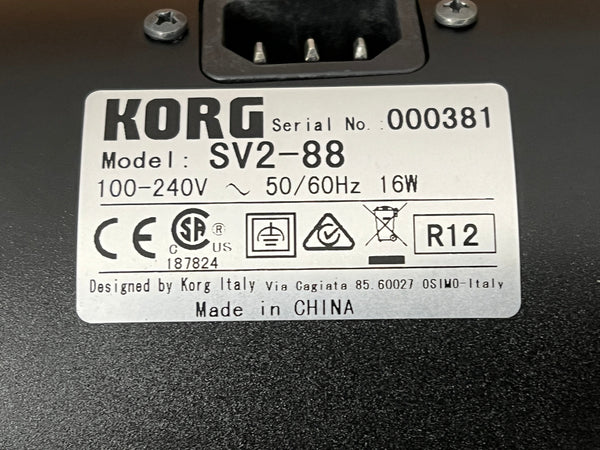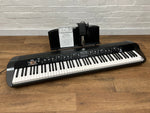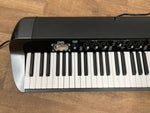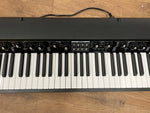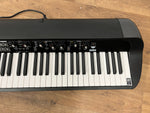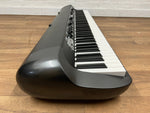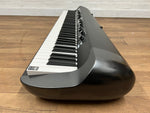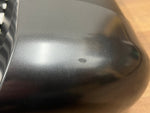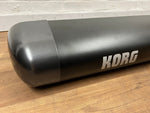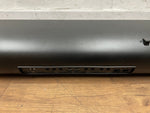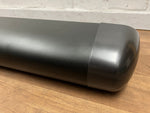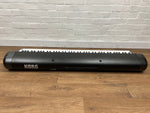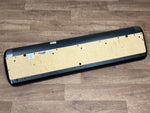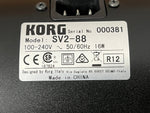 Ex Display Korg SV2 Stage Vintage Piano; 88 Keys; Serial No 381
Product Code: TW12072308
RRP £1,805.00
SAVE £255.00
Description
Delivery & Lead Times
Spread The Cost With Finance
Description
Korg SV2 & SV2s Stage Piano Features

SV-2 /SV-2S (73key):

73 keys (E1 to E7), Velocity-sensitive KORG RH3 (Real Weighted Hammer Action 3)
SV-2 /SV-2S (88key):

88 keys (A0 to C8), Velocity-sensitive KORG RH3 (Real Weighted Hammer Action 3)
Keyboard
Touch selection: Eight curves
Tuning: Master Transpose, Master Tune, Tuning curves
Sounds
Sound generation: EDS-X (Enhanced Definition Synthesis - eXpanded)
Maximum Polyphony: 128 notes
Multi Sound: Layer, Split
Factory Sounds: 72 (6 Basic sounds x 2 sets, 6 variations)
EP1 (Vintage)

MK I Suitcase, MK I Stage, MK II Suitcase, MK II Stage, MK V Stage, MK V Bright, Dyno EP, Dyno EP Bright, Wurly, Wurly Classic, Wurly Dark, Wurly Bright
EP2 (Various)

FM Piano 1, FM Piano 2, FM Piano 3, FM Piano & Pad, Pianet T, Pianet N, Hybrid Piano, Hybrid Tine, Wurly & Strings, FM & Strings, MK II & Pad, FM & Pad
Piano 1 (Acoustic)

German Grand, German Classic, Italian Grand, Italian Bright, Japanese Grand, Japanese Bright, Austrian Grand, Austrian Classic, Japanese Upright, Upright Bright, German Upright, Rock Piano
Piano 2 (Various)

Electric Grand, German Mono, KORG M1 Piano, KORG SG-1D, Digital Piano, Electra Piano, Tack Piano, Honky-Tonk, Piano & Strings, Piano & Pad, Piano & Synth, Piano & Brass
Clavier: Clav AC, Clav AD, Clav BC, Clav BD, Harpsichord, Harpsichord Oct, Perc. Organ, Rock Organ, Jazz Organ, VOX Organ, Church Organ, Pipe Organ
Other: Full Strings, Classic Strings, Tape Strings, Strings & Voices, Warm Pad, Bright Pad, Orchestra, Pizzicato & Glock, Brass, Synth Brass, Pad/Mini Lead, Pad/SynthLead
Favorite sounds: 64 (8 banks x 8 variations) for saving of customized settings
Effects
Structure: 6 effects (5 effects + 1 total effect)
Equalizer: Bass, Mid, Treble
Pre FX: Red Comp, Treble Boost, U-Vibe, Vibrato, Tremolo, VOX Wah (Auto or Pedal control)
Amplifier models: Clean, Twin, Tweed, AC30, Boutique, Organ Amp + Cabinet Models, Valve Reactor Technology – 12AX7 (ECC83) valve
Modulation: Classic Chorus, Black Chorus, Orange Phaser, Small Phaser, MX Flanger, Rotary (Slow/Fast control)
Ambient: Room, Plate, Hall, Spring, Tape Echo, Stereo Delay (Tap tempo)
Total FX (only editable with SV-2 Editor): Stereo Mastering Limiter, Stereo Limiter
Panel controls
Sound Select: TYPE knob, VARIATION knob, FAVORITES 1–8 switches
Favorite Sound select: 1–8 switches, SOUND TYPE knob
Effect Control: Equalizer: On/Off switch, BASS knob, MID knob, TREBLE knob
Pre FX: On/Off switch, TYPE knob, SPEED knob, INTENSITY knob, AUTO/PEDAL switch (available when the TYPE = Vox Wah)
Amplifier: On/Off switch, TYPE knob, DRIVE knob
Modulation: On/Off switch, TYPE knob, SPEED knob, INTENSITY knob, Slow/Fast switch (available when the TYPE = Rotary.)
Ambient: On/Off switch, TYPE knob, DEPTH knob, Tap (available when TYPE = Stereo Delay)
Volume: Master Volume
Switches: Transpose, Local Off, Touch, Function
Demo Songs: 72 songs (one song for each preset sound)
Input/Output connections
Audio Output: L, R connector (XLR balanced), L/MONO jack, R/MONO jack (6.3 mm [1/4"] unbalanced)
Headphone: Headphone jack(6.3 mm [1/4"] stereo jack)
Audio Input

L/MONO jack, R/MONO jack (6.3 mm [1/4"] unbalanced)
MIDI: IN, OUT
USB: USB: 2.0 Type B connector (doubles the MIDI Interface)
Damper Pedal: KORG DS-2H (included
Amplification (SV-2S)
Speakers: 2 x 2.5" with 2 x 3" passive radiator
Amplification power: 2 x 15 W
Power Supply

Internal switching adapter, AC 100~240 V, 50/60 Hz
Dimensions (W x D x H, excluding music stand):

SV-2/SV-2S (73key) 1143 mm x 347 mm x 157 mm

SV-2/2V-2S (88key) 1356 mm x 347 mm x 157 mm

Weight (excluding music stand)

SV-2 73key 17.2 kg
SV-2 88key 20.35 kg
SV-2S 73key 18.3 kg
SV-2S 88key 21.45 k
Included Accessories
Power cable, Music stand, DS-2H damper pedal, Quick Guide.
Ex Display Korg SV2 Stage Vintage Piano; 88 Keys; Serial No 381

Save ££££££s with Ex-Display Products!
This is a 'Ex-Display' product which means it has either been used for demonstration or video production purposes. It is supplied in the original factory packaging and has all the usual accessories.
We have opened, tested and checked this product and it functions perfectly. The reduced price reflects that there may be minor cosmetic flaws, but nothing we feel is significant enough to be specifically mentioned.

The warranty is the same as if you were purchasing a brand new, unopened product. Save £££££s!
This has undergone a full check including:
Tested and is in Full Working Order
Condition: (please see photos)
Cleaned
Factory Reset
Includes:
Music Rest
Korg Sustain Pedal
Owners Manual
Power Supply

2 Year Warranty
Free Delivery
Please note that any additional free computer software provided by the manufacturer when this item was new (Cubase etc) is not included in this sale.
The Korg SV2 is the new keyboard we have been waiting in anticipation for many years now. It's been ten years since Korg launched the first Stage Vintage SV1 model which proved to be an extremely popular instrument for musicians on many levels.

The original SV1 was known for it's cutting edge vintage E.Piano and Clav sounds - and we're happy to say the new SV2 retains these iconic tones. So what's different?
---
I was lucky enough to be given the opportunity to preview the SV2 a few weeks before it's launch. As an original SV1 player I was delighted to find that the SV2 retains the same high-quality Vintage keyboard sounds including my favourite Clav, plus the vacuum tube which gives a warmth to the tone which is unmatched by any other stage piano. The new acoustic piano sounds and triple-layer capabilities make this a strong contender for my new "go-to" performance piano.
The SV2 has been loaded with TEN TIMES the amount of sample data which was in the original instrument, which means that the range and quality of sounds in all areas have been improved significantly. The SV2 retains the same Korg RH3 keybed which is a joy to play - it captures every nuance of your performance.
SV2 offers the ability to split/layer up to three voices at one time (using the SV2 editor on MAC/PC) and split points are changeable from the front panel. There are now 72 sounds on board and polyphony has been increased to 128 voices.
Part exchange your SV1 or another instrument
If you're the owner of the original Korg SV1, then we are sure you'll want to upgrade to the new SV2, and Bonners offers a convenient solution to do this. We can take your existing SV1 (or another instrument) in part exchange for a new SV2 - all you need to do is email us details of what you have to partex@bonnersmusic.co.uk and we'll get right back to you with a trade-in valuation. Please state the condition of your keyboard (photos help!) and also if you have the original box and packaging.
Your existing SV1pedals and case are 100% compatible with SV2, so you can keep hold of these if you're sticking with the same keyboard length.
What makes SV2 so good?
Korg has put every effort and ounce of their knowledge of sampling techniques into creating the new sounds found in the SV2. Beautiful grand pianos from around the world including instruments from Italian, German, Japanese and Austrian manufacturers (guess the brands!) have been faithfully recorded to bring the highest quality piano experience to SV2 players.
Our favourite Korg SV2 Features

74 On-Board Sounds and more available via the free software editor
Ability to layer or split three voices
128 voice polyphony
High German, Italian, Austrian and Japanese RX piano voices
Some of the best effects we've seen on a stage piano
12AX7A vacuum tube adds warmth and grit to the sound
In addition to acoustic pianos, SV2 has the very best E.Piano samples onboard - every nuance of the sound has been preserved through Korg's RX sampling techniques. The RH3 key action provides a connection between touch and sound which is un-surpassed and is often overlooked by digital piano manufacturers.
The Korg SV2 has a great selection of 'other voices' which make it the complete keyboard for the gigging musician. Beautiful orchestral string sounds (as impressive today as the Kurzweil strings we heard back in the 1990s), synth pads, synth leads, church & cathedral organs, choirs, cutting edge brass sounds and of course the legendary M1 piano sound - they're all there and ready to be configured to your own musical taste using the onboard effects, EQ, and 12AX7A vacuum tube.
Easy To Use At Home or On Stage
The SV2 has no LCD display screen - after all, it is a 'vintage' instrument! Every function and tone has a button, knob or switch which means you can make changes to your sound 'on the fly' and you won't even need to open the owner's manual to begin creating your own unique tones.
On-Board Effects - That Matter!
Keyboard players need effects to create their own unique 'voice', and the Korg SV2 delivers some of the best on-board FX engines to allow you to do this. As we've already said, the 12AX7A Valve gives a warmth to the overall tone which cannot be replicated with solely digital effects. The valve also gives a unique crunch to the distortion and overdrive effects which help your sounds cut through the mix on stage or in the studio.
The 3-Band Equalizer gives you control of your tone to match the mix - whether competing with other musicians on a loud stage or when recording in the studio. There are high-quality modulation effects available at your fingertips, including various chorus models, phasers, flanger and rotary. The PRE-FX section provides a compressor, treble boost, u-vibe, tremolo and VOX Wah (only Korg can provide a true VOX wah effect because they own the company and the brand!).
There are of course overall effects including reverb, delay and a stereo limiter to provide that overall 'polished' feel. All effects are easy to control from the front panel of the SV2 and can also be controlled using the SV2 editor (see below).
Input & Output Connections
All the standard inputs & outputs that you would expect a modern musical instrument to have are available on the rear panel of the SV2. Both ¼" jack and balanced XLR outputs are present (this means you don't need a DI box when connecting to a stage box or mixer).
Headphone socket provides monitoring capabilities in the studio, at home or on stage and the traditional 5 pin MIDI in & out jacks, as well as USB, provide a connection to other devices such as computers, tablets or sound modules/synths.
There are three pedal connections - damper, pedal 1 and pedal 2. Korg's DS-2H damper pedal is included in the box and this provides ha;f-pedalling facility. The pedals can be independently assigned to different functions such as effects control, wah pedal, rotary fast/slow, as well as traditional piano functions such as sostenuto and soft pedal.
SV2 Computer Editor Software Korg provides a free downloadable editor for both Windows and MAC PC's. The editor software gives additional controls for creating your own individual layered and split voices. The SV2 editor also gives access to hundreds of additional voices which are not immediately available form the front panel of the instrument.
All settings made using the editor can be saved to the instrument, including your own custom 'favourites' - there are 64 memory locations in total to store your own patches. This feature also enables fellow SV2 users to exchange sounds and we understand Korg pans to release future voice libraries and content for the SV2.
Korg SV2 88 Dimensions & Weight:
Width 1356 / Depth 347 / Height 157mm

Weight 20.4 Kg
Korg SV2 & SV2s Stage Piano Features

SV-2 /SV-2S (73key):

73 keys (E1 to E7), Velocity-sensitive KORG RH3 (Real Weighted Hammer Action 3)
SV-2 /SV-2S (88key):

88 keys (A0 to C8), Velocity-sensitive KORG RH3 (Real Weighted Hammer Action 3)
Keyboard
Touch selection: Eight curves
Tuning: Master Transpose, Master Tune, Tuning curves
Sounds
Sound generation: EDS-X (Enhanced Definition Synthesis - eXpanded)
Maximum Polyphony: 128 notes
Multi Sound: Layer, Split
Factory Sounds: 72 (6 Basic sounds x 2 sets, 6 variations)
EP1 (Vintage)

MK I Suitcase, MK I Stage, MK II Suitcase, MK II Stage, MK V Stage, MK V Bright, Dyno EP, Dyno EP Bright, Wurly, Wurly Classic, Wurly Dark, Wurly Bright
EP2 (Various)

FM Piano 1, FM Piano 2, FM Piano 3, FM Piano & Pad, Pianet T, Pianet N, Hybrid Piano, Hybrid Tine, Wurly & Strings, FM & Strings, MK II & Pad, FM & Pad
Piano 1 (Acoustic)

German Grand, German Classic, Italian Grand, Italian Bright, Japanese Grand, Japanese Bright, Austrian Grand, Austrian Classic, Japanese Upright, Upright Bright, German Upright, Rock Piano
Piano 2 (Various)

Electric Grand, German Mono, KORG M1 Piano, KORG SG-1D, Digital Piano, Electra Piano, Tack Piano, Honky-Tonk, Piano & Strings, Piano & Pad, Piano & Synth, Piano & Brass
Clavier: Clav AC, Clav AD, Clav BC, Clav BD, Harpsichord, Harpsichord Oct, Perc. Organ, Rock Organ, Jazz Organ, VOX Organ, Church Organ, Pipe Organ
Other: Full Strings, Classic Strings, Tape Strings, Strings & Voices, Warm Pad, Bright Pad, Orchestra, Pizzicato & Glock, Brass, Synth Brass, Pad/Mini Lead, Pad/SynthLead
Favorite sounds: 64 (8 banks x 8 variations) for saving of customized settings
Effects
Structure: 6 effects (5 effects + 1 total effect)
Equalizer: Bass, Mid, Treble
Pre FX: Red Comp, Treble Boost, U-Vibe, Vibrato, Tremolo, VOX Wah (Auto or Pedal control)
Amplifier models: Clean, Twin, Tweed, AC30, Boutique, Organ Amp + Cabinet Models, Valve Reactor Technology – 12AX7 (ECC83) valve
Modulation: Classic Chorus, Black Chorus, Orange Phaser, Small Phaser, MX Flanger, Rotary (Slow/Fast control)
Ambient: Room, Plate, Hall, Spring, Tape Echo, Stereo Delay (Tap tempo)
Total FX (only editable with SV-2 Editor): Stereo Mastering Limiter, Stereo Limiter
Panel controls
Sound Select: TYPE knob, VARIATION knob, FAVORITES 1–8 switches
Favorite Sound select: 1–8 switches, SOUND TYPE knob
Effect Control: Equalizer: On/Off switch, BASS knob, MID knob, TREBLE knob
Pre FX: On/Off switch, TYPE knob, SPEED knob, INTENSITY knob, AUTO/PEDAL switch (available when the TYPE = Vox Wah)
Amplifier: On/Off switch, TYPE knob, DRIVE knob
Modulation: On/Off switch, TYPE knob, SPEED knob, INTENSITY knob, Slow/Fast switch (available when the TYPE = Rotary.)
Ambient: On/Off switch, TYPE knob, DEPTH knob, Tap (available when TYPE = Stereo Delay)
Volume: Master Volume
Switches: Transpose, Local Off, Touch, Function
Demo Songs: 72 songs (one song for each preset sound)
Input/Output connections
Audio Output: L, R connector (XLR balanced), L/MONO jack, R/MONO jack (6.3 mm [1/4"] unbalanced)
Headphone: Headphone jack(6.3 mm [1/4"] stereo jack)
Audio Input

L/MONO jack, R/MONO jack (6.3 mm [1/4"] unbalanced)
MIDI: IN, OUT
USB: USB: 2.0 Type B connector (doubles the MIDI Interface)
Damper Pedal: KORG DS-2H (included
Amplification (SV-2S)
Speakers: 2 x 2.5" with 2 x 3" passive radiator
Amplification power: 2 x 15 W
Power Supply

Internal switching adapter, AC 100~240 V, 50/60 Hz
Dimensions (W x D x H, excluding music stand):

SV-2/SV-2S (73key) 1143 mm x 347 mm x 157 mm

SV-2/2V-2S (88key) 1356 mm x 347 mm x 157 mm

Weight (excluding music stand)

SV-2 73key 17.2 kg
SV-2 88key 20.35 kg
SV-2S 73key 18.3 kg
SV-2S 88key 21.45 k
Included Accessories
Power cable, Music stand, DS-2H damper pedal, Quick Guide.
Delivery & Lead Times
Delivery ETA's 
For accurate delivery information, please contact our sales team on sales@bonnersmusic.co.uk or call 01323 639335. As a guide, despatch times are detailed below.
Additional charges will be made for delivery of heavy items to some areas. Charges may also apply to upgrades including (but not limited to) timed deliveries, piano assembly, delivery of large items, and when matching deals from other retailers. If you are unsure about our delivery charges, please contact us.
In Stock Products
Products that are shown as in stock will be sent using our standard delivery service within 2 working days from when payment is received. This excludes piano deliveries with full installation - see below.
Pre-Order Products
Products which are shown as pre-order are not in stock, but can be ordered and reserved for you from the next available shipment. Order today to reserve your place in the queue! Call or email us for the latest lead times on pre-order products.
Digital Piano Deliveries:
We have many flexible delivery options for most delivery pianos, based on your location and whether you require it flat-packed, or fully assembled in your home. Digital piano delivery options are shown at checkout. 
Piano Deliveries
If you purchase a piano which is supplied with full installation, we will contact you once your order is received to arrange a convenient delivery date & time. Delivery & installation is usually within 14 days, but often sooner. Call us for current lead times on pianos.
Digital Piano Deliveries For Self-Assembly
Click here to see our specific information relating to piano deliveries.
If you choose our courier delivery/flat pack delivery method, please be aware that with larger items such as digital pianos, the courier is not contracted to carry them up any steps or stairs. If there are stairs leading to the front door of the delivery address, or you live in an apartment which is not on pavement level, it is your responsibility to arrange transportation from the pavement level to the delivery address. In this instance, the delivery driver may, at their own discretion assist you in carrying the parcels to the delivery address, but they are not contracted nor obliged to do so.
Do you need delivery upstairs, or delivery at a specific time?
For some larger items which need to be delivered upstairs - including pianos, we offer a timed delivery service using our own van and drivers. This service is free on some items and chargeable on others. Call us on 01323 639335 to discuss your specific delivery requirements.
No-one at home?
Our courier will try and deliver your parcel(s) twice. After the second failed attempt, your goods will be returned to our warehouse. If you would like us to try and deliver them again, we will charge the delivery charges associated with your order again.
Delivery Surcharges For Larger Items
For some larger items, delivery surcharges may apply to the following areas: Scotland, Wales, Channel Islands, Isle Of Wight, Cornwall, Ireland, North Of England above Leeds. Call us on 01323 639335 to check before ordering.
Spread The Cost With Finance
If you're set on buying your new instrument, there's no need to get weighed down by the total cost of it straight away. If you break it down into monthly payments over time, it's much more manageable than you might think. And our fixed interest rates mean you'll know exactly what you're paying from the start.
How it works
The finance options available are displayed on our individual product pages - just click the button under the price to see the available options for each product. Finance is available for most new and used instruments over £400.

Pay a fixed deposit, and the rest is split into monthly payments. At the end of your contract when you've made your final payment, the instrument or equipment is all yours. You could own that dream guitar, piano or keyboard sooner than you thought!

Which Finance Options Are Available?
Most products on our website show the available finance options. Some are interest free, and some are interest bearing. The options shown on the site are an example of what is available - if you would like to pay over a different period, give us a call on 01323 639335 and we'll try and arrange a finance option that suits your budget.

How To Apply For Finance
To apply for finance, please add the product to your cart, proceed through checkout and select 'Apply For Finance' as your payment option where you can complete the application form online.

The Lender
Bonners Ltd acts as a credit broker and only offers credit products from Secure Trust Bank PLC trading as V12 Retail Finance. Bonners Ltd is authorised and regulated by the Financial Conduct Authority. Our registration number is 718966. Bonners Ltd is registered in England and Wales 1994113. Registered office 34 North St, Hailsham, East Sussex BN27 1DW.

Secure Trust Bank is registered in England and Wales 541132. Registered office: One Arleston Way, Solihull, B90 4LH. Authorised by the Prudential Regulation Authority and regulated by the Financial Conduct Authority and the Prudential Regulation Authority. Registration number: 204550.
Not all products offered by Secure Trust Bank T/A V12 Retail Finance are regulated by the FCA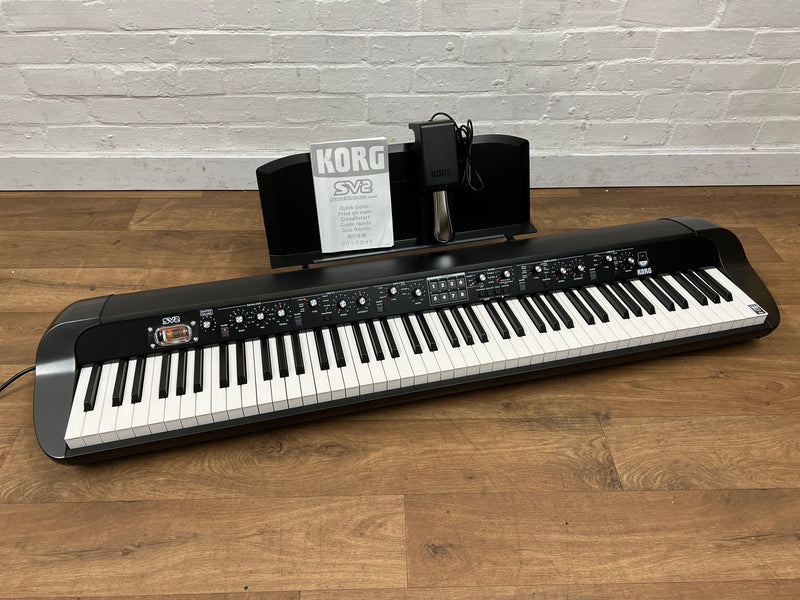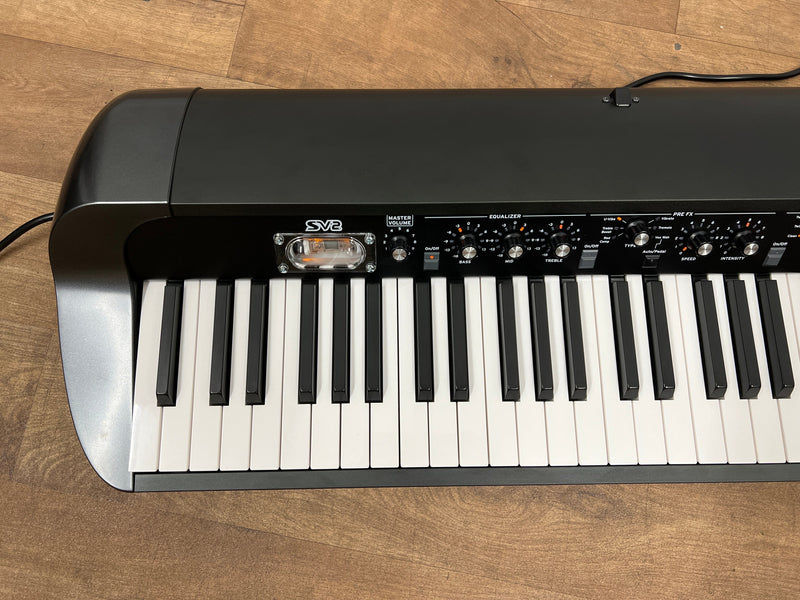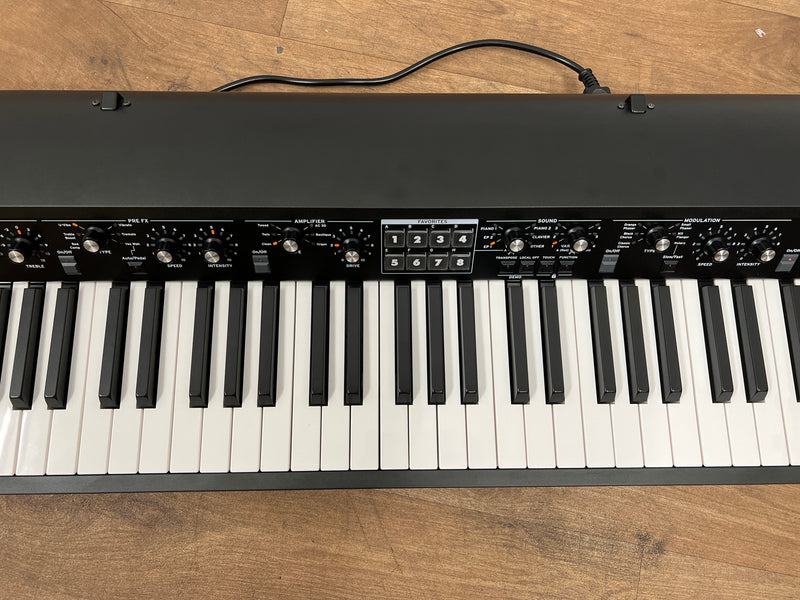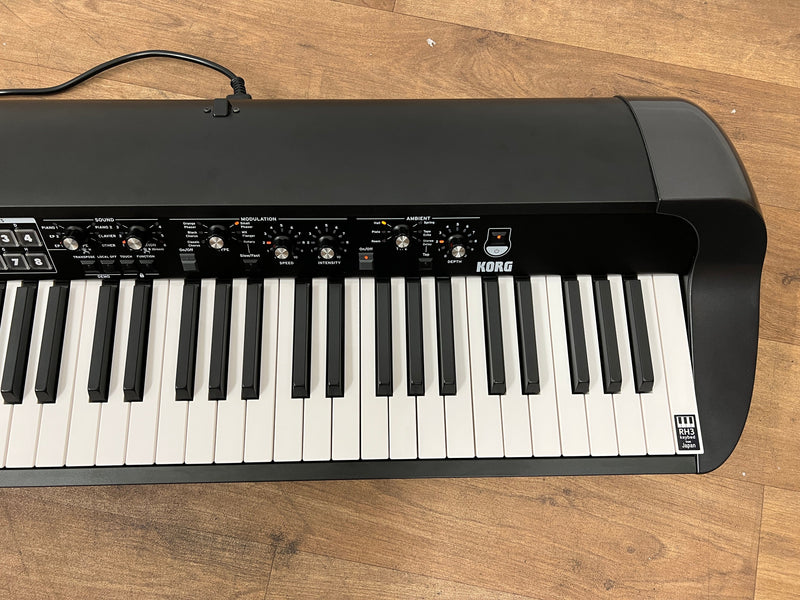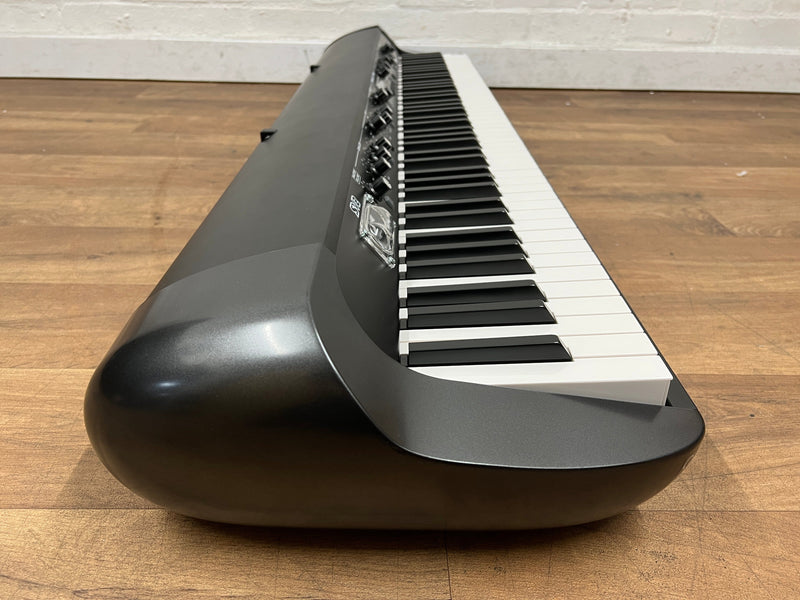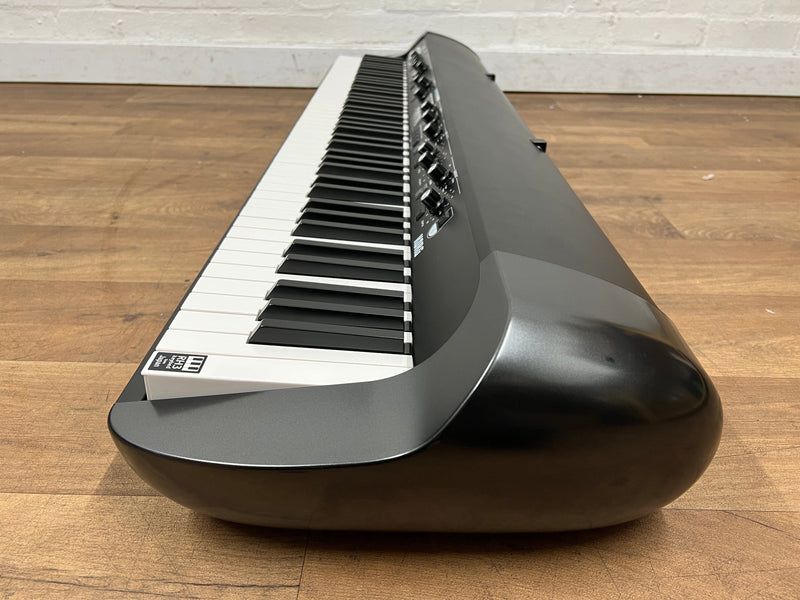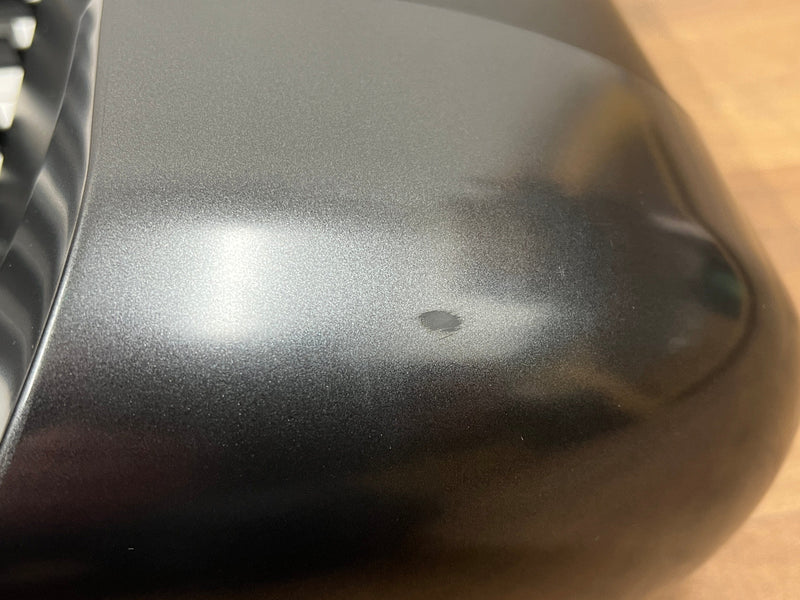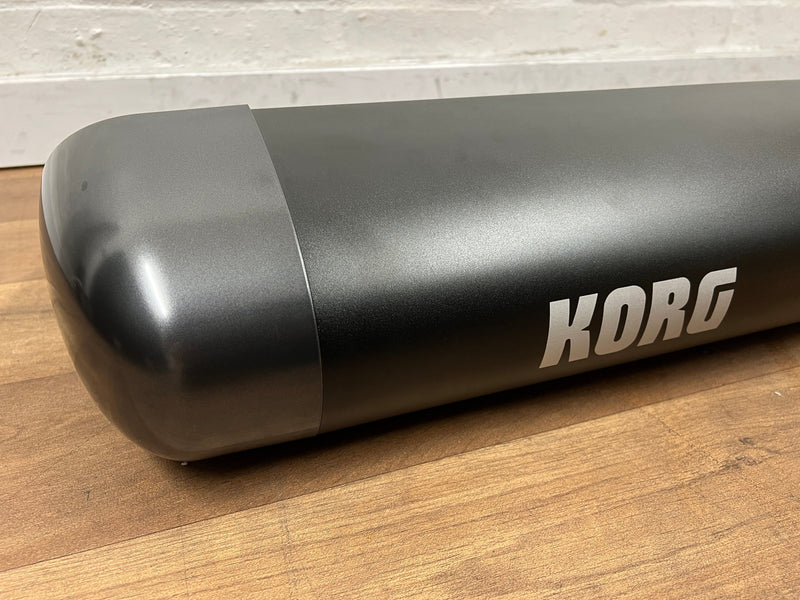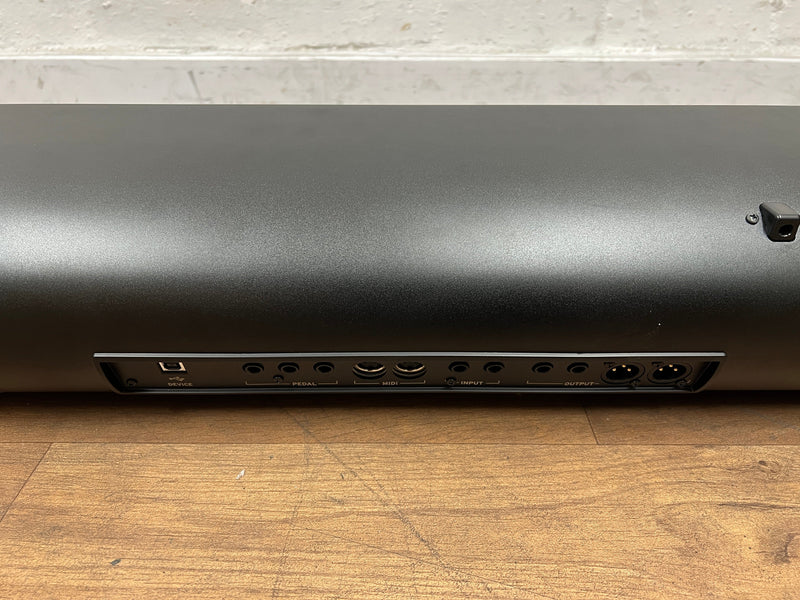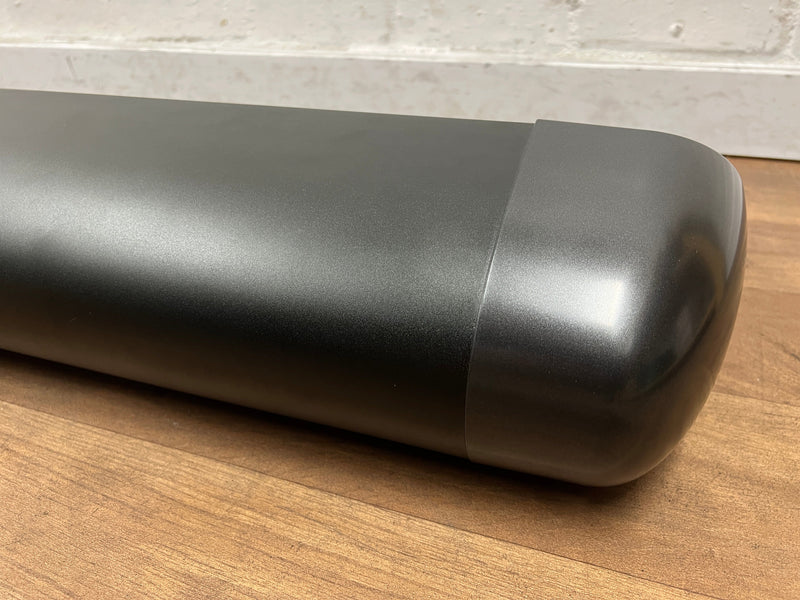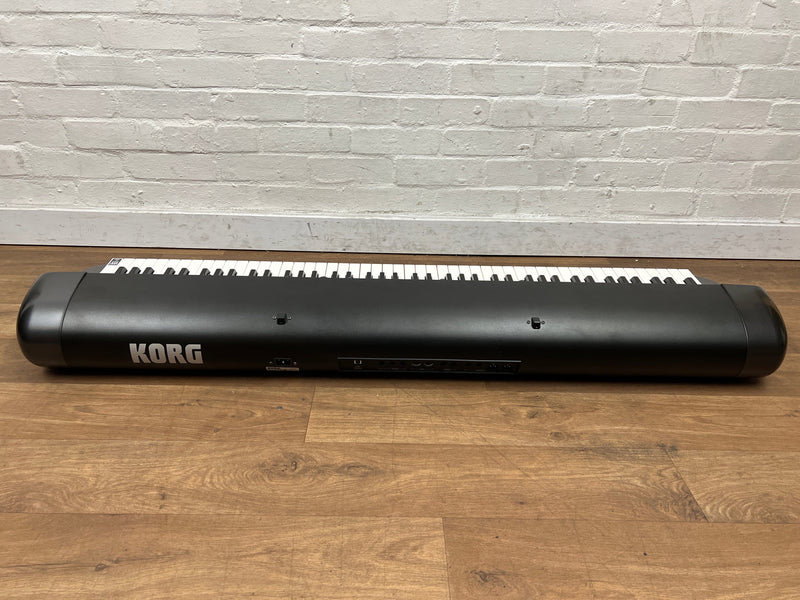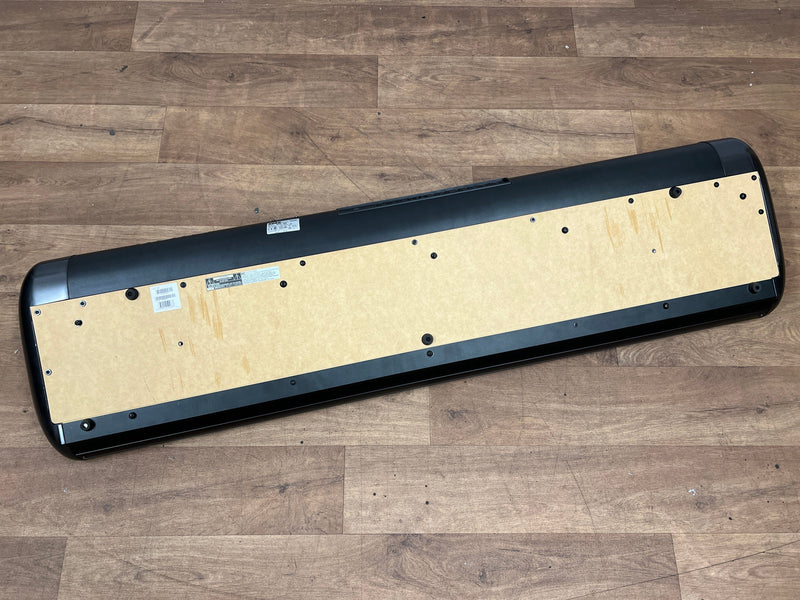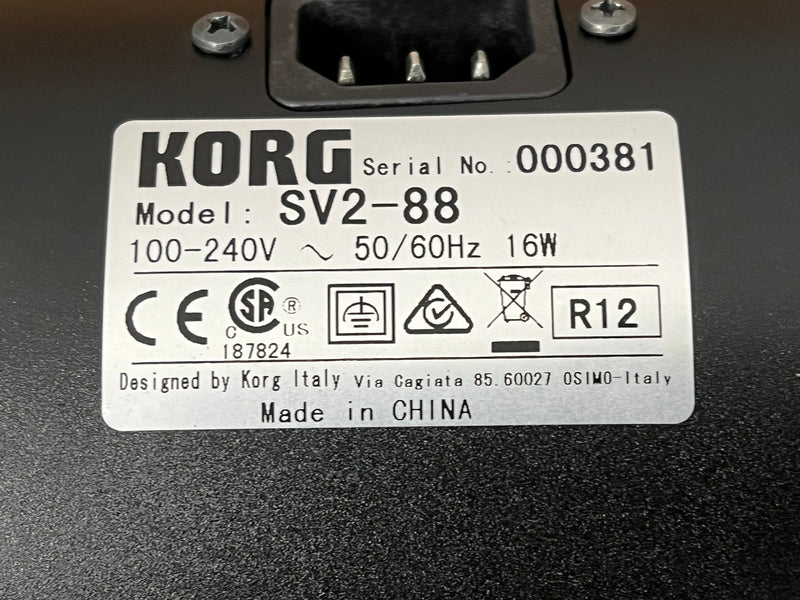 Ex Display Korg SV2 Stage Vintage Piano; 88 Keys; Serial No 381
TW12072308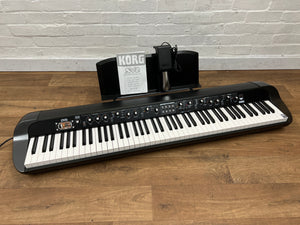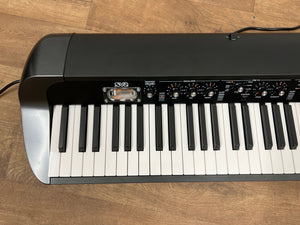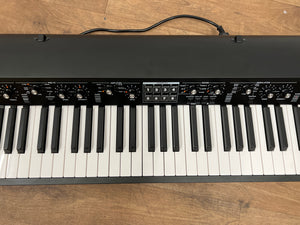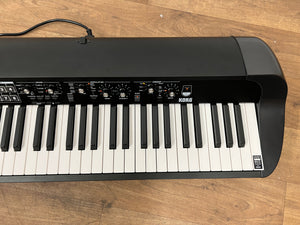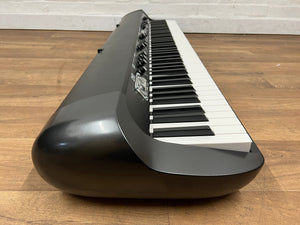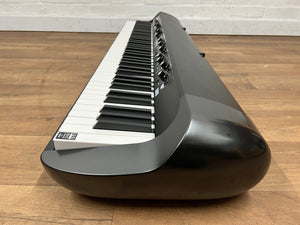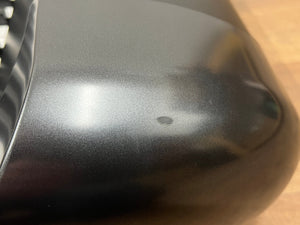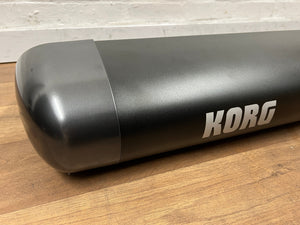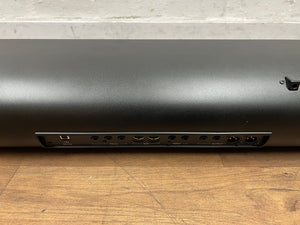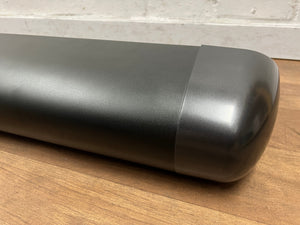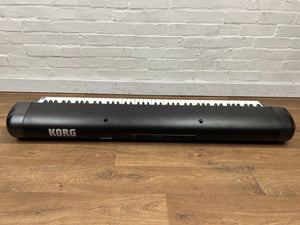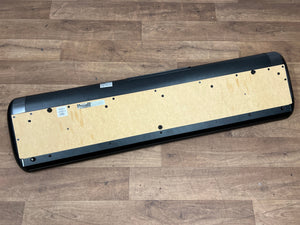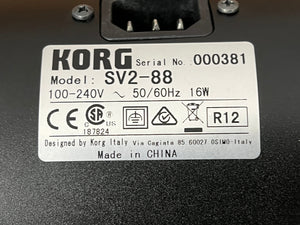 See & Try In Store
9 Faraday Close
Eastbourne
East Sussex
BN22 9BH
*Piano Cabinet Finishes Of Showroom Models May Vary
Request Price Match
We are only too happy to try and match a legitimate UK based musical instrument retailer's quote. We have been in business for over 30 years and will always do our best to be as competitive as possible.
If you have seen a product that you wish to purchase cheaper on another UK based retailer's website or shop, please call us on 01323 639335 or complete the form below. We will try and match (or beat) their quote – and still give you our award-winning service.
Alternatively, complete the form below and we'll get right back to you with our best price. Price matches are dependent upon stock availability.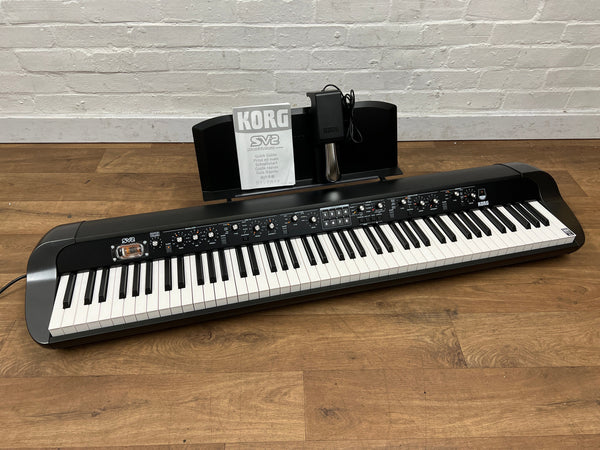 Ex Display Korg SV2 Stage Vintage Piano; 88 Keys; Serial No 381
£1,550.00