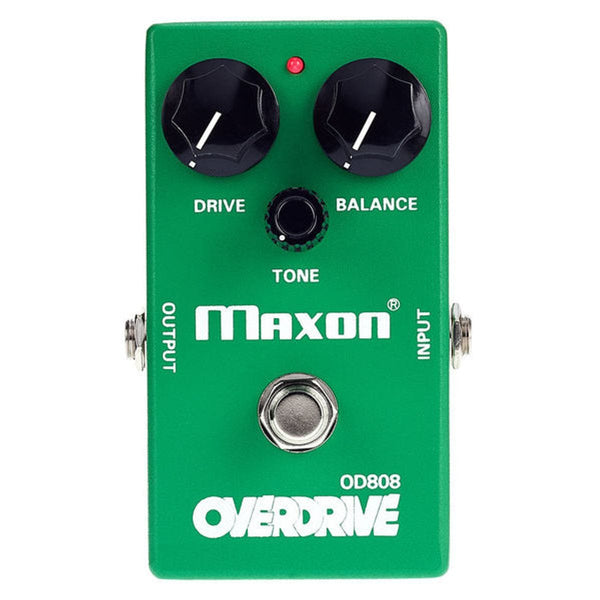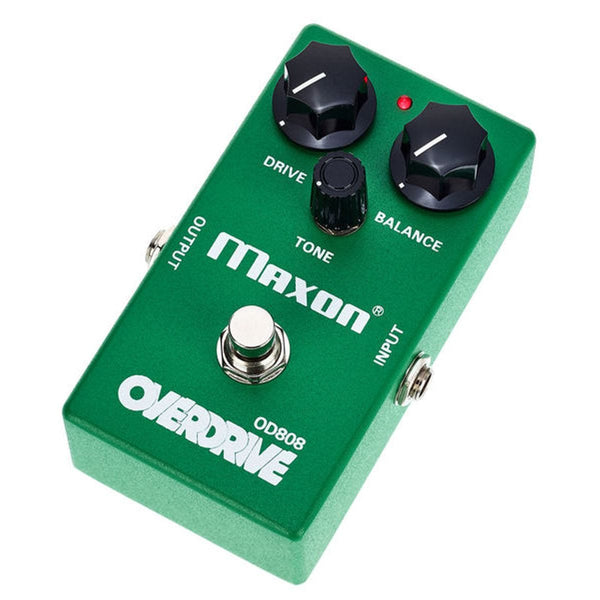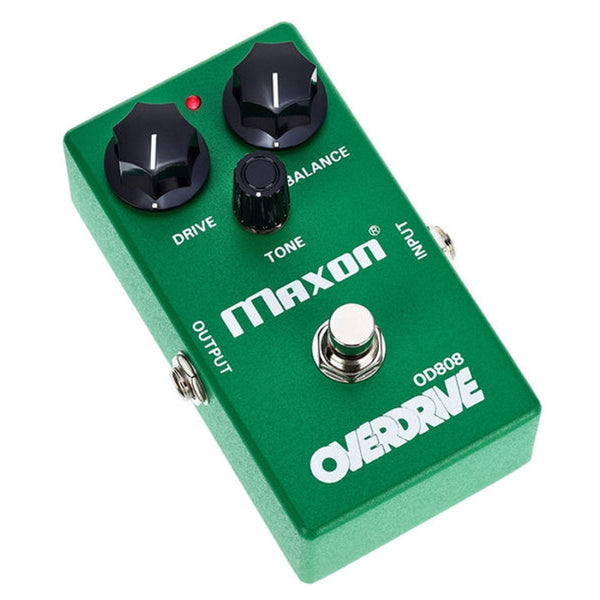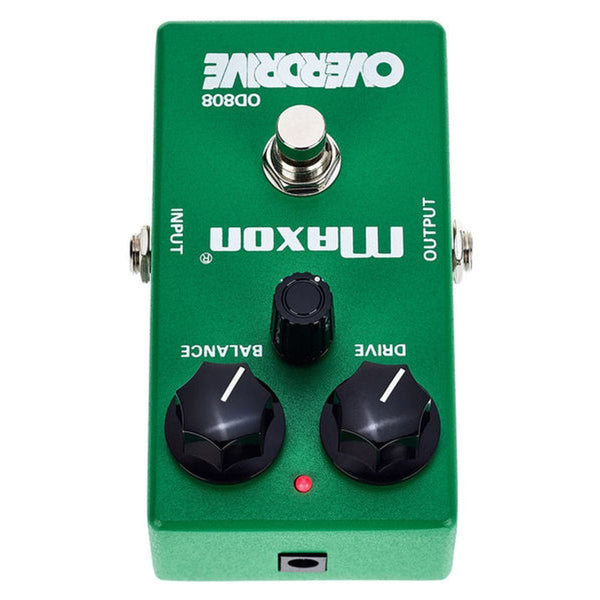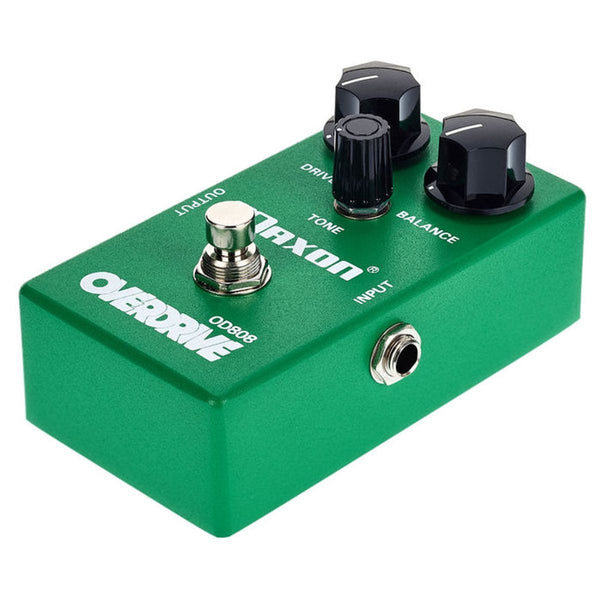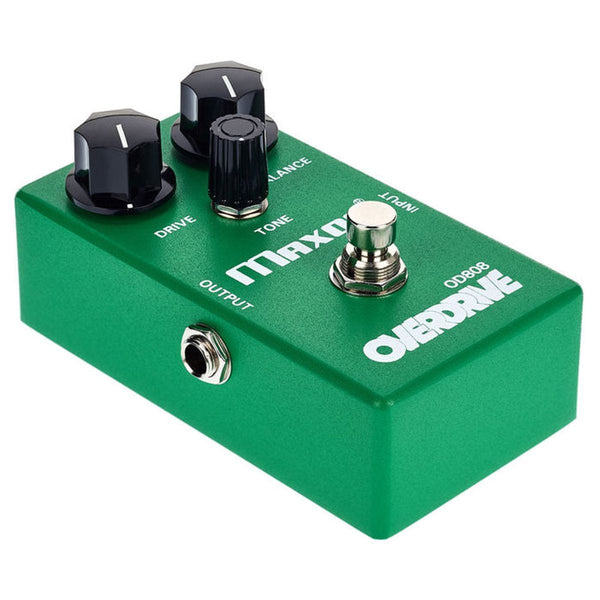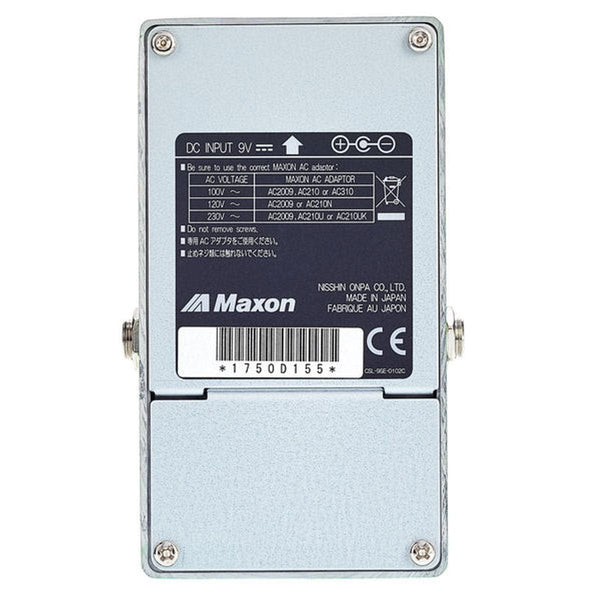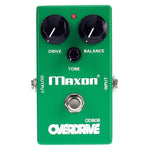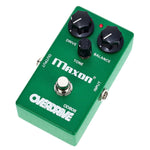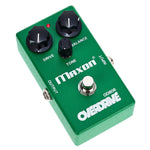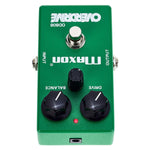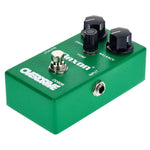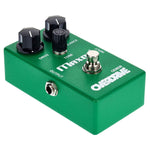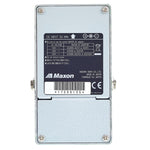 Maxon Reissue Series OD808 Overdrive Effects Pedal
Product Code: PF2670
Description
Delivery & Lead Times
Spread The Cost With Finance
Description
Maxon Reissue Series OD808 Overdrive Effects Pedal 
The Ultimate Tube Screamer?  
It would be difficult to name a more impactful and widely used pedal than the Ibanez Tube Screamer. It has come in many shapes and forms over the years and has been an integral part of a dizzyingly long list of guitar players boards for decades. It has a utility in nigh-on every genre, every style of guitar, every character of amp, every set of fingers. There's a reason that it has been so extensively copied by basically every pedal manufacturer since the late '70s.
Almost everything there is to know about this little green box of magic is common knowledge at this point. One thing that may not be quite so widely known though is that Ibanez weren't the ones who actually manufactured the pedal. It was made by a separate brand called Maxon.
The Originators of the Tube Screamer
If you look inside the chassis of an original Ibanez TS808 or TS9, you'll see Maxon's logo emblazoned everywhere. This Japanese company worked to create every Tube Screamer (as well as all of Ibanez' other well-known pedals) up until the early 2000's when the two companies parted ways and Ibanez started making them themselves. During Maxon's tenure all of the best-known models which are beloved today were designed and produced.
The 808
As mentioned, one of the best known pedals of all-time is the Tube Screamer but the Tube Screamer came in a number of different versions throughout the years. One of the most iconic and favoured versions is TS-808. The TS-808 is the first iteration of the famous family of pedals and is known for its lower-gain, slightly grittier, more soulful tone. It was the one that started it all and so a lot of guitarists have chased originals and reissues to be the Tube Screamer that they choose to have on their board.
The OD-808 from Maxon is their offering for the ultimate Tube Screamer. However, although it draws inspiration for its name from the original Tube Screamer, the internals are not quite as faithful as one might expect.
The TS-10
Although the TS-808 is arguably the most widely known Tube Screamer, one of the biggest cult favourites is the TS-10. It is one of the later versions of the Tube Screamer family and one that flew somewhat under the radar in comparison to its earlier brethren. The TS-10 is the Tube Screamer of choice for the well known guitarist John Mayer and was the one that Stevie Ray Vaughan was using towards the end. For many, the TS-10 is the best sounding tube screamer that was ever made. The differences are subtle but it tends to just possess a certain magic, especially in the mid-frequencies. It is closer, tonally, to the TS-808 than the TS9. It shares a lot of the lower-gain bite and bark whilst suring up the mids and offering more robustness. It's got a more square attack and seems to allow for a prettier array of harmonics to come through around the note.
It's a tricky thing to describe and something that only really becomes clear when comparing the TS-10 to another of its siblings directly. Rest assured though, it is a beautiful, heavenly tone which, although being undeniably a Tube Screamer, definitely possesses its own je ne sais quoi.
The True Identity of the OD808
The reason we've been on this journey through the storied history of the Ibanez Tube Screamer is to make it clear where Maxon's OD808 sits in the picture. The OD808 is the TS-10. Maxon were the ones who designed the original TS-10 and they have taken all of the glorious original circuitry and re-housed it as the OD808. TS-10's these days are no longer made and second hand ones sell for hundreds upon hundreds of pounds. The OD808 is the best way to harness the heavenly tones of the cult favourite Tube Screamer for a fraction of the price.
The OD808 is authentic and modern at the same time. It strikes a great balance. One of the ways it has pushed the boundaries actually comes from how it has remedied one of the only undesirable traits of the original TS-10. The housing of the original TS-10's was plastic and as a result a little less robust. They had to be treated with a little more care and weren't the relative tanks that the prior two were. The OD808 places the precious circuitry back in a hardcore metal shell and uses a more traditional high-quality switch than the plastic hinged design of the TS-10.
Speaking of the circuitry, it really is the real deal. The OD808 uses the original Holy Grail JRC4558 IC chip. This ensures that the pedal retains it's dynamic, nuanced, natural tone to the fullest extent possible.
Making a Stand
All of Maxon's know-how and lineage are embodied in the OD808. You are taken on a masterful tour of the history of the Tube Screamer with all of the best bits combined to create a fantastic Japanese green overdrive pedal. It looks fantastic, it's made by the originators of the original design, and it sounds Godly. The OD808 is a great choice if you're looking to nail the John Mayer tone or even the later Stevie Ray Vaughan sound. It is a bit of a hidden gem. For an incredible, authentic Tube Screamer sound which offers a little extra magic than your standard TS-808 remake, look no further than the OD808 from Maxon.
Why Bonners?
Here at Bonners Music you have the opportunity to try one of these great Maxon effects pedals yourself. Just give us a call on 01323 636141 or better still, visit our showroom! If you can't see the Maxon pedal listed that you are after just call 01323 636141 for availability and the best price.
Model: Maxon OD808
Input Impedance: 500K Ohms
Input Impedance: 500K Ohms
Input Jack: 1/4 inch standard phone jack
Output Impedance: 10K Ohms
Output Jack: 1/4 inch standard phone jack
Output: 1
Controls: Drive, Tone, Balance
Switch: Normal/Effect
Noise (IHF-A): -110 dBu
Max Amplitude: 35 dBu
Power Supply: 9V Manganese dry cell battery (S-006P) or special AC adaptor
Power Voltage: DC9 V (Battery) / DC10 V (AC-adaptor)
Current Consumption: 5 mA (9V) / 6 mA (10 V)
AC Adaptor: AC210N (option) Input: AC120V Output: DC9V/200 mA Center - / Sleeve +)
Dimensions (main body): 61 mm (W) x 112 mm (D) x 35 mm (H)
Dimensions (whole): 70 mm (W) x 112 mm (D) x 55 mm (H)
Weight: 260 g
Accessories: 9V Manganese dry cell battery (S-006P) x 1
Non-skid pad: x 1
Warranty Card: x 1
User's Manual: x 1Input Impedance: 500K Ohms
Delivery & Lead Times
Delivery ETA's 
For accurate delivery information, please contact our sales team on sales@bonnersmusic.co.uk or call 01323 639335. As a guide, despatch times are detailed below.
Additional charges will be made for delivery of heavy items to some areas. Charges may also apply to upgrades including (but not limited to) timed deliveries, piano assembly, delivery of large items, and when matching deals from other retailers. If you are unsure about our delivery charges, please contact us.
In Stock Products
Products that are shown as in stock will be sent using our standard delivery service within 2 working days from when payment is received. This excludes piano deliveries with full installation - see below.
Pre-Order Products
Products which are shown as pre-order are not in stock, but can be ordered and reserved for you from the next available shipment. Order today to reserve your place in the queue! Call or email us for the latest lead times on pre-order products.
Digital Piano Deliveries:
We have many flexible delivery options for most delivery pianos, based on your location and whether you require it flat-packed, or fully assembled in your home. Digital piano delivery options are shown at checkout. 
Piano Deliveries
If you purchase a piano which is supplied with full installation, we will contact you once your order is received to arrange a convenient delivery date & time. Delivery & installation is usually within 14 days, but often sooner. Call us for current lead times on pianos.
Digital Piano Deliveries For Self-Assembly
Click here to see our specific information relating to piano deliveries.
If you choose our courier delivery/flat pack delivery method, please be aware that with larger items such as digital pianos, the courier is not contracted to carry them up any steps or stairs. If there are stairs leading to the front door of the delivery address, or you live in an apartment which is not on pavement level, it is your responsibility to arrange transportation from the pavement level to the delivery address. In this instance, the delivery driver may, at their own discretion assist you in carrying the parcels to the delivery address, but they are not contracted nor obliged to do so.
Do you need delivery upstairs, or delivery at a specific time?
For some larger items which need to be delivered upstairs - including pianos, we offer a timed delivery service using our own van and drivers. This service is free on some items and chargeable on others. Call us on 01323 639335 to discuss your specific delivery requirements.
No-one at home?
Our courier will try and deliver your parcel(s) twice. After the second failed attempt, your goods will be returned to our warehouse. If you would like us to try and deliver them again, we will charge the delivery charges associated with your order again.
Delivery Surcharges For Larger Items
For some larger items, delivery surcharges may apply to the following areas: Scotland, Wales, Channel Islands, Isle Of Wight, Cornwall, Ireland, North Of England above Leeds. Call us on 01323 639335 to check before ordering.
Spread The Cost With Finance
If you're set on buying your new instrument, there's no need to get weighed down by the total cost of it straight away. If you break it down into monthly payments over time, it's much more manageable than you might think. And our fixed interest rates mean you'll know exactly what you're paying from the start.
How it works
The finance options available are displayed on our individual product pages - just click the button under the price to see the available options for each product. Finance is available for most new and used instruments over £400.

Pay a fixed deposit, and the rest is split into monthly payments. At the end of your contract when you've made your final payment, the instrument or equipment is all yours. You could own that dream guitar, piano or keyboard sooner than you thought!

Which Finance Options Are Available?
Most products on our website show the available finance options. Some are interest free, and some are interest bearing. The options shown on the site are an example of what is available - if you would like to pay over a different period, give us a call on 01323 639335 and we'll try and arrange a finance option that suits your budget.

How To Apply For Finance
To apply for finance, please add the product to your cart, proceed through checkout and select 'Apply For Finance' as your payment option where you can complete the application form online.

The Lender
Bonners Ltd acts as a credit broker and only offers credit products from Secure Trust Bank PLC trading as V12 Retail Finance. Bonners Ltd is authorised and regulated by the Financial Conduct Authority. Our registration number is 718966. Bonners Ltd is registered in England and Wales 1994113. Registered office 34 North St, Hailsham, East Sussex BN27 1DW.

Secure Trust Bank is registered in England and Wales 541132. Registered office: One Arleston Way, Solihull, B90 4LH. Authorised by the Prudential Regulation Authority and regulated by the Financial Conduct Authority and the Prudential Regulation Authority. Registration number: 204550.
Not all products offered by Secure Trust Bank T/A V12 Retail Finance are regulated by the FCA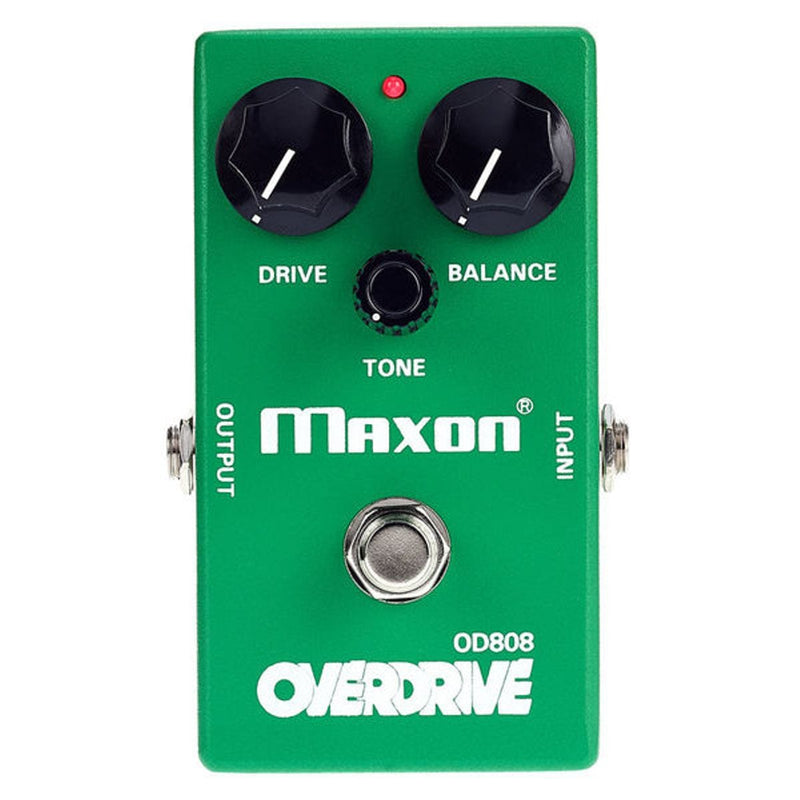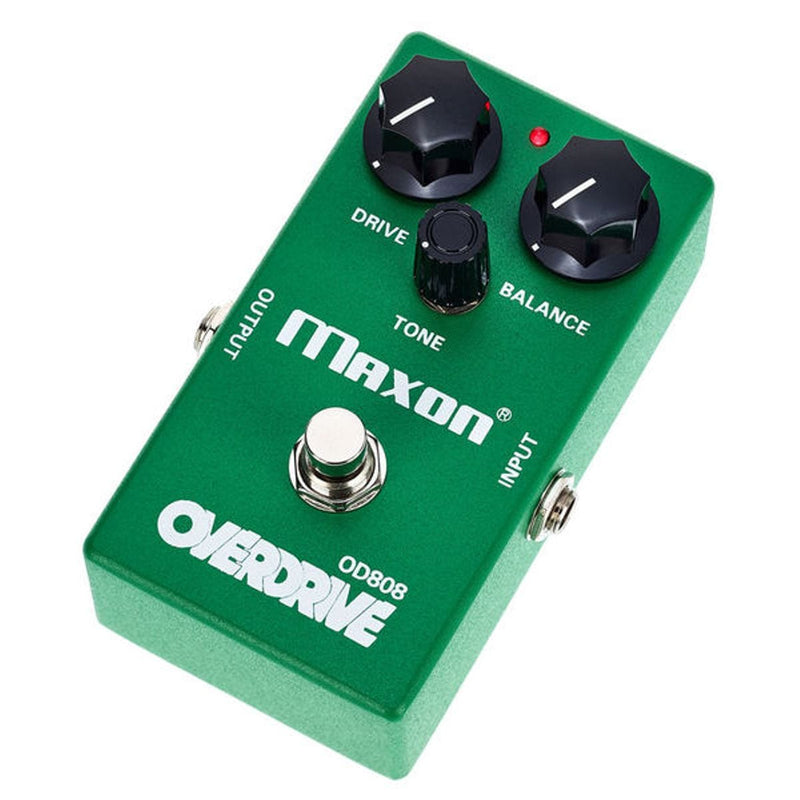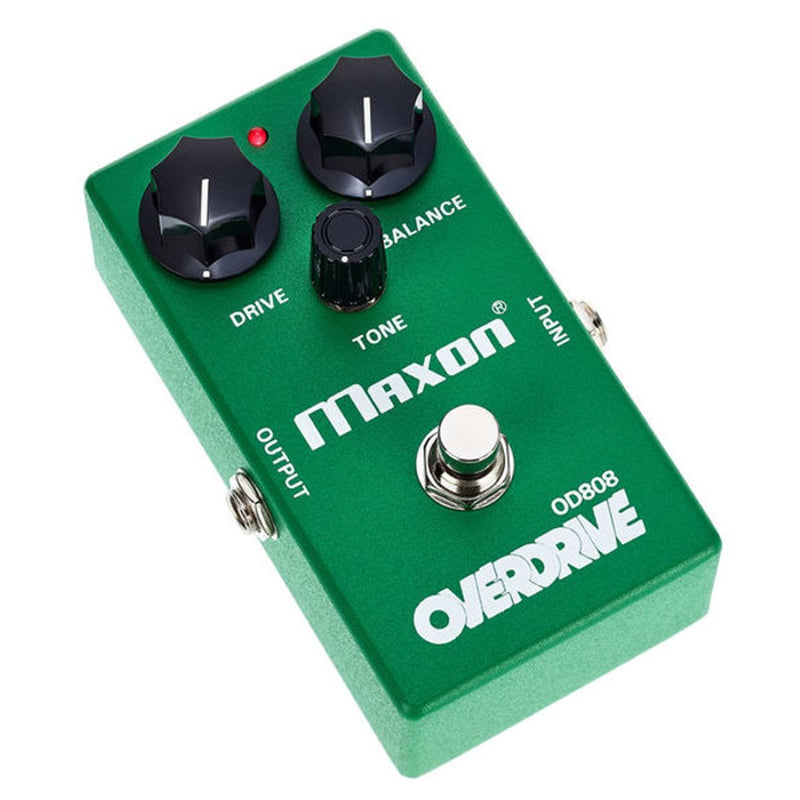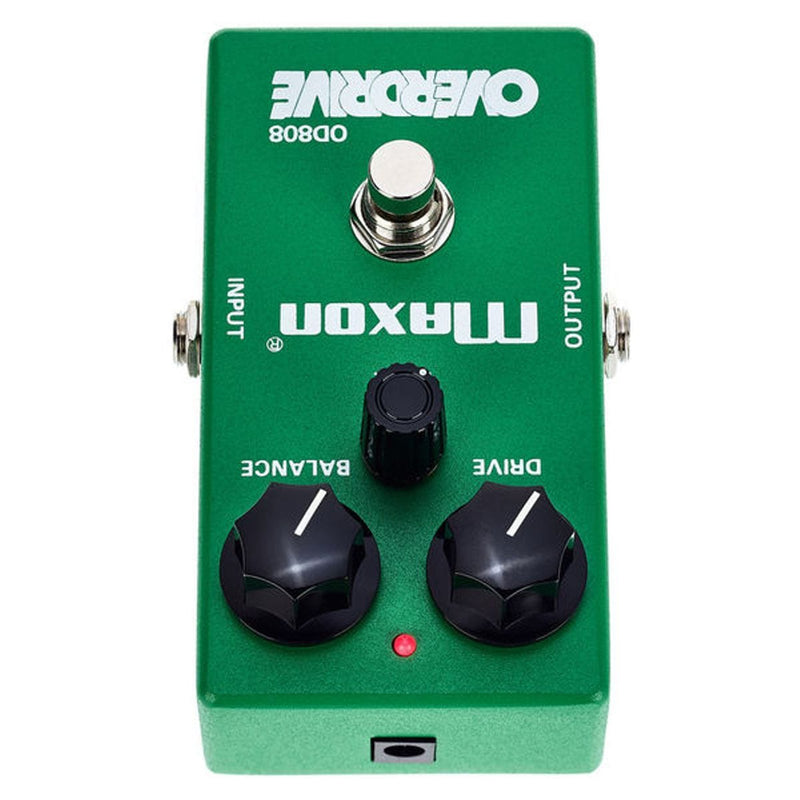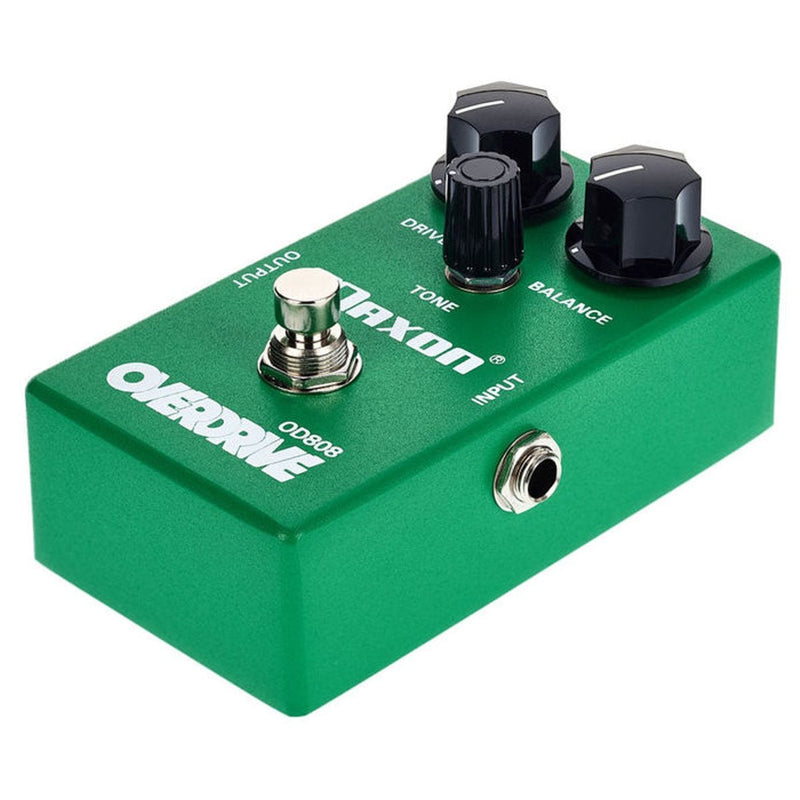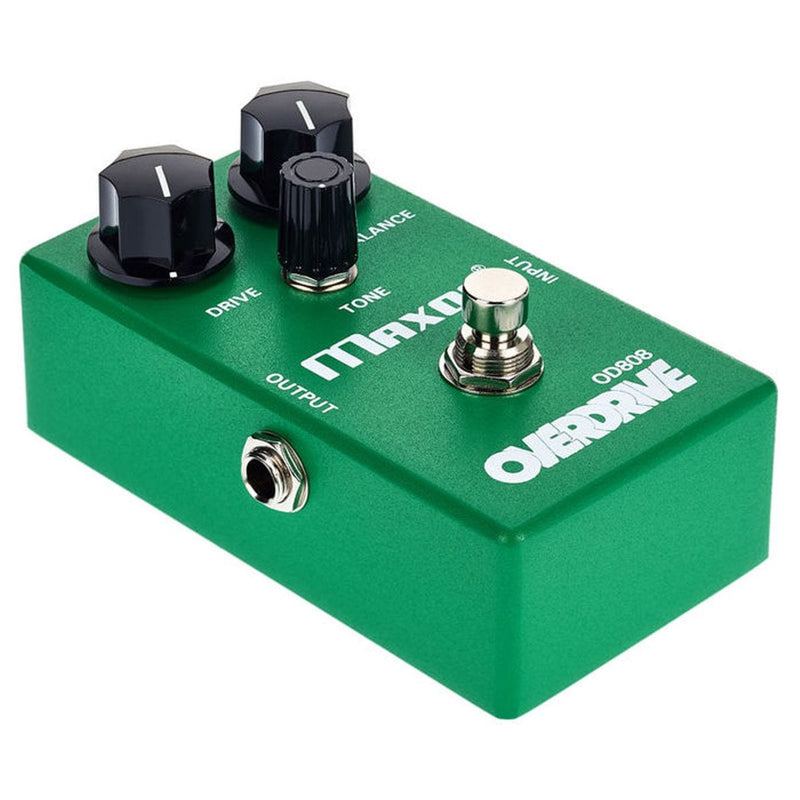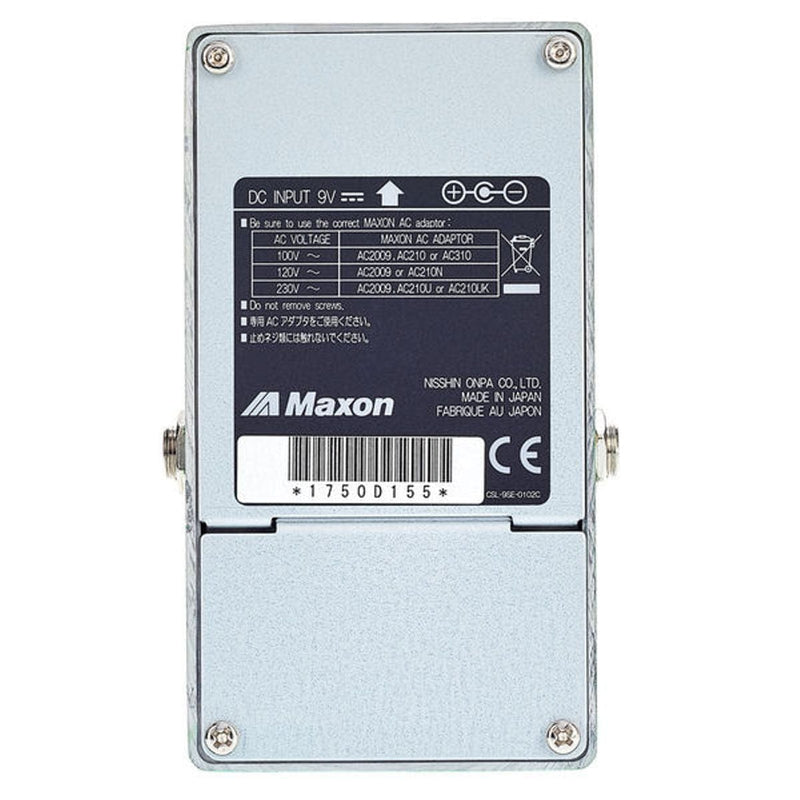 Maxon Reissue Series OD808 Overdrive Effects Pedal
PF2670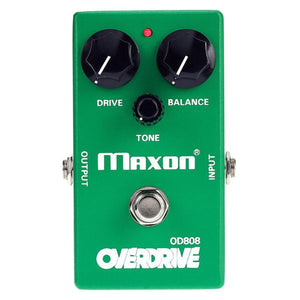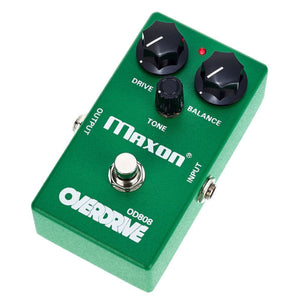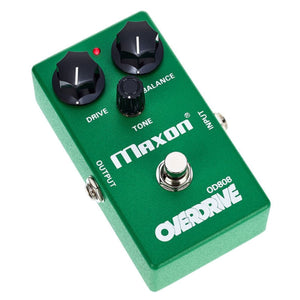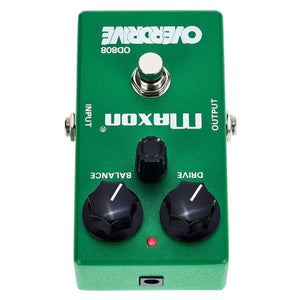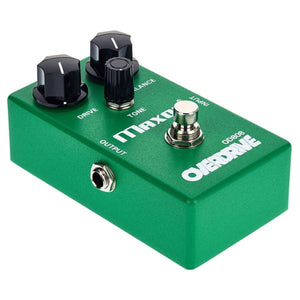 See & Try In Store
*Piano Cabinet Finishes Of Showroom Models May Vary
Request Price Match
We are only too happy to try and match a legitimate UK based musical instrument retailer's quote. We have been in business for over 30 years and will always do our best to be as competitive as possible.
If you have seen a product that you wish to purchase cheaper on another UK based retailer's website or shop, please call us on 01323 639335 or complete the form below. We will try and match (or beat) their quote – and still give you our award-winning service.
Alternatively, complete the form below and we'll get right back to you with our best price. Price matches are dependent upon stock availability.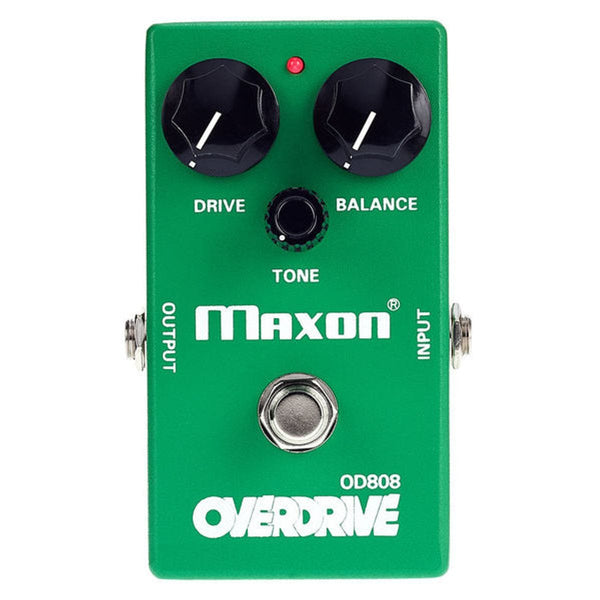 Maxon Reissue Series OD808 Overdrive Effects Pedal
£115.00