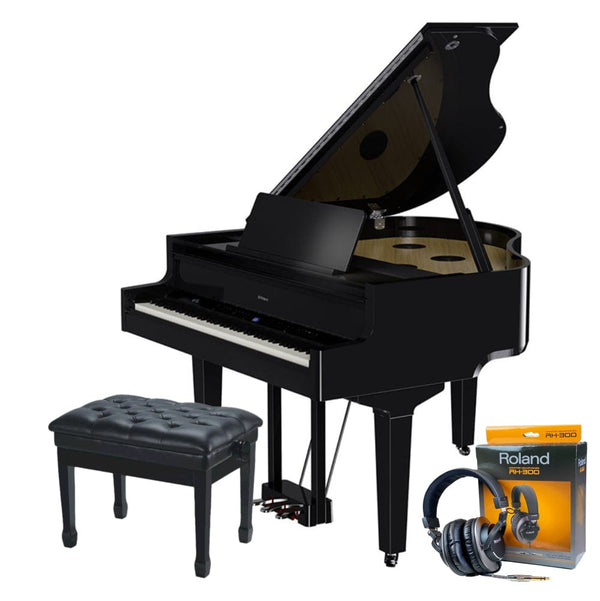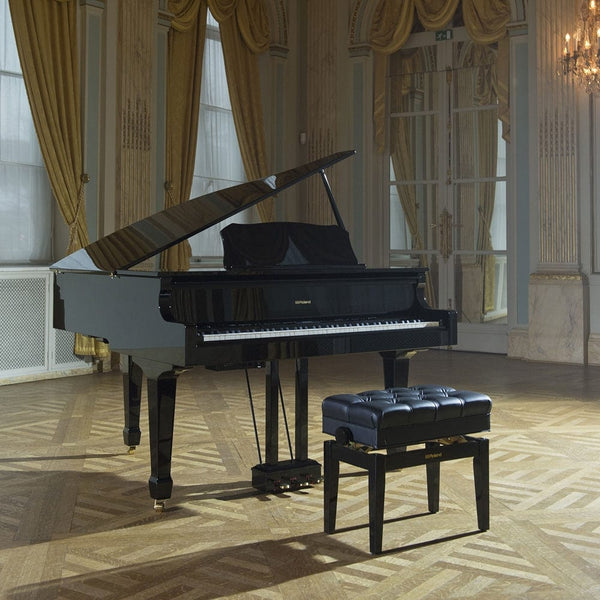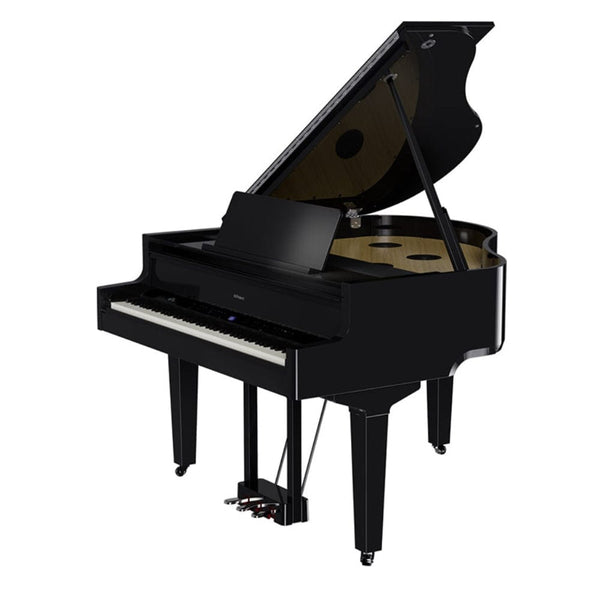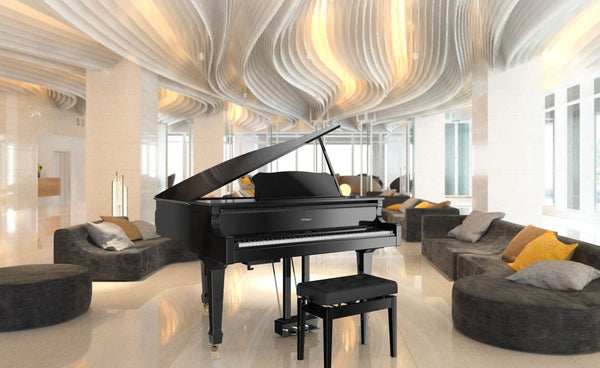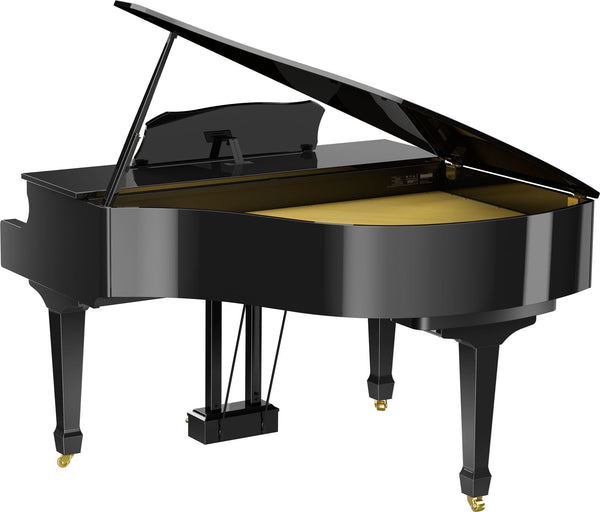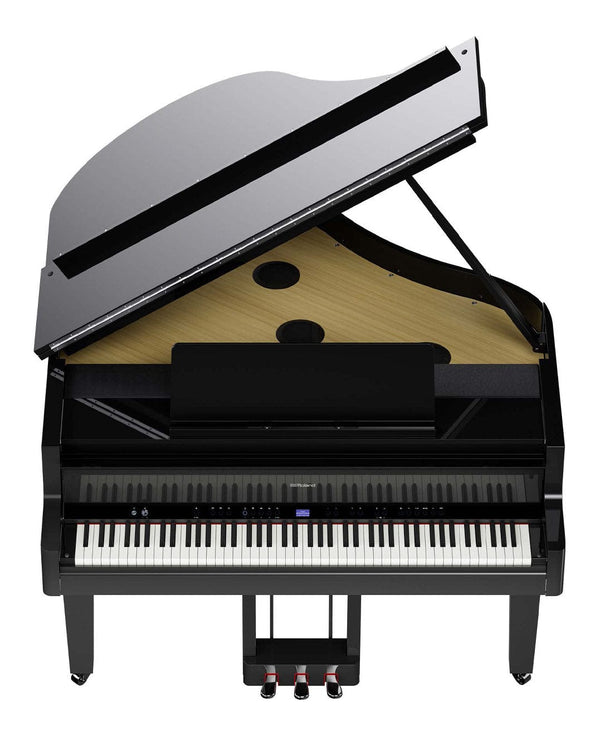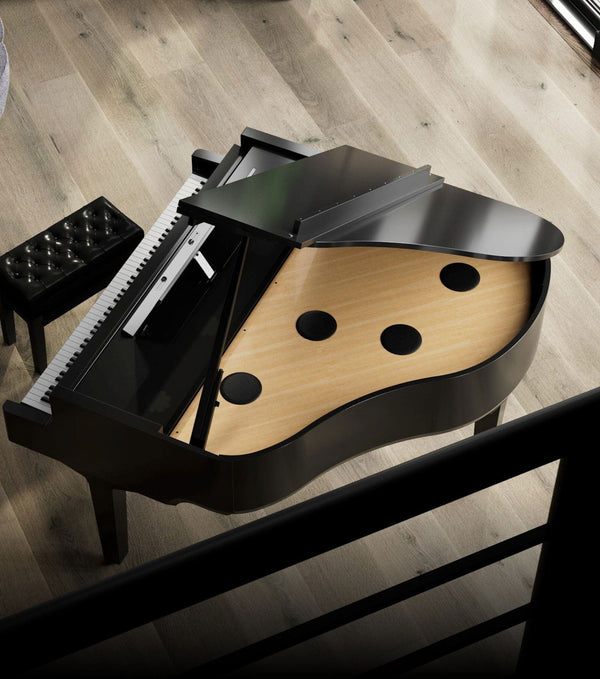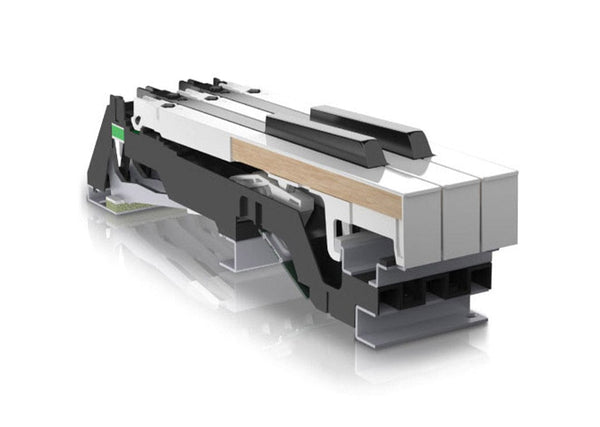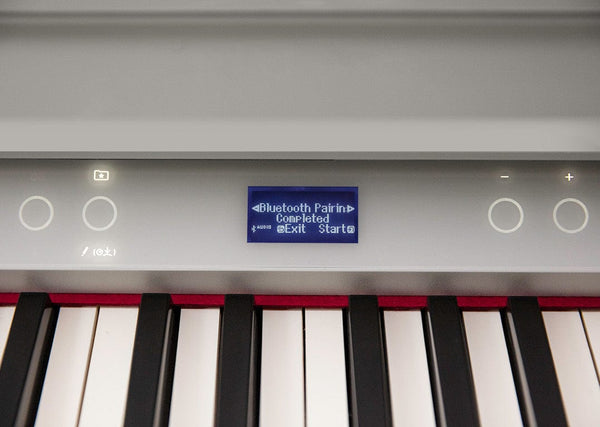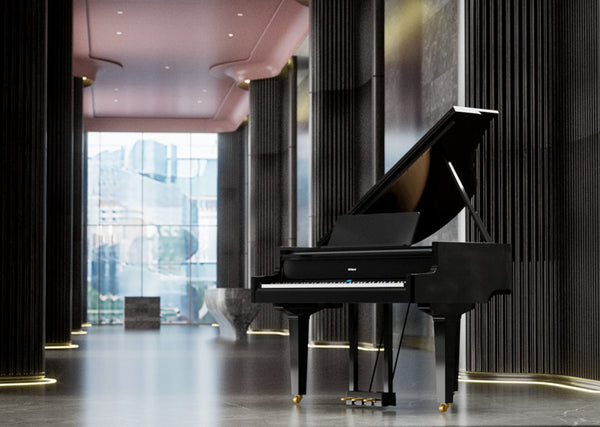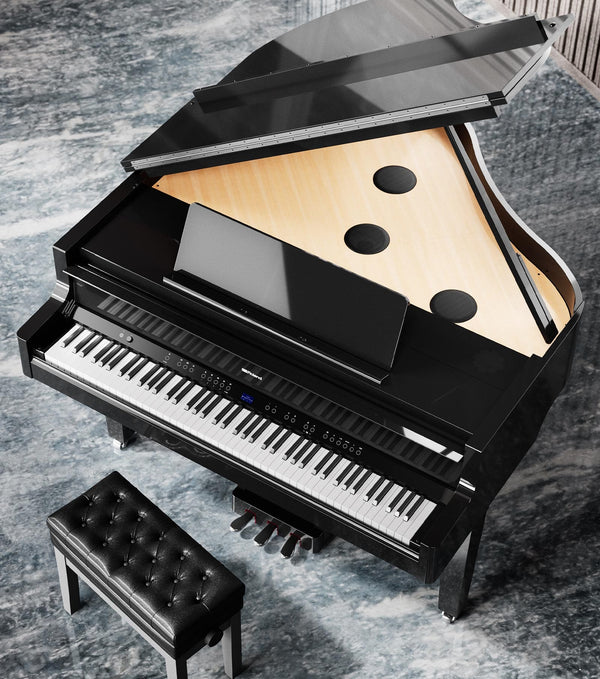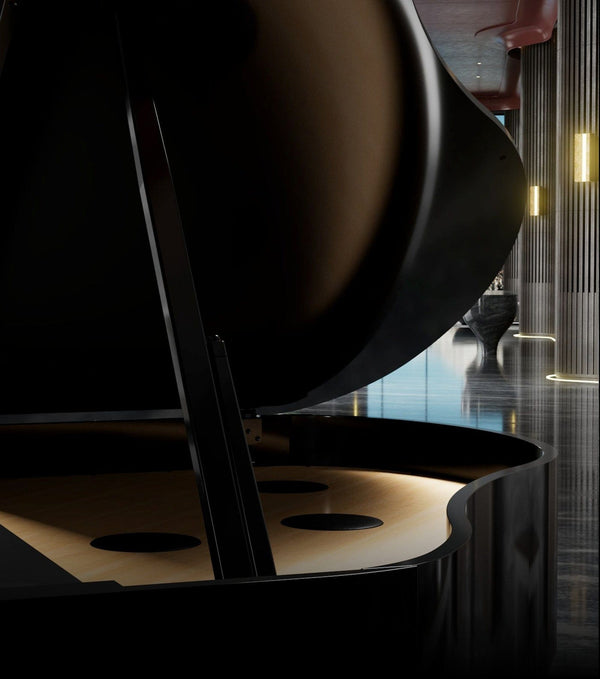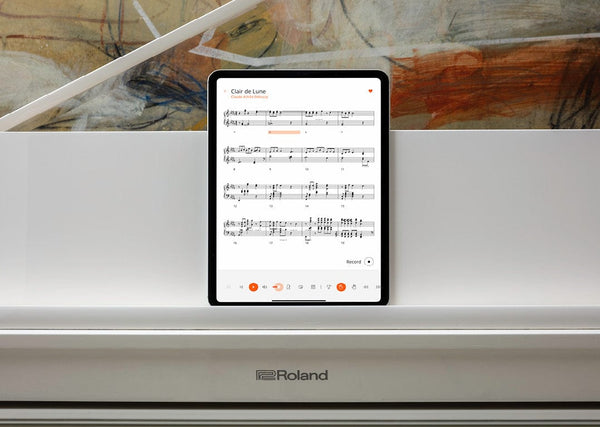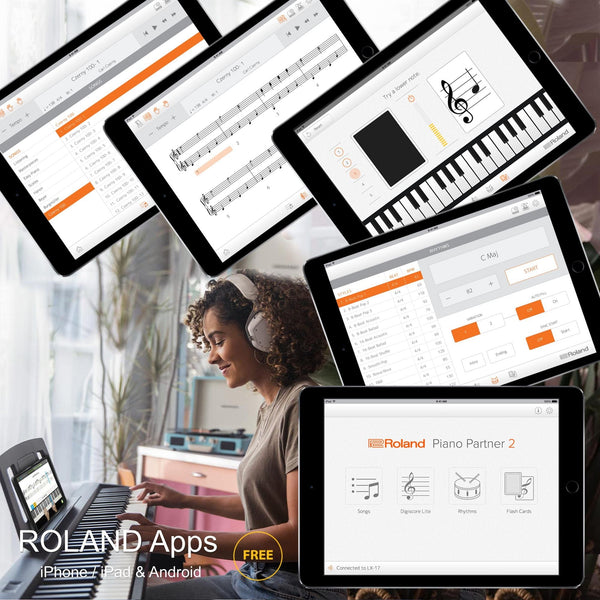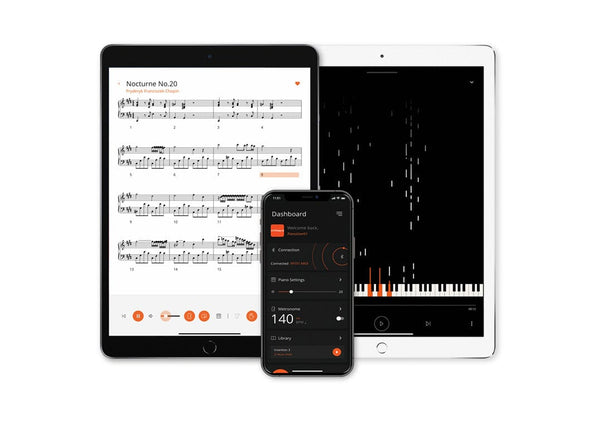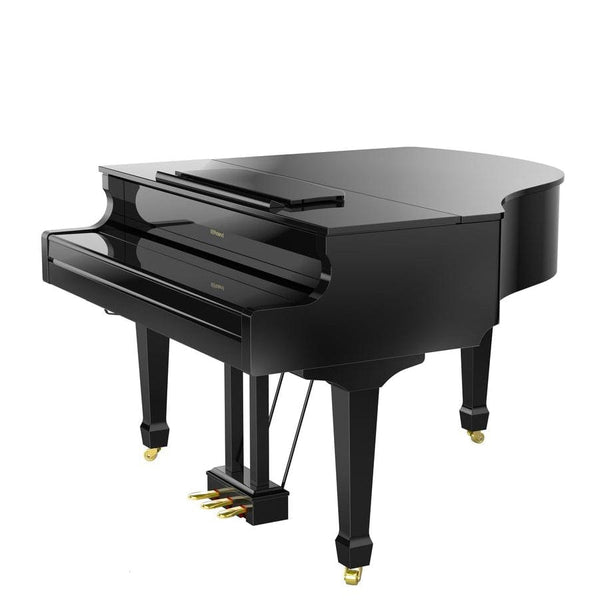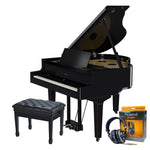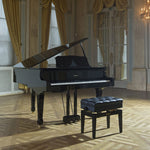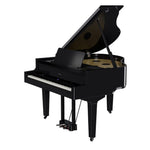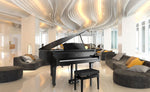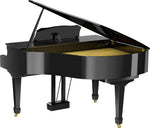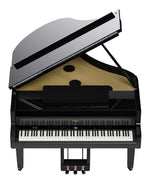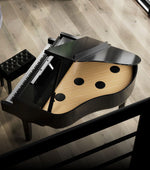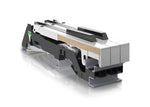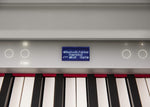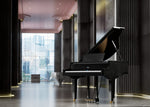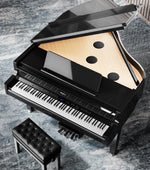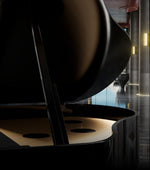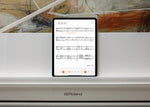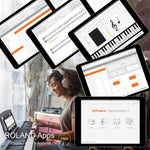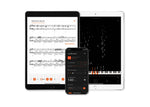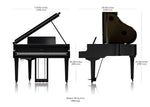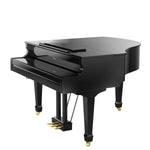 Roland GP9 Digital Grand Piano; Polished Ebony Concert Package
12 MONTHS 0% FINANCE OPTION
Product Code: GP9PE-CONCERT
Description
Delivery & Lead Times
Spread The Cost With Finance
Description
Roland GP9 Main Features
Number of Keys
88 Keys Hammer Action Keyboard
Key Action
Piano Reality Hybrid Concert Keyboard
with Escapement, Ebony/Ivory Feel, Dynamic Sensor Acceleration Technology and Haptic Key Vibration
Sound Source
Piano Reality Modeling Concert Sound Engine (with Piano Reality Ambience)
Polyphony
Piano: Limitless (solo playing using 'Piano' category tones)
Other Sounds: 256
Sounds
Total 324 Tones
Grand: 4
Upright: 5
Classical: 5
E.Piano: 12
Organ: 12
Other: 286
Rhythms
Rhythm Patterns 80
Recording
Standard MIDI Files
Audio File (WAV via USB
Playback
Yes: Bluetooth Ver 4.2
Standard MIDI Files
Audio File (WAV, MP3 Via USB
Bluetooth
Yes: Bluetooth Ver 4.2
Parts
2 Parts can be layered
Other Notable Features
Full Size Baby Grand at 4'92Ft
Concert progressive hammer action with escapement, allowing expressive subtlest playing nuances.
Fine details elevate the feel, including long key pivot length
Haptic vibration that emulates the subtle vibrations from an acoustic piano's body
Roland Piano App provides easy of use
Piano Designer: Allowing in-depth personalisation
Piano Reality Ambience: Type: Studio, Lounge, Concert Hall, Cathedral
Metronome
Dual
Split
TwinPiano (with Individual Mode)
Transpose (in semitones)
Speaker Auto Mute
Volume limit function
Panel Lock
Panel Sleep
Auto Off
Pedals
Damper (Piano Reality Responsive Concert Pedal, capable of continuous detection, Damper Modeling)
Soft (capable of continuous detection, function assignable)
Sostenuto (function assignable)
Inputs/Outputs
DC In jack
Input jacks: Stereo miniature phone type
Output (L/Mono, R) jacks: 1/4-inch phone type
USB B type
USB A type
Phones jack x 2: Stereo miniature phone type, Stereo 1/4-inch phone type
Speakers
Piano Reality Projection Concert Sound System
Spatial Speakers: 16 cm x 2 with Spaker Box 16cm
Cabinet Speakers: 25 cm with Speaker Box)
Center Near-field Speaker: 8cm x 2
Near-field Speakers: 2.5 cm x 2
Rated Power Output: 25 W x 2 + 20 W x 2 + 15 W x 2 + 15 W x 2
Included Accessories
Owner's Manual, "Roland Piano Masterpieces"
Leaflet "Leaflet Stand Assembly"
Power cord
Headphone hook
Maintenance set
Key cover
Caster cups
Cord clamps
Dimensions
Top opened (with music rest): 1445 (W) x 1501 (D) x 1787 (H) mm
Top closed (with music rest): 1440 (W) x 1501 (D) x 999 (H) mm
Weight
169 kg
Roland GP9 Digital Grand Piano; Polished Ebony Concert Package
The Roland GP9 is a luxury digital baby grand piano with a beautiful sound, keyboard touch, and the latest technology to make your playing experience more engaging and enjoyable. Measuring just over 1.5m in length, the GP9 is designed to exude the same presence & beauty in your room as a traditional acoustic piano but with the convenient features you would expect to find in a top-of-the-range digital instrument, including a wide choice of instrument tones, Bluetooth® connectivity, onboard learning tools and a powerful built-in amplification system.
The Concert Experience - Our Premier Roland GP9 Package
If you think you may regularly use your piano with headphones for silent practice, then this is the ideal package for you! Supplied with a beautiful Nocturne Concert leather button-top piano stool and the superb Roland RH300 Premium Closed-Back Studio-quality Headphones that are designed to give the very best sound quality when partnered with Roland digital pianos.

Top-Of-The-Range Headphones For Your Piano
Roland's premium RH-300 pro-quality headphones are specially designed to offer unbeatable sound and supreme comfort to musicians and studio producers. Featuring custom-built 45mm drivers, neodymium magnets and CCAW (copper-clad aluminium wire) voice coils, expect the clearest, most natural and accurate sound, plus ultra-wide frequency response that brings out sparkling highs and warm lows. For enthusiastic pianists, RH-300 headphones are the essential choice and allow you to enjoy your piano just as much through the headphones as you do through its own speaker system.

This premium Concert Package also includes a beautiful matching adjustable-height genuine leather Nocturne brand concert piano stool. The perfect piano stool for the discerning pianist. This solo adjustable piano stool is finished in black gloss with empire-style legs. The buttoned seat is thickly padded and upholstered in Genuine leather. This is very similar to the type of piano stool you would find on concert stages or music studios and provides support and comfort for extended periods of piano playing. The seat top is 40cm(W) x 59cm(L) and is adjustable in height from 48cm to 59cm.

Keyboard Touch
The GP9 is equipped with Roland's Piano Reality Concert keyboard. This hybrid wood/moulded keyboard with Ivory Feel key surfaces has a simulated escapement mechanism, long key pivot length and a unique haptic vibration, so the player 'feels' the music. The Piano Reality Concert Keyboard also features a progressive hammer action (slightly lighter at the top, compared with the lower registers), which is also similar to the keyboard found on an acoustic grand piano.

Sound
The GP-9 is built around advanced Roland's Piano Reality approach, a sophisticated ecosystem of connected technologies comprising the sound engine, keyboard, pedals, audio components, and speakers. Each section is designed to work together flawlessly and transparently, allowing players to experience the purity of this wonderful instrument with unprecedented expression and realism.

Other Useful Features

Smart touch panel with intuitive icons and switchable backlighting
Adjust the piano tone with variable lid height and two prop sticks
Low-maintenance design that never needs tuning
Integrated casters for easy movement and a traditional look
Connect a smartphone or tablet via Bluetooth to play along with favourite songs and work with MIDI music apps
Control GP-9 features, explore lessons, and more with the companion Roland Piano App
Advanced metronome, recorder, and dual headphones jacks for daily practice
USB ports for connecting with computers and flash storage devices
Available in ebony and polished white finishes

See & Try The GP9 In-Store
You can purchase the GP9 online, or we believe nothing compares to seeing, touching and hearing a new piano in one of our award-winning showrooms. You are very welcome to come and try the GP9 for yourself and compare it with digital grand pianos from other manufacturers just to ensure you're making the right buying decision. Don't worry if you can't play the piano - our knowledgeable and experienced staff will happily play for you! We are equally happy to allow you the time and space to play the GP9 yourself and answer any questions you may have. Call us on 01323 639335 to check in-store availability for the GP9 in the showroom closest to you.

Part Exchange Your Piano & Upgrade To GP9 Today!
If you already have a piano that you want to upgrade to the new Roland GP9, you might be able to part exchange it with the Bonners' trade-in scheme. Simply click here to complete our easy online form, and we'll get back to you with a part-exchange valuation. You might have a new Roland GP9 digital grand in your hands quicker than you thought! Call us on 01323 639335 to discuss part exchange options further.

Delivered, Assembled, and Installed by our Experts*
When you buy a new Roland GP9 from Bonners, our experts will deliver, set up, and install your new piano in the room of your choice. We use our own dedicated piano delivery experts and also specify a time of delivery (we'll also call you on the day to try and be as exact as possible!). We believe buying a new piano should be an exciting occasion, and we want you to have the best experience possible. If you have any special requests, please call us to discuss them - we're always happy to do the very best we can! Please be aware although the legs & pedals detach from the GP9, the piano is supplied in one piece and may not be suitable for carrying up some staircases. Contact us before ordering if you need upstairs delivery - an additional charge may apply.

*Free delivery & installation is available to mainland England addresses only. Surcharges may apply to Scotland, Wales, the Isle Of Wight, and some other areas. Please contact us before placing your order if the delivery address is not on England's mainland.

Upstairs Delivery
Free delivery is to ground-floor rooms only. We deliver and install many digital pianos upstairs free of charge, but it is dependent on the model of the piano, delivery location, and the type of staircase. Please contact us at 01323 639335 or email sales@bonnersmusic.co.uk to confirm if any delivery surcharges will be applicable. A photograph of the delivery access and/or staircase may be required.

10-Year Manufacturer Warranty
Every brand new Roland GP9 piano purchased from Bonners is sold with a free 10-year manufacturer-backed UK warranty upgrade for complete peace of mind. Extended warranty requires registration of the product within 30 days of purchase on the manufacturer's website.

Roland GP9 Main Features
Number of Keys
88 Keys Hammer Action Keyboard
Key Action
Piano Reality Hybrid Concert Keyboard
with Escapement, Ebony/Ivory Feel, Dynamic Sensor Acceleration Technology and Haptic Key Vibration
Sound Source
Piano Reality Modeling Concert Sound Engine (with Piano Reality Ambience)
Polyphony
Piano: Limitless (solo playing using 'Piano' category tones)
Other Sounds: 256
Sounds
Total 324 Tones
Grand: 4
Upright: 5
Classical: 5
E.Piano: 12
Organ: 12
Other: 286
Rhythms
Rhythm Patterns 80
Recording
Standard MIDI Files
Audio File (WAV via USB
Playback
Yes: Bluetooth Ver 4.2
Standard MIDI Files
Audio File (WAV, MP3 Via USB
Bluetooth
Yes: Bluetooth Ver 4.2
Parts
2 Parts can be layered
Other Notable Features
Full Size Baby Grand at 4'92Ft
Concert progressive hammer action with escapement, allowing expressive subtlest playing nuances.
Fine details elevate the feel, including long key pivot length
Haptic vibration that emulates the subtle vibrations from an acoustic piano's body
Roland Piano App provides easy of use
Piano Designer: Allowing in-depth personalisation
Piano Reality Ambience: Type: Studio, Lounge, Concert Hall, Cathedral
Metronome
Dual
Split
TwinPiano (with Individual Mode)
Transpose (in semitones)
Speaker Auto Mute
Volume limit function
Panel Lock
Panel Sleep
Auto Off
Pedals
Damper (Piano Reality Responsive Concert Pedal, capable of continuous detection, Damper Modeling)
Soft (capable of continuous detection, function assignable)
Sostenuto (function assignable)
Inputs/Outputs
DC In jack
Input jacks: Stereo miniature phone type
Output (L/Mono, R) jacks: 1/4-inch phone type
USB B type
USB A type
Phones jack x 2: Stereo miniature phone type, Stereo 1/4-inch phone type
Speakers
Piano Reality Projection Concert Sound System
Spatial Speakers: 16 cm x 2 with Spaker Box 16cm
Cabinet Speakers: 25 cm with Speaker Box)
Center Near-field Speaker: 8cm x 2
Near-field Speakers: 2.5 cm x 2
Rated Power Output: 25 W x 2 + 20 W x 2 + 15 W x 2 + 15 W x 2
Included Accessories
Owner's Manual, "Roland Piano Masterpieces"
Leaflet "Leaflet Stand Assembly"
Power cord
Headphone hook
Maintenance set
Key cover
Caster cups
Cord clamps
Dimensions
Top opened (with music rest): 1445 (W) x 1501 (D) x 1787 (H) mm
Top closed (with music rest): 1440 (W) x 1501 (D) x 999 (H) mm
Weight
169 kg
Delivery & Lead Times
Delivery ETA's 
For accurate delivery information, please contact our sales team on sales@bonnersmusic.co.uk or call 01323 639335. As a guide, despatch times are detailed below.
Additional charges will be made for delivery of heavy items to some areas. Charges may also apply to upgrades including (but not limited to) timed deliveries, piano assembly, delivery of large items, and when matching deals from other retailers. If you are unsure about our delivery charges, please contact us.
In Stock Products
Products that are shown as in stock will be sent using our standard delivery service within 2 working days from when payment is received. This excludes piano deliveries with full installation - see below.
Pre-Order Products
Products which are shown as pre-order are not in stock, but can be ordered and reserved for you from the next available shipment. Order today to reserve your place in the queue! Call or email us for the latest lead times on pre-order products.
Digital Piano Deliveries:
We have many flexible delivery options for most delivery pianos, based on your location and whether you require it flat-packed, or fully assembled in your home. Digital piano delivery options are shown at checkout. 
Piano Deliveries
If you purchase a piano which is supplied with full installation, we will contact you once your order is received to arrange a convenient delivery date & time. Delivery & installation is usually within 14 days, but often sooner. Call us for current lead times on pianos.
Digital Piano Deliveries For Self-Assembly
Click here to see our specific information relating to piano deliveries.
If you choose our courier delivery/flat pack delivery method, please be aware that with larger items such as digital pianos, the courier is not contracted to carry them up any steps or stairs. If there are stairs leading to the front door of the delivery address, or you live in an apartment which is not on pavement level, it is your responsibility to arrange transportation from the pavement level to the delivery address. In this instance, the delivery driver may, at their own discretion assist you in carrying the parcels to the delivery address, but they are not contracted nor obliged to do so.
Do you need delivery upstairs, or delivery at a specific time?
For some larger items which need to be delivered upstairs - including pianos, we offer a timed delivery service using our own van and drivers. This service is free on some items and chargeable on others. Call us on 01323 639335 to discuss your specific delivery requirements.
No-one at home?
Our courier will try and deliver your parcel(s) twice. After the second failed attempt, your goods will be returned to our warehouse. If you would like us to try and deliver them again, we will charge the delivery charges associated with your order again.
Delivery Surcharges For Larger Items
For some larger items, delivery surcharges may apply to the following areas: Scotland, Wales, Channel Islands, Isle Of Wight, Cornwall, Ireland, North Of England above Leeds. Call us on 01323 639335 to check before ordering.
Spread The Cost With Finance
If you're set on buying your new instrument, there's no need to get weighed down by the total cost of it straight away. If you break it down into monthly payments over time, it's much more manageable than you might think. And our fixed interest rates mean you'll know exactly what you're paying from the start.
How it works
The finance options available are displayed on our individual product pages - just click the button under the price to see the available options for each product. Finance is available for most new and used instruments over £400.

Pay a fixed deposit, and the rest is split into monthly payments. At the end of your contract when you've made your final payment, the instrument or equipment is all yours. You could own that dream guitar, piano or keyboard sooner than you thought!

Which Finance Options Are Available?
Most products on our website show the available finance options. Some are interest free, and some are interest bearing. The options shown on the site are an example of what is available - if you would like to pay over a different period, give us a call on 01323 639335 and we'll try and arrange a finance option that suits your budget.

How To Apply For Finance
To apply for finance, please add the product to your cart, proceed through checkout and select 'Apply For Finance' as your payment option where you can complete the application form online.

The Lender
Bonners Ltd acts as a credit broker and only offers credit products from Secure Trust Bank PLC trading as V12 Retail Finance. Bonners Ltd is authorised and regulated by the Financial Conduct Authority. Our registration number is 718966. Bonners Ltd is registered in England and Wales 1994113. Registered office 34 North St, Hailsham, East Sussex BN27 1DW.

Secure Trust Bank is registered in England and Wales 541132. Registered office: One Arleston Way, Solihull, B90 4LH. Authorised by the Prudential Regulation Authority and regulated by the Financial Conduct Authority and the Prudential Regulation Authority. Registration number: 204550.
Not all products offered by Secure Trust Bank T/A V12 Retail Finance are regulated by the FCA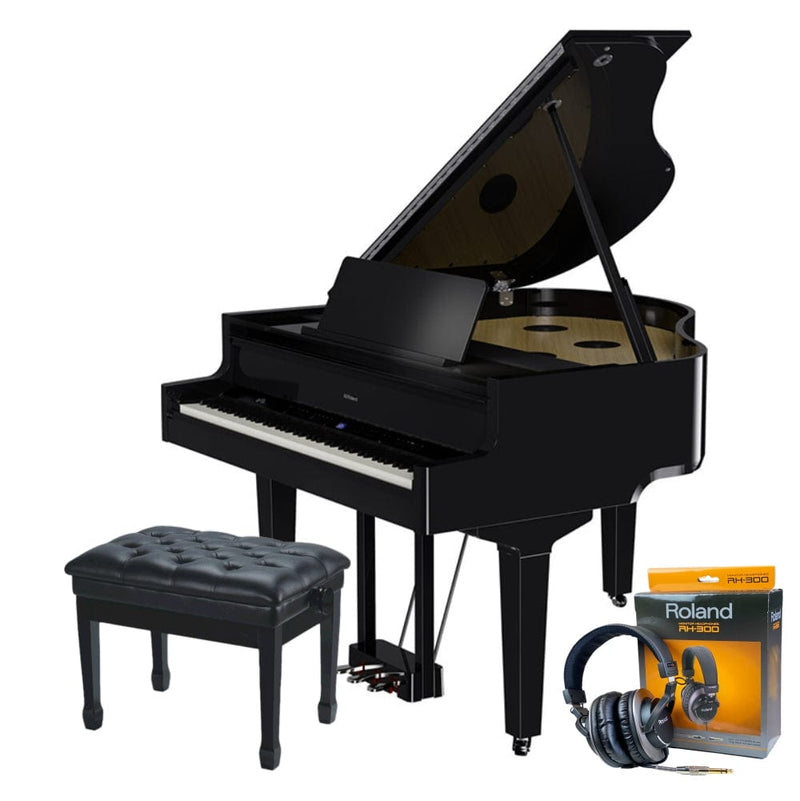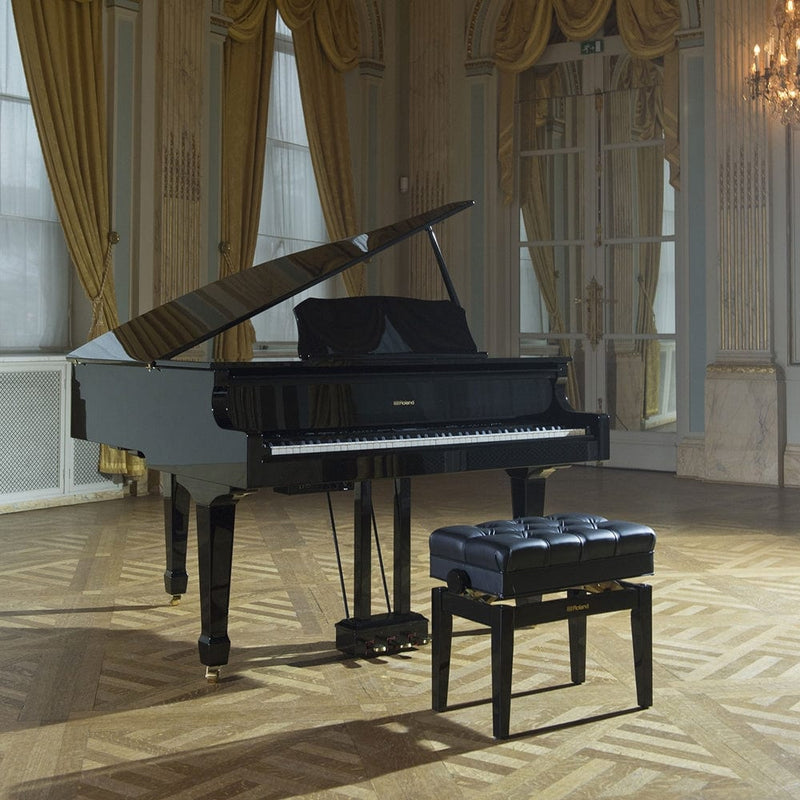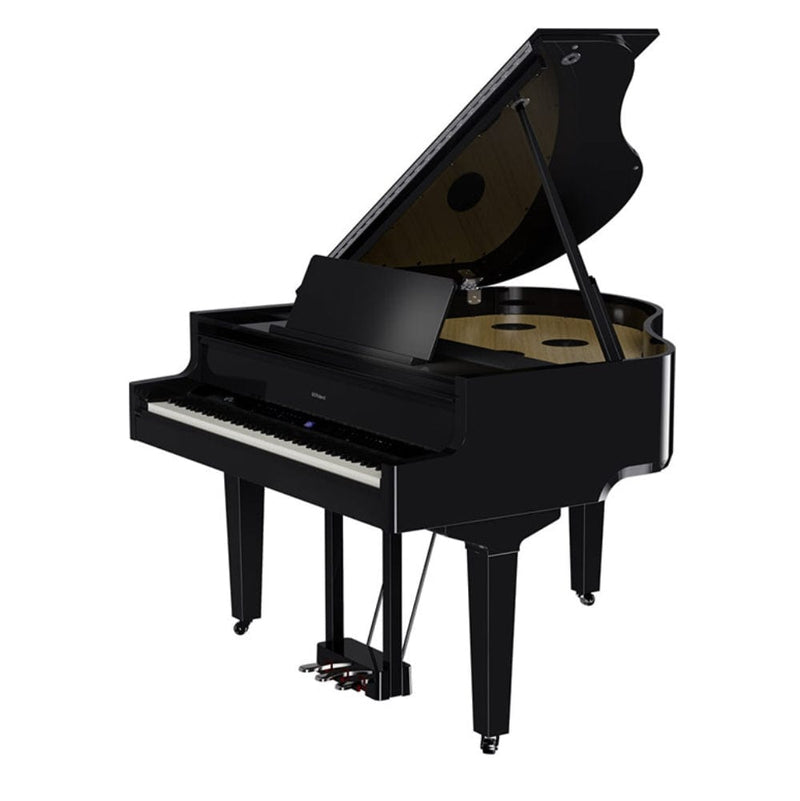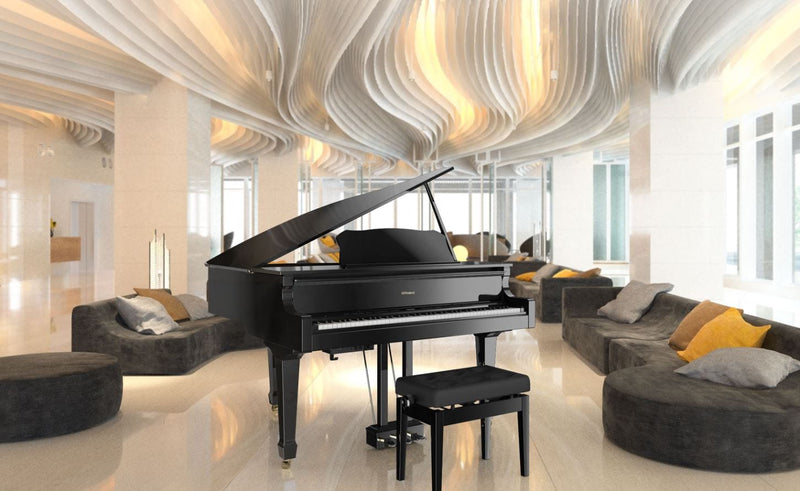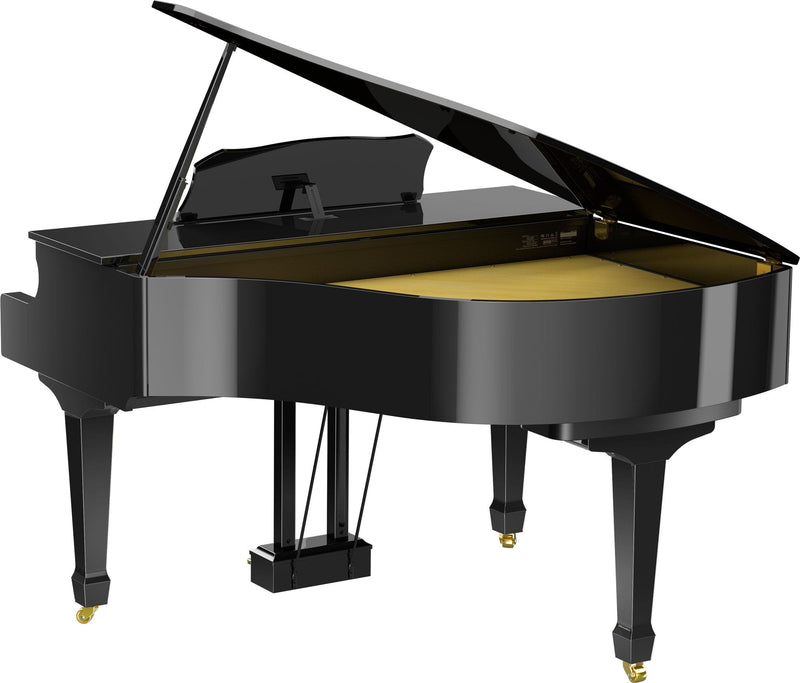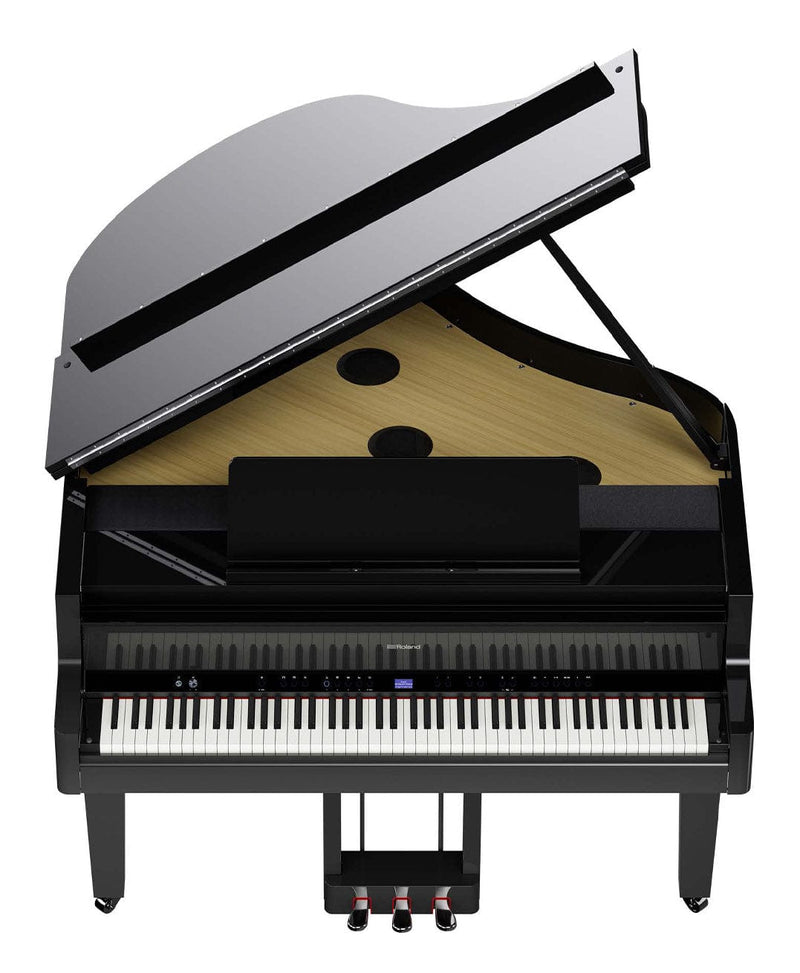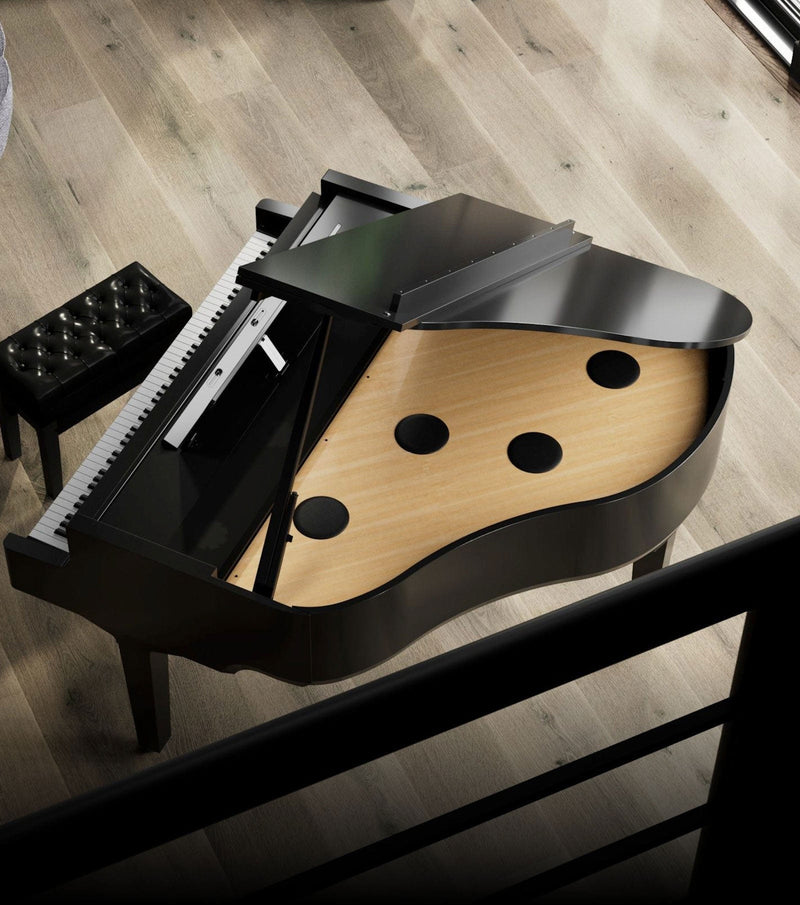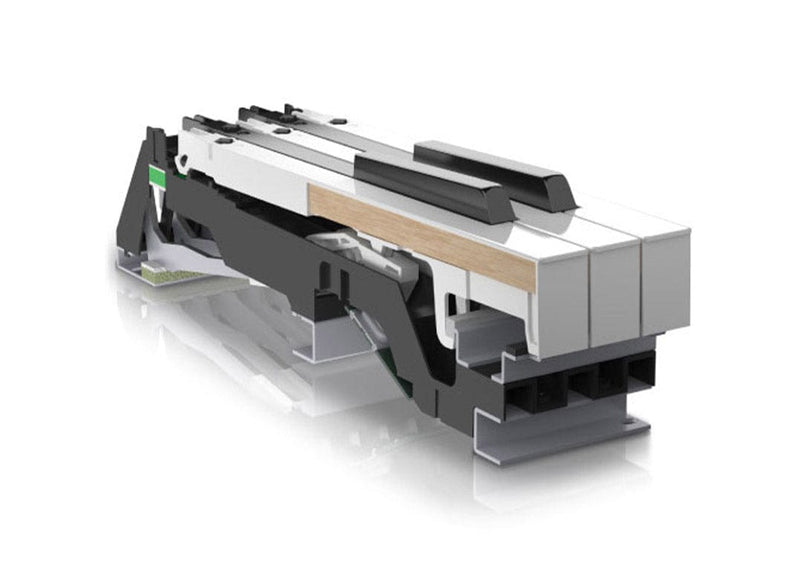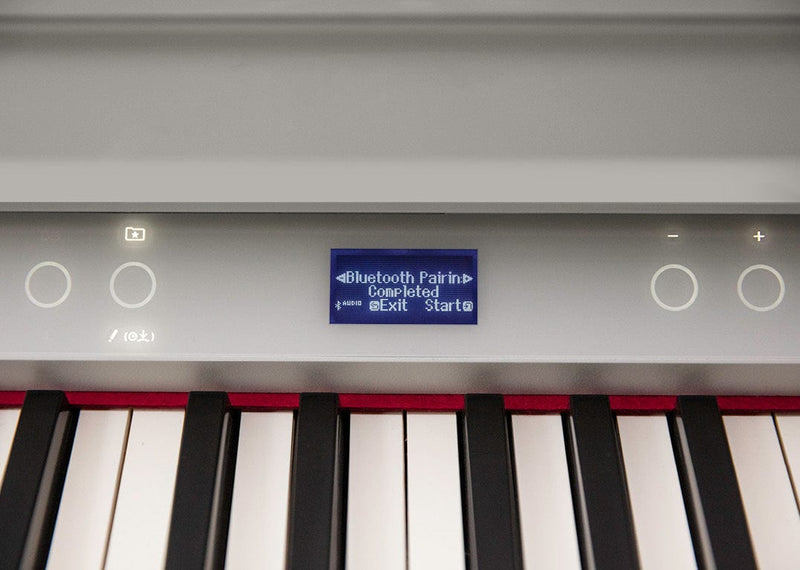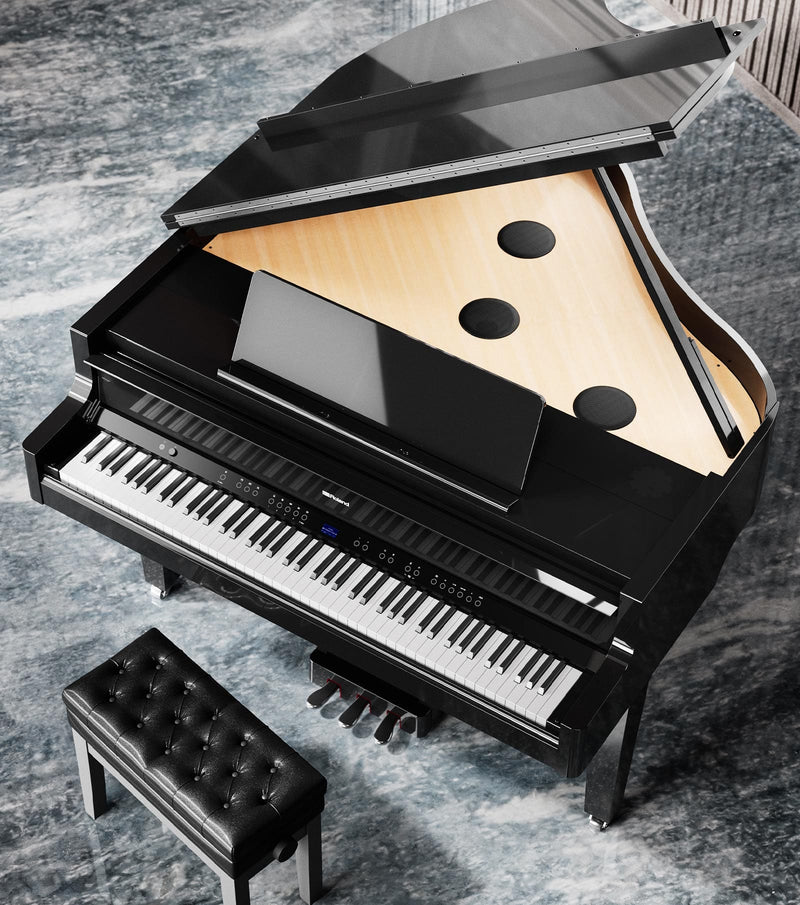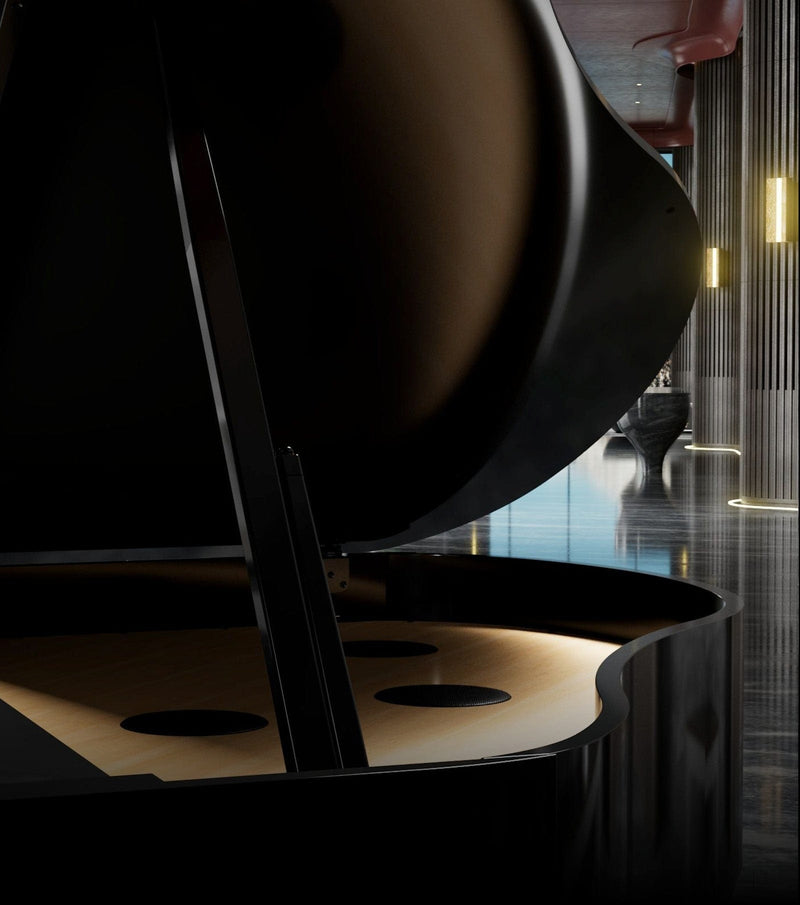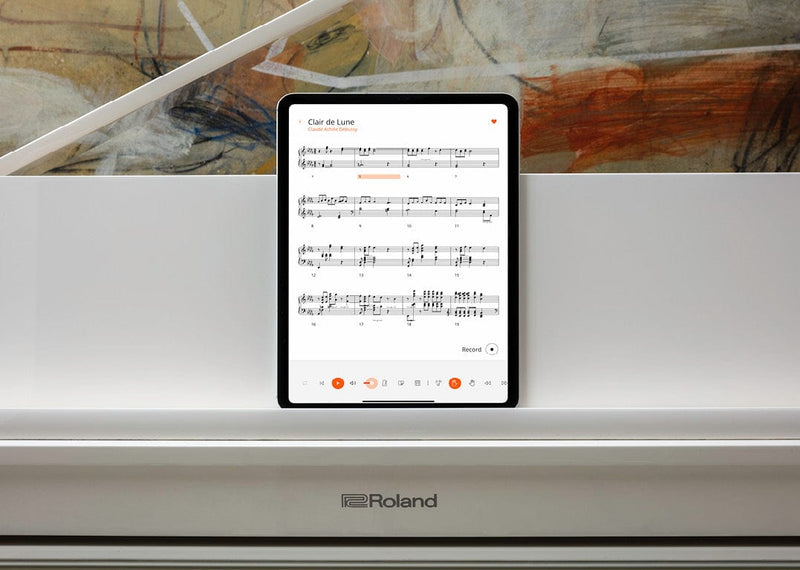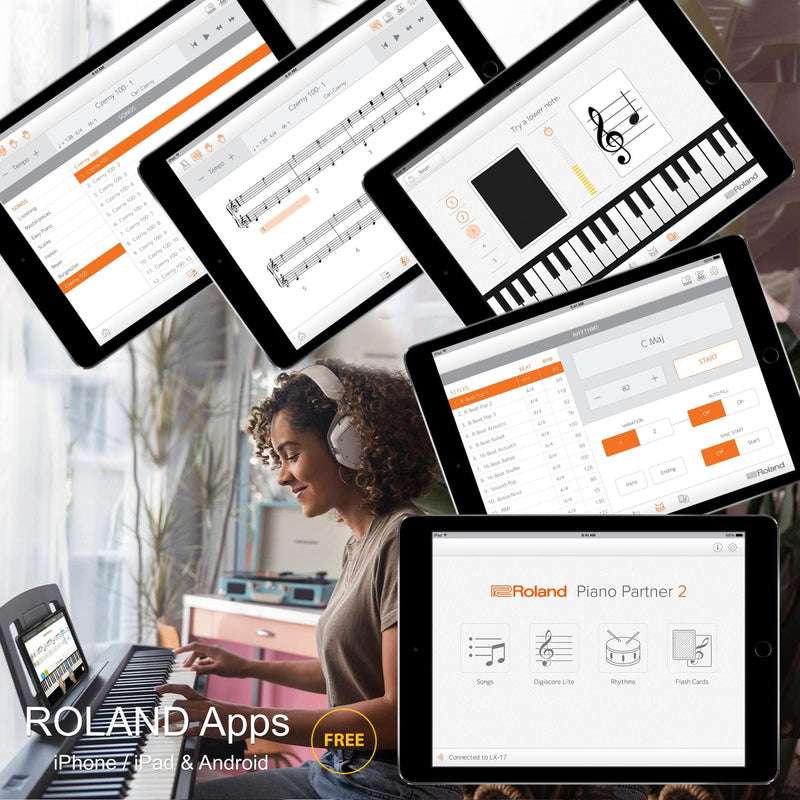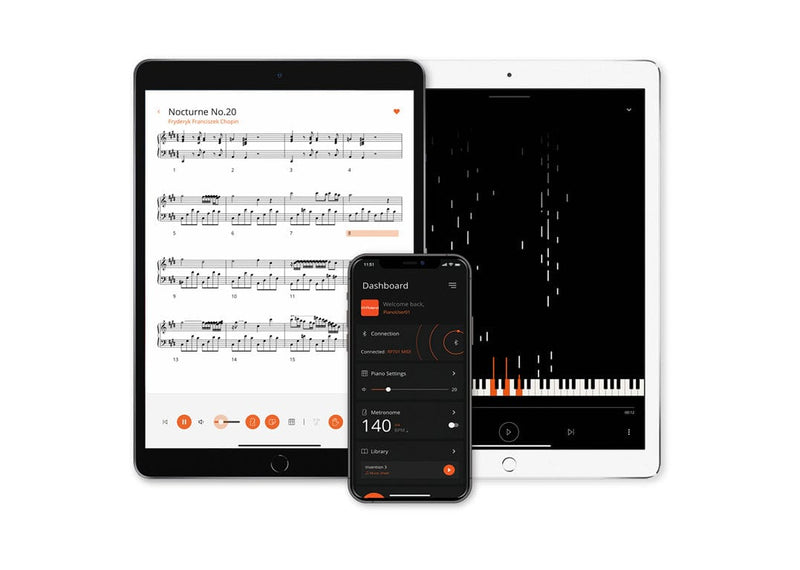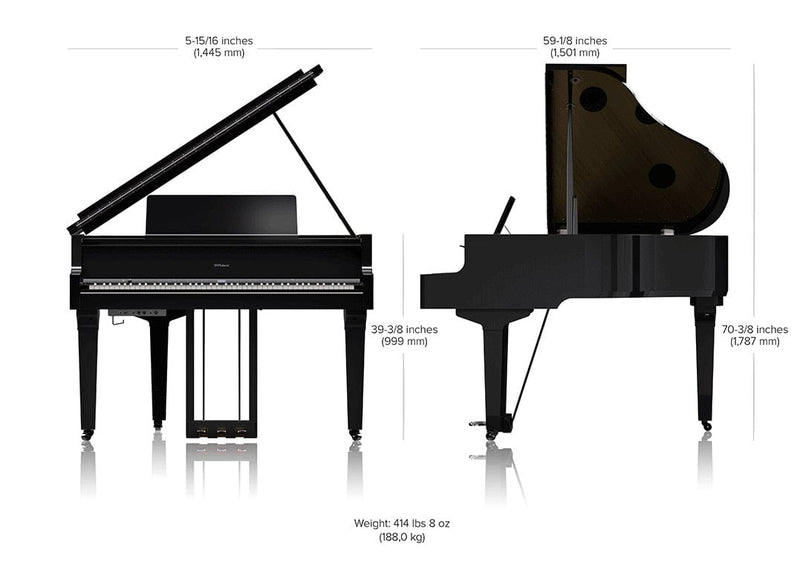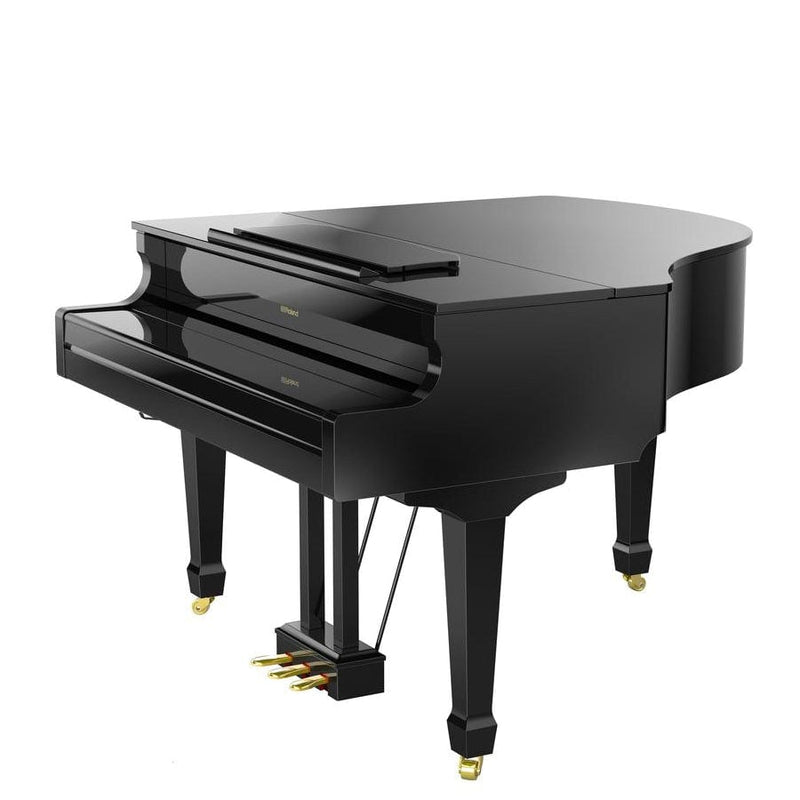 Roland GP9 Digital Grand Piano; Polished Ebony Concert Package
GP9PE-CONCERT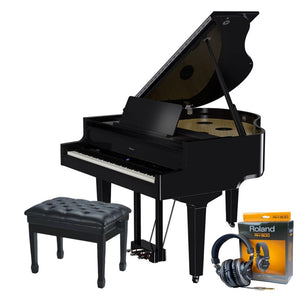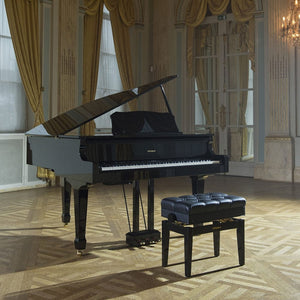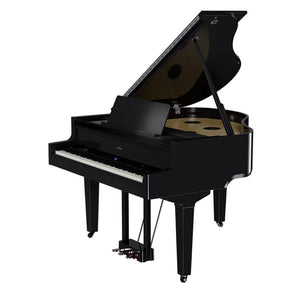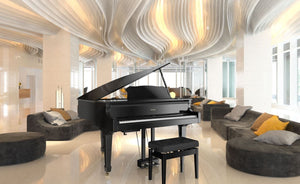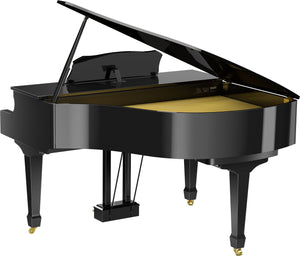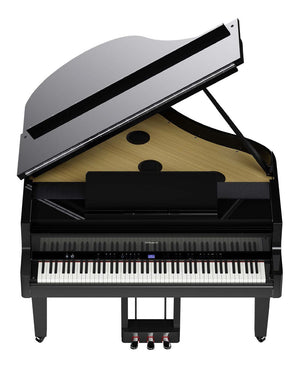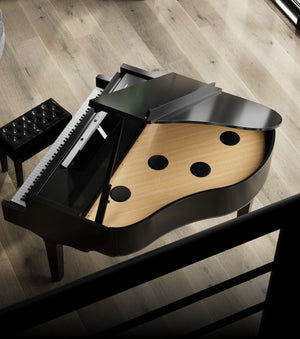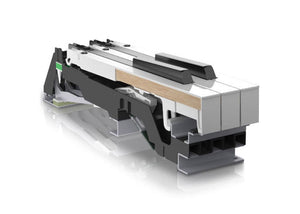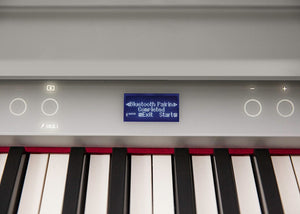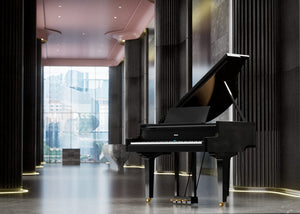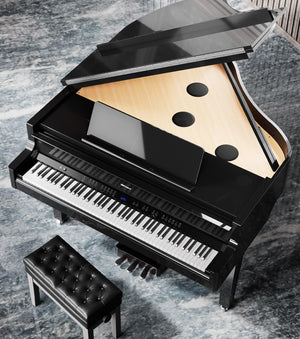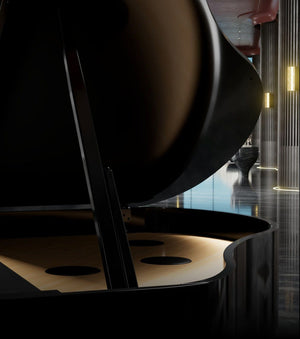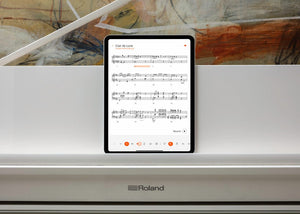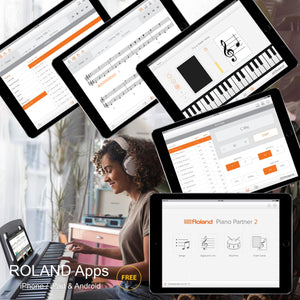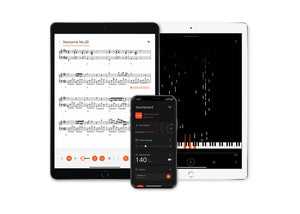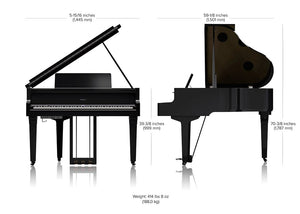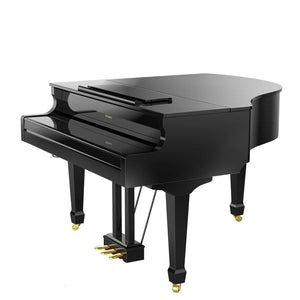 See & Try In Store
1 Ward Road
Bletchley
Milton Keynes
MK1 1JA

*Piano Cabinet Finishes Of Showroom Models May Vary
Request Price Match
We are only too happy to try and match a legitimate UK based musical instrument retailer's quote. We have been in business for over 30 years and will always do our best to be as competitive as possible.
If you have seen a product that you wish to purchase cheaper on another UK based retailer's website or shop, please call us on 01323 639335 or complete the form below. We will try and match (or beat) their quote – and still give you our award-winning service.
Alternatively, complete the form below and we'll get right back to you with our best price. Price matches are dependent upon stock availability.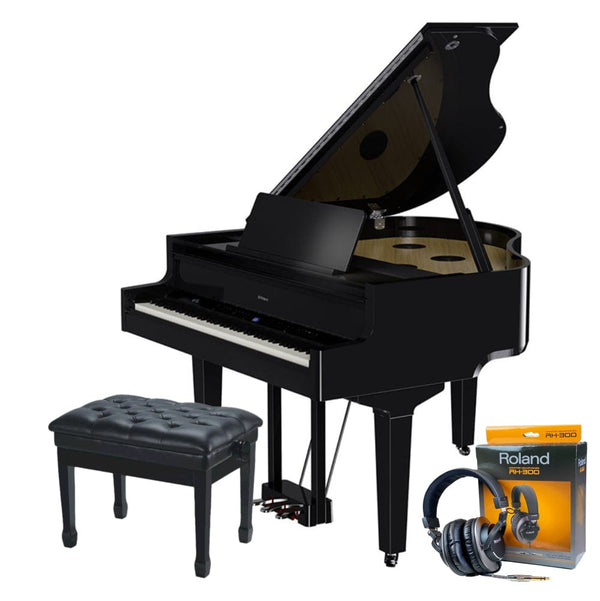 Roland GP9 Digital Grand Piano; Polished Ebony Concert Package
£9,928.00