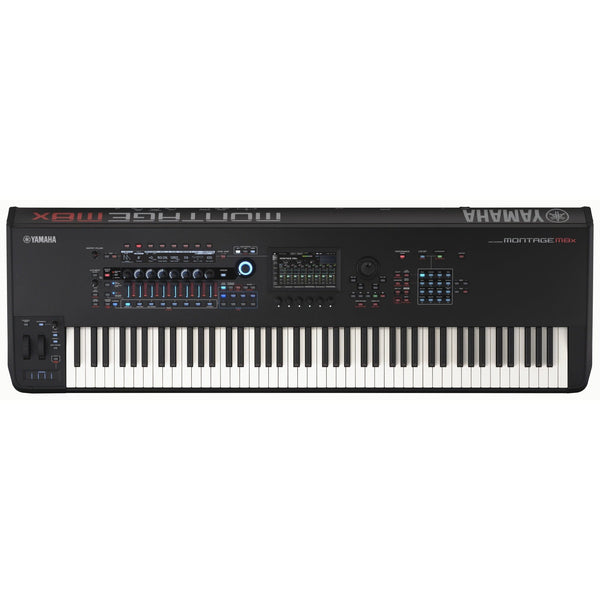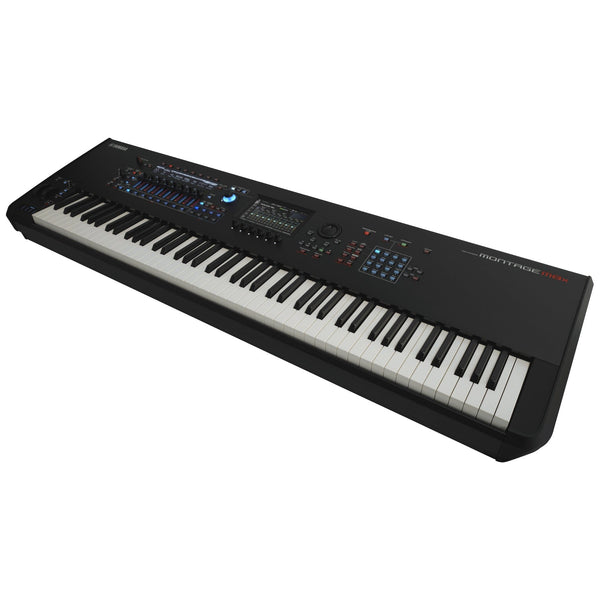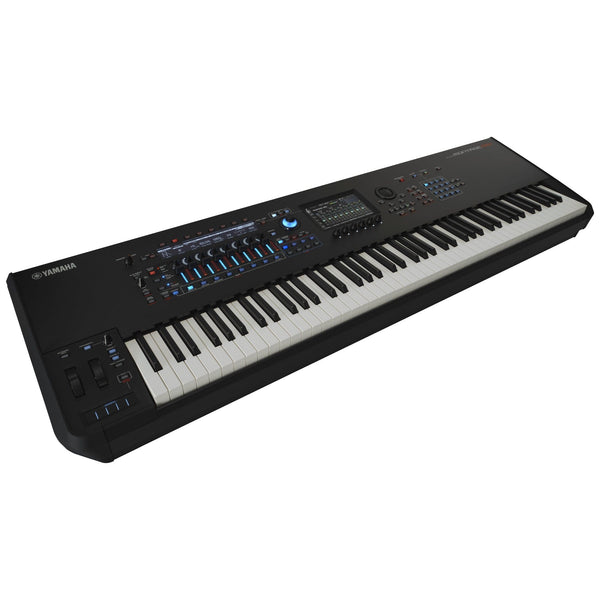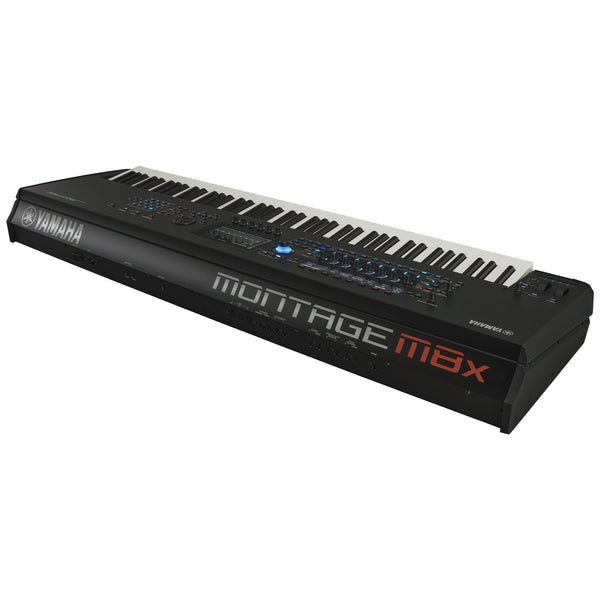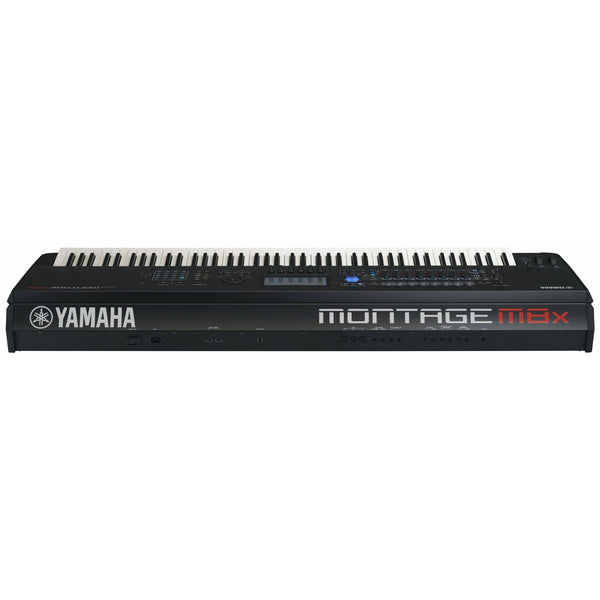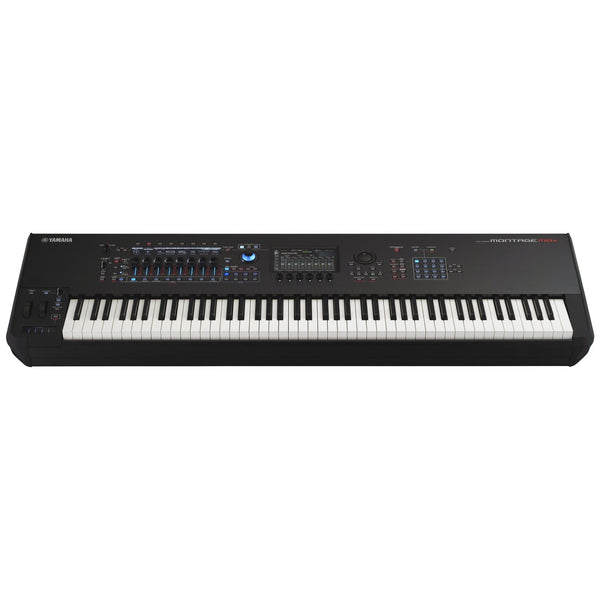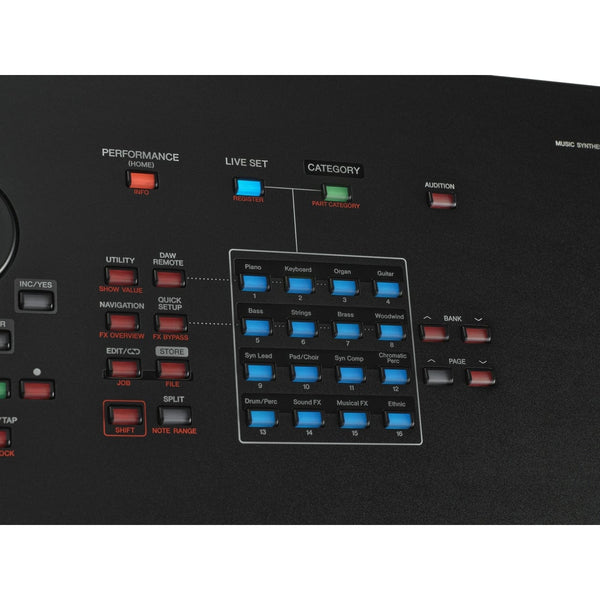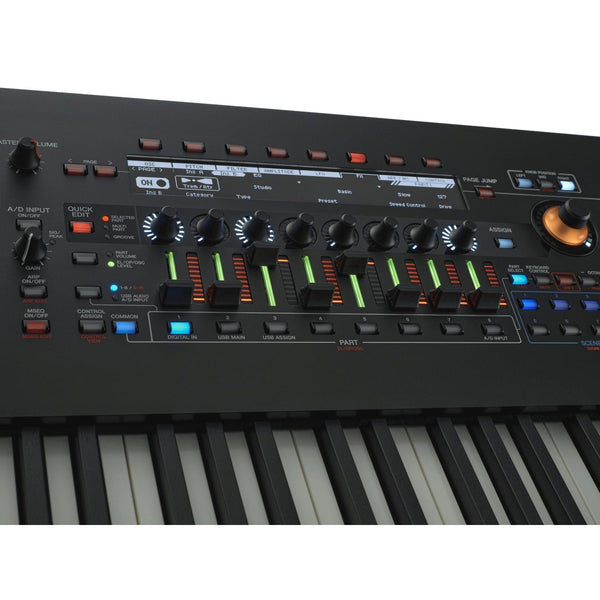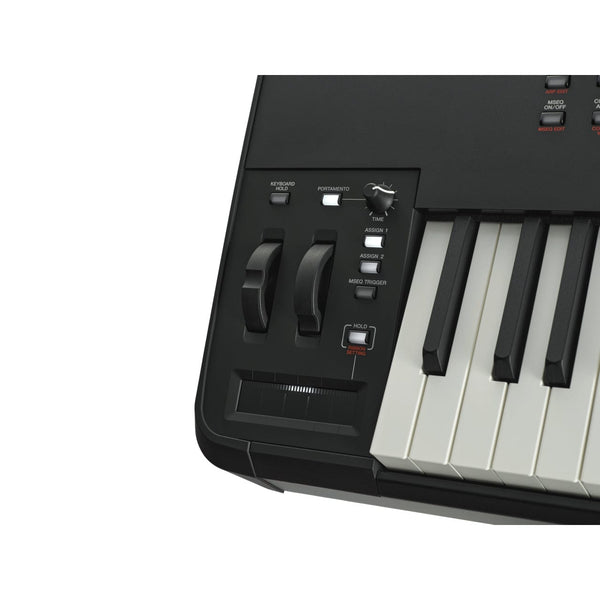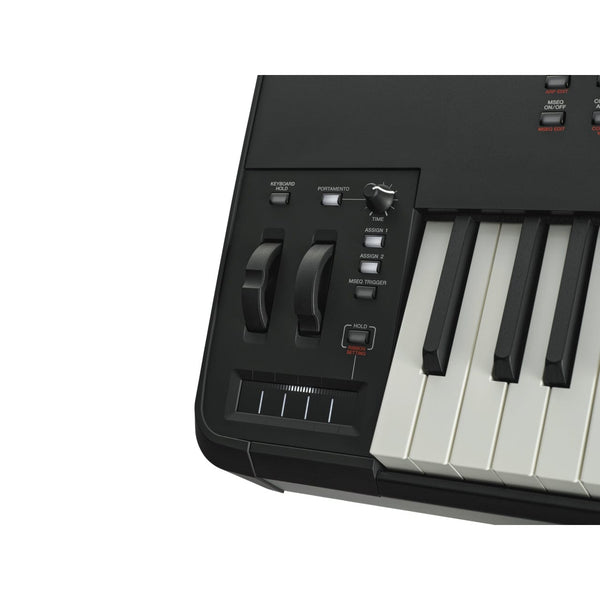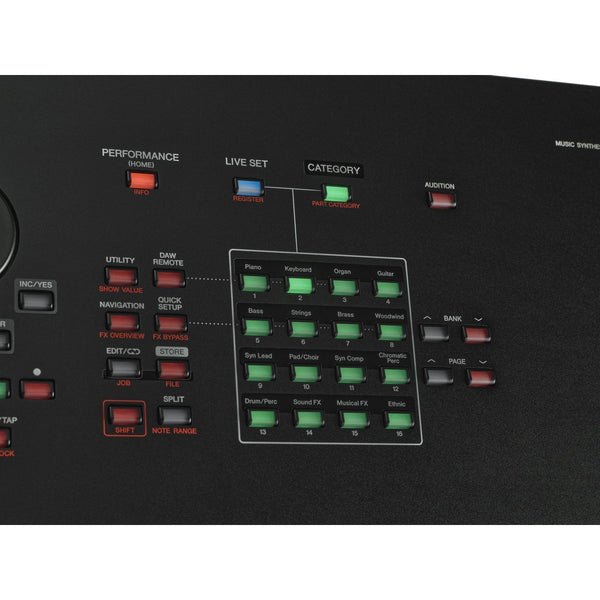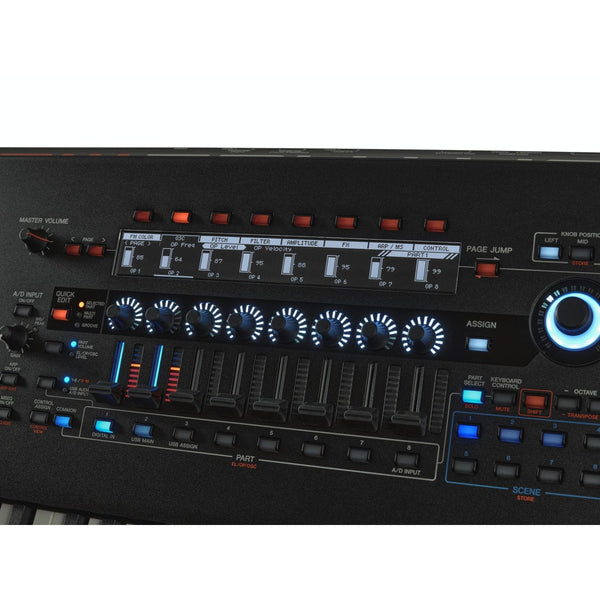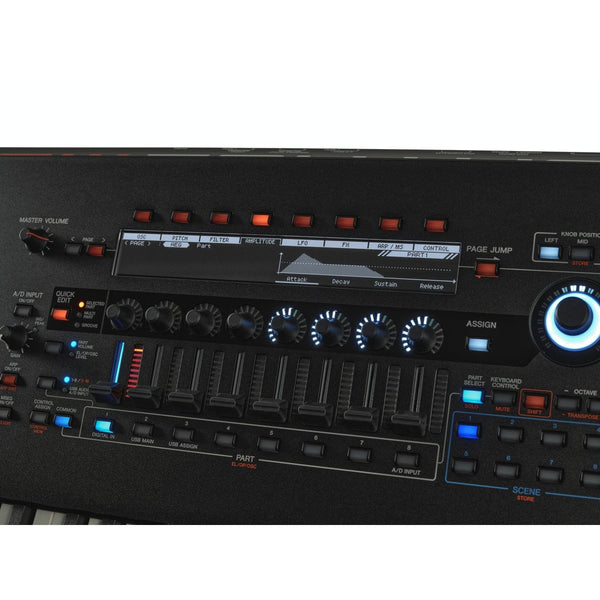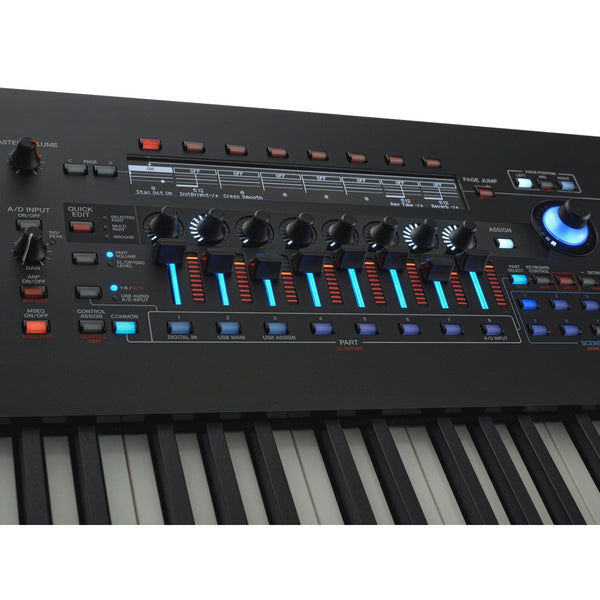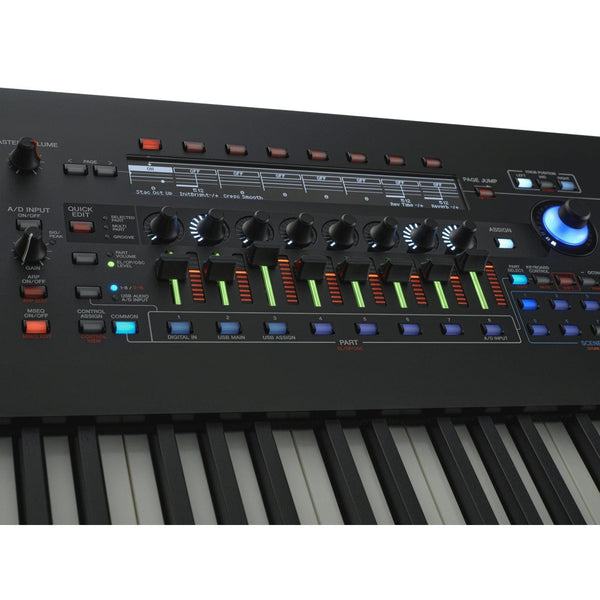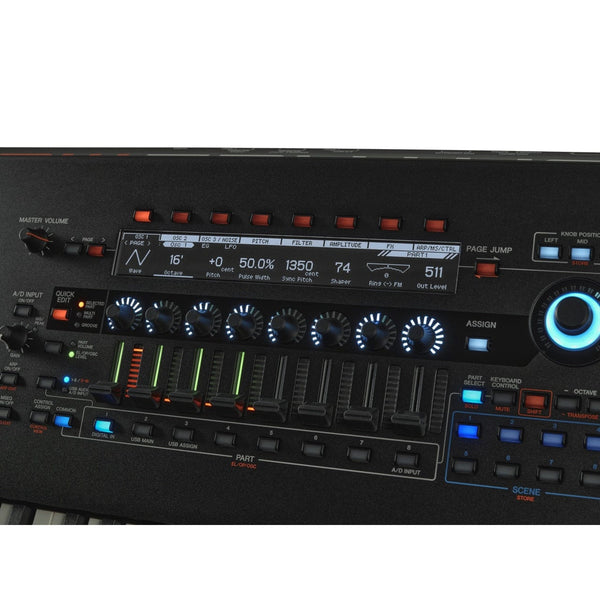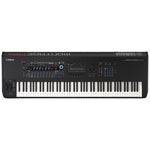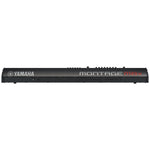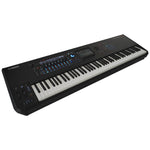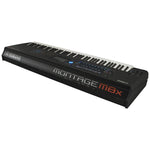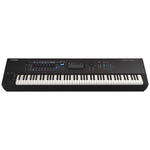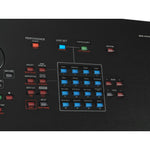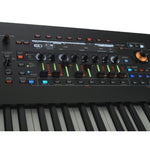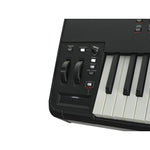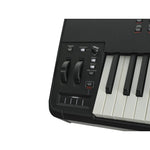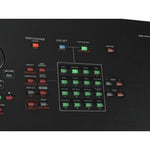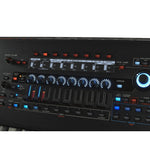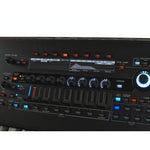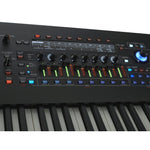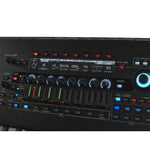 Yamaha Montage M8X Keyboard
DELIVERED IN 12-18 WORKING DAYS
Product Code: MONTAGEM8X
Description
Delivery & Lead Times
Spread The Cost With Finance
Description
Yamaha Montage M Specifications
Keyboard:
M8x: 88 key, GEX keyboard, Initial Touch, Polyphonic Aftertouch
M7: 76 key, FSX keyboard, Initial Touch, Channel Aftertouch
M6: 61 key, FSX keyboard, Initial Touch, Channel Aftertouch
Weight:
Motage M8x Weight: 28.1 kg
Motage M7 Weight:17.6 kg
Motage M6 Weight:15.3 kg
Dimensions:
Montage M8x: 1,446 mm × 460 mm × 170 mm
Montage M7: 1,244 mm × 396 mm × 131 mm
Montage M6: 1,037 mm × 396 mm × 131 mm
AWM2 Tone Generator:
2 x 128 voices of polyphony (128 voices each for Preset and User Waveforms)
Max. 128 Elements per Part
10 GB Preset Waveforms (when converted in 16 bit linear)
3.7 GB Flash Memory for User Waveforms
FM-X Tone Generator:
128 voices of polyphony
8 Operators, 88 Algorithms
AN-X Tone Generator:
16 voices of polyphony
3 Oscillators, 1 Noise Generator
Other:
3,369 Preset Performances
128 Preset Live Sets, 2,048 User Live Sets
Motion Sequencer for real-time control of parameters
16 Part multitimbrality plus Audio Input Parts (A/D In, USB)
18 Filter Types
Effects:
Reverb 12 Types, Variation 88 Types, Insertion A 88 Types, Insertion B 89 Types, Master 26 Types, 5-Band Master-EQ, 2 Part-EQs (3- and 2-Band)
Sequencer:
16 Tracks, 128 Patterns, 128 Songs
Arpeggiator:
Arpeggios for up to eight Parts in parallel
10,922 Preset Arpeggios (3,500 Rhythm Patterns)
256 User Arpeggios
Controllers:
Pitch Bend and Modulation Wheel
Ribbon Controller
8 Control Sliders, 8 Assignable Knobs, Super Knob
2 Assignable Switches
Portamento Switch and Portamento Time Knob
6 Display Knobs
Displays:
Main: 7" TFT Color Wide VGA LCD Touch Screen
Sub: 512 x 64 Pixel LCD
Connectors:
OUTPUT [L MONO]/[R], ASSIGNABLE OUTPUT [L]/[R]
A/D INPUT [L MONO]/[R] (all 6.3 mm TRS jacks)
PHONES Stereo (6.3 mm phone jack)
MIDI IN/OUT/THRU
FOOT CONTROLLER 1 / 2
FOOT SWITCH SUSTAIN / ASSIGNABLE
2 x USB TO DEVICE
USB TO HOST
6 channels Input, 32 channels Output at 44.1 kHz
6 channels Input, 8 channels Output at 192 kHz
Included Accessories:
Owner's Manual, AC Power Cord, Cubase AI Download
Optional Accessories:
Foot Switches and Controllers (FC3A, FC4A, FC5, FC7)
Yamaha Montage M8X Keyboard
Yamaha has once again established their premium synthesizer dominance with the launch of the new Montage M series. Available with three keyboard options - 61 & 76 FSX synth actions, or the M8x with its 88 hammer action keys with polyphonic aftertouch, the Montage M6 M7 & M8x instruments feature three sound engines including AN-X, AWM2 and FM-X. Add to this a new VCM Rotary speaker effect, Pure Analog circuit 2 technology to enhance the overall presence of the instrument (especially through a PA system), Extended Softsynth Plugin (E.S.P.), and a massively enhanced user interface with new easy-edit pages and shortcuts, the Yamaha Montage-M series sets the benchmark for pro-level stage & studio keyboards.

---
In my opinion, Montage-M is one of the best, if not the best, synthesizer workstations available today. It has great sounds, is easy to program, has a setlist mode for live players, and has everything keyboard artists have been waiting for. Time for a change!
---
This product is sold in the name and on behalf of Yamaha Music Europe GmbH (UK). Click here for a copy of the Yamaha General Conditions of Sale document.
See It, Touch It, & Play Montage M in our Stores
Want to test drive a Montage M before purchase? You can see, touch and play Montage M in our Eastbourne & Milton Keynes Stores. Both stores are conveniently located on the major road network and have on-site parking. Alternatively, you can buy Montage M today with free delivery from the Bonners online store.
Trade-In Offer - Upgrade Your Keyboard Today
Do you own an older keyboard that you are considering upgrading to a new Yamaha Montage-M? Take advantage of the Bonners part-exchange scheme and save yourself the hassle of selling on the private market. We accept most major brands of keyboards that are under seven years old as long as they are in good condition and in full working order. Click this link to complete our easy online trade-in form, and we'll get right back to you with a valuation. If you don't have the box and packaging for your instrument, you may need to bring it to one of our stores and collect your new Montage M at the same time.
AN-X Sound Engine
The AN-X is a 3-oscillator analog modelling sound engine for creating warm, fat analogue sounds which can be combined with the other sound generators. AN-X is 16 note polyphonic with two filters, a noise generator, unison modes, FM and ring modulators, Pulse Width Modulation, and Sync per oscillator. This new addition to Montage allows for even greater sound-creation possibilities and can be used to emulate synths of yesteryear and develop new sounds for cutting-edge music production applications.
AWM2 Sound Engine
Yamaha's AWM2 sound engine now has almost double the power of previous-generation Montage keyboards. There are 10GB of ROM samples onboard, plus a further 3.7GB for user samples. The ROM and User sample banks have 128-note polyphony, and the ROM sound set features even more expanded articulation sounds. Each AWM2 voice can consist of up to 128 elements per part, compared with previous-gen models only being able to produce eight elements per part.
FM-X Sound Engine
FM-X is an 8-operator FM synth right inside Montage. More powerful and easier to use than the original DX7 and FM-X engine in the original Montage (courtesy of the new quick edit functions on Montage M), FM-X gives you access to classic digital synth voices from the 80s including punchy basses and sparkling digital EPs. It's possible to convert DX7, DX7II, TX802 and TX816 patches using Yamaha's online FM Converter tool.
Pure Analog Cirquit 2
The upgraded Pure Analog Circuit in MONTAGE M reduces noise and improves the dynamic range, crosstalk, low-frequency phase, and distortion rate, resulting in clearer sound at all volumes. You'll also find the sound has more detailed low-mids and presence.
Extended Softsynth Plugin (E.S.P.)*
Extended Softsynth Plugin (E.S.P.) replicates the MONTAGE M in your favourite Digital Workstation (DAW). Free for all registered MONTAGE M owners, E.S.P. allows you to create, edit and mix MONTAGE M Performances anywhere you happen to be – without the hardware – offering an unprecedented level of stage and studio integration.
*ESP is due to be released in early 2024
Powerful Multi-Effects
Effects are an important part of what makes modern synthesizers sound so great! Montage M has hundreds of studio-quality effects, including Reverb - 12 types, Variation FX - 85 types, Insertion FX - 85 types, and Master FX - 23 types. It is possible to have 34 Insert Effects running simultaneously: 2 Dual Insert Effects for each of the 16 Parts, plus two Dual Insert Effects applied to the A/D Input.
VCM Rotary Speaker Effect
The great-sounding VCM Rotary Speaker Effect from YC series has been added to MONTAGE M. It is implemented on Insert Effect B and automatically deactivates Insert A.
MIDI Implementation
MONTAGE M features an entirely new MIDI implementation using two Part Modes: Internal/External. The MIDI channel per Part can freely be set. All Internal Parts under Keyboard Control send and receive on the same MIDI channel as set in the Utility menu.
All Internal Parts with Keyboard Control deactivated can receive data on individual MIDI channels. This also allows Part layering, including Parts 9-16. All External Parts are sent on individual channels and feature advanced settings to control external instruments and sound modules.
USB Audio Interface
MONTAGE M features a powerful 6 in/ 32 out USB interface for direct recording audio from the keyboard into your Digital Audio Workstation (DAW). The output of all 16 Parts is sent in Stereo simultaneously for recording on individual tracks. There are three USB Stereo return buses back through the USB interface to merge incoming audio with that of the keyboard.
Soundmondo Support
Yamaha's Soundmondo App for MAC, PC & iOS devices allows you to store, share and recall patches created by Montage M users Worldwide. Need a sound for a specific song? Open Soundmondo and search for the title!
Content
Montage M has a vast memory capacity for storage of both preset & user musical content:
3,369 Preset Performances
640 User Performances
10,240 Library Performances
7,620 Preset Waveforms
10.239 Arpeggios
8 Arpeggio Parts simultaneously
8 Scenes per Performance

User Interface Enhancements

Dedicated button matrix for [CATEGORY SEARCH] & [LIVE SET]
New Display Knobs for direct access to dedicated parameters
Newly designed Ribbon Controller featuring three modes, "Continuous", "3 Step" & "5 Step"
Sub Display with new buttons for an entire new Quick Edit experience incl. display sync
The main Touch Screen features new View Modes that are storable with the Performance.
A general LED colour scheme makes it easy and obvious to navigate.
A new [NAVIGATION] button provides dedicated parameter access with less Touch Screen actions.
The combination [SHIFT] & [NAVIGATION] leads to an Effect overview page with editing features and shortcuts to details.
A new and quick way to create Split Zones, especially when working with multiple Parts per Zone.

The Sub Display can be set to different modes to show the Assignable Knobs or Quick Edit parameters. The destination can even be a selected Part. The settings are stored with the Performance.

[SHIFT] & [CONTROL ASSIGN] opens the Control View screen. Moving a controller opens the related page immediately.

Parameter groups for Pitch & Arpeggio parameters enable to quickly set equal values for multiple Parts simultaneously.

New Portamento switch and Time control directly from the user interface. [SHIFT] & [PORTAMENTO] open the settings page.

The Smart Morph page "Super Knob" now features 6 more "Waypoints" to navigate the cursor on the grid.


Yamaha Montage M Specifications
Keyboard:
M8x: 88 key, GEX keyboard, Initial Touch, Polyphonic Aftertouch
M7: 76 key, FSX keyboard, Initial Touch, Channel Aftertouch
M6: 61 key, FSX keyboard, Initial Touch, Channel Aftertouch
Weight:
Motage M8x Weight: 28.1 kg
Motage M7 Weight:17.6 kg
Motage M6 Weight:15.3 kg
Dimensions:
Montage M8x: 1,446 mm × 460 mm × 170 mm
Montage M7: 1,244 mm × 396 mm × 131 mm
Montage M6: 1,037 mm × 396 mm × 131 mm
AWM2 Tone Generator:
2 x 128 voices of polyphony (128 voices each for Preset and User Waveforms)
Max. 128 Elements per Part
10 GB Preset Waveforms (when converted in 16 bit linear)
3.7 GB Flash Memory for User Waveforms
FM-X Tone Generator:
128 voices of polyphony
8 Operators, 88 Algorithms
AN-X Tone Generator:
16 voices of polyphony
3 Oscillators, 1 Noise Generator
Other:
3,369 Preset Performances
128 Preset Live Sets, 2,048 User Live Sets
Motion Sequencer for real-time control of parameters
16 Part multitimbrality plus Audio Input Parts (A/D In, USB)
18 Filter Types
Effects:
Reverb 12 Types, Variation 88 Types, Insertion A 88 Types, Insertion B 89 Types, Master 26 Types, 5-Band Master-EQ, 2 Part-EQs (3- and 2-Band)
Sequencer:
16 Tracks, 128 Patterns, 128 Songs
Arpeggiator:
Arpeggios for up to eight Parts in parallel
10,922 Preset Arpeggios (3,500 Rhythm Patterns)
256 User Arpeggios
Controllers:
Pitch Bend and Modulation Wheel
Ribbon Controller
8 Control Sliders, 8 Assignable Knobs, Super Knob
2 Assignable Switches
Portamento Switch and Portamento Time Knob
6 Display Knobs
Displays:
Main: 7" TFT Color Wide VGA LCD Touch Screen
Sub: 512 x 64 Pixel LCD
Connectors:
OUTPUT [L MONO]/[R], ASSIGNABLE OUTPUT [L]/[R]
A/D INPUT [L MONO]/[R] (all 6.3 mm TRS jacks)
PHONES Stereo (6.3 mm phone jack)
MIDI IN/OUT/THRU
FOOT CONTROLLER 1 / 2
FOOT SWITCH SUSTAIN / ASSIGNABLE
2 x USB TO DEVICE
USB TO HOST
6 channels Input, 32 channels Output at 44.1 kHz
6 channels Input, 8 channels Output at 192 kHz
Included Accessories:
Owner's Manual, AC Power Cord, Cubase AI Download
Optional Accessories:
Foot Switches and Controllers (FC3A, FC4A, FC5, FC7)
Delivery & Lead Times
Delivery ETA's 
For accurate delivery information, please contact our sales team on sales@bonnersmusic.co.uk or call 01323 639335. As a guide, despatch times are detailed below.
Additional charges will be made for delivery of heavy items to some areas. Charges may also apply to upgrades including (but not limited to) timed deliveries, piano assembly, delivery of large items, and when matching deals from other retailers. If you are unsure about our delivery charges, please contact us.
In Stock Products
Products that are shown as in stock will be sent using our standard delivery service within 2 working days from when payment is received. This excludes piano deliveries with full installation - see below.
Pre-Order Products
Products which are shown as pre-order are not in stock, but can be ordered and reserved for you from the next available shipment. Order today to reserve your place in the queue! Call or email us for the latest lead times on pre-order products.
Digital Piano Deliveries:
We have many flexible delivery options for most delivery pianos, based on your location and whether you require it flat-packed, or fully assembled in your home. Digital piano delivery options are shown at checkout. 
Piano Deliveries
If you purchase a piano which is supplied with full installation, we will contact you once your order is received to arrange a convenient delivery date & time. Delivery & installation is usually within 14 days, but often sooner. Call us for current lead times on pianos.
Digital Piano Deliveries For Self-Assembly
Click here to see our specific information relating to piano deliveries.
If you choose our courier delivery/flat pack delivery method, please be aware that with larger items such as digital pianos, the courier is not contracted to carry them up any steps or stairs. If there are stairs leading to the front door of the delivery address, or you live in an apartment which is not on pavement level, it is your responsibility to arrange transportation from the pavement level to the delivery address. In this instance, the delivery driver may, at their own discretion assist you in carrying the parcels to the delivery address, but they are not contracted nor obliged to do so.
Do you need delivery upstairs, or delivery at a specific time?
For some larger items which need to be delivered upstairs - including pianos, we offer a timed delivery service using our own van and drivers. This service is free on some items and chargeable on others. Call us on 01323 639335 to discuss your specific delivery requirements.
No-one at home?
Our courier will try and deliver your parcel(s) twice. After the second failed attempt, your goods will be returned to our warehouse. If you would like us to try and deliver them again, we will charge the delivery charges associated with your order again.
Delivery Surcharges For Larger Items
For some larger items, delivery surcharges may apply to the following areas: Scotland, Wales, Channel Islands, Isle Of Wight, Cornwall, Ireland, North Of England above Leeds. Call us on 01323 639335 to check before ordering.
Spread The Cost With Finance
If you're set on buying your new instrument, there's no need to get weighed down by the total cost of it straight away. If you break it down into monthly payments over time, it's much more manageable than you might think. And our fixed interest rates mean you'll know exactly what you're paying from the start.
How it works
The finance options available are displayed on our individual product pages - just click the button under the price to see the available options for each product. Finance is available for most new and used instruments over £400.

Pay a fixed deposit, and the rest is split into monthly payments. At the end of your contract when you've made your final payment, the instrument or equipment is all yours. You could own that dream guitar, piano or keyboard sooner than you thought!

Which Finance Options Are Available?
Most products on our website show the available finance options. Some are interest free, and some are interest bearing. The options shown on the site are an example of what is available - if you would like to pay over a different period, give us a call on 01323 639335 and we'll try and arrange a finance option that suits your budget.

How To Apply For Finance
To apply for finance, please add the product to your cart, proceed through checkout and select 'Apply For Finance' as your payment option where you can complete the application form online.

The Lender
Bonners Ltd acts as a credit broker and only offers credit products from Secure Trust Bank PLC trading as V12 Retail Finance. Bonners Ltd is authorised and regulated by the Financial Conduct Authority. Our registration number is 718966. Bonners Ltd is registered in England and Wales 1994113. Registered office 34 North St, Hailsham, East Sussex BN27 1DW.

Secure Trust Bank is registered in England and Wales 541132. Registered office: One Arleston Way, Solihull, B90 4LH. Authorised by the Prudential Regulation Authority and regulated by the Financial Conduct Authority and the Prudential Regulation Authority. Registration number: 204550.
Not all products offered by Secure Trust Bank T/A V12 Retail Finance are regulated by the FCA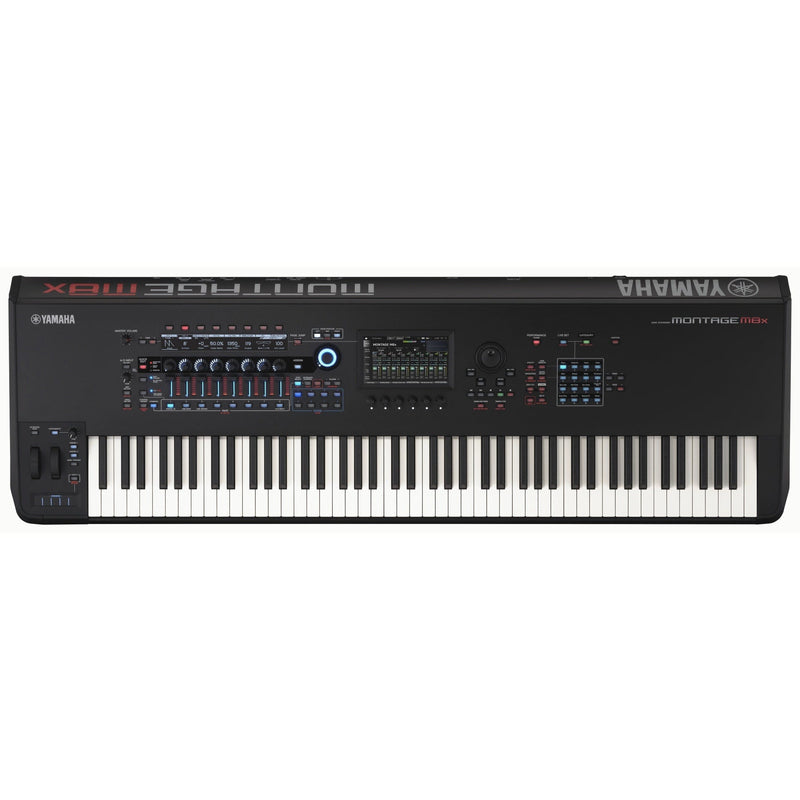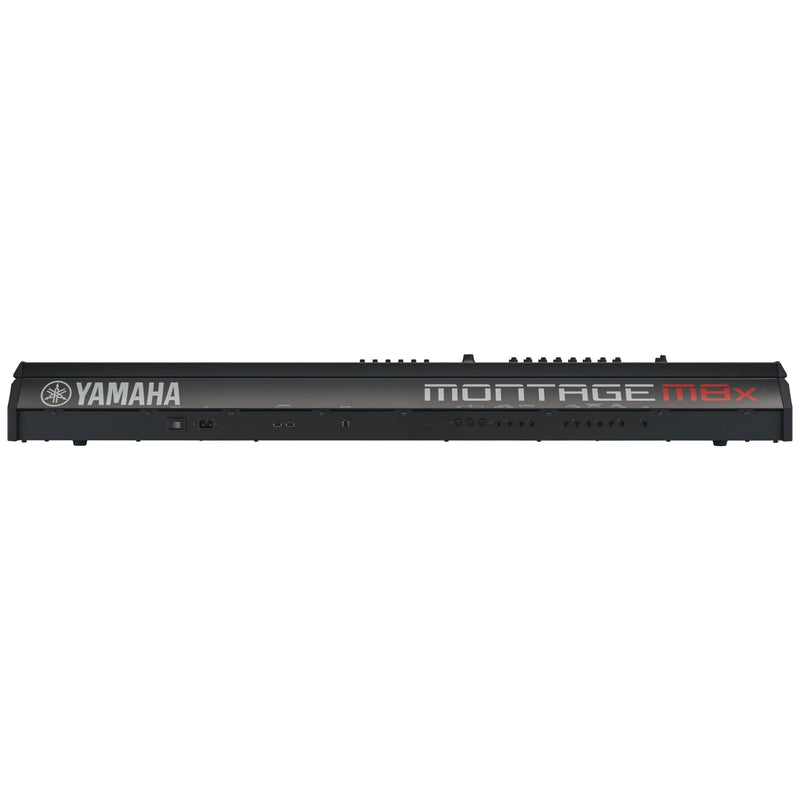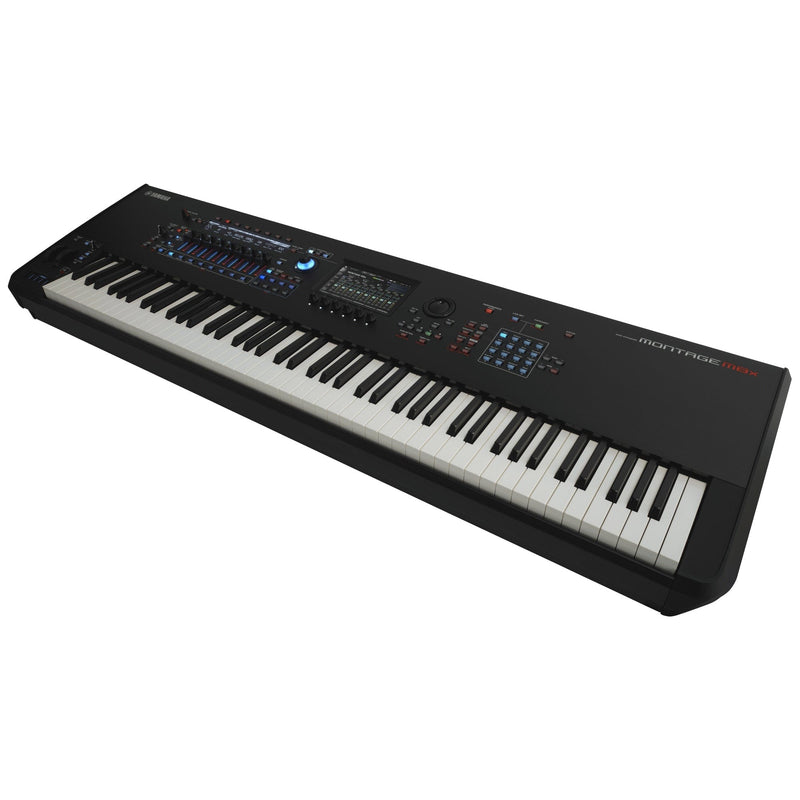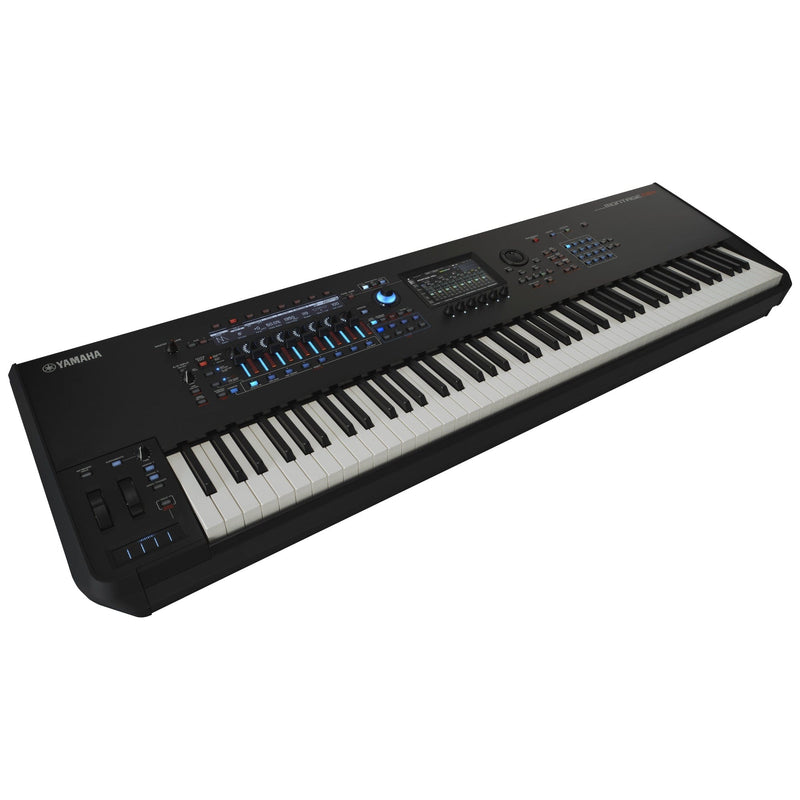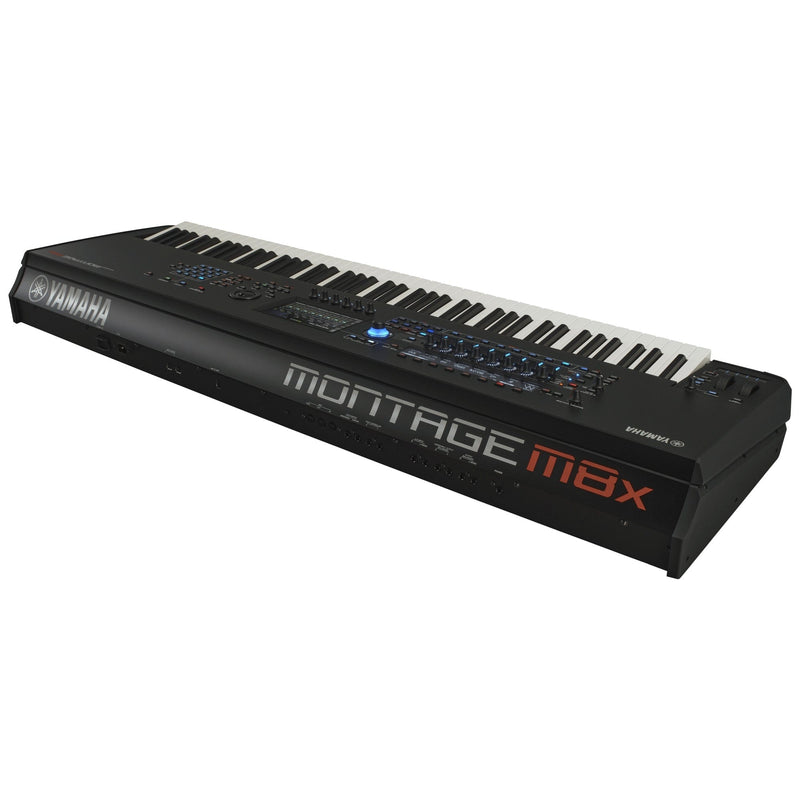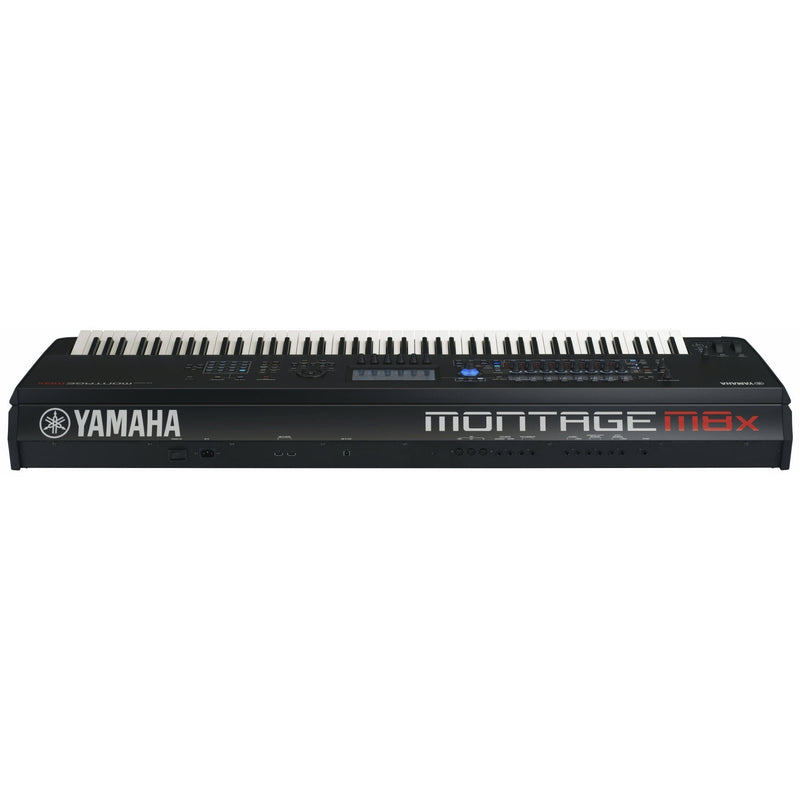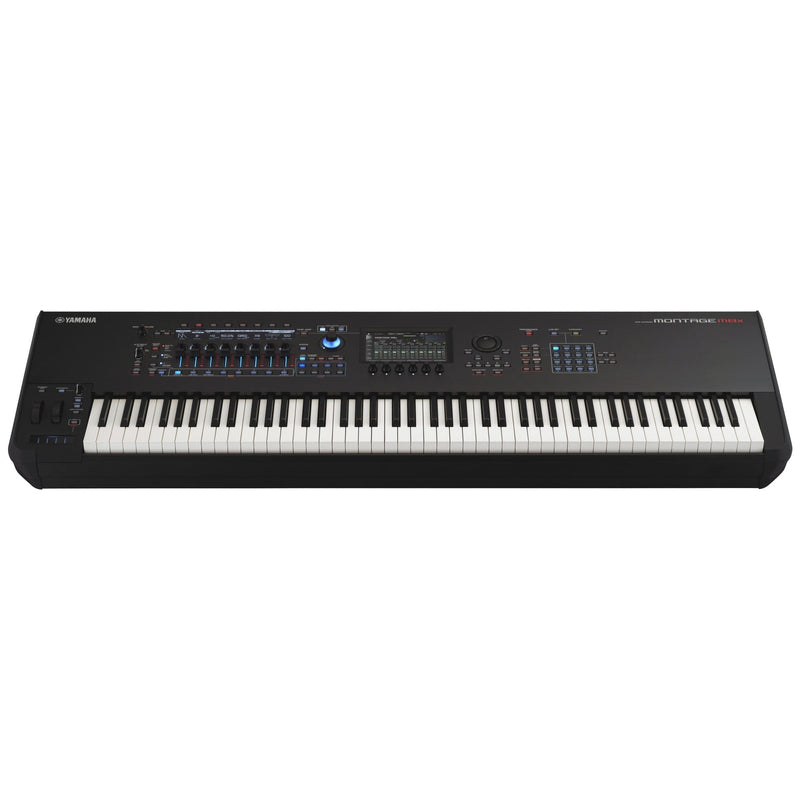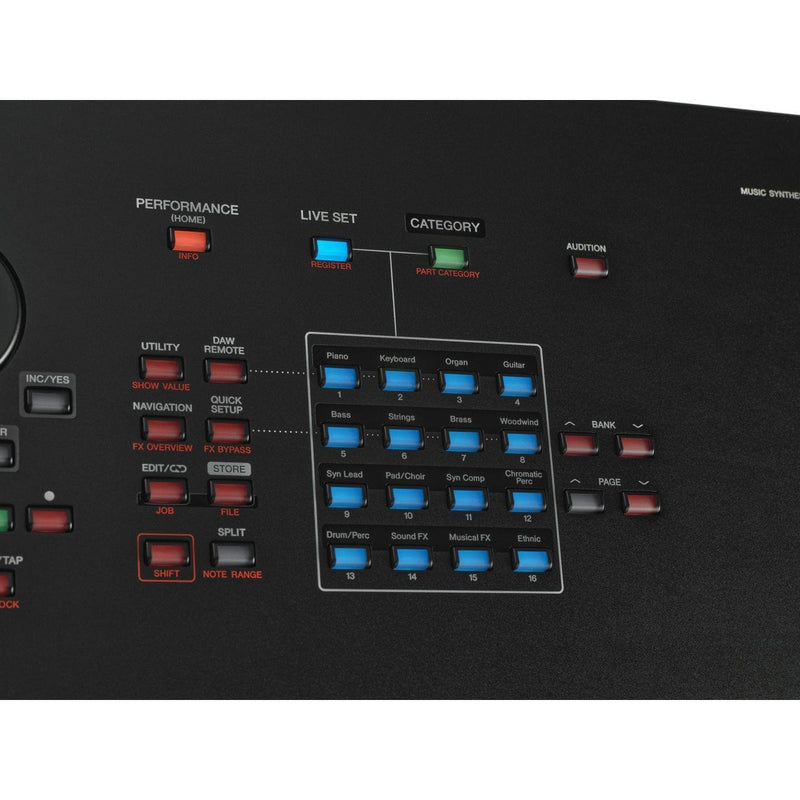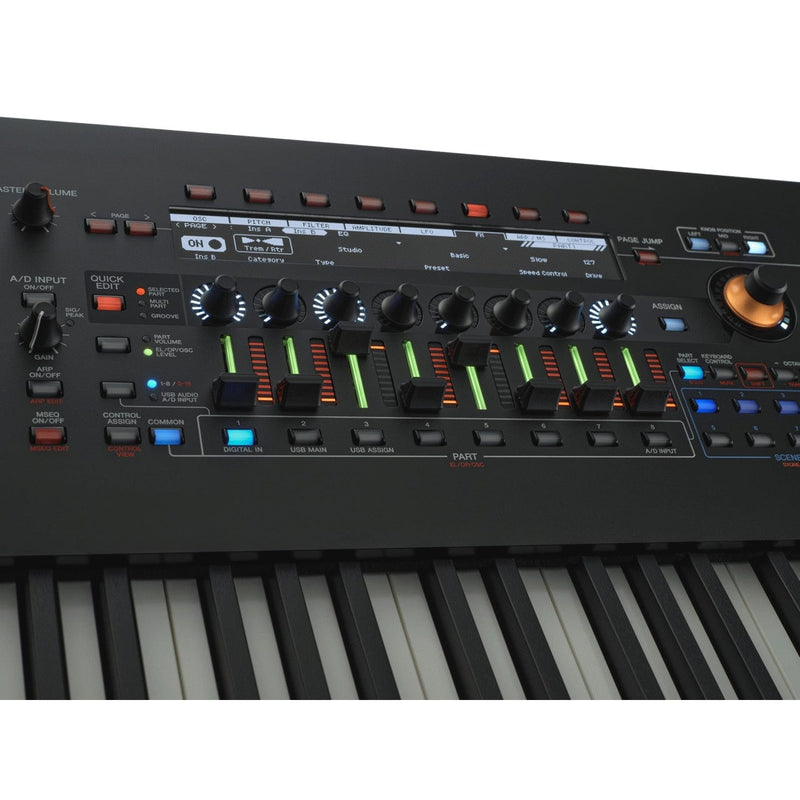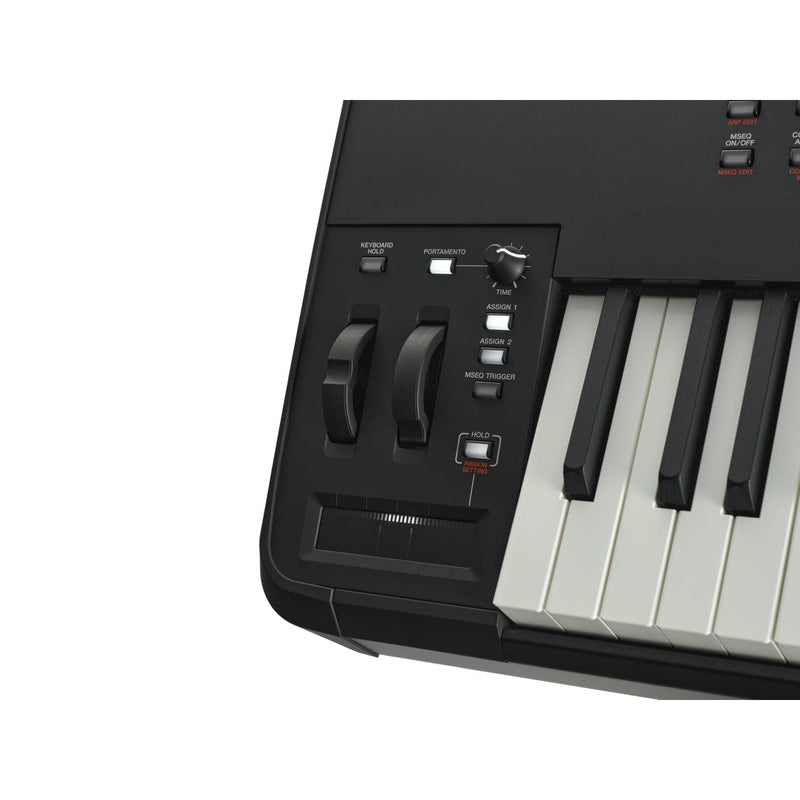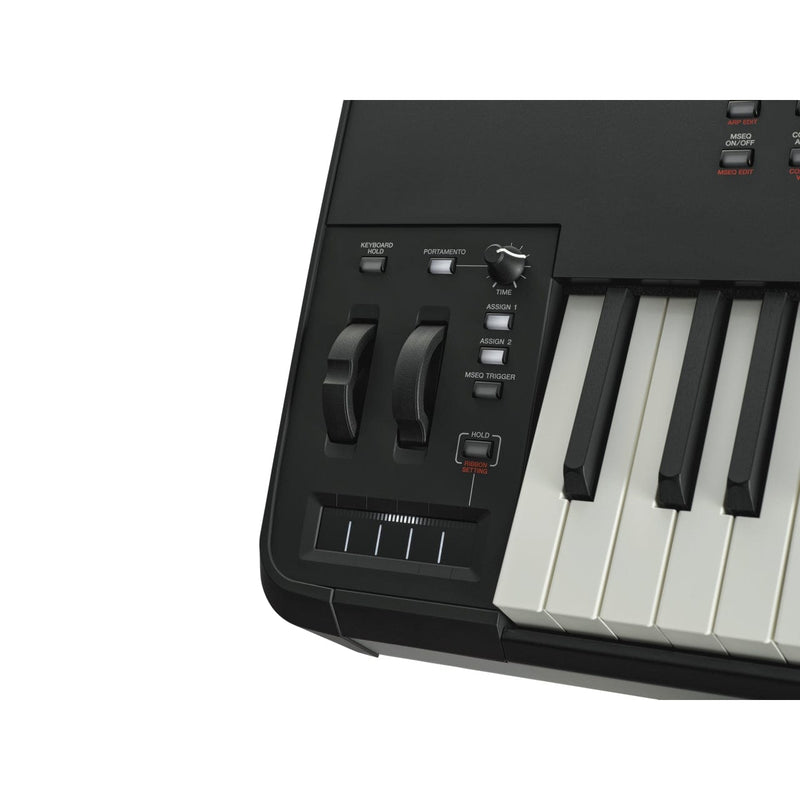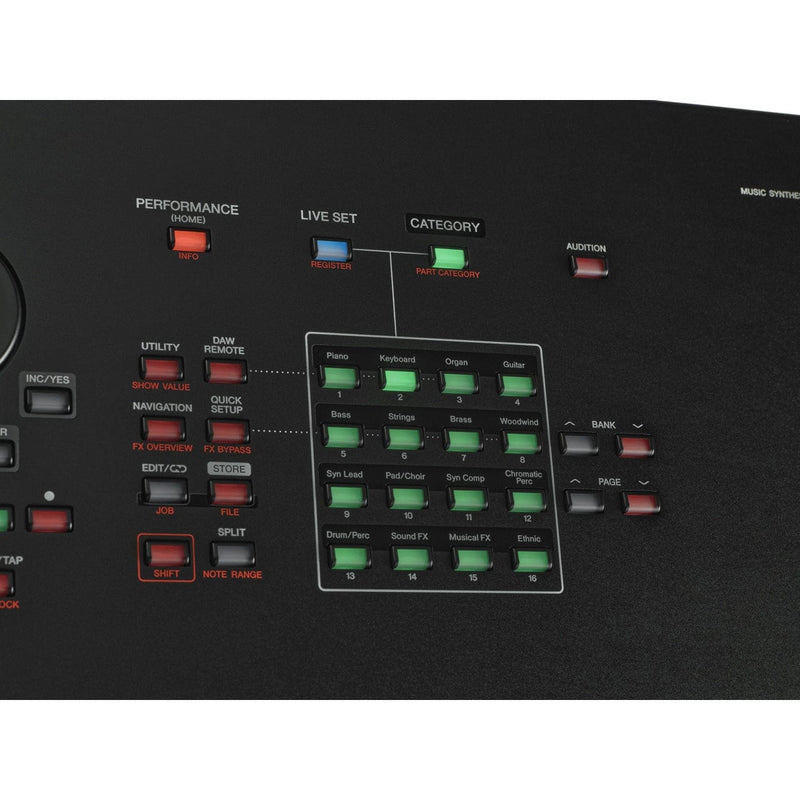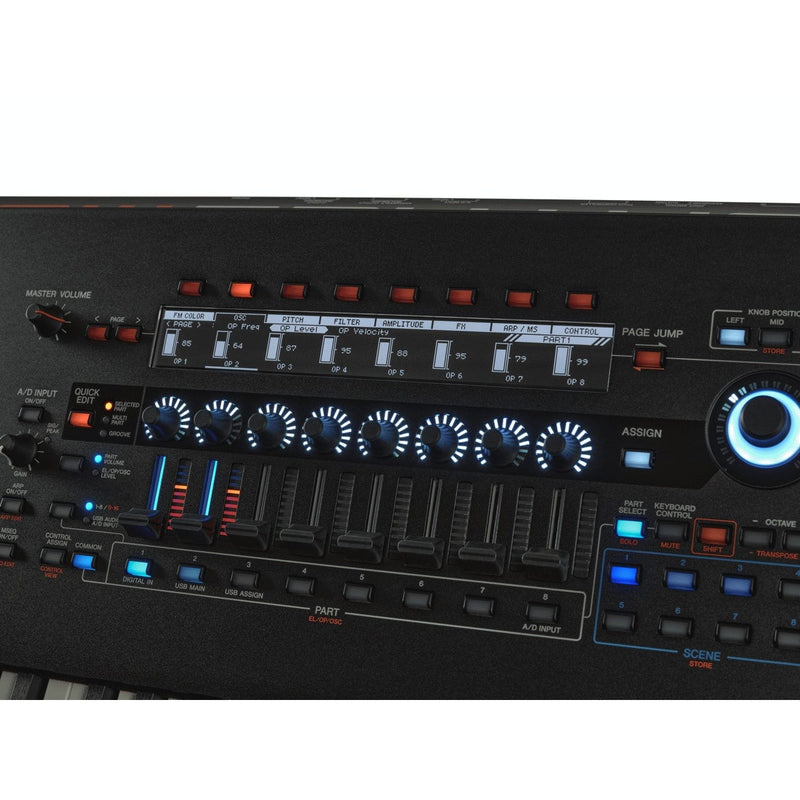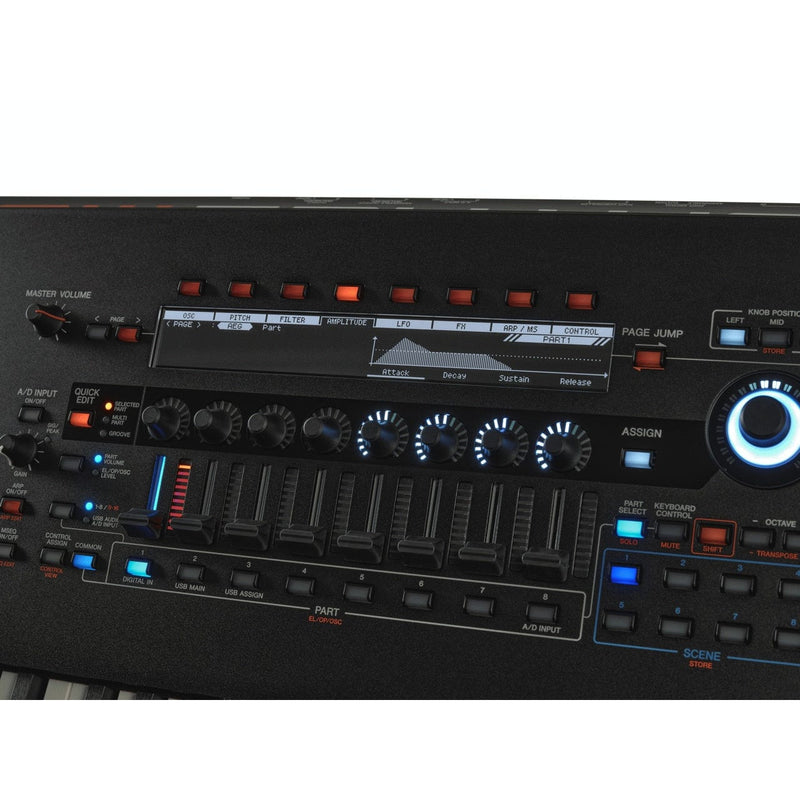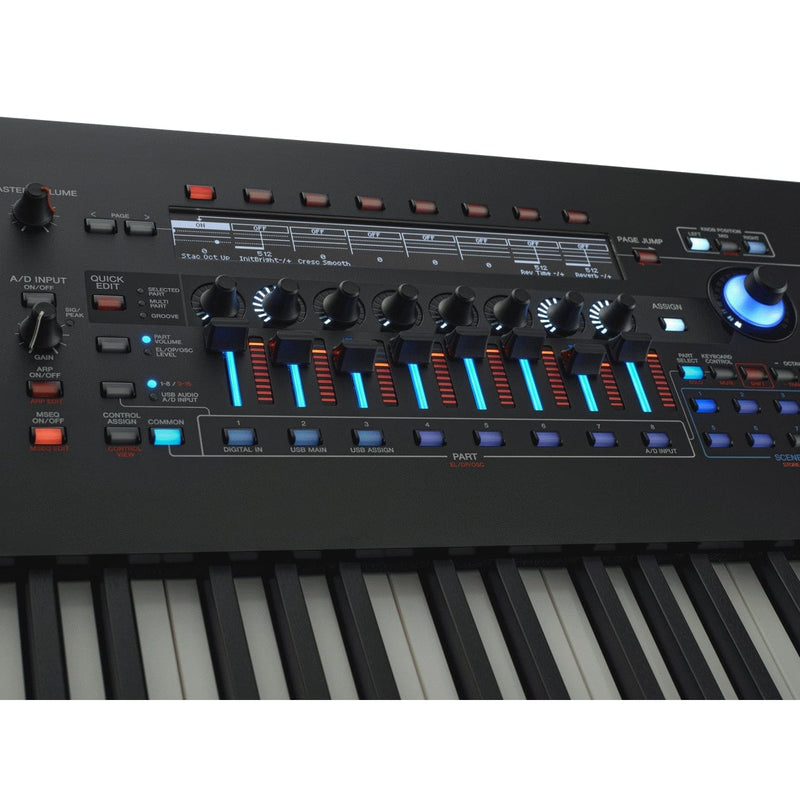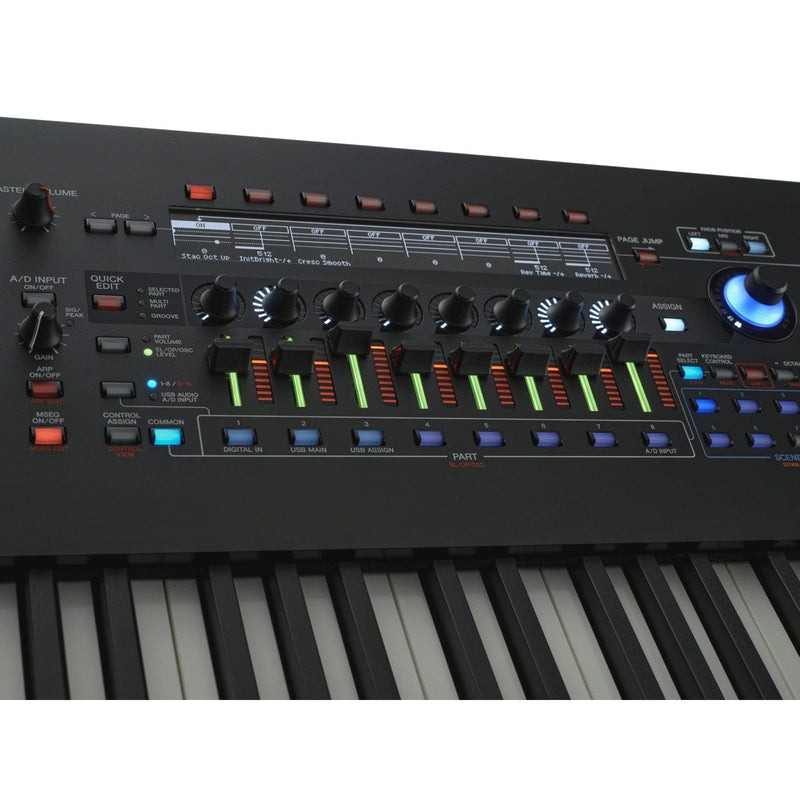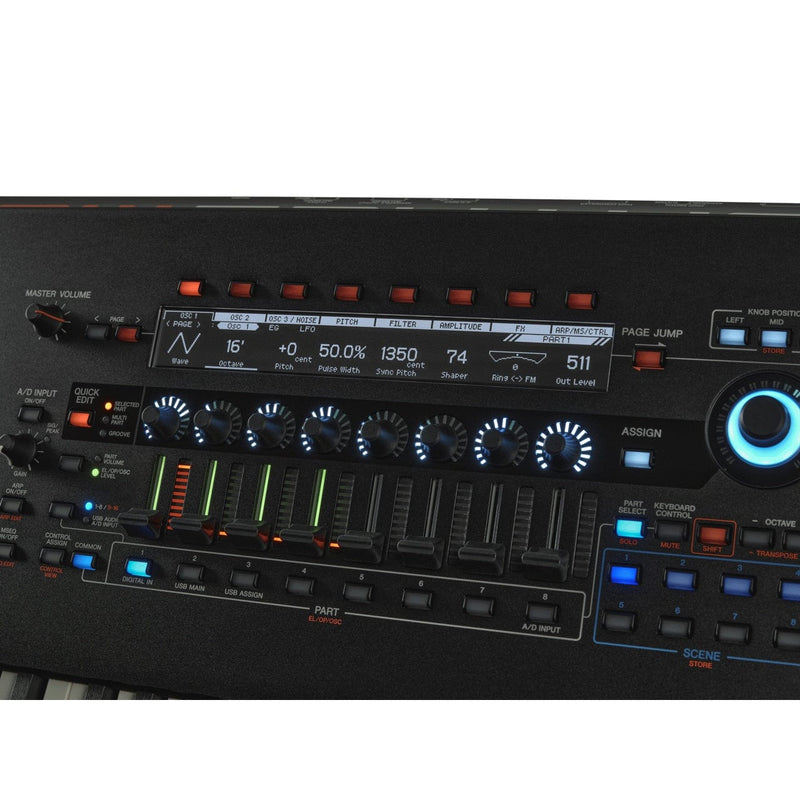 Yamaha Montage M8X Keyboard
MONTAGEM8X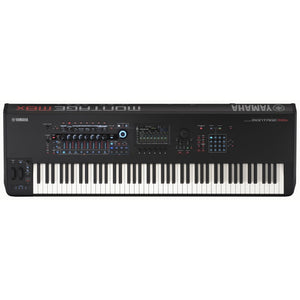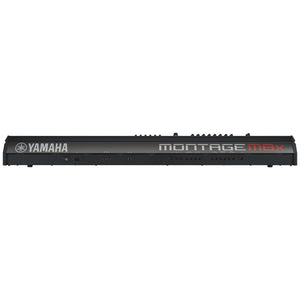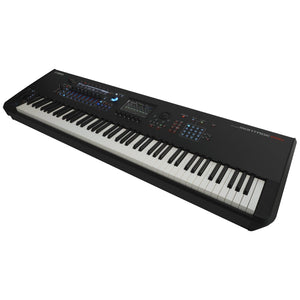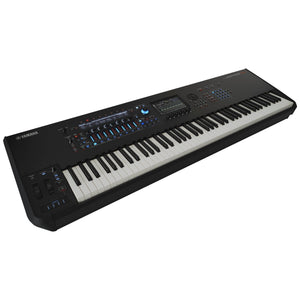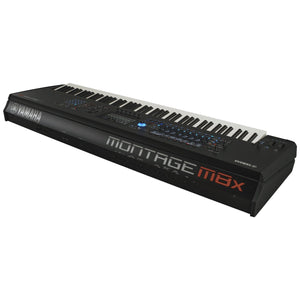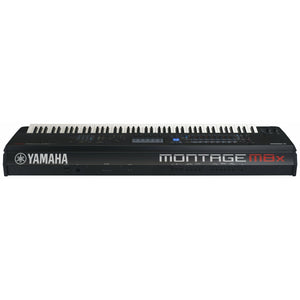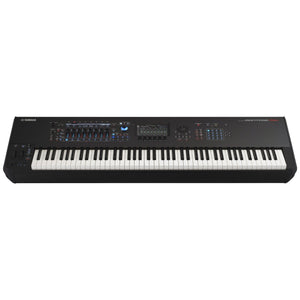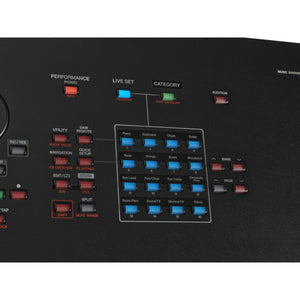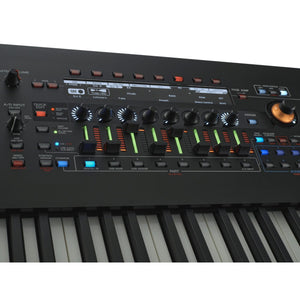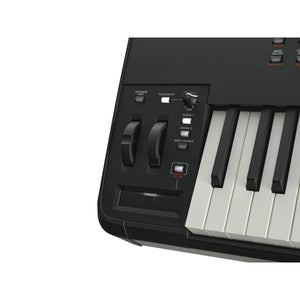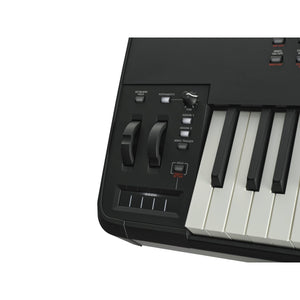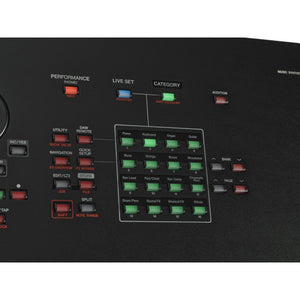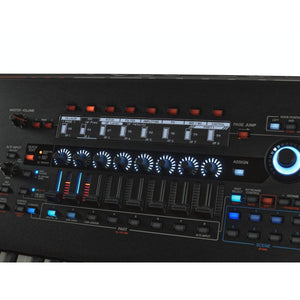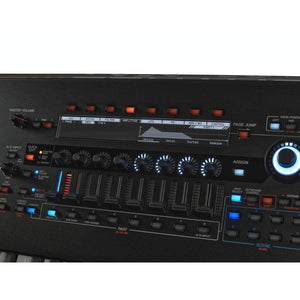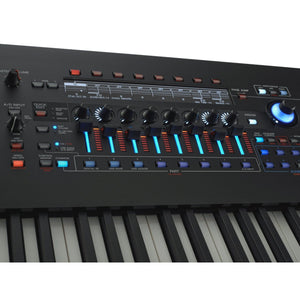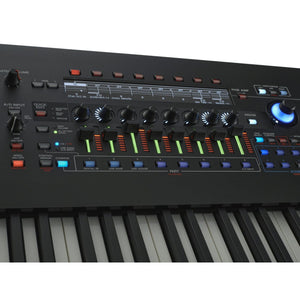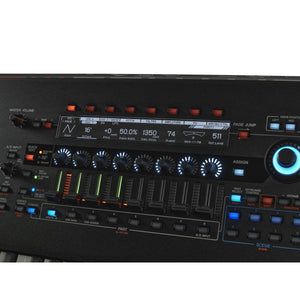 See & Try In Store
9 Faraday Close
Eastbourne
East Sussex
BN22 9BH
1 Ward Road
Bletchley
Milton Keynes
MK1 1JA

*Piano Cabinet Finishes Of Showroom Models May Vary
Request Price Match
We are only too happy to try and match a legitimate UK based musical instrument retailer's quote. We have been in business for over 30 years and will always do our best to be as competitive as possible.
If you have seen a product that you wish to purchase cheaper on another UK based retailer's website or shop, please call us on 01323 639335 or complete the form below. We will try and match (or beat) their quote – and still give you our award-winning service.
Alternatively, complete the form below and we'll get right back to you with our best price. Price matches are dependent upon stock availability.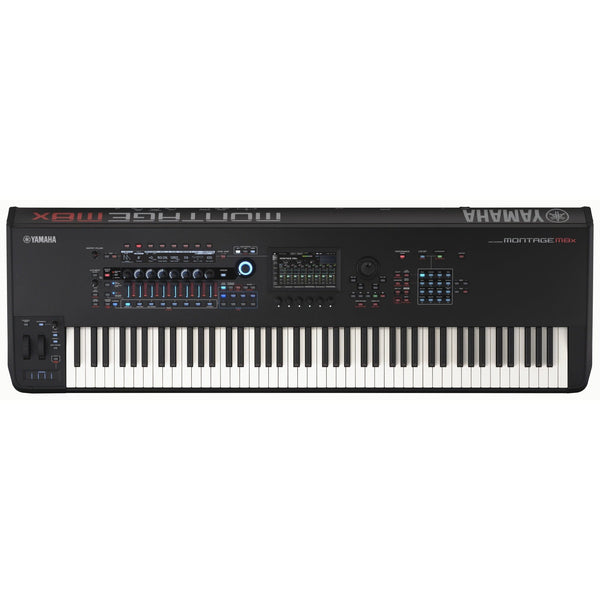 Yamaha Montage M8X Keyboard
£4,049.00