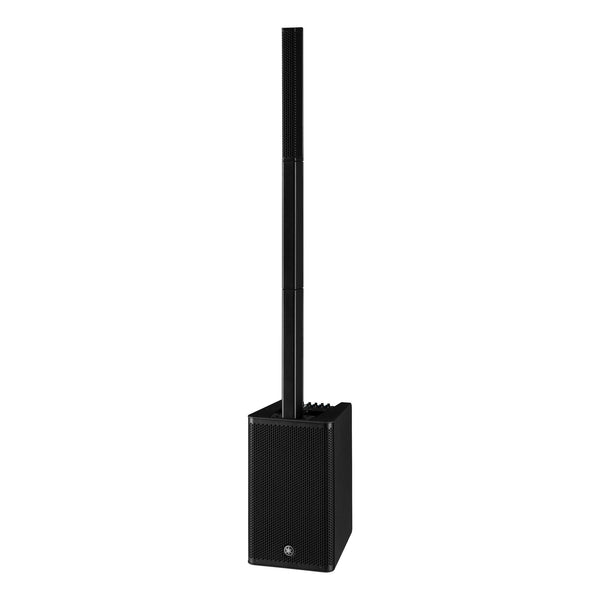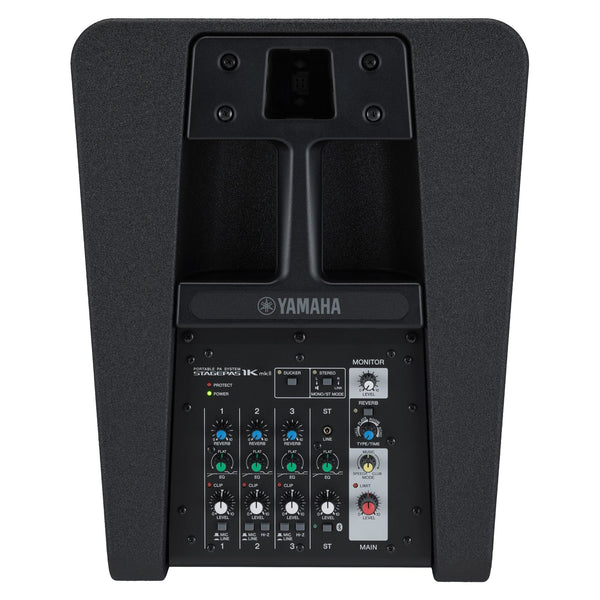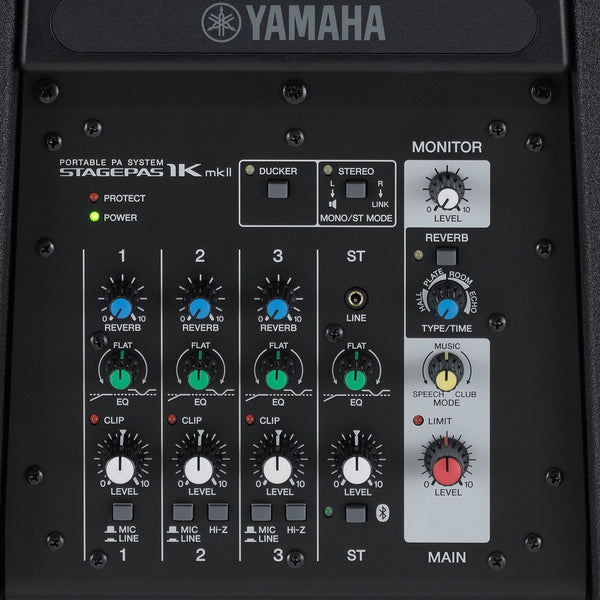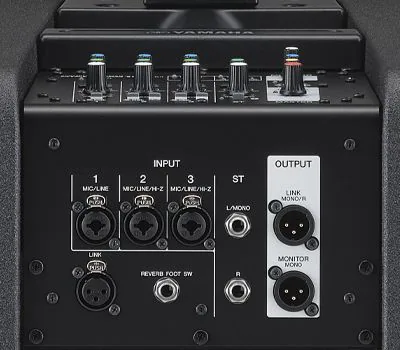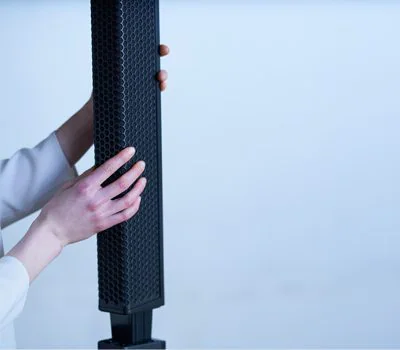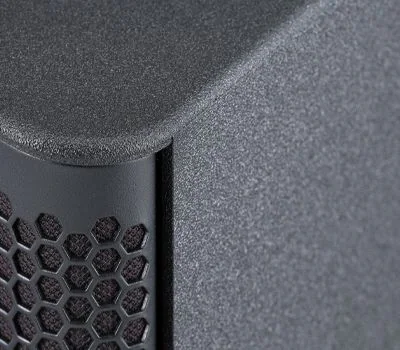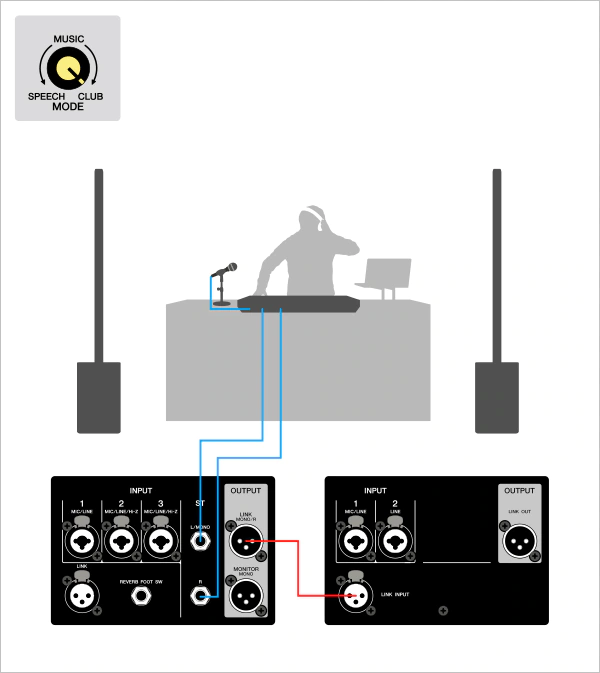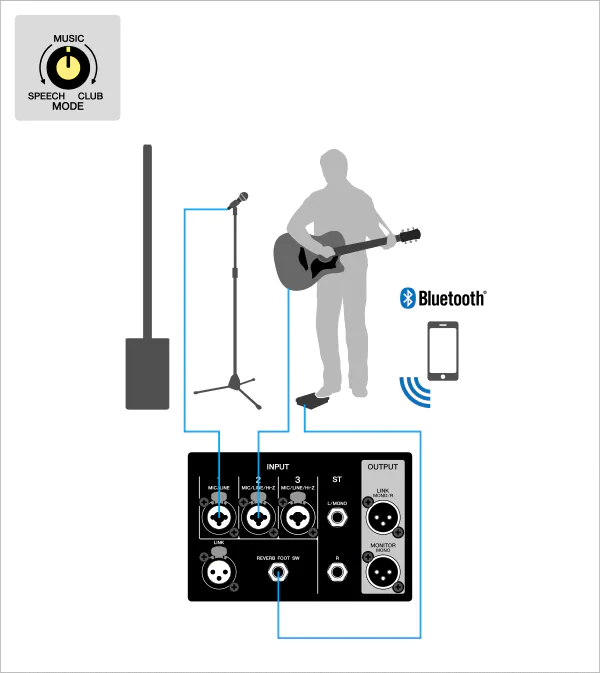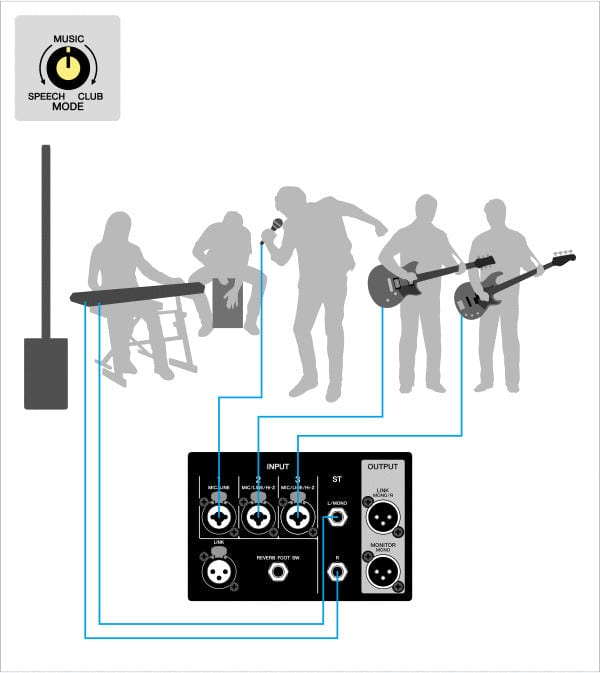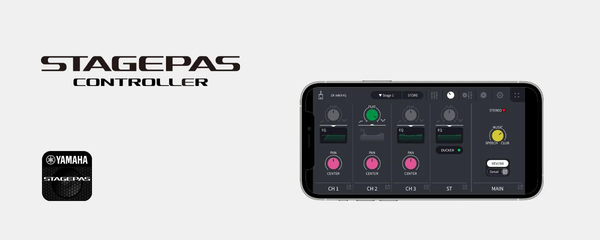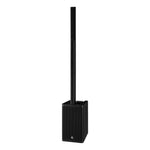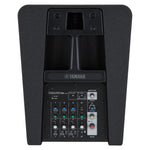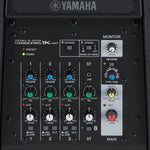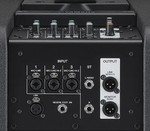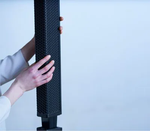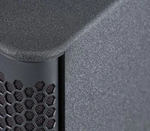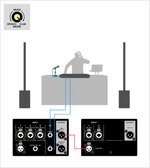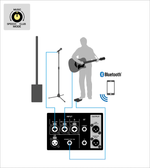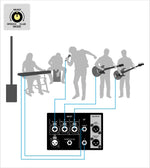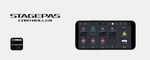 Yamaha Stagepas 1K MK2 Portable PA System
Product Code: STAGEPAS1KM2
Description
Delivery & Lead Times
Spread The Cost With Finance
Description
STAGEPAS 1K mkII
Mixing channels
5 (Mono x3 + Stereo x1)
Input channel functions
Hi-Z: CH2/3, 1-knob EQ: CH1-3/ST
Output channel functions
MODE (SPEECH/MUSIC/CLUB)
Inputs
Mono x3 (mic/line) + Stereo x1 (line) / Mono x2 (line), Link in x1
Outputs
Link out x1, Monitior out x1
Bluetooth
Bluetooth Ver.5.0, A2DP (SBC, AAC)
Control and others
Reverb foot switch, STAGEPAS Controller (iOS/Android app)
On-board processors: DSP
SPX digital reverb (4 program, parameter control)
Speaker type
Powered subwoofer: Bass-reflex type, Line array speaker: Enclosed
Frequency range (-10dB)
37 Hz - 20 kHz
Coverage area
H170゚ x V30゚
Crossover
240 Hz
Maximum output level (1m; on axis)
125 dB SPL
Components
Powered subwoofer: 12" (30 cm) Cone
Line array speaker: 1.5" (3.8 cm) Cone x 10
Line array speaker: 1.5" (3.8 cm) Cone x 10
Line array speaker: 1.5" (3.8 cm) Cone x 10
Amplifier class
Class-D
Power rating
1100 W
Power consumption
25 W (Idle), 91 W (1/8 power)
Handle
Top of powered subwoofer x1
Dimensions (W x H x D)
System: 334 x 2,000 x 418 mm
Line array speaker: 67 x 582 x 86 mm
Powered subwoofer: 334 x 550 x 418 mm
Spacer: 67 x 555 x 86 mm (each)
Weight
System: 23.0 kg
Line array speaker: 1.8 kg
Powered subwoofer: 20.0 kg
Spacer: 0.6 kg (each)
Accessories
Power cord x 1, Cover x 1
Optional Accessories
Yamaha DL-SP1K (Dedicated dolly), FC5 (foot switch for reverb ON/OFF)
Yamaha Stagepas 1K MK2 Portable PA System
More Practical. More Professional. More Powerful.
The STAGEPAS 1K mkII is an all-in-one portable PA system that allows you to quickly and easily transform any location into your stage, delivering professional-level audio performance with a simple setup that enables aspiring artists to focus on their music and get the most out of their performances. Adding an even higher sound pressure level and more flexible remote functionality than its predecessor, the second-generation STAGEPAS 1K mkII boasts the same combination of lightweight cabinet design, professional mixing functions, and simple operability, that has elevated the STAGEPAS all-in-one package above all other portable PAs. By adopting a concert-quality mixer and speaker, we have raised the bar for portable PA by utilizing Yamaha's unique experience and know-how developed over decades of producing innovative, professional audio equipment from every stage of music engineering and production.
1100W, 125 dB SPL peak@1m, portable PA system with 5 channel digital mixer, 12-inch subwoofer, 1.5-inch x10 line array speaker, a Bluetooth input, SPX digital reverbs, Priority Ducker and 1knob EQ and multi band comp for master output.
1100W power output
Biggest in the class 12-inch subwoofer for low frequency
1.5-inch x10 slim line array speaker for high frequency
Digital mixer (3 mono mic/line + 1 stereo line)
Multi band comp "MODE" for master output
1-knob EQ per channel
High resolution SPX digital reverb (4 types, parameter control)
Priority Ducker for stereo channel
4 band PEQ per channel via remote control APP "STAEGPAS Controller"
2x Hi-Z (high impedance) inputs
Link out and monitor out
Dedicated cover included
Optional reverb foot switch (FC5)
Optional dolly (DL-SP1K) for more portability
Simple setup and simple control allow you to focus on your performance
The STAGEPAS 1K mkII comes equipped with a wealth of sound adjustment features, including 1-knob EQ to perform multiple EQ processes simultaneously, and MODE which allows you to adjust optimized compression settings like "Speech" or "Music" to match various applications. All adjustments can be done simply with one knob, making the perfect mix fast and easy without a complex workflow and letting you focus on your performance.
Best-in-Class Compact Power
A 1100 W amplifier drives the array speaker with 10 small-diameter 1.5-inch units, as well as a class-leading 12-inch subwoofer. The impressive 170° horizontal and 30° vertical coverage area delivers consistent performance over long distances, projecting uniform, high-quality sound from the front to the rear of the audience.
Compact yet powerful 
Despite its lightweight and compact cabinet construction, the STAGEPAS 1K mkII features a high-output 1100 W amplifier powering a high-frequency array speaker system with 10 x 1.5-inch drivers and a large 12-inch subwoofer, producing best-in-class sound pressure levels of up to 125 dB SPL. An impressive 170° horizontal and 30° vertical coverage delivers clear, high-quality sound consistently throughout a wide listening area.
Professional control with a single knob
STAGEPAS 1K mkII comes equipped with a wealth of sound shaping functions, including 1-knob EQ for optimized multi band EQ setting, industry standard SPX reverb, and the "Mode" control for master output compression settings that match various applications such as "Speech" or "Music." Each of these functions can be set via a single knob, and have simplified many of the tough tasks like EQ and compression to get you great sound fast. In addition, the optional FC5 foot switch can also be used for on/off operation.
1. SPX the standard digital reverb
One knob operation gives you access to four types of Yamaha's proprietary SPX reverb settings—perfect for vocals and acoustic instruments. Simply turn the knob to change the reverb type and time, and then you're ready to apply just the right amount of high-resolution effect to each channel.
2. 1-knob channel EQ
Whether turning to the left to cut unnecessary low-end frequencies for speeches, or turning to the right to emphasize the bottom and high end for band performances, this innovative equalizer can dial in the perfect sound adjustment with a simple turn of the knob.
3. "MODE" for master output
The multiband compressor adjusts optimized compression settings to suit various applications. By selecting MUSIC, SPEECH or CLUB MODE which is closest to your application, you can add a more professional edge to your sound without having to learn difficult compression/audio engineering principles.
Priority Ducker
Priority Ducker allows a microphone to take priority over another sound source automatically, just by speaking into the mic. Stop talking and the other sound source is brought back to its original level, and thus no console operator is required for this simple yet valuable function. You can even adjust the ducker attenuation of the sound source to suit your preferences.
STAGEPAS 1K mkII
Mixing channels
5 (Mono x3 + Stereo x1)
Input channel functions
Hi-Z: CH2/3, 1-knob EQ: CH1-3/ST
Output channel functions
MODE (SPEECH/MUSIC/CLUB)
Inputs
Mono x3 (mic/line) + Stereo x1 (line) / Mono x2 (line), Link in x1
Outputs
Link out x1, Monitior out x1
Bluetooth
Bluetooth Ver.5.0, A2DP (SBC, AAC)
Control and others
Reverb foot switch, STAGEPAS Controller (iOS/Android app)
On-board processors: DSP
SPX digital reverb (4 program, parameter control)
Speaker type
Powered subwoofer: Bass-reflex type, Line array speaker: Enclosed
Frequency range (-10dB)
37 Hz - 20 kHz
Coverage area
H170゚ x V30゚
Crossover
240 Hz
Maximum output level (1m; on axis)
125 dB SPL
Components
Powered subwoofer: 12" (30 cm) Cone
Line array speaker: 1.5" (3.8 cm) Cone x 10
Line array speaker: 1.5" (3.8 cm) Cone x 10
Line array speaker: 1.5" (3.8 cm) Cone x 10
Amplifier class
Class-D
Power rating
1100 W
Power consumption
25 W (Idle), 91 W (1/8 power)
Handle
Top of powered subwoofer x1
Dimensions (W x H x D)
System: 334 x 2,000 x 418 mm
Line array speaker: 67 x 582 x 86 mm
Powered subwoofer: 334 x 550 x 418 mm
Spacer: 67 x 555 x 86 mm (each)
Weight
System: 23.0 kg
Line array speaker: 1.8 kg
Powered subwoofer: 20.0 kg
Spacer: 0.6 kg (each)
Accessories
Power cord x 1, Cover x 1
Optional Accessories
Yamaha DL-SP1K (Dedicated dolly), FC5 (foot switch for reverb ON/OFF)
Delivery & Lead Times
Delivery ETA's 
For accurate delivery information, please contact our sales team on sales@bonnersmusic.co.uk or call 01323 639335. As a guide, despatch times are detailed below.
Additional charges will be made for delivery of heavy items to some areas. Charges may also apply to upgrades including (but not limited to) timed deliveries, piano assembly, delivery of large items, and when matching deals from other retailers. If you are unsure about our delivery charges, please contact us.
In Stock Products
Products that are shown as in stock will be sent using our standard delivery service within 2 working days from when payment is received. This excludes piano deliveries with full installation - see below.
Pre-Order Products
Products which are shown as pre-order are not in stock, but can be ordered and reserved for you from the next available shipment. Order today to reserve your place in the queue! Call or email us for the latest lead times on pre-order products.
Digital Piano Deliveries:
We have many flexible delivery options for most delivery pianos, based on your location and whether you require it flat-packed, or fully assembled in your home. Digital piano delivery options are shown at checkout. 
Piano Deliveries
If you purchase a piano which is supplied with full installation, we will contact you once your order is received to arrange a convenient delivery date & time. Delivery & installation is usually within 14 days, but often sooner. Call us for current lead times on pianos.
Digital Piano Deliveries For Self-Assembly
Click here to see our specific information relating to piano deliveries.
If you choose our courier delivery/flat pack delivery method, please be aware that with larger items such as digital pianos, the courier is not contracted to carry them up any steps or stairs. If there are stairs leading to the front door of the delivery address, or you live in an apartment which is not on pavement level, it is your responsibility to arrange transportation from the pavement level to the delivery address. In this instance, the delivery driver may, at their own discretion assist you in carrying the parcels to the delivery address, but they are not contracted nor obliged to do so.
Do you need delivery upstairs, or delivery at a specific time?
For some larger items which need to be delivered upstairs - including pianos, we offer a timed delivery service using our own van and drivers. This service is free on some items and chargeable on others. Call us on 01323 639335 to discuss your specific delivery requirements.
No-one at home?
Our courier will try and deliver your parcel(s) twice. After the second failed attempt, your goods will be returned to our warehouse. If you would like us to try and deliver them again, we will charge the delivery charges associated with your order again.
Delivery Surcharges For Larger Items
For some larger items, delivery surcharges may apply to the following areas: Scotland, Wales, Channel Islands, Isle Of Wight, Cornwall, Ireland, North Of England above Leeds. Call us on 01323 639335 to check before ordering.
Spread The Cost With Finance
If you're set on buying your new instrument, there's no need to get weighed down by the total cost of it straight away. If you break it down into monthly payments over time, it's much more manageable than you might think. And our fixed interest rates mean you'll know exactly what you're paying from the start.
How it works
The finance options available are displayed on our individual product pages - just click the button under the price to see the available options for each product. Finance is available for most new and used instruments over £400.

Pay a fixed deposit, and the rest is split into monthly payments. At the end of your contract when you've made your final payment, the instrument or equipment is all yours. You could own that dream guitar, piano or keyboard sooner than you thought!

Which Finance Options Are Available?
Most products on our website show the available finance options. Some are interest free, and some are interest bearing. The options shown on the site are an example of what is available - if you would like to pay over a different period, give us a call on 01323 639335 and we'll try and arrange a finance option that suits your budget.

How To Apply For Finance
To apply for finance, please add the product to your cart, proceed through checkout and select 'Apply For Finance' as your payment option where you can complete the application form online.

The Lender
Bonners Ltd acts as a credit broker and only offers credit products from Secure Trust Bank PLC trading as V12 Retail Finance. Bonners Ltd is authorised and regulated by the Financial Conduct Authority. Our registration number is 718966. Bonners Ltd is registered in England and Wales 1994113. Registered office 34 North St, Hailsham, East Sussex BN27 1DW.

Secure Trust Bank is registered in England and Wales 541132. Registered office: One Arleston Way, Solihull, B90 4LH. Authorised by the Prudential Regulation Authority and regulated by the Financial Conduct Authority and the Prudential Regulation Authority. Registration number: 204550.
Not all products offered by Secure Trust Bank T/A V12 Retail Finance are regulated by the FCA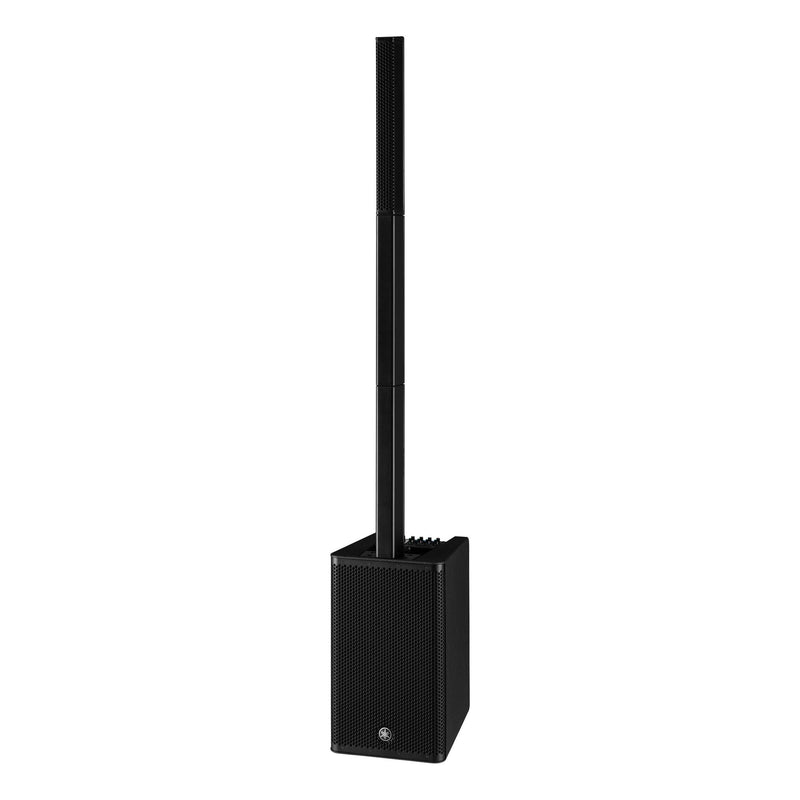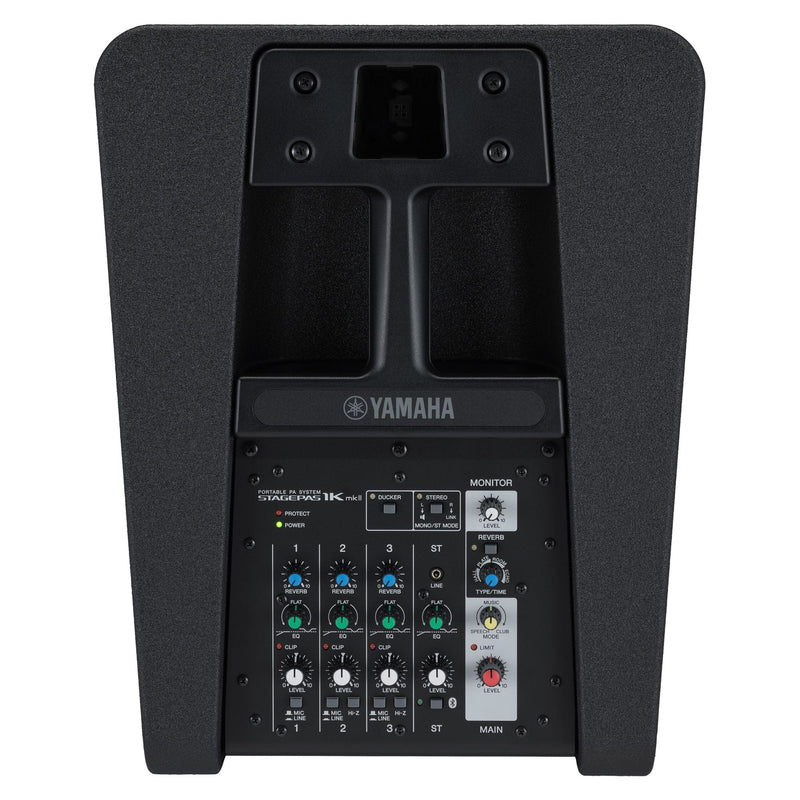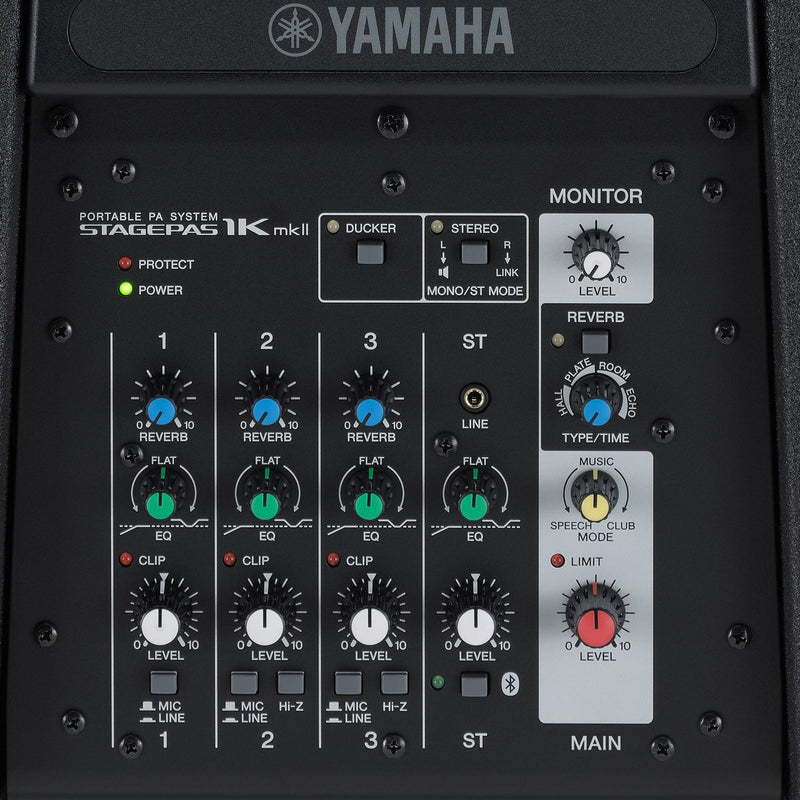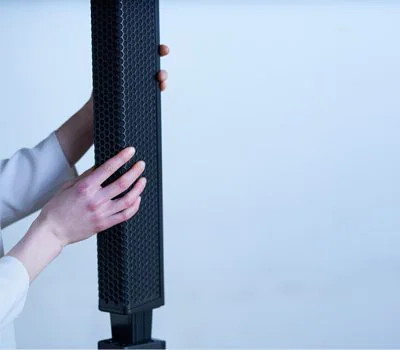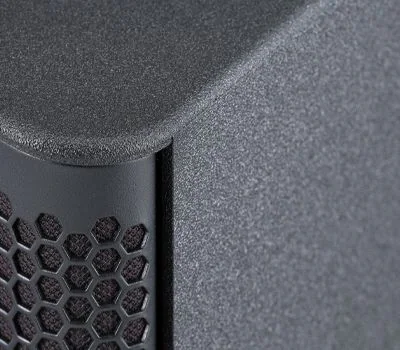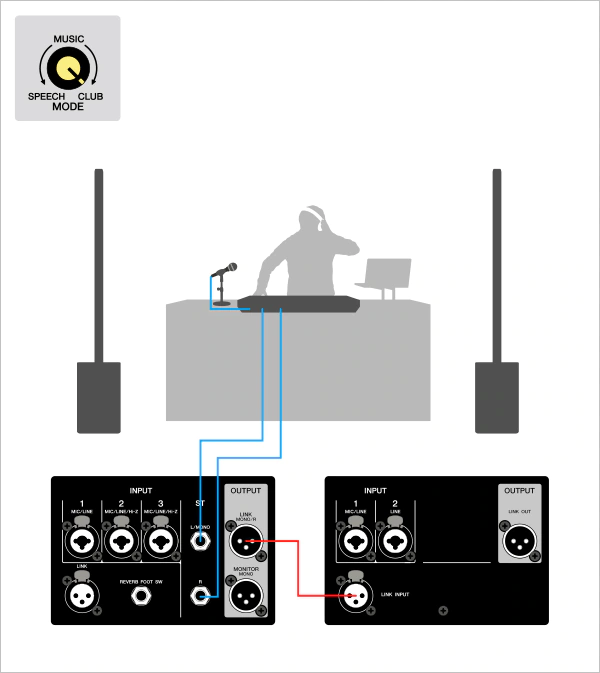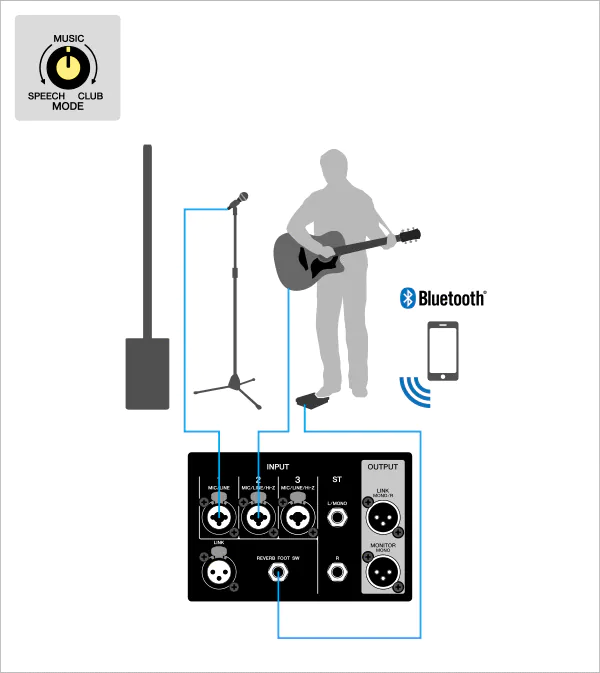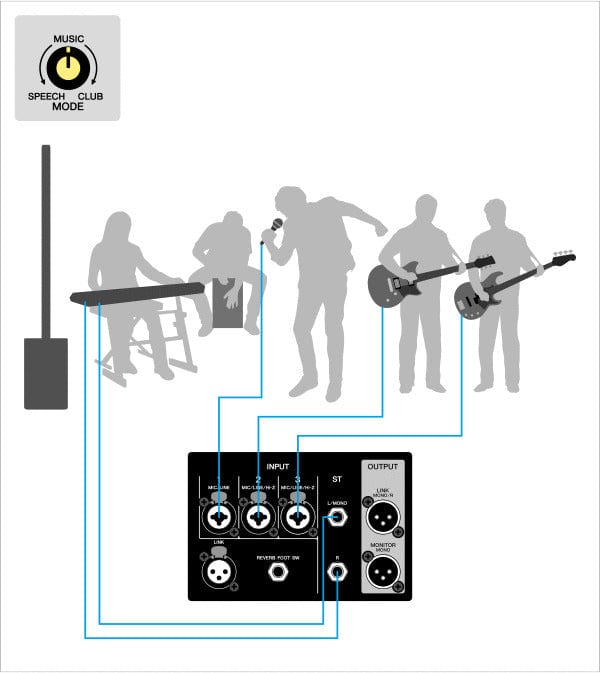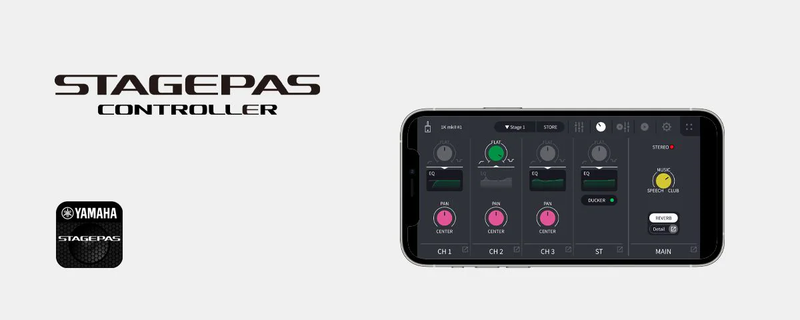 Yamaha Stagepas 1K MK2 Portable PA System
STAGEPAS1KM2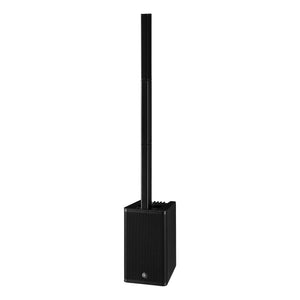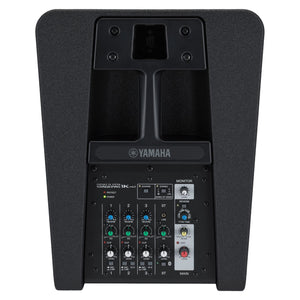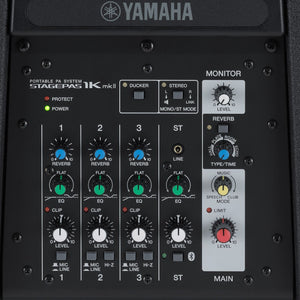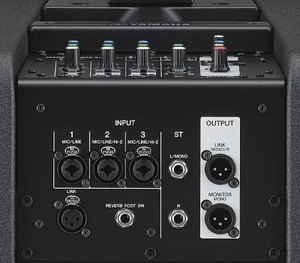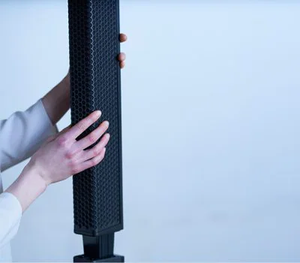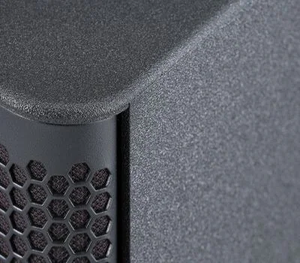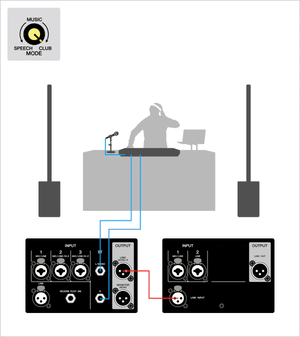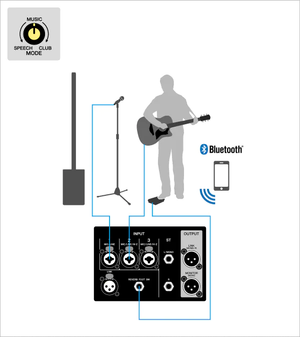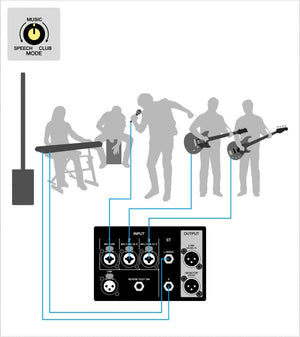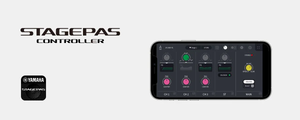 See & Try In Store
*Piano Cabinet Finishes Of Showroom Models May Vary
Request Price Match
We are only too happy to try and match a legitimate UK based musical instrument retailer's quote. We have been in business for over 30 years and will always do our best to be as competitive as possible.
If you have seen a product that you wish to purchase cheaper on another UK based retailer's website or shop, please call us on 01323 639335 or complete the form below. We will try and match (or beat) their quote – and still give you our award-winning service.
Alternatively, complete the form below and we'll get right back to you with our best price. Price matches are dependent upon stock availability.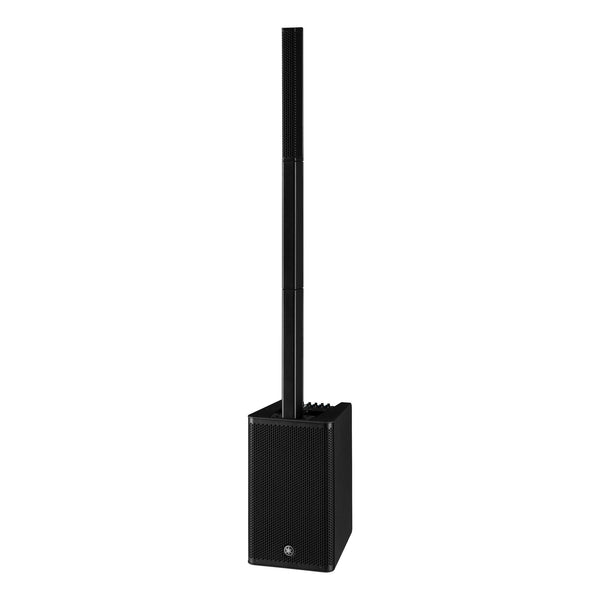 Yamaha Stagepas 1K MK2 Portable PA System
£999.00