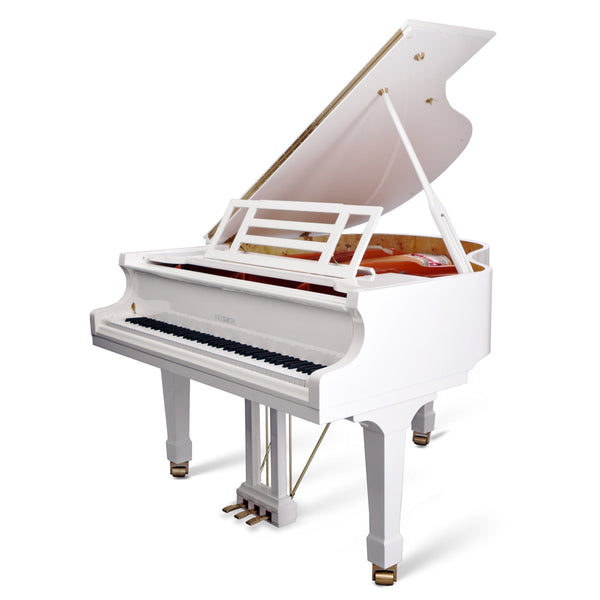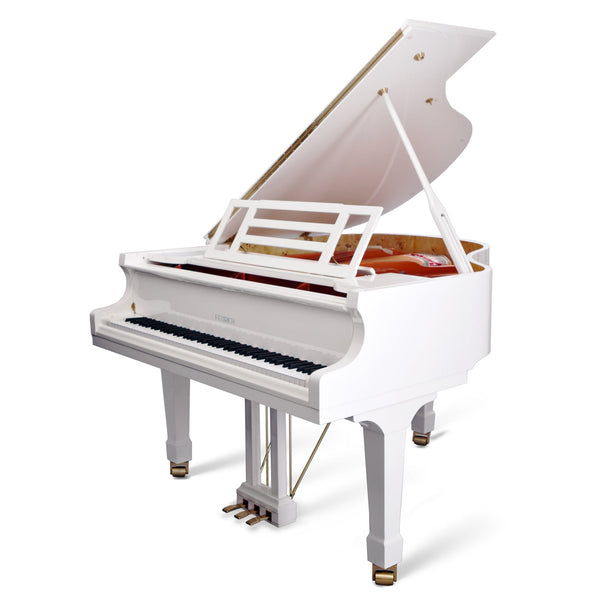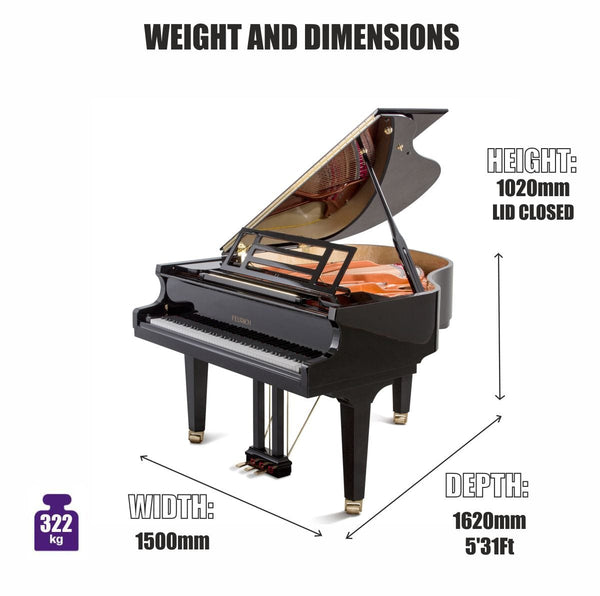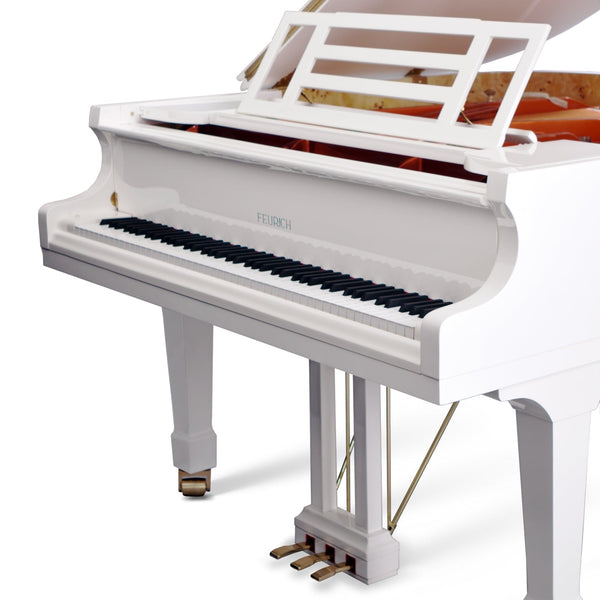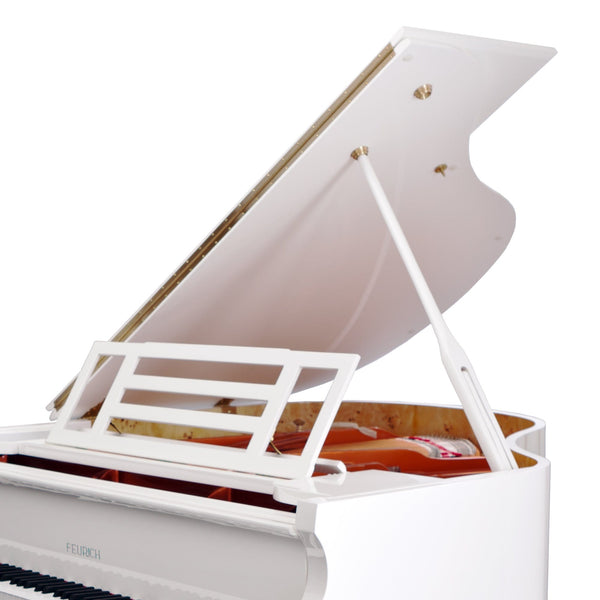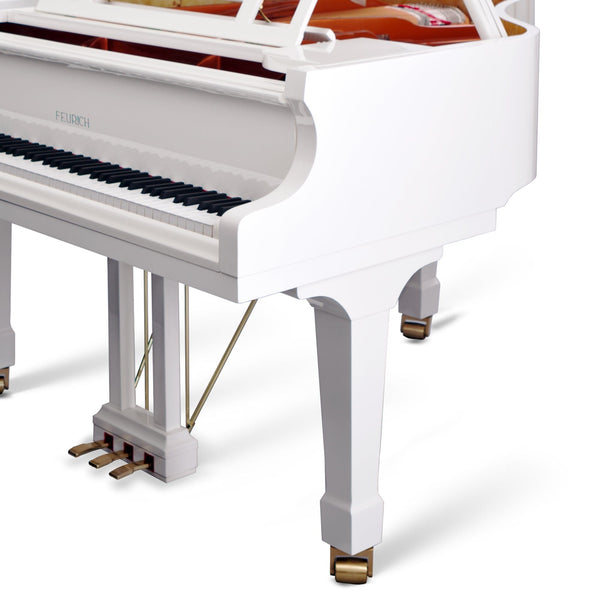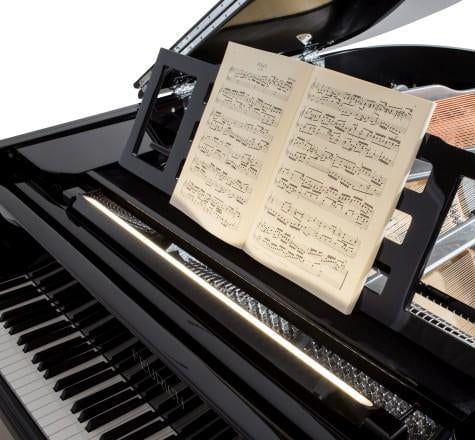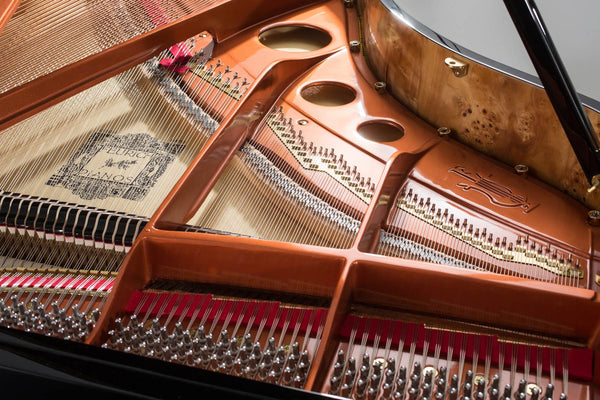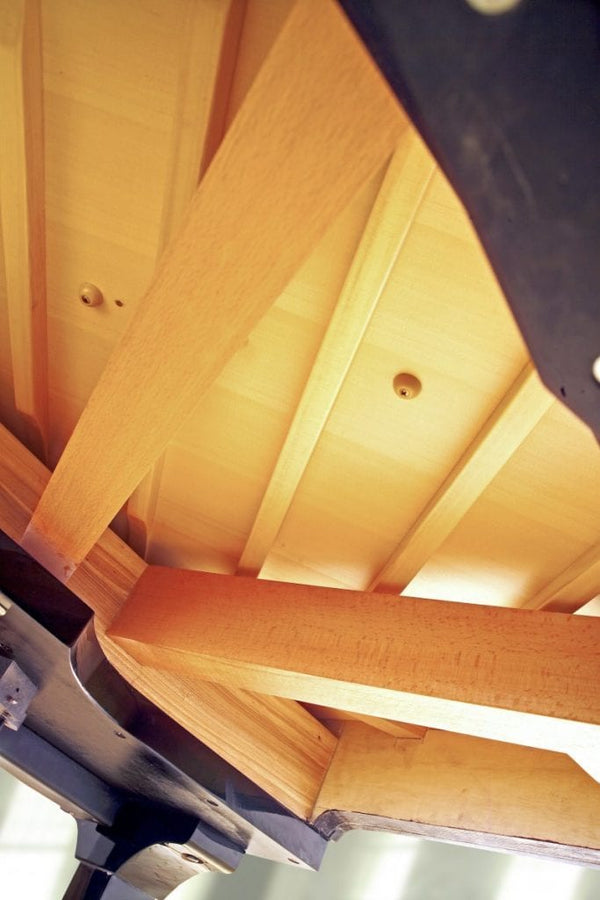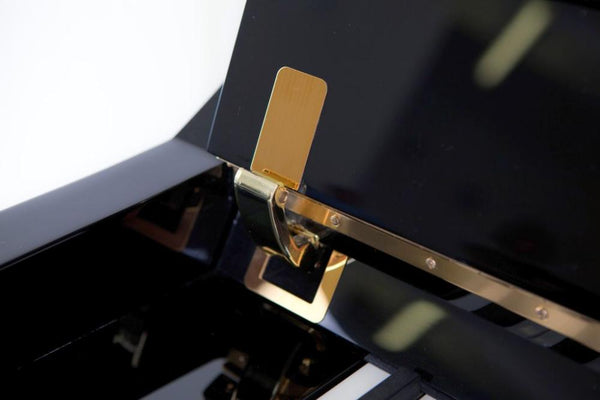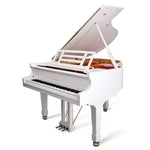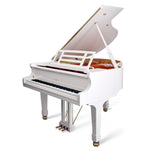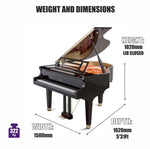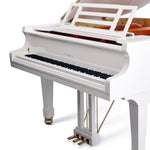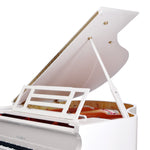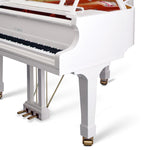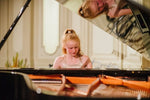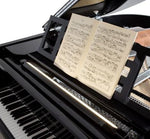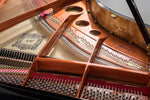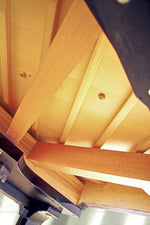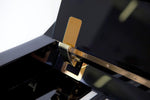 Feurich 162 Dynamic I Grand Piano; Polished White
INCLUDES STOOL & HYGROMETER
Product Code: 162#11
Description
Delivery & Lead Times
Spread The Cost With Finance
Description
Feurich 162 Dynamic I Main Features
Depth:
1620mm 5'31Ft
Width:
1500mm
Height:
1020mm
Weight:
322 Kg
Soft Close Lid:
Yes
Lid Lock:
No
Number Of Keys:
88
Number of Frame Beams:
3
Soundboard:
Spruce
Pedals:
3 - Damper / Soft / Practice
Other Notable Features:
New FEURICH piano action for fast and precise touch
Keyboard and action made of solid Austrian timber: fast and precise touch
Special yellow FEURICH felt from England
Rust-free Paulello strings Made in France
Built-in sheet music LED light
Large grand piano wheels
Optional fourth pedal, © pédale harmonique
Made In:
Ningbo China supervised by FEURICH technicians
Feurich Guarantee high European manufacturing standards
Silent Option Available?
YES Retro-fitted silent system available - call us for more information
Warranty:
10 Years Parts & Labour when registered with Feurich
Delivery:
Free delivery (Ground floor, England only). Call for other areas / upstairs
Tuning:
Free first in-home tuning & service check after delivery
Preparation & Voicing:
This piano will be prepared and voiced by a Feurich technician on our premises before delivery to you.
Cabinet Finish:
Black Polished & Brass Fittings
Black Polished & Chrome fittings Bordeaux Polished & Brass Fittings
Walnut Polished & Brass Fittings
Walnut Satin & Brass Fittings
white Polished & Brass Fittings
White Polished & Chrome Fittings
Feurich Dynamic I 162 Grand Piano; White Polished
Feurich's most compact grand piano is a joy to play, with a light and responsive touch and a rich, warm tone synonymous with European instruments. A wide soundboard allows for slightly longer strings than other grand pianos this size, and as such the Dynamic 162 will project well, even in larger rooms.
The 162 model is the most compact grand piano within the Feurich range, so is ideal for use in smaller spaces. It has been redeveloped and improved throughout the last 11 years, and as such has an outstanding sound for a piano of its size.
Expertly Tuned, Regulated & Voiced Before Delivery
All Feurich pianos that are supplied by Bonners include detailed regulation and voicing by our in-house piano technicians.
Bonners are the largest stockist of Feurich pianos in the UK and we hold multiple examples of each model in our Surrey and Buckinghamshire piano showrooms. This means you usually have multiple choice of the same model from which to choose your perfect Feurich piano.
Before our Feurich pianos make it to the showrooms, they go through a detailed preparation process to ensure they are sounding and performing at their absolute best. After being given time to settle after transportation to our premises, every Feurich piano undergoes a first regulation and tuning. This process ensures that all the mechanical parts are functioning correctly before the instrument is played passed to our in-house pianists for their evaluation.
Our musicians put the piano through its paces using a wide variety of musical styles and then collaborate with our specialist Feurich-trained piano technicians who then carry out detailed voicing and regulation to maximise the tone and performance of the piano. This preparation process is unique to Bonners in the UK, and we are confident that our Feurich pianos out-perform the same models available from other piano retailers.
Feurich was founded in 1851 and became the first German piano manufacturer to use under-damper actions in upright pianos, long before its rivals. Wendl & Lung have been working with Feurich since 2010, and the partnership's motto is "Tradition & Innovation". Unlike other manufacturers, all components of the piano action are designed and assembled personally by Feurich, with their experts individually monitoring each other during the entire process.
Bonners hold stock of a wide range of Feurich Upright and Grand Pianos in our piano showrooms. We have piano shops in Reigate Surrey, Milton Keynes Buckinghamshire, and Eastbourne East Sussex. We have on-site parking at every branch, so give us a call to check in-store availability so you can plan your journey and get the best expert advice from our friendly team.
When you purchase a Feurich 162 from Bonners, you'll receive:
10 Years Warranty (when you register your purchase with Feurich)
Free delivery (Ground floor, England only)
Tuned, voiced & regulated before delivery
First in-home tuning free of charge
The piano has been prepared and voiced in the UK
Soundboard
The overall width of the 162 is slightly wider than that on other similarly sized pianos. This maximises the surface area of the soundboard, enhancing the bass register along with the overall sound. The soundboard is made from spruce and includes extra features designed to improve climatic stability.
Frame Design
The 162 model features a redesigned, light frame design. This is to allow less sound absorption, which is particularly noticeable in the treble register, generating brilliance and a clear sound.
Strings
The strings for this particular model were designed by Stephen Paulello, and are rust free! They are nickel-plated, creating a stable and pure tone for many years to come.
Duplex Scaling
The strings on this model use duplex scaling, which means the strings resonate sympathetically with each note struck, adding brilliance and sparkle in the treble regions.
Key Action
The special Feurich key action sets this piano apart from other pianos of its size. No plastic is used in any part of the action, as this is not elastic enough to provide the feel and touch response Feurich are seeking. There is a low amount of lead weight used inside the key itself, resulting in a very low inertia when the key is struck. This gives a great dynamic range, including effortless pianissimo.
Felt
Feurich spend a great deal of time and thought on the felts they choose in each specific model. In the 162 model, the felts under the keys are soaked in a substance that serves to help retain their shape over many years of use. Felts inside the action are both durable and elastic.
Other Features
LED anti-glare lamp built into the piano
Traditional music stand to allow optimum sound
Special Feurich design of pedals, sloped slightly towards the player.
Layered lacquered surface, so small scratched are easily polished over
See The Feurich 162 Grand Piano In Our Specialist Piano Stores
When choosing a new piano, there's nothing better than getting your hands on various instruments to ensure you're making the right choice. We keep the Feurich 115 Upright Piano in our specialist piano centres, along with other new and used pianos. This means you can compare the sound and feel of a variety of instruments all under one roof. Our specialist piano centres are located in Reigate (just off Jct 8 of the M25) and Milton Keynes (just 15 minutes from the M1 motorway).
What to expect when you order your new piano from Bonners
We keep a huge range of Feurich upright and grand pianos in stock in our piano centres. If the piano you want is available from our stock, delivery is usually arranged within 14 days (often it can be much faster than this).
Following delivery, and after giving the piano ample opportunity to adjust to it's new conditions (usually within 4-6 weeks), we will arrange for a tuner to visit you and tune the piano in your home, as well as attend to any other technical issues which may arise due to changes in temperature or humidity.
Part Exchange
Do you already own a piano that you would like to trade-in for a new instrument? Email us details of what you have to partex@bonners.co.uk and we will email you back a part exchange price immediately. Please include photos and the serial number.
Free Feurich Acoustic Piano Delivery
Feurich acoustic piano delivery is free of charge to England addresses where access is simple – ie no steps, stairs or other obstacles that may require additional lifting equipment or manpower. Please contact our piano department directly on 01323 636140 if you would like confirmation of free delivery, or for delivery quotes to addresses outside of England. We can even take away your old piano for you free of charge if required.
Complimentary First Piano Tuning
We want you to be completely happy with your new piano, so we arrange an initial first tuning completely free of charge. After your new Feurich piano has been delivered, we will arrange for a tuner to visit you and tune the instrument in your home. Complimentary tuning must be completed within 8 weeks of the piano being delivered.
Warranty
All Feurich acoustic upright and grand pianos come with a 10-year manufacturer's warranty. The warranty covers all parts and labour. If the piano needs repairing, then we come to your home. Tuning and general maintenance/servicing are not covered by warranty.
Feurich Dynamic I 162 Dimensions
Width 1500mm
Height 1020mm
Depth 1620mm
Feurich 162 Dynamic I Main Features
Depth:
1620mm 5'31Ft
Width:
1500mm
Height:
1020mm
Weight:
322 Kg
Soft Close Lid:
Yes
Lid Lock:
No
Number Of Keys:
88
Number of Frame Beams:
3
Soundboard:
Spruce
Pedals:
3 - Damper / Soft / Practice
Other Notable Features:
New FEURICH piano action for fast and precise touch
Keyboard and action made of solid Austrian timber: fast and precise touch
Special yellow FEURICH felt from England
Rust-free Paulello strings Made in France
Built-in sheet music LED light
Large grand piano wheels
Optional fourth pedal, © pédale harmonique
Made In:
Ningbo China supervised by FEURICH technicians
Feurich Guarantee high European manufacturing standards
Silent Option Available?
YES Retro-fitted silent system available - call us for more information
Warranty:
10 Years Parts & Labour when registered with Feurich
Delivery:
Free delivery (Ground floor, England only). Call for other areas / upstairs
Tuning:
Free first in-home tuning & service check after delivery
Preparation & Voicing:
This piano will be prepared and voiced by a Feurich technician on our premises before delivery to you.
Cabinet Finish:
Black Polished & Brass Fittings
Black Polished & Chrome fittings Bordeaux Polished & Brass Fittings
Walnut Polished & Brass Fittings
Walnut Satin & Brass Fittings
white Polished & Brass Fittings
White Polished & Chrome Fittings
Delivery & Lead Times
Delivery ETA's 
For accurate delivery information, please contact our sales team on sales@bonnersmusic.co.uk or call 01323 639335. As a guide, despatch times are detailed below.
Additional charges will be made for delivery of heavy items to some areas. Charges may also apply to upgrades including (but not limited to) timed deliveries, piano assembly, delivery of large items, and when matching deals from other retailers. If you are unsure about our delivery charges, please contact us.
In Stock Products
Products that are shown as in stock will be sent using our standard delivery service within 2 working days from when payment is received. This excludes piano deliveries with full installation - see below.
Pre-Order Products
Products which are shown as pre-order are not in stock, but can be ordered and reserved for you from the next available shipment. Order today to reserve your place in the queue! Call or email us for the latest lead times on pre-order products.
Digital Piano Deliveries:
We have many flexible delivery options for most delivery pianos, based on your location and whether you require it flat-packed, or fully assembled in your home. Digital piano delivery options are shown at checkout. 
Piano Deliveries
If you purchase a piano which is supplied with full installation, we will contact you once your order is received to arrange a convenient delivery date & time. Delivery & installation is usually within 14 days, but often sooner. Call us for current lead times on pianos.
Digital Piano Deliveries For Self-Assembly
Click here to see our specific information relating to piano deliveries.
If you choose our courier delivery/flat pack delivery method, please be aware that with larger items such as digital pianos, the courier is not contracted to carry them up any steps or stairs. If there are stairs leading to the front door of the delivery address, or you live in an apartment which is not on pavement level, it is your responsibility to arrange transportation from the pavement level to the delivery address. In this instance, the delivery driver may, at their own discretion assist you in carrying the parcels to the delivery address, but they are not contracted nor obliged to do so.
Do you need delivery upstairs, or delivery at a specific time?
For some larger items which need to be delivered upstairs - including pianos, we offer a timed delivery service using our own van and drivers. This service is free on some items and chargeable on others. Call us on 01323 639335 to discuss your specific delivery requirements.
No-one at home?
Our courier will try and deliver your parcel(s) twice. After the second failed attempt, your goods will be returned to our warehouse. If you would like us to try and deliver them again, we will charge the delivery charges associated with your order again.
Delivery Surcharges For Larger Items
For some larger items, delivery surcharges may apply to the following areas: Scotland, Wales, Channel Islands, Isle Of Wight, Cornwall, Ireland, North Of England above Leeds. Call us on 01323 639335 to check before ordering.
Spread The Cost With Finance
If you're set on buying your new instrument, there's no need to get weighed down by the total cost of it straight away. If you break it down into monthly payments over time, it's much more manageable than you might think. And our fixed interest rates mean you'll know exactly what you're paying from the start.
How it works
The finance options available are displayed on our individual product pages - just click the button under the price to see the available options for each product. Finance is available for most new and used instruments over £400.

Pay a fixed deposit, and the rest is split into monthly payments. At the end of your contract when you've made your final payment, the instrument or equipment is all yours. You could own that dream guitar, piano or keyboard sooner than you thought!

Which Finance Options Are Available?
Most products on our website show the available finance options. Some are interest free, and some are interest bearing. The options shown on the site are an example of what is available - if you would like to pay over a different period, give us a call on 01323 639335 and we'll try and arrange a finance option that suits your budget.

How To Apply For Finance
To apply for finance, please add the product to your cart, proceed through checkout and select 'Apply For Finance' as your payment option where you can complete the application form online.

The Lender
Bonners Ltd acts as a credit broker and only offers credit products from Secure Trust Bank PLC trading as V12 Retail Finance. Bonners Ltd is authorised and regulated by the Financial Conduct Authority. Our registration number is 718966. Bonners Ltd is registered in England and Wales 1994113. Registered office 34 North St, Hailsham, East Sussex BN27 1DW.

Secure Trust Bank is registered in England and Wales 541132. Registered office: One Arleston Way, Solihull, B90 4LH. Authorised by the Prudential Regulation Authority and regulated by the Financial Conduct Authority and the Prudential Regulation Authority. Registration number: 204550.
Not all products offered by Secure Trust Bank T/A V12 Retail Finance are regulated by the FCA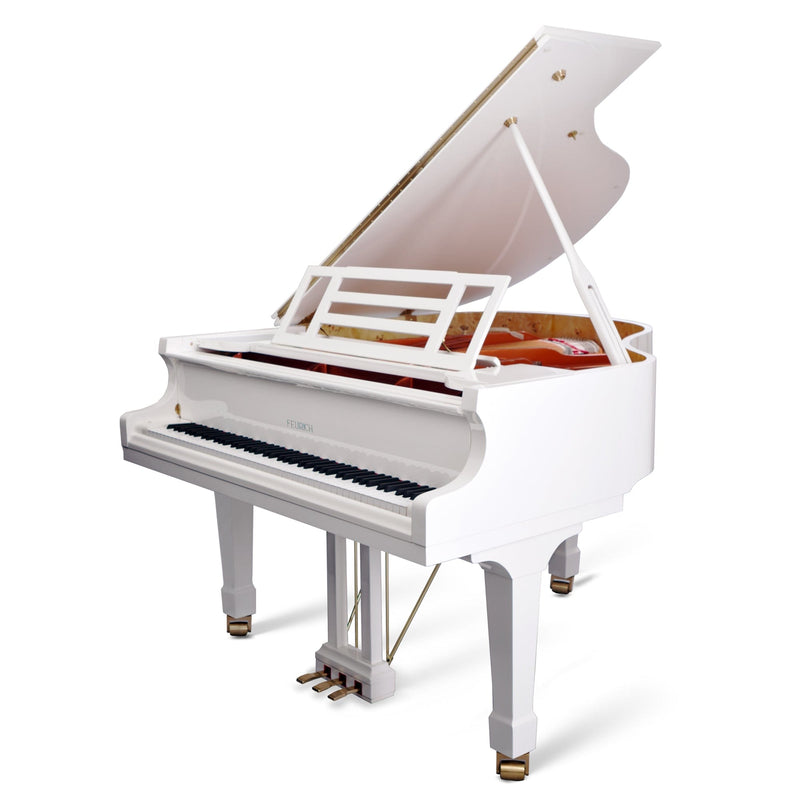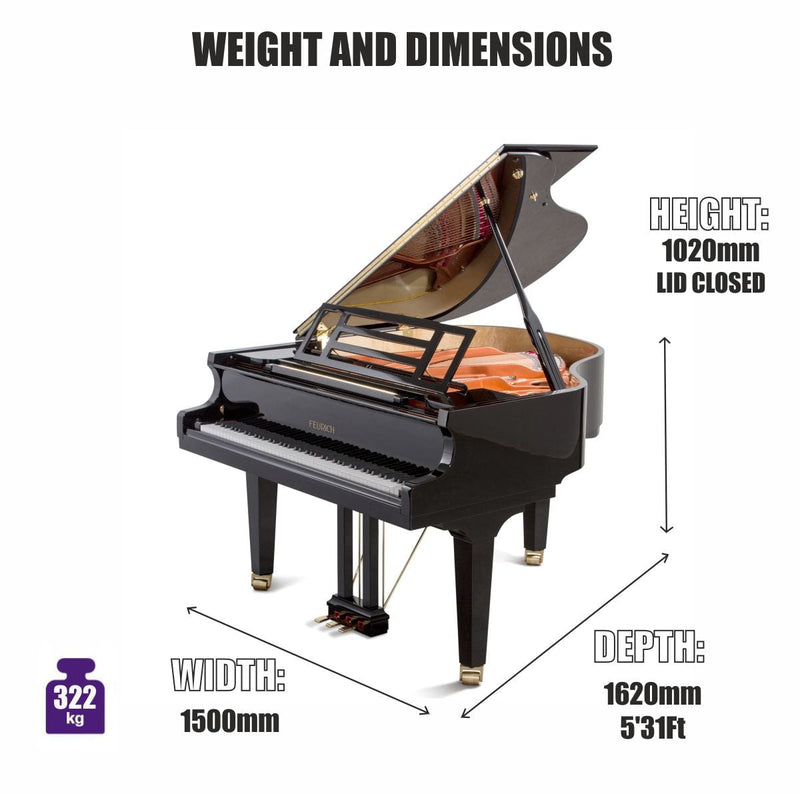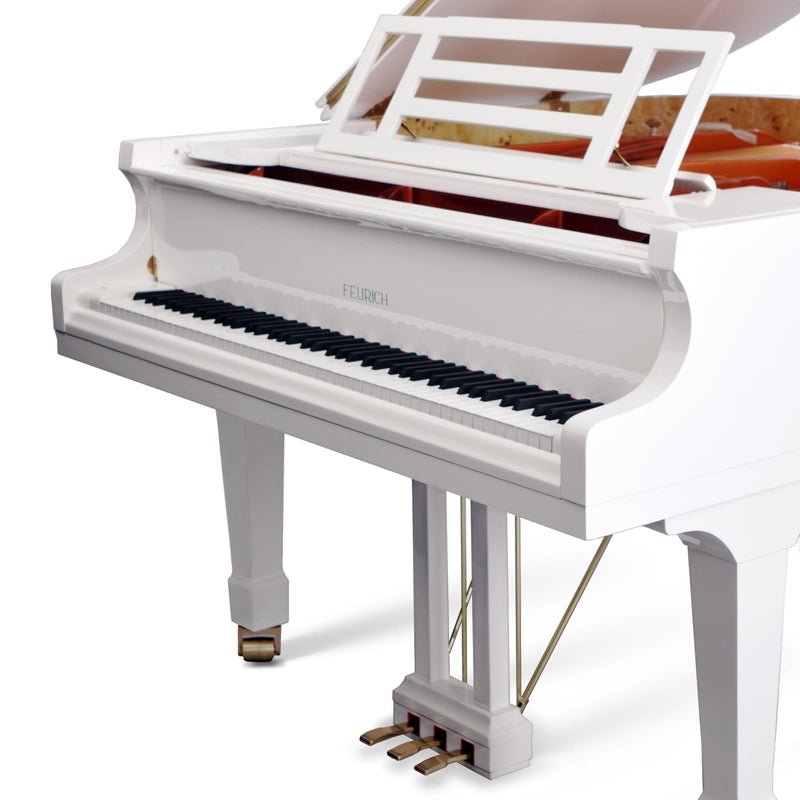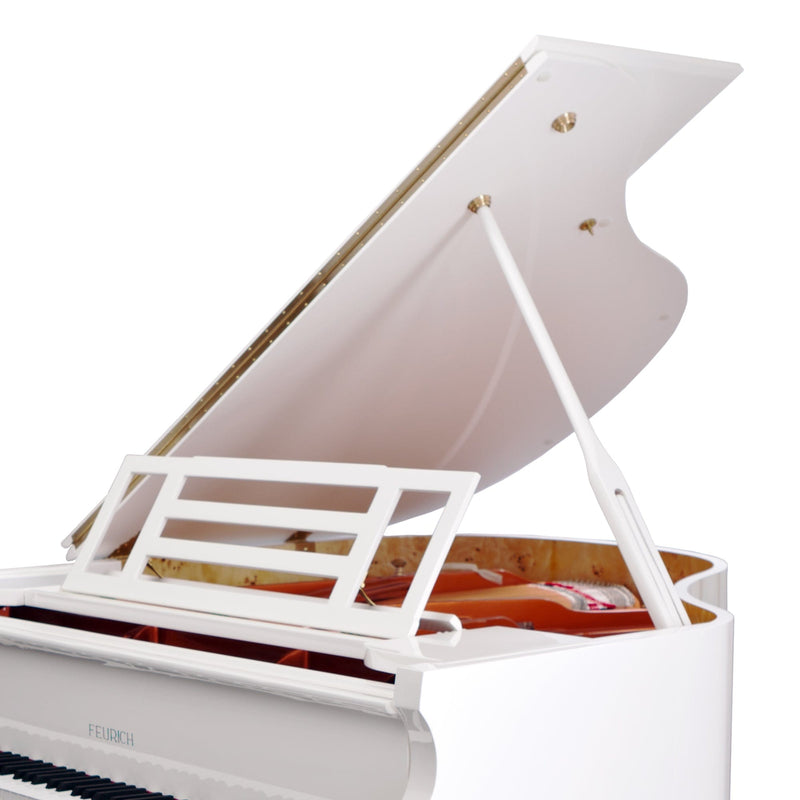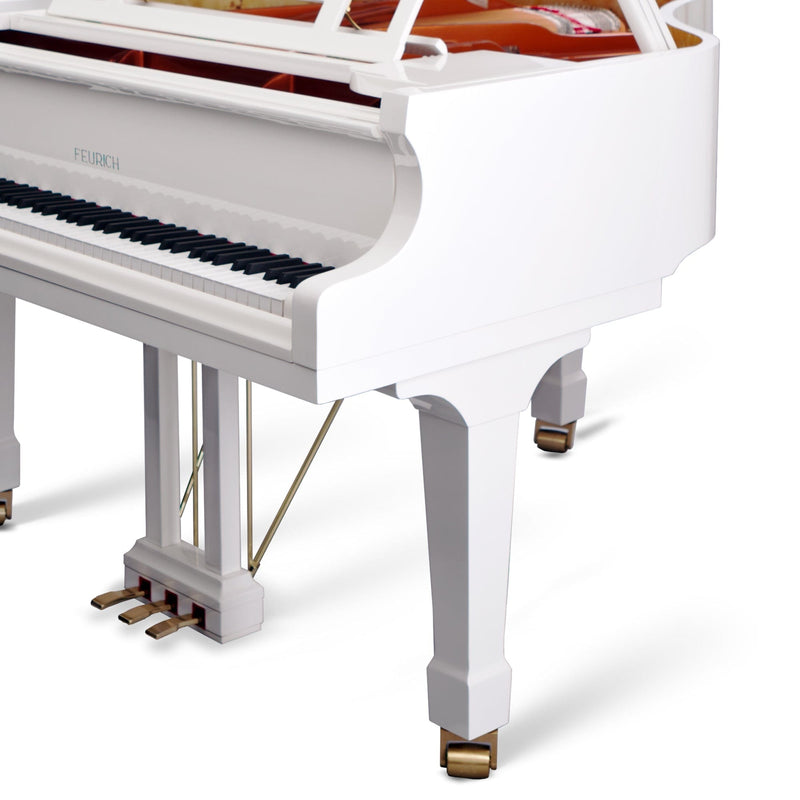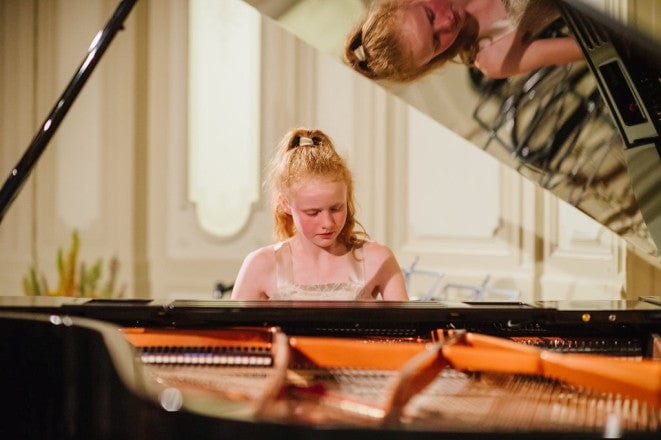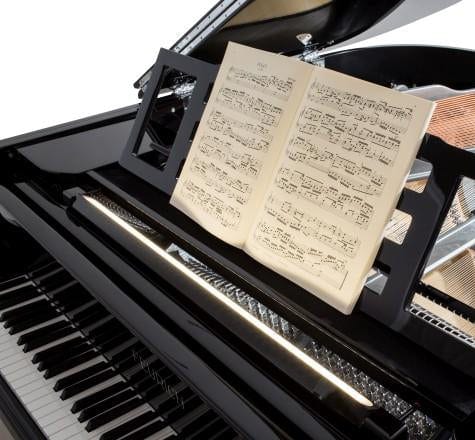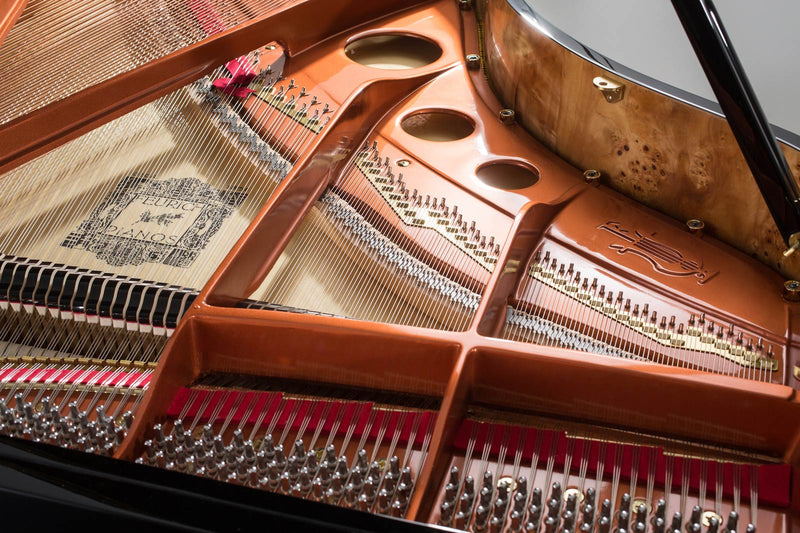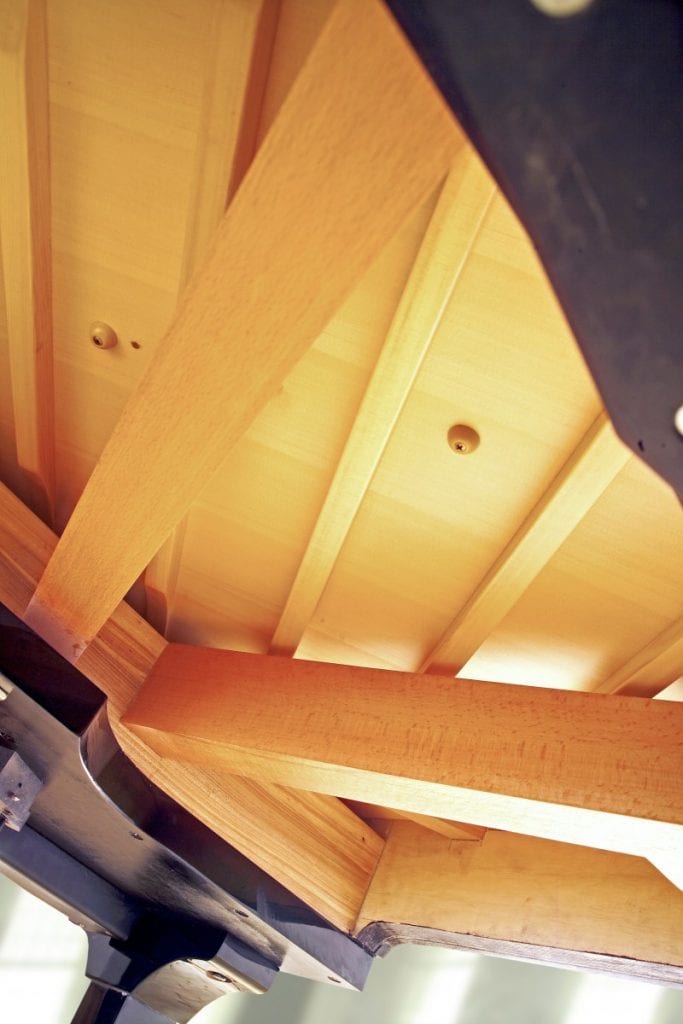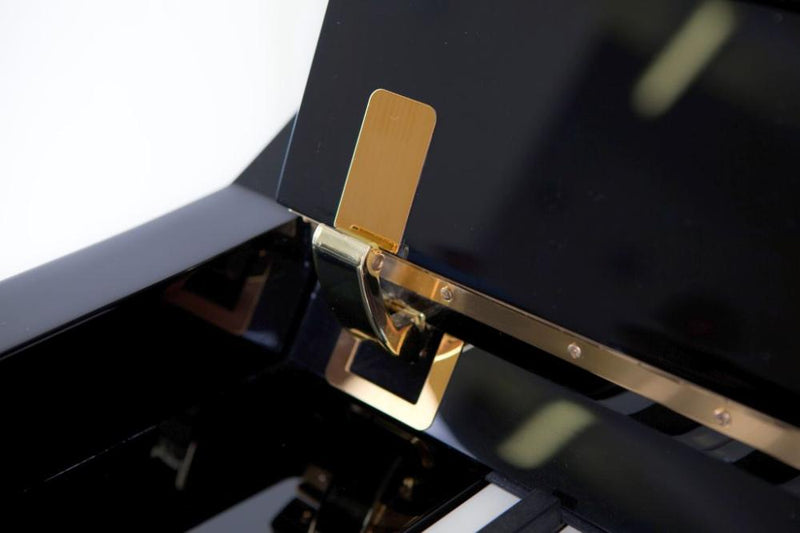 Feurich 162 Dynamic I Grand Piano; Polished White
162#11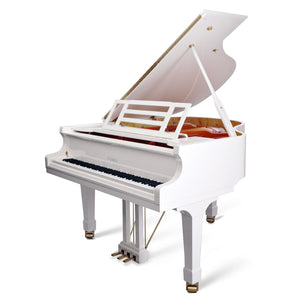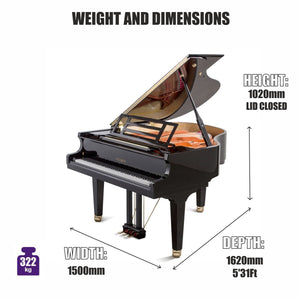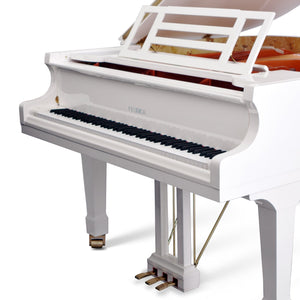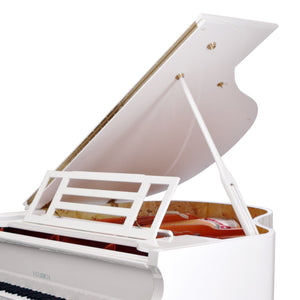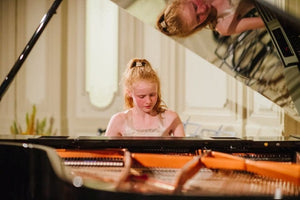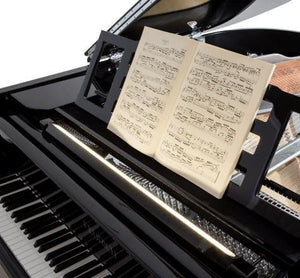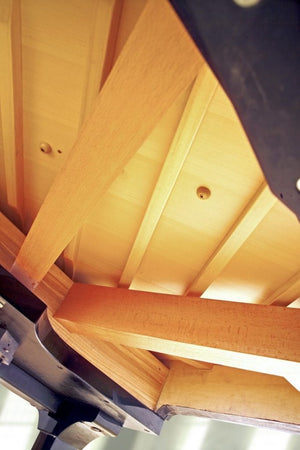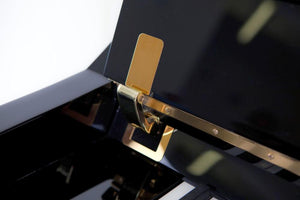 See & Try In Store
46B Albert Road North
Reigate
Surrey
RH2 9EL

*Piano Cabinet Finishes Of Showroom Models May Vary
Request Price Match
We are only too happy to try and match a legitimate UK based musical instrument retailer's quote. We have been in business for over 30 years and will always do our best to be as competitive as possible.
If you have seen a product that you wish to purchase cheaper on another UK based retailer's website or shop, please call us on 01323 639335 or complete the form below. We will try and match (or beat) their quote – and still give you our award-winning service.
Alternatively, complete the form below and we'll get right back to you with our best price. Price matches are dependent upon stock availability.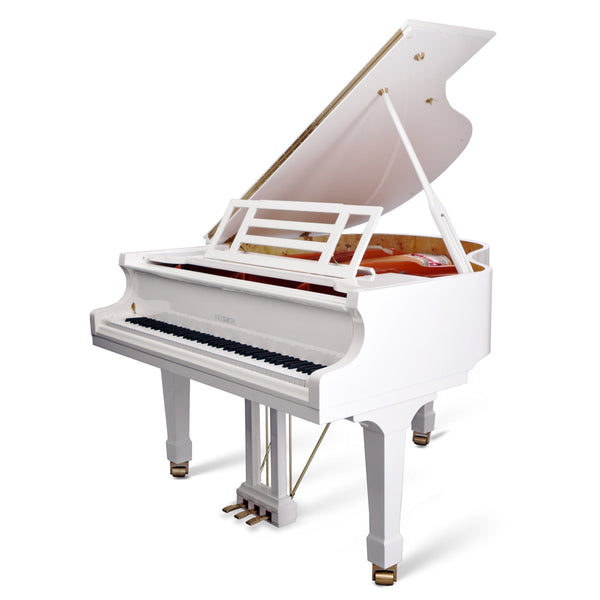 Feurich 162 Dynamic I Grand Piano; Polished White
£13,100.00