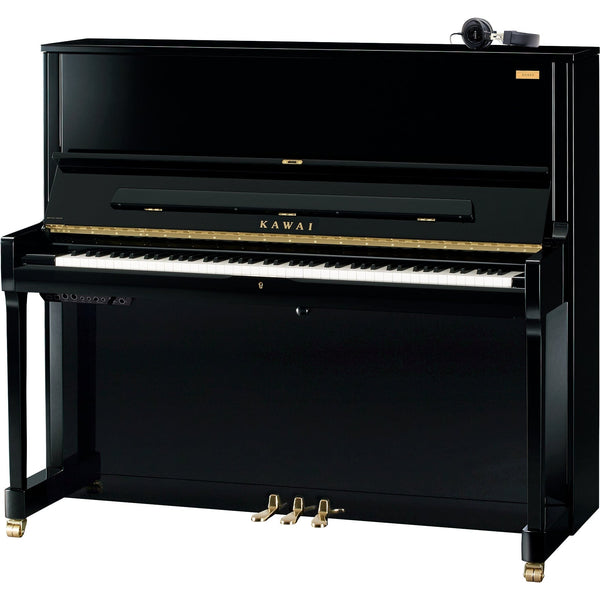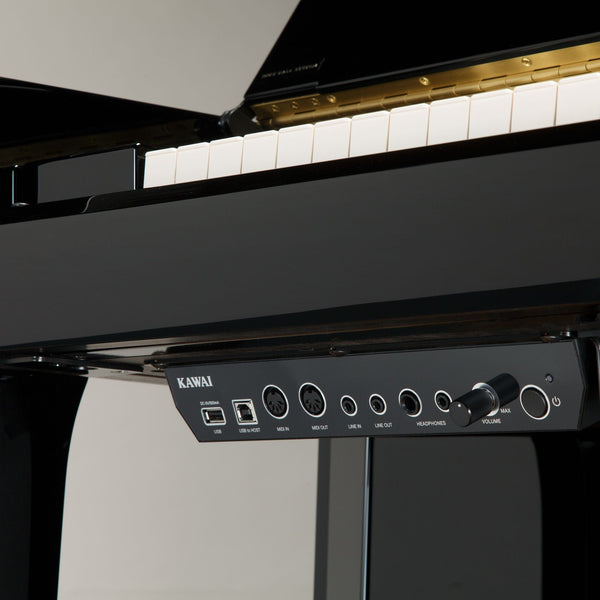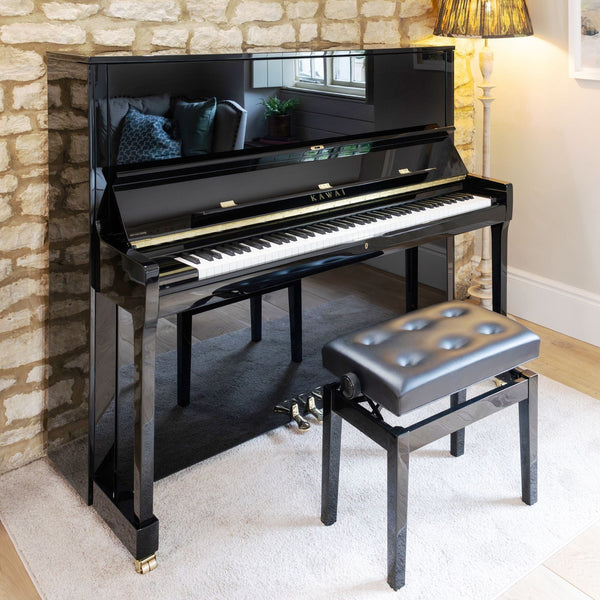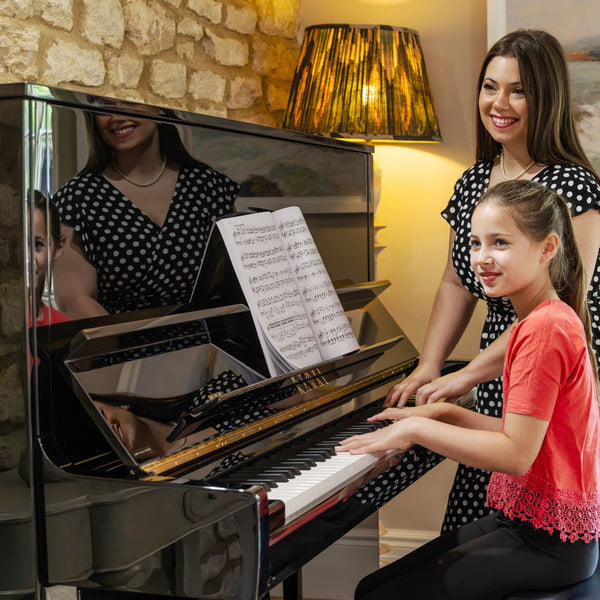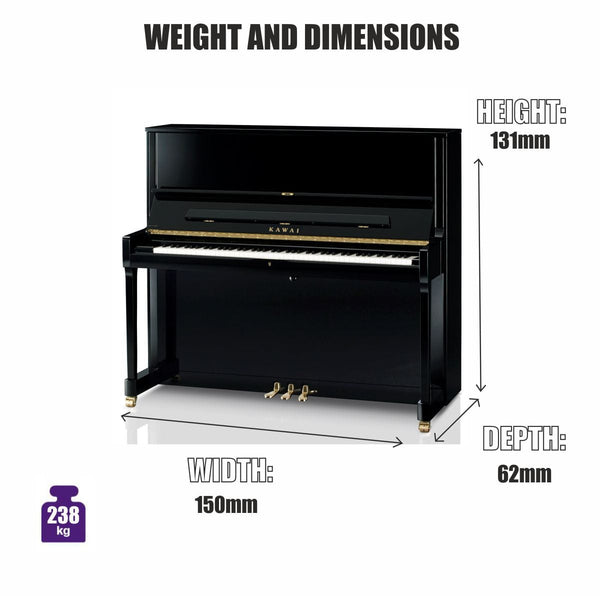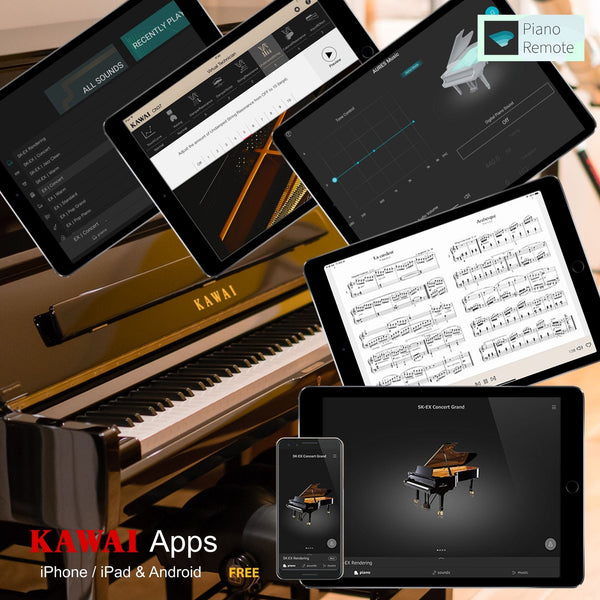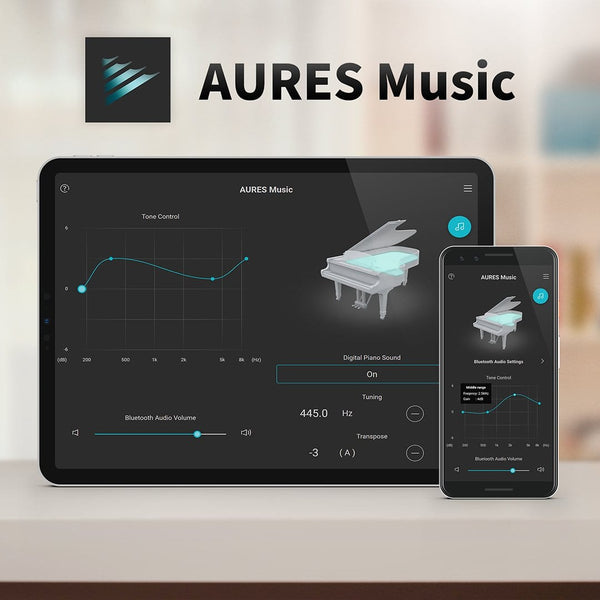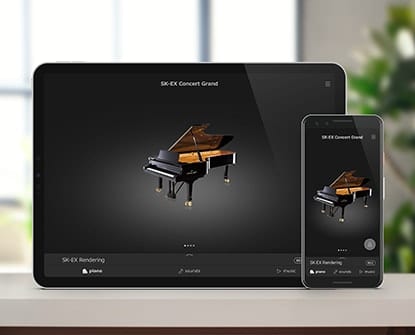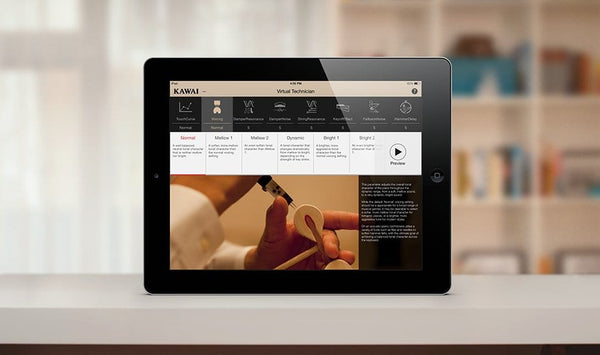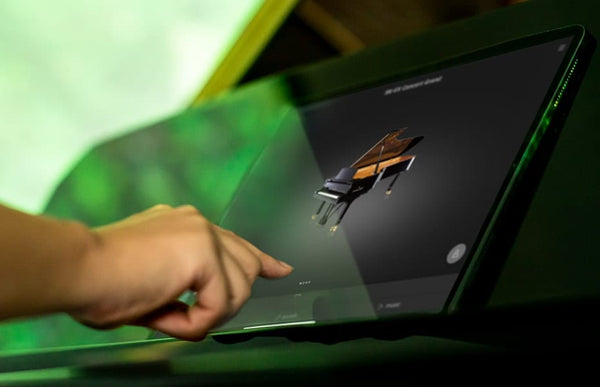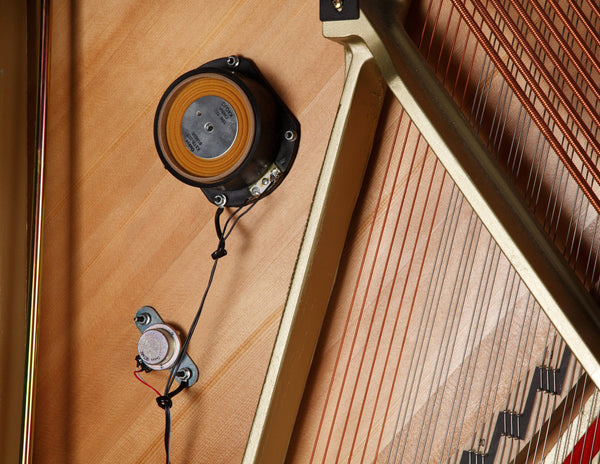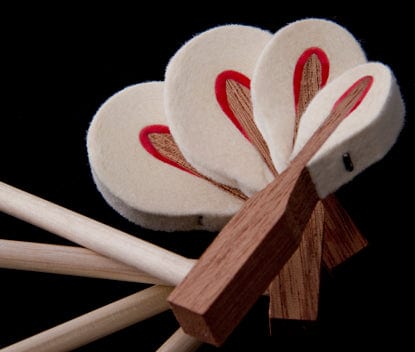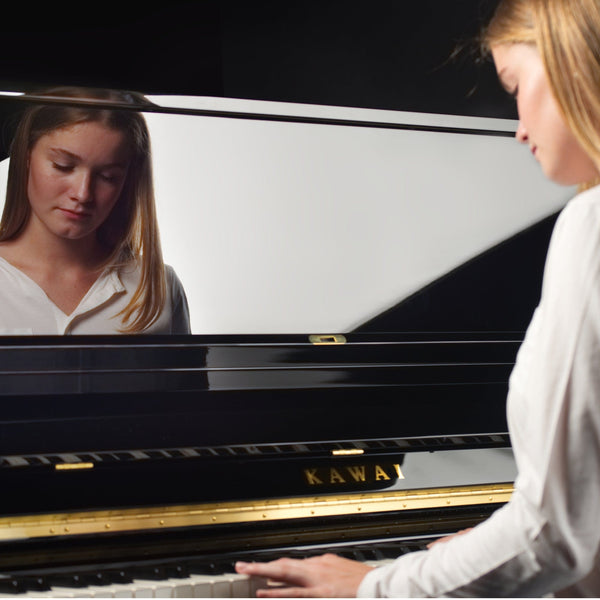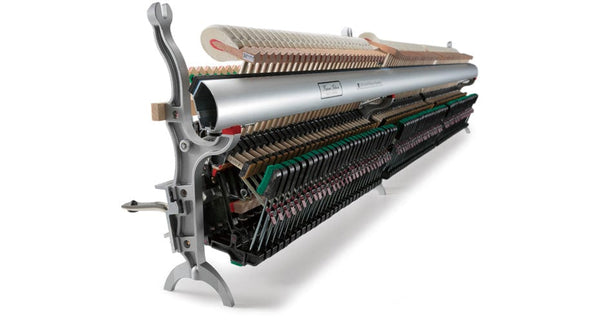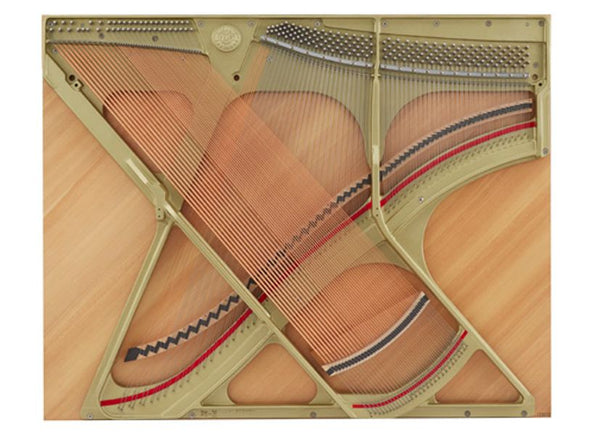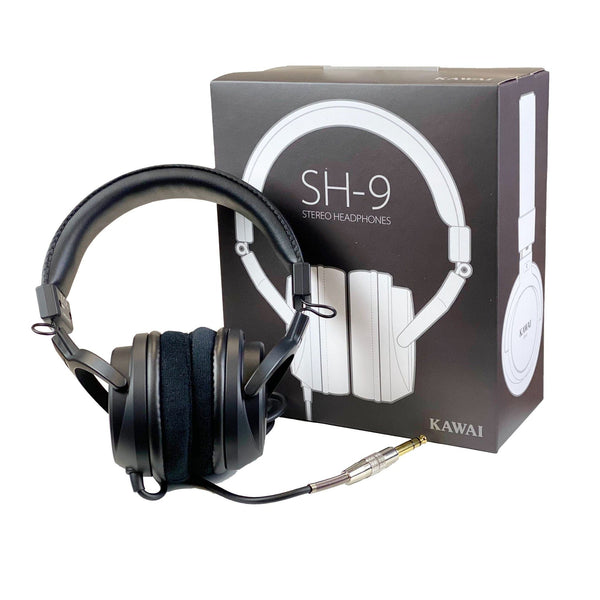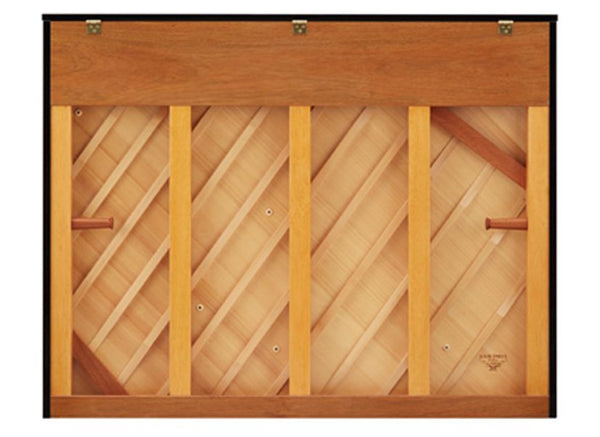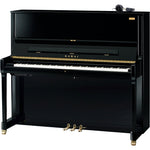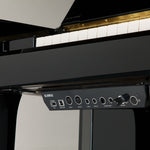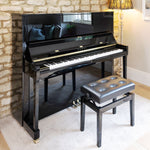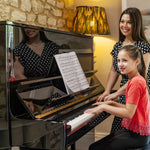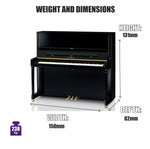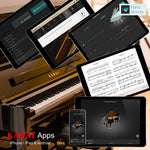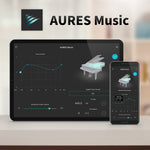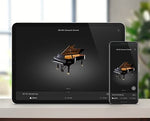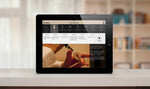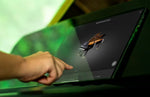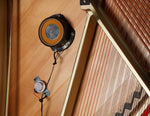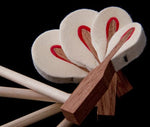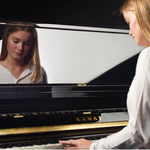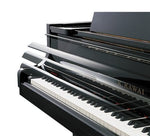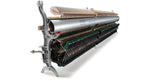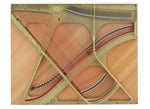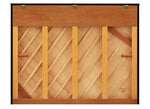 Kawai K500 AURES 2 Hybrid Upright Piano; Polished Ebony
MONTHLY FINANCE OPTIONS AVAILABLE
Product Code: KAW2118
RRP £13,555.00
SAVE £3,086.00
Description
Delivery & Lead Times
Spread The Cost With Finance
Description
Kawai K500 Aures Main Features
Height:
1300mm
Width:
1500mm
Depth:
620mm
Weight:
238 Kg
Soft Close Lid:
Yes
Number Of Keys:
88
Number of Back Posts:
5
Soundboard:
Spruce
Pedals:
3 - Damper / Soft / Practice
Other Notable Features:
Kawai's exclusive Millenium III Upright piano action
Made with ABS-Carbon Composites
All parts are assembled by skilled craftsmen
Double caster wheels
Long Key-stock length
Mahogany Hammer mouldings
Key: NEOTEX surface, non-lead key weight adjust Energy-reflecting contour bars
Tapered soundboard made of solid spruce
Wide 94cm long music desk
Cast brass pedals
Max String Length 1230 mm
Made In:
Japan
Aures Silent System
Play in complete silence with headphones or control volume of the audible digital sound
90 Sounds Including: Shigeru Kawai EX Concert Grand, SK-5
Virtual Technician allowes you to edit every part of the piano to your personal requirements
Dual, Split, 4Hands Modes
100 Favorite Memories
Record & Playback MP3, WAV & Midi Format
100 Drum Beats
Metronome
Transpose
Tuning
MIDI In & OUT
USB Type A
USB Type B
2x Headphone Connection
AUX In Mini Jack
Aux Out L+R
Bluethooth Yes Audio & MIDI
SH9 Headphones Included
Warranty:
Kawai 10 Year Acoustic Piano Parts Extended Warranty
Delivery:
Free delivery (Ground floor, England only). Call for other areas / upstairs
Tuning:
Free first in-home tuning & service check after delivery
Cabinet Finish:
Polished Ebony & Brass Fittings
Kawai K500 AURES 2 Hybrid Piano
The Kawai K500 AURES-2 upright piano truly completes the divide between the organic expressiveness of an acoustic piano and the convenient, advanced functionality of a digital instrument. Sharing the same digital technology as the popular Kawai ATX4 Anytime silent models, the K500 AURES-2 adds a built-in sound system so that the digital aspects of the instrument can be heard without the requirement of headphones.
Using specially designed transducers, the digital sound is amplified using the natural wood components of the piano's soundboard. This not only allows the piano to be played in 'digital mode', but also gives the opportunity for mixing the digital tones with the pure acoustic voice of the piano. Imagine being able to play the acoustic piano, but hear the beautiful sound of a string orchestra following your every note - you can do it with the K500 AURES-2 piano!
The K500 AURES-2 functions as a standard acoustic piano, and also allows you to plug headphones in for silent practice when required.
See & Try The Kawai K500 AURES-2 piano in our stores
We have three piano stores in the UK where you can see and try the Kawai K500 AURES-2 for yourself. Located in Milton Keynes, Reigate (Surrey) and Eastbourne (Sussex), Bonners Piano Centres offer the best opportunity to try a wide range of acoustic and digital pianos, and you can compare the K500 AURES-2 with instruments from other manufacturers to ensure you're making the best purchasing decision for your needs. Call us on 01323 639335 to discuss your piano requirements with our helpful team, and to check that the model you want to see is on display in your closest Bonners Piano store.
Premium Quality Materials and Japanese Craftmanship!
Kawai's K500 upright piano is produced in their Hammamatsu factory, where the expert technicians have access to the finest woods and felts, which have been carefully selected for the production of these instruments. The K500 instrument features the exclusive Kawai Millennium III Upright piano Action, made with ABS-Carbon Composites. ABS-Carbon is a very lightweight, but rigid material. This results in a very strong and fast action to give the player more control, power, and better stability than conventional wood actions.
Kawai upright pianos are renowned for having a more slightly mellower tone than other Japanese piano maker's instruments and are popular with European musicians. Kawai celebrated their 100th anniversary in 2017 and are known as one of the largest piano builders in the World.
Kawai AURES 2 - Combining Digital & Acoustic in one instrument
The new Kawai AURES 2 system offers the specification of a top-range digital instrument with the organic response and touch of an acoustic instrument.
The K500 AURES 2 piano can work in four ways to suit your playing style and environment:
Enjoy the playing experience of a 'normal' acoustic piano

Plugin headphones and play in 'silent mode' so you don't disturb the neighbours!

Play in the digital mode where you hear the sound of the digital piano amplified using the instrument's own solid spruce soundboard

Mix digital & acoustic together - hear the sound of both the electronic voices mixed with the natural sound of the acoustic piano - you can get really creative with this mode! Example: layer the sound of a string orchestra with the K500's natural acoustic piano tone
To switch into 'Anytime' silent mode, simply push the power button, lock the centre pedal into the practice position, put on some headphones, and play! You'll hear the sound of the legendary Shigeru Kawai SK concert grand piano in your ears, but those around you won't hear anything!
The physical components of the AURES-2 system are fitted in Kawai's factory as part of the piano manufacturing process. This is far superior to retro-fitted silencer systems because the cable management, keyboard sensors, hammer stop rail, and electronics are integrated into the design of the instrument and therefore offers the most reliable and accurate method of combining electronic & acoustic piano technologies without compromising the performance of the original instrument.
The control panel located under the left-hand side of the instrument is equipped with dual headphone jacks so that two people can enjoy the AURES-2 piano in 'silent' mode at the same time. There is also an Audio AUX-IN so you can connect an external audio device to the instrument, as well as a LINE OUT jack that allows you to connect the 'digital' sound of the piano to external amplification or other devices. MIDI IN & OUT terminals give the option to expand the sound and functions further by connection to other MIDI-equipped instruments, and there is also a USB connector for connection to computers or smart devices.
Bluetooth + Apps
The Kawai K500 AURES-2 piano offers full Bluetooth MIDI + Audio capability with aptX support, for streaming high-quality audio from your smart device to the piano (this will be heard either through the headphones or the transducers connected to the instrument's soundboard).
There are two apps specifically recommended by Kawai that will help you get the most from your AURES-2 piano - PianoRemote and PiaBookPlayer.
If you want to explore the other voices (there's a total of 90 tones) or record your performance, load up the Kawai PianoRemote App for iOS or Android devices and you'll open up the true power of the AURES-2 system. It's like having a top-of-the-range digital piano hidden inside your acoustic piano. PianoRemote gives you full control over all features of the K500 AURES-2 piano.
The AURES-2 system allows you to play & hear the sound of many World-class pianos through headphones (Kawai SH9 included), or the instrument's own transducer system, including concert grands, upright pianos, studio grands and even a honky-tonk piano. In addition to stunning acoustic piano voices, the AURES-2 features classic electric pianos, organs, harpsichords, strings, choirs, percussion instruments and even some synth pad voices. It's possible to layer any two of these voices together to create classic layered combinations such as piano+strings or organ+choir, or you could split the keyboard in two so that you have a different voice on the left register, to that on the right - for example, acoustic bass in the left hand and piano in the right, to create a jazzy feel.
Record your performance as either MIDI or AUDIO data using the app's recording feature, and share your performance with family and friends, or use it to listen back to your progress when learning difficult musical passages.
The PiabookPlayer App allows you to visually see and listen to the 377 pre-recorded pieces of music which are supplied with the AURES-2 series pianos.
Part Exchange Your Piano
If you want to upgrade your existing piano to a new Kawai K500 AURES 2, email details of what you have to partex@bonners.co.uk and we'll get right back to you with a trade-in valuation. Please ensure to attach some photographs of your instrument, and also let us know the serial number if possible as this enables us to determine the age of your instrument. We consider both acoustic and digital pianos in part exchange, and if your piano doesn't have a resale value, we can usually arrange collection and disposal at the same time as delivering your new Kawai AURES piano.
Free Piano Tuning
When we deliver your new Kawai K500, it will have already been tuned multiple times in the factory, and then again at Kawai's UK preparation centre. Once your new piano has arrived with us, we will arrange to deliver it at a convenient time for you. After your new instrument has had time to settle down following transportation, we will send one of our recommended piano tuners to give it a full tune and also attend to any queries you may have regarding your new Kawai K500. We recommend the first tuning takes place approx. 6-8 weeks after delivery, but we are also happy to wait until such time that you feel it is ready to be tuned (the first free tuning must take place within 12 months of delivery).
Kawai K500 Aures Main Features
Height:
1300mm
Width:
1500mm
Depth:
620mm
Weight:
238 Kg
Soft Close Lid:
Yes
Number Of Keys:
88
Number of Back Posts:
5
Soundboard:
Spruce
Pedals:
3 - Damper / Soft / Practice
Other Notable Features:
Kawai's exclusive Millenium III Upright piano action
Made with ABS-Carbon Composites
All parts are assembled by skilled craftsmen
Double caster wheels
Long Key-stock length
Mahogany Hammer mouldings
Key: NEOTEX surface, non-lead key weight adjust Energy-reflecting contour bars
Tapered soundboard made of solid spruce
Wide 94cm long music desk
Cast brass pedals
Max String Length 1230 mm
Made In:
Japan
Aures Silent System
Play in complete silence with headphones or control volume of the audible digital sound
90 Sounds Including: Shigeru Kawai EX Concert Grand, SK-5
Virtual Technician allowes you to edit every part of the piano to your personal requirements
Dual, Split, 4Hands Modes
100 Favorite Memories
Record & Playback MP3, WAV & Midi Format
100 Drum Beats
Metronome
Transpose
Tuning
MIDI In & OUT
USB Type A
USB Type B
2x Headphone Connection
AUX In Mini Jack
Aux Out L+R
Bluethooth Yes Audio & MIDI
SH9 Headphones Included
Warranty:
Kawai 10 Year Acoustic Piano Parts Extended Warranty
Delivery:
Free delivery (Ground floor, England only). Call for other areas / upstairs
Tuning:
Free first in-home tuning & service check after delivery
Cabinet Finish:
Polished Ebony & Brass Fittings
Delivery & Lead Times
Delivery ETA's 
For accurate delivery information, please contact our sales team on sales@bonnersmusic.co.uk or call 01323 639335. As a guide, despatch times are detailed below.
Additional charges will be made for delivery of heavy items to some areas. Charges may also apply to upgrades including (but not limited to) timed deliveries, piano assembly, delivery of large items, and when matching deals from other retailers. If you are unsure about our delivery charges, please contact us.
In Stock Products
Products that are shown as in stock will be sent using our standard delivery service within 2 working days from when payment is received. This excludes piano deliveries with full installation - see below.
Pre-Order Products
Products which are shown as pre-order are not in stock, but can be ordered and reserved for you from the next available shipment. Order today to reserve your place in the queue! Call or email us for the latest lead times on pre-order products.
Digital Piano Deliveries:
We have many flexible delivery options for most delivery pianos, based on your location and whether you require it flat-packed, or fully assembled in your home. Digital piano delivery options are shown at checkout. 
Piano Deliveries
If you purchase a piano which is supplied with full installation, we will contact you once your order is received to arrange a convenient delivery date & time. Delivery & installation is usually within 14 days, but often sooner. Call us for current lead times on pianos.
Digital Piano Deliveries For Self-Assembly
Click here to see our specific information relating to piano deliveries.
If you choose our courier delivery/flat pack delivery method, please be aware that with larger items such as digital pianos, the courier is not contracted to carry them up any steps or stairs. If there are stairs leading to the front door of the delivery address, or you live in an apartment which is not on pavement level, it is your responsibility to arrange transportation from the pavement level to the delivery address. In this instance, the delivery driver may, at their own discretion assist you in carrying the parcels to the delivery address, but they are not contracted nor obliged to do so.
Do you need delivery upstairs, or delivery at a specific time?
For some larger items which need to be delivered upstairs - including pianos, we offer a timed delivery service using our own van and drivers. This service is free on some items and chargeable on others. Call us on 01323 639335 to discuss your specific delivery requirements.
No-one at home?
Our courier will try and deliver your parcel(s) twice. After the second failed attempt, your goods will be returned to our warehouse. If you would like us to try and deliver them again, we will charge the delivery charges associated with your order again.
Delivery Surcharges For Larger Items
For some larger items, delivery surcharges may apply to the following areas: Scotland, Wales, Channel Islands, Isle Of Wight, Cornwall, Ireland, North Of England above Leeds. Call us on 01323 639335 to check before ordering.
Spread The Cost With Finance
If you're set on buying your new instrument, there's no need to get weighed down by the total cost of it straight away. If you break it down into monthly payments over time, it's much more manageable than you might think. And our fixed interest rates mean you'll know exactly what you're paying from the start.
How it works
The finance options available are displayed on our individual product pages - just click the button under the price to see the available options for each product. Finance is available for most new and used instruments over £400.

Pay a fixed deposit, and the rest is split into monthly payments. At the end of your contract when you've made your final payment, the instrument or equipment is all yours. You could own that dream guitar, piano or keyboard sooner than you thought!

Which Finance Options Are Available?
Most products on our website show the available finance options. Some are interest free, and some are interest bearing. The options shown on the site are an example of what is available - if you would like to pay over a different period, give us a call on 01323 639335 and we'll try and arrange a finance option that suits your budget.

How To Apply For Finance
To apply for finance, please add the product to your cart, proceed through checkout and select 'Apply For Finance' as your payment option where you can complete the application form online.

The Lender
Bonners Ltd acts as a credit broker and only offers credit products from Secure Trust Bank PLC trading as V12 Retail Finance. Bonners Ltd is authorised and regulated by the Financial Conduct Authority. Our registration number is 718966. Bonners Ltd is registered in England and Wales 1994113. Registered office 34 North St, Hailsham, East Sussex BN27 1DW.

Secure Trust Bank is registered in England and Wales 541132. Registered office: One Arleston Way, Solihull, B90 4LH. Authorised by the Prudential Regulation Authority and regulated by the Financial Conduct Authority and the Prudential Regulation Authority. Registration number: 204550.
Not all products offered by Secure Trust Bank T/A V12 Retail Finance are regulated by the FCA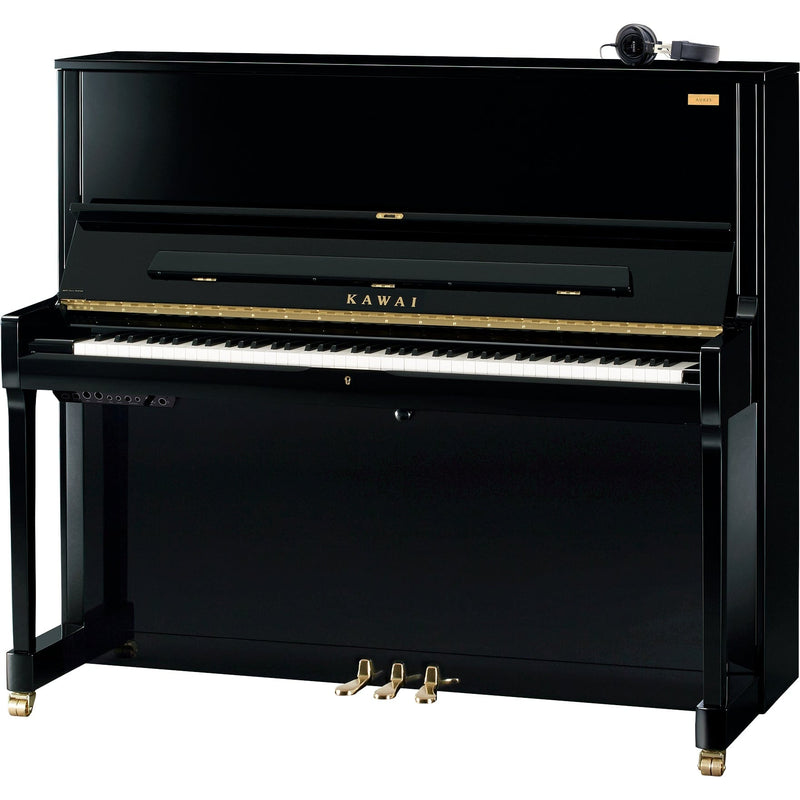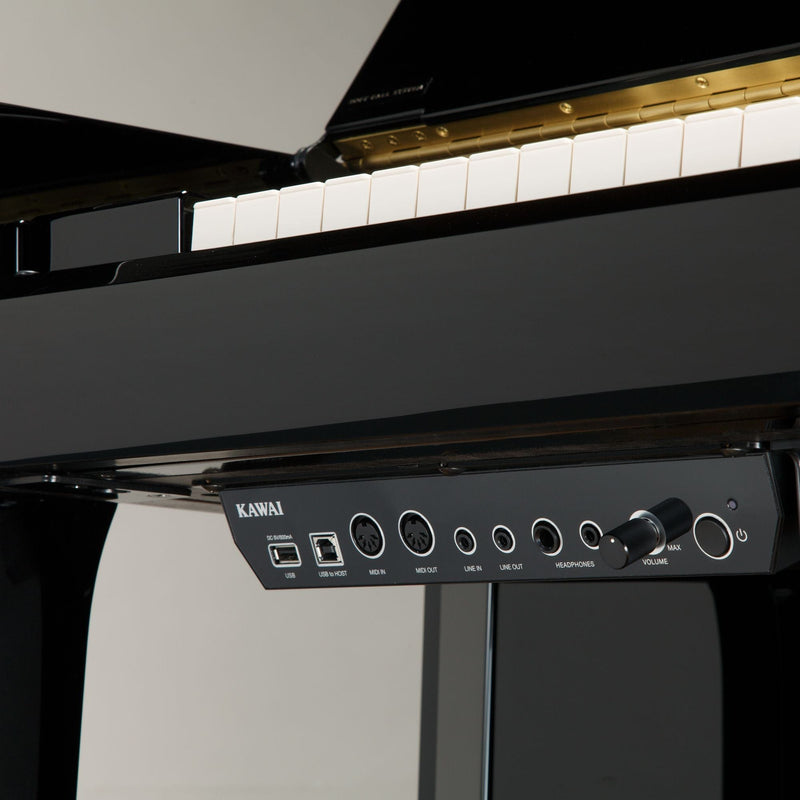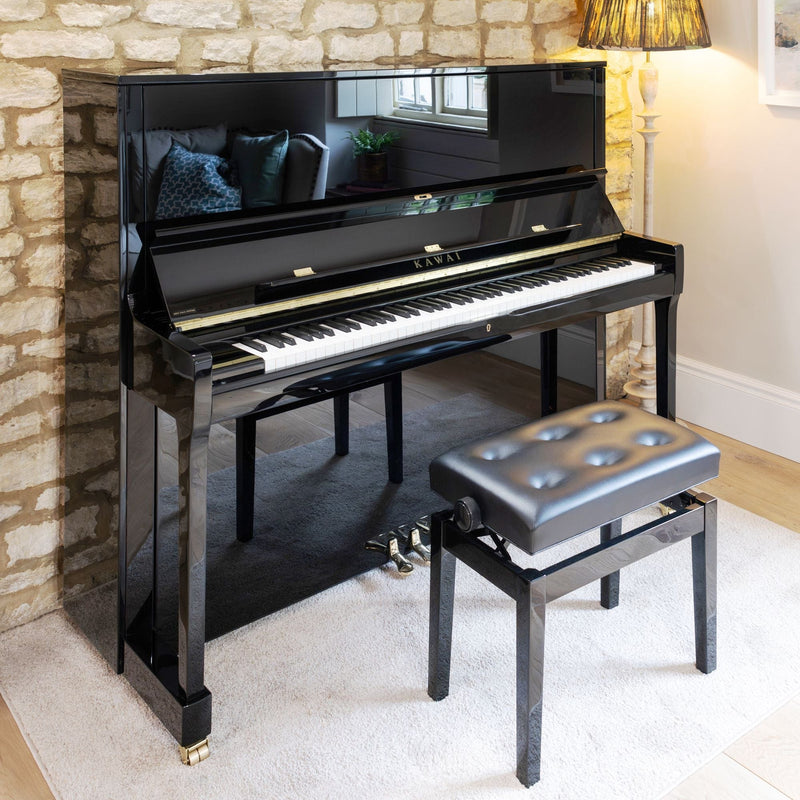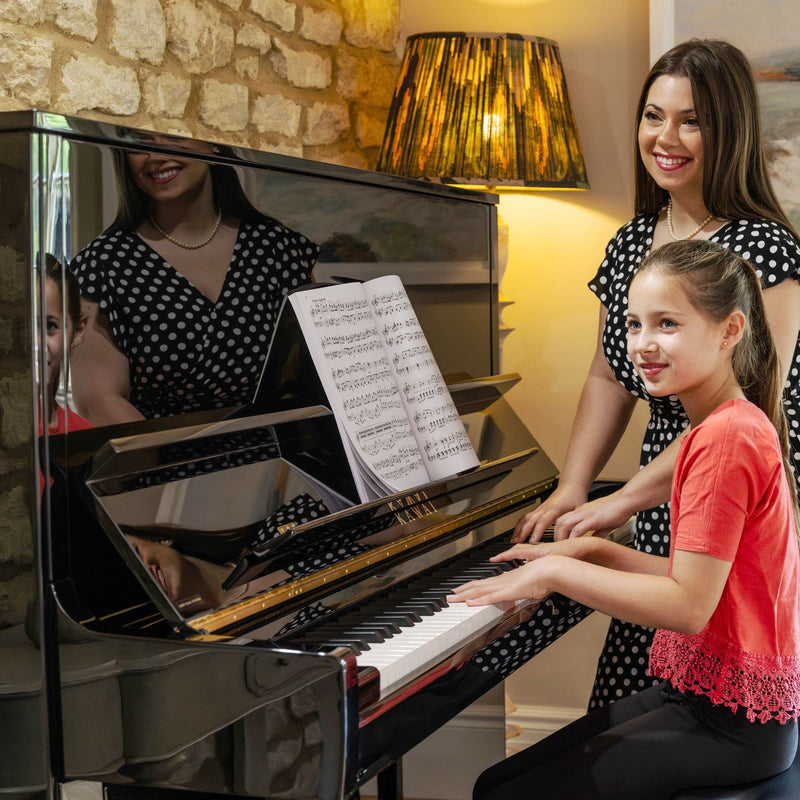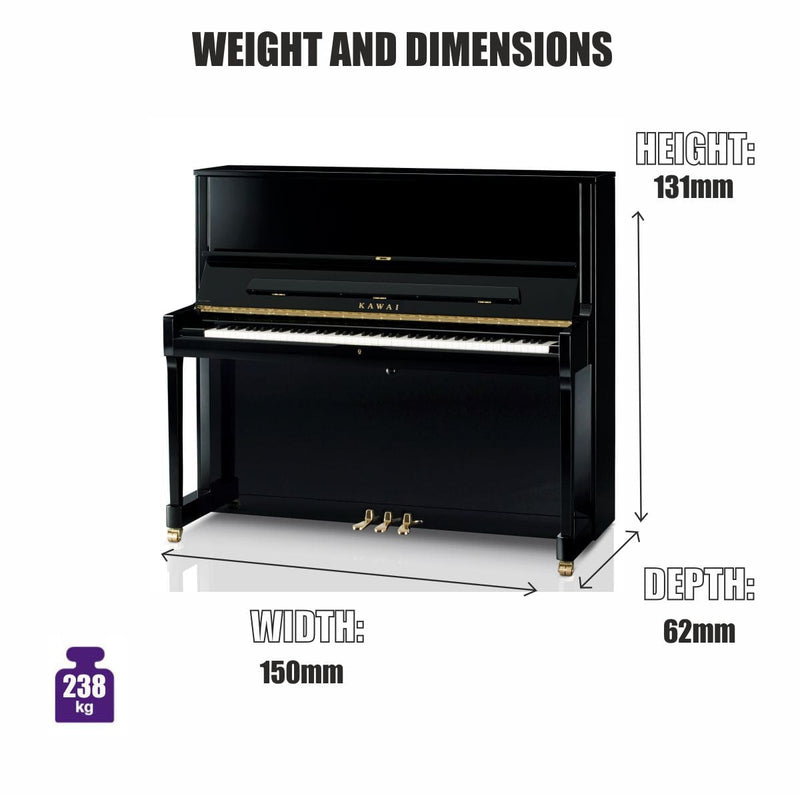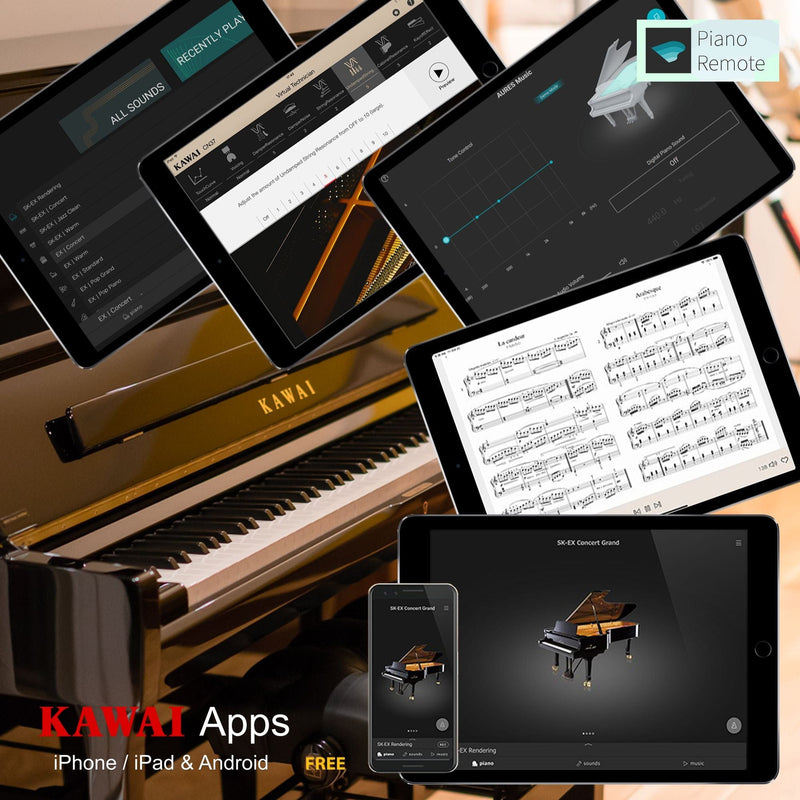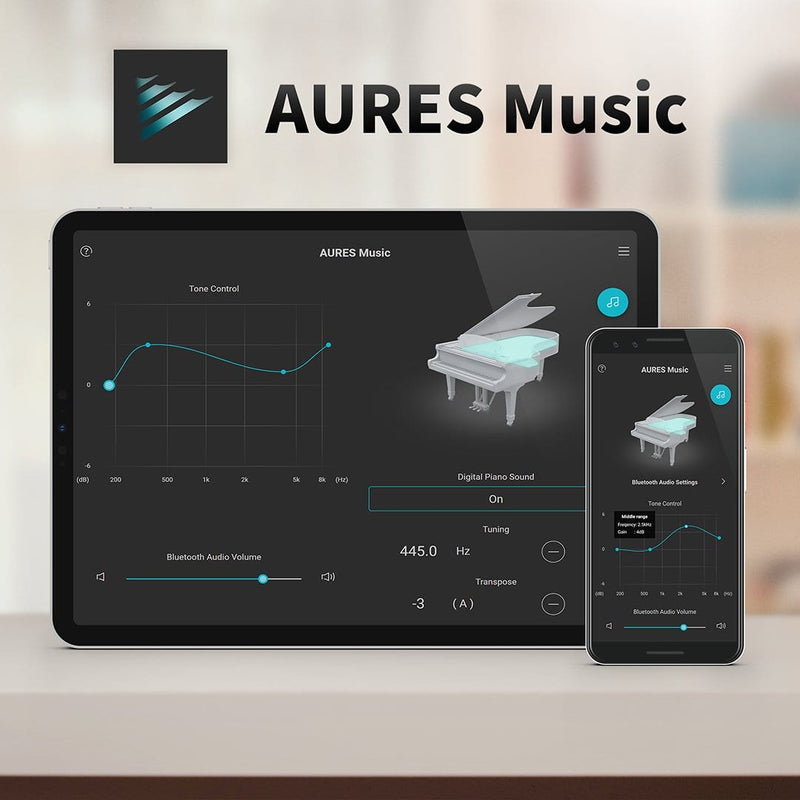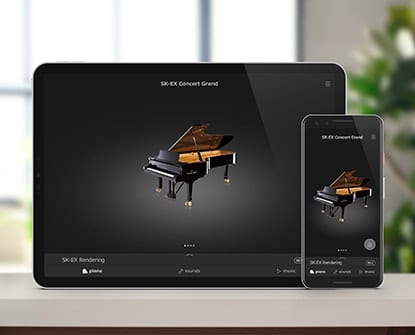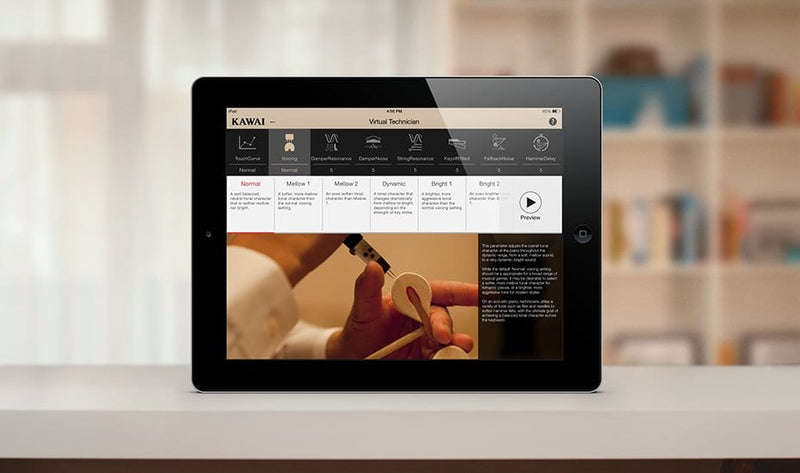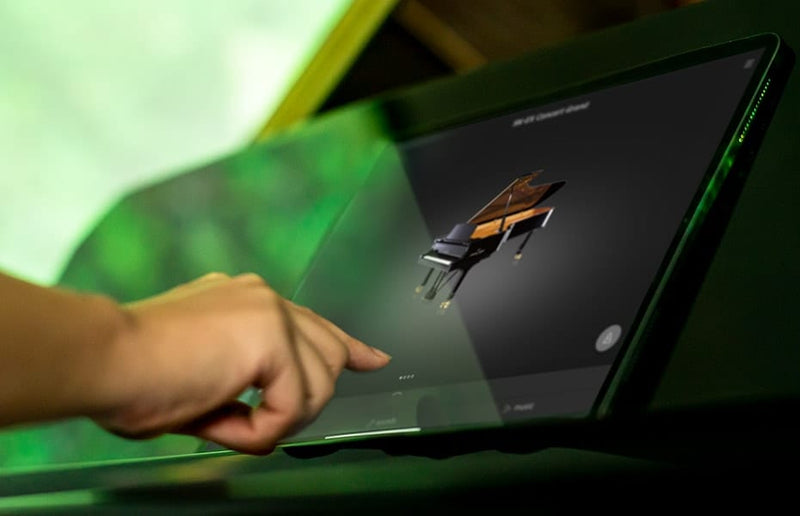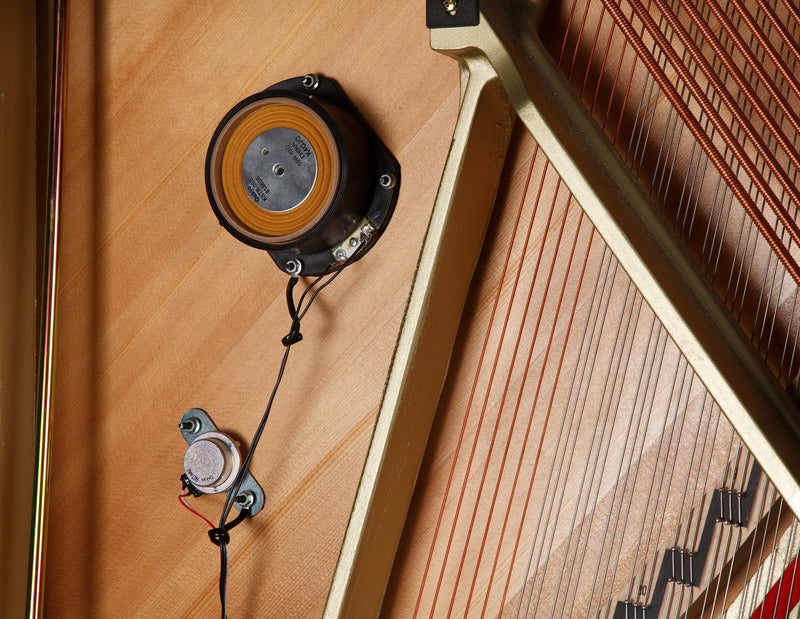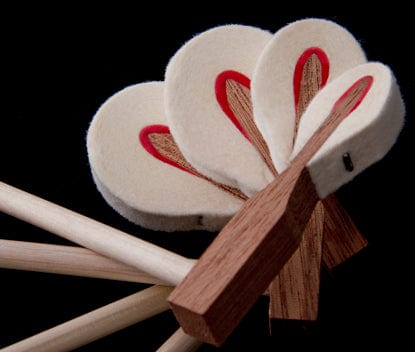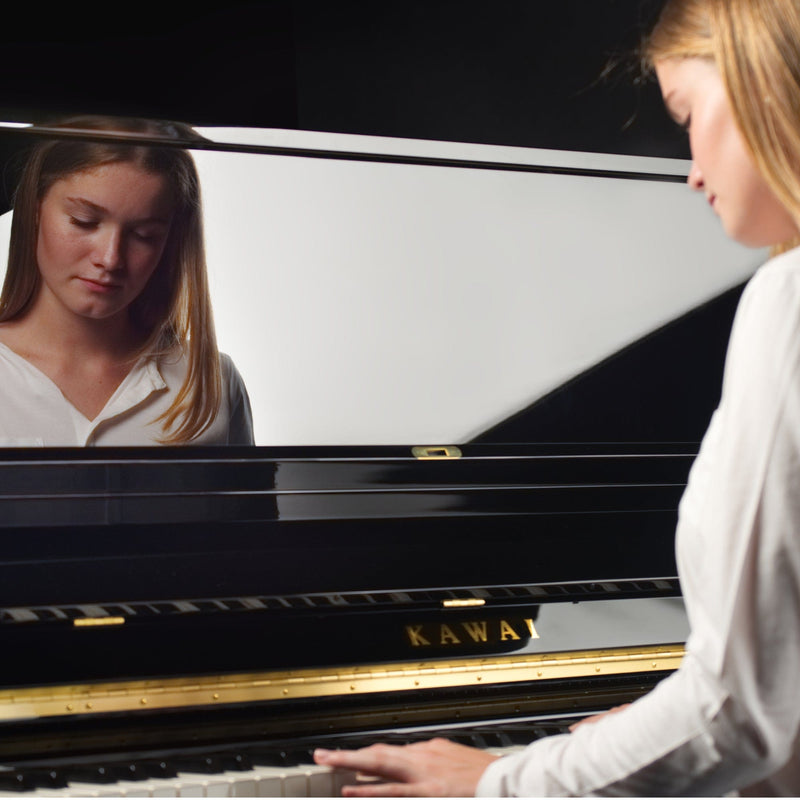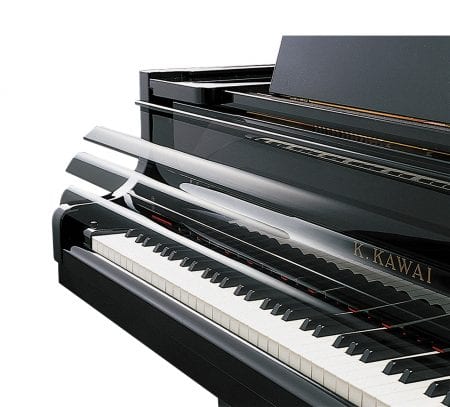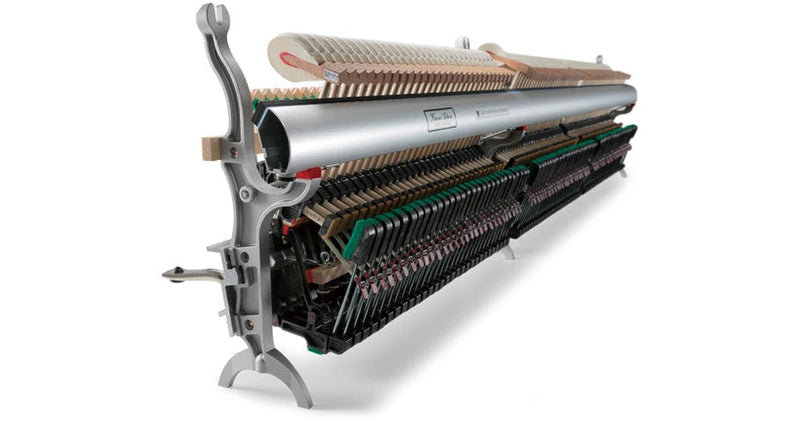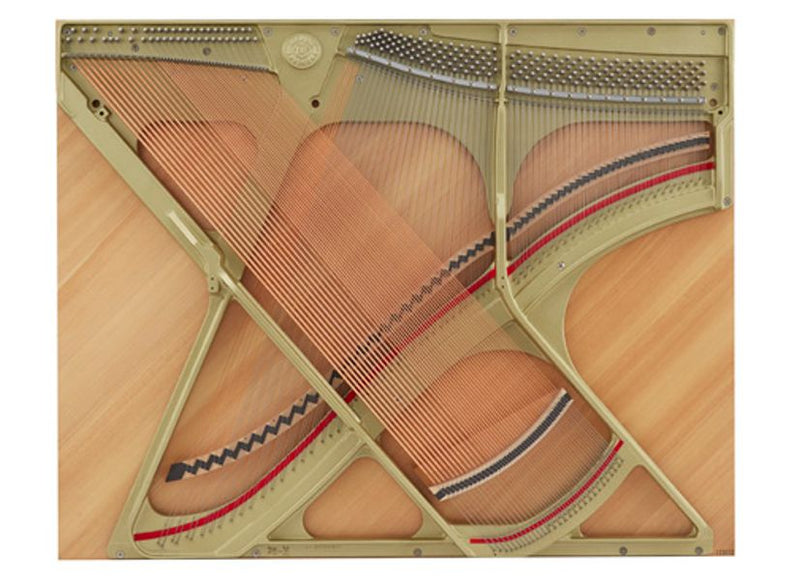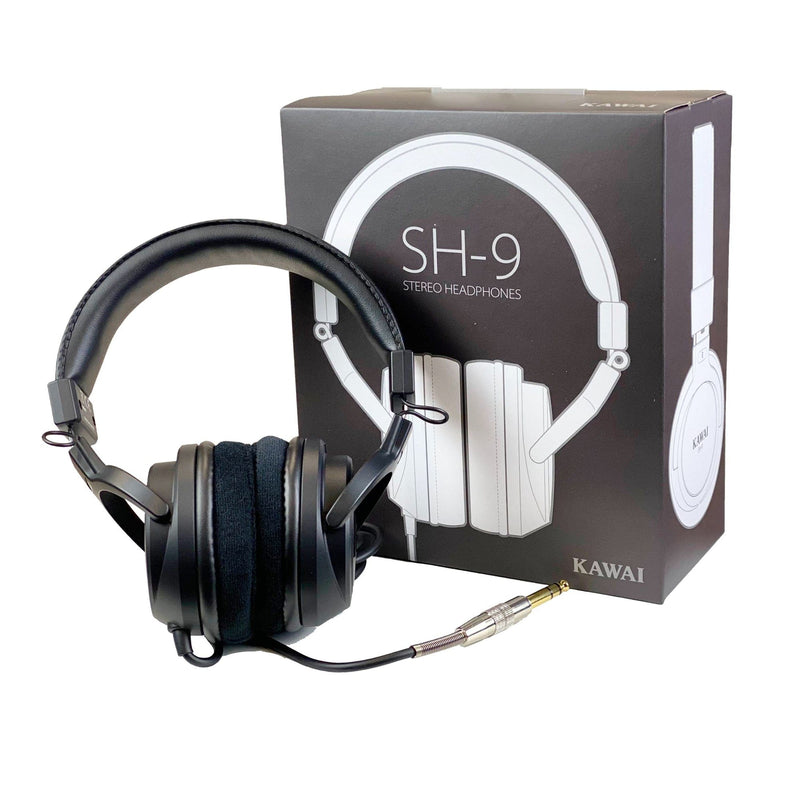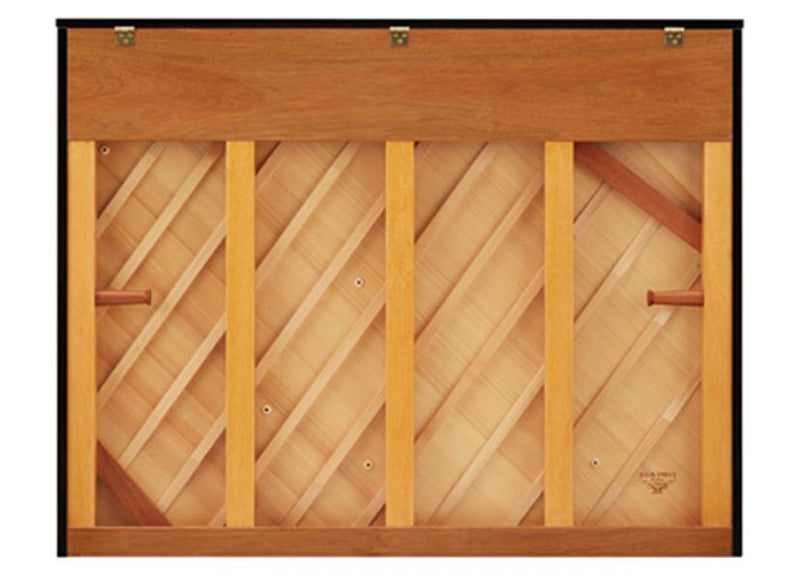 Kawai K500 AURES 2 Hybrid Upright Piano; Polished Ebony
KAW2118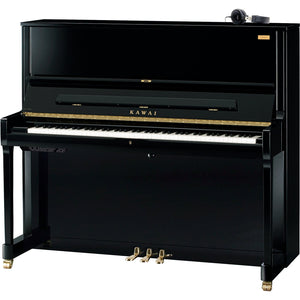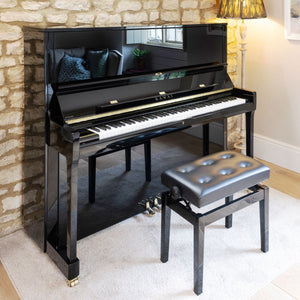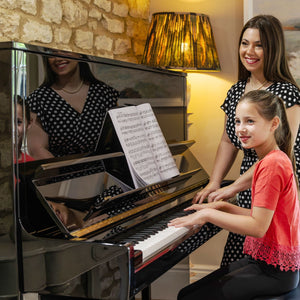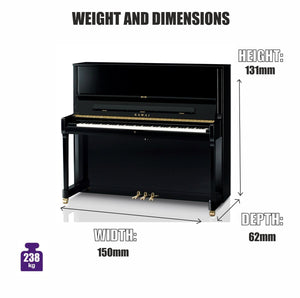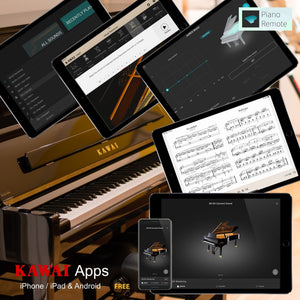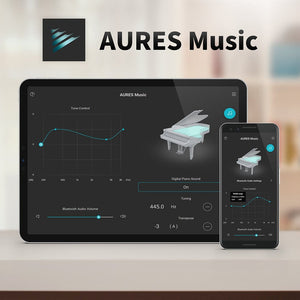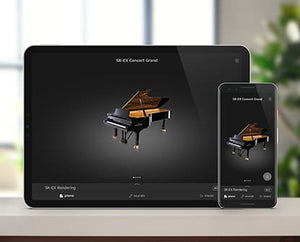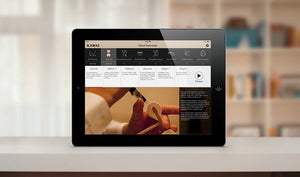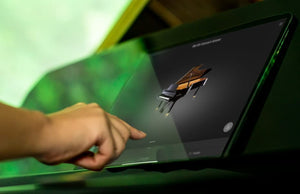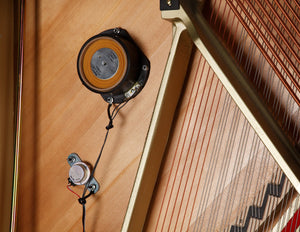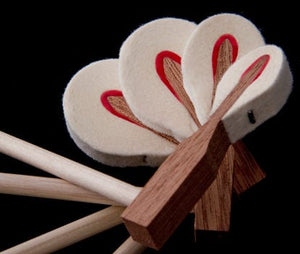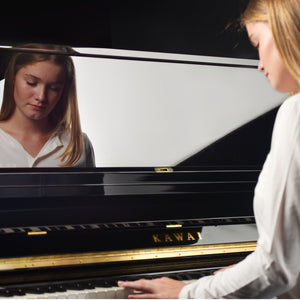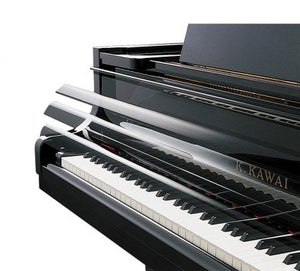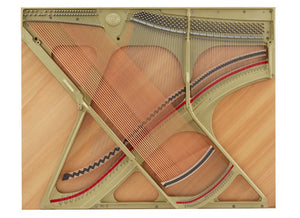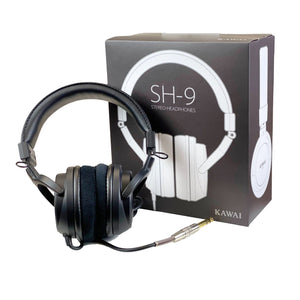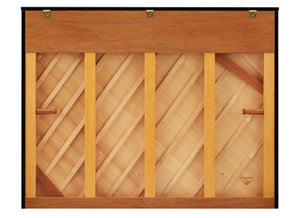 See & Try In Store
46B Albert Road North
Reigate
Surrey
RH2 9EL

1 Ward Road
Bletchley
Milton Keynes
MK1 1JA

*Piano Cabinet Finishes Of Showroom Models May Vary
Request Price Match
We are only too happy to try and match a legitimate UK based musical instrument retailer's quote. We have been in business for over 30 years and will always do our best to be as competitive as possible.
If you have seen a product that you wish to purchase cheaper on another UK based retailer's website or shop, please call us on 01323 639335 or complete the form below. We will try and match (or beat) their quote – and still give you our award-winning service.
Alternatively, complete the form below and we'll get right back to you with our best price. Price matches are dependent upon stock availability.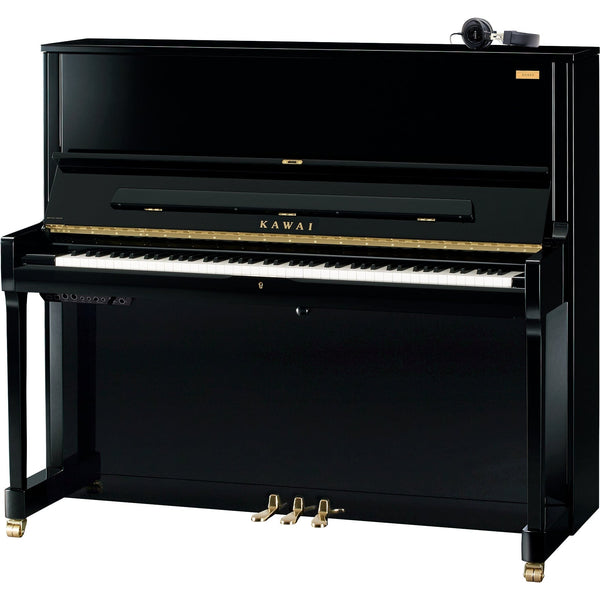 Kawai K500 AURES 2 Hybrid Upright Piano; Polished Ebony
£10,469.00