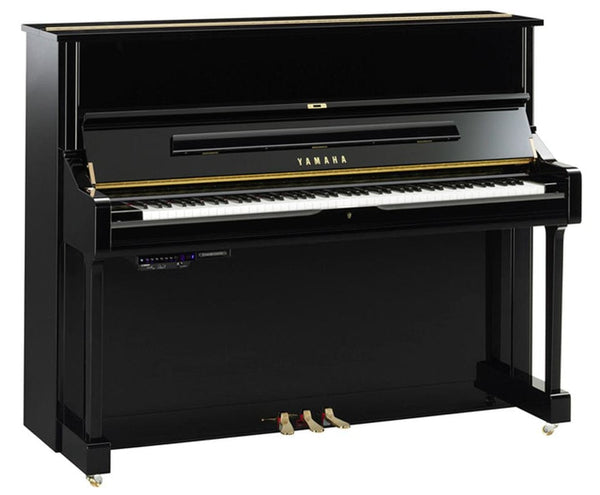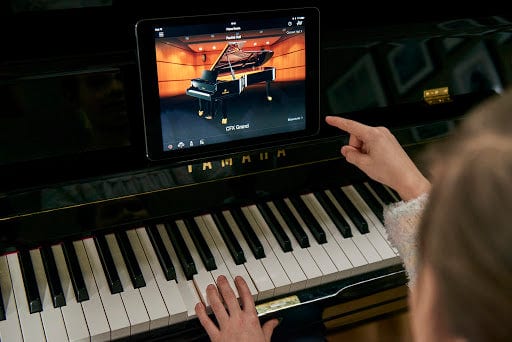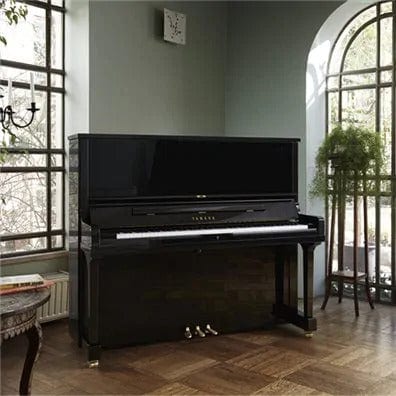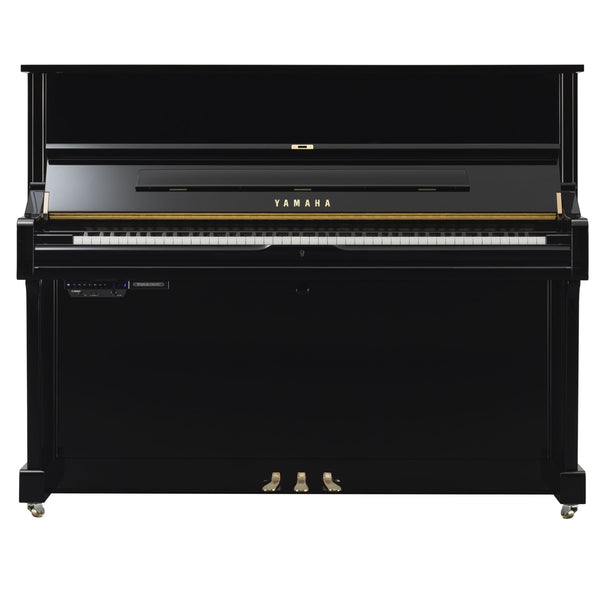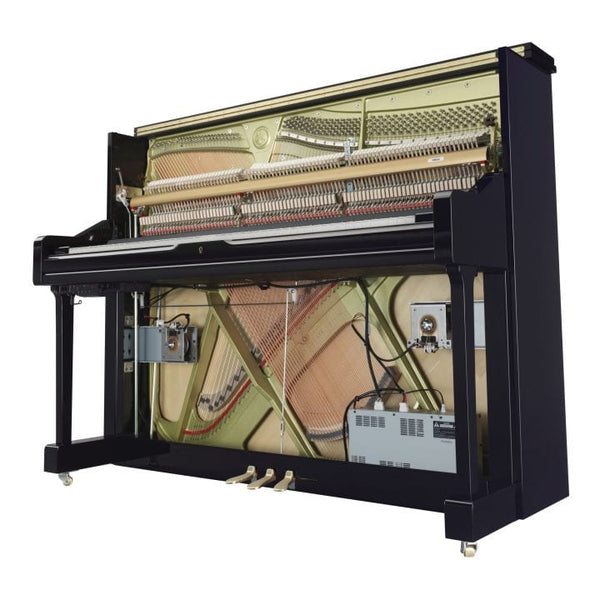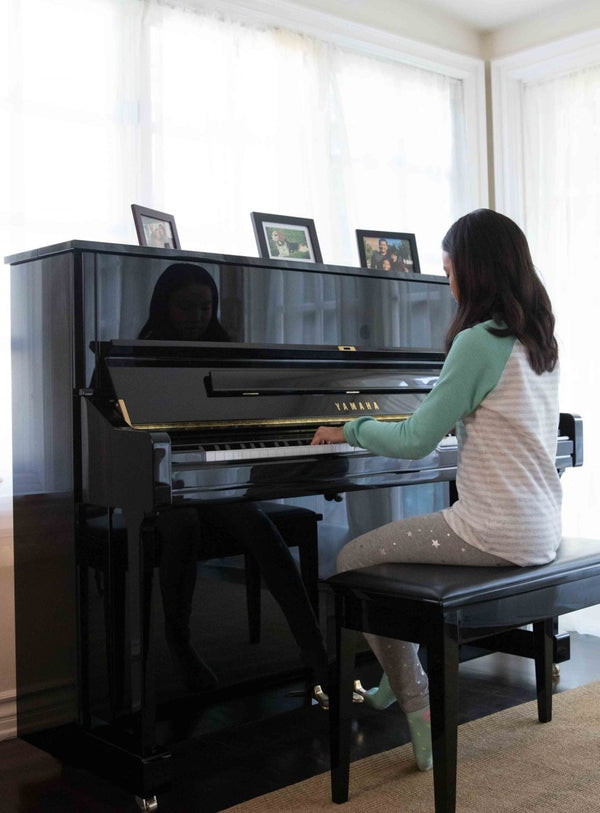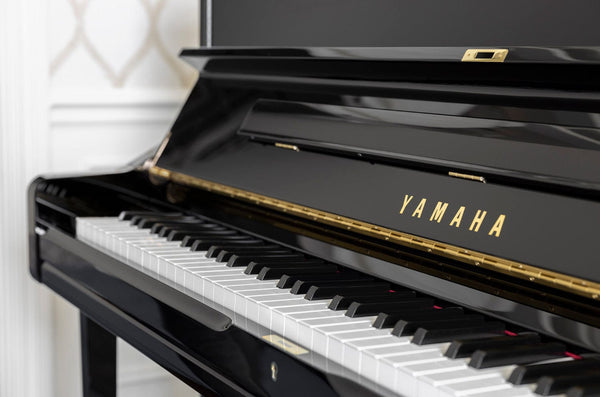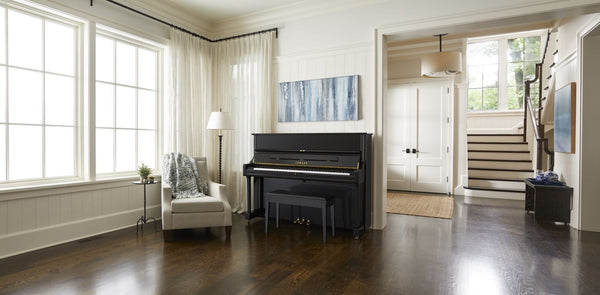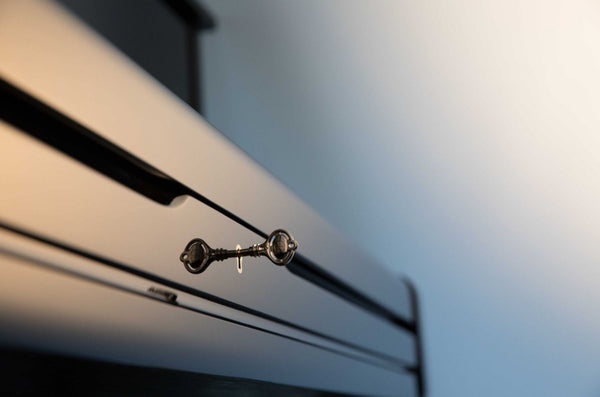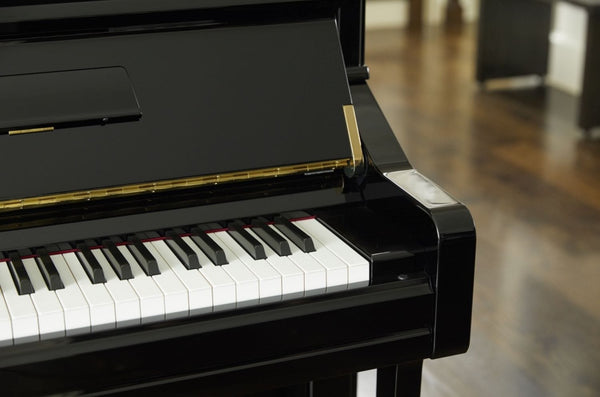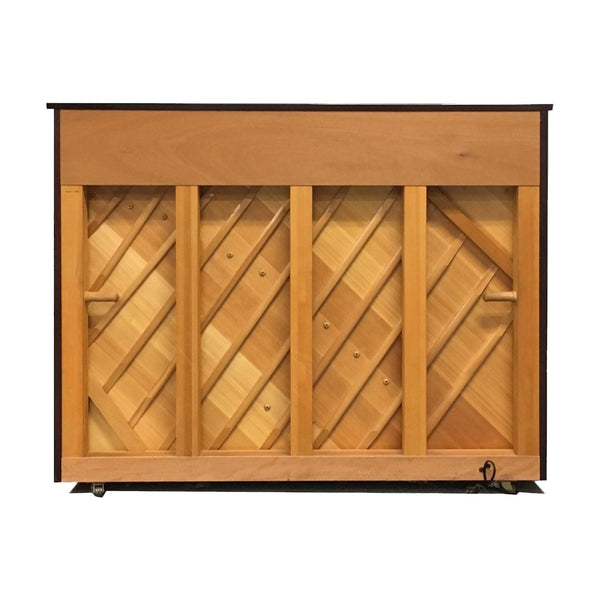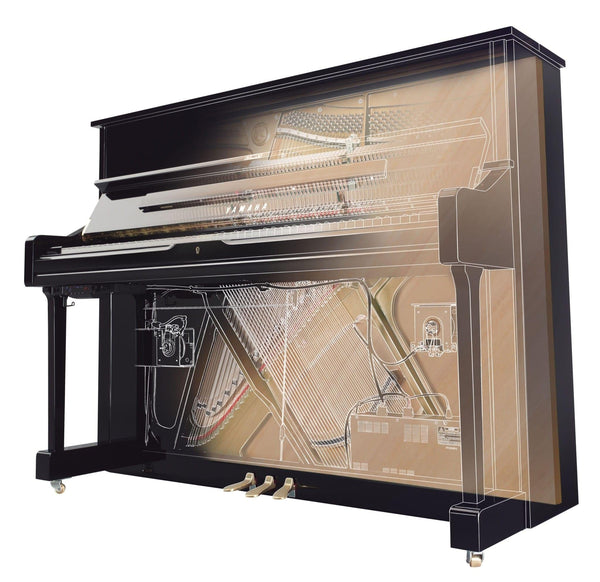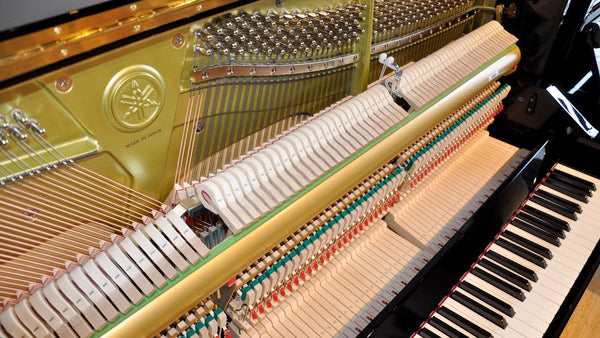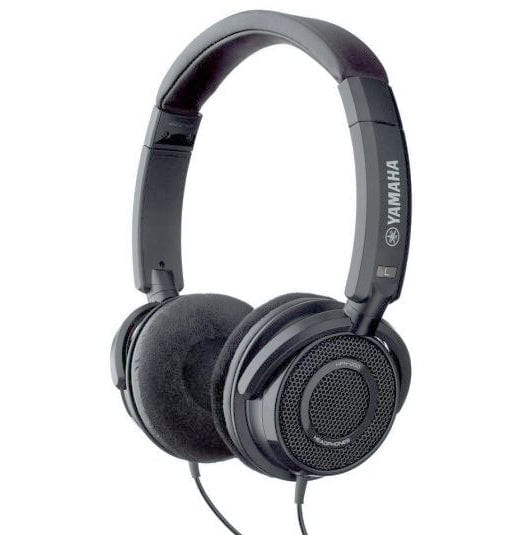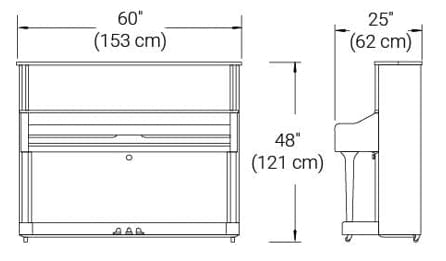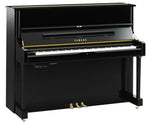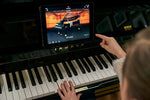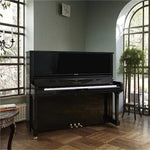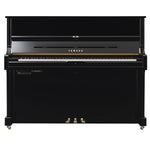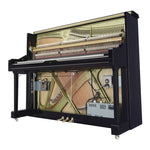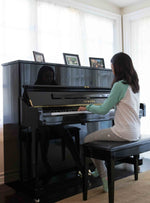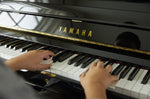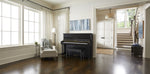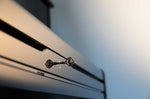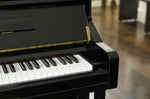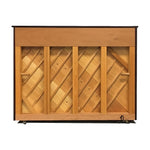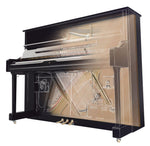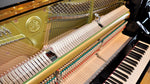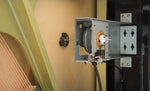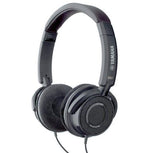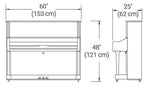 Yamaha U1 TA3 Transacoustic Upright Piano; Polished Ebony
BRAND NEW MODEL 2023
Product Code: U1TA3PE
Description
Delivery & Lead Times
Spread The Cost With Finance
Description
Yamaha TA3 Transacoustic Silent Piano Features
Height:
1210mm
Width:
1530mm
Depth:
620mm
Weight:
228 Kg
Soft Close Lid:
Yes
Number Of Keys:
88
Number of Back Posts:
5
Pedals:
3 - Damper / Soft / Practice
Other Notable Features:
The U series sets a the standard to which others mark themselves
Used by exam boards for its consistently stable playability
Solid and reliable for year after year
Single caster wheels
Made In:
Japan
Warranty:
Acoustic Parts: 10 Years Manufacturer Warranty (Warranty is subject to product registration with manufacturer)
Delivery:
Free delivery (Ground floor, England only)
Call for other areas / upstairs
Tuning:
Free first in-home tuning & service check after delivery
Cabinet Finish:
Polished Ebony & Brass Fittings
TA3 Transacoustic Silent System Features Below
Soundbord Drive System
TransAcoustic™ technology
Key Contact
Non-contact continuous detection electromagnetic inductive sensor
Damper Pedal
Continuous detection sensor
Sostenuto Pedal
On/Off detection sensor
Soft/Shift Pedal
On/Off detection sensor
Mechanism
Hammer shank stopper operated by center pedal
Tone Generation
Yamaha CFX, Bösendorfer Imperial
Forte Piano
Yes
Binaural Sampling
Yes (Yamaha CFX, Bösendorfer Imperial)
VRM
Yes
Grand Expression Modeling
Yes
Key-off Samples
Yes
Smooth Release
Yes
Polyphony (max.)
256
Number of Voices
25
Voices for Song Playback
480 XG Voices + 12 Drum/SFX Kits
Effects
Reverb
Brilliance
Stereophonic Optimizer
Number of Preset Songs
25 Voice Demo Songs, 50 Classics
Recording
Number of Songs: 10
Number of Tracks: 2 SMF
Data Capacity(max.) approx. 500 KB/Song
Playback & Recording Format: WAV. SMF
Rhythm Patterns
20
Metronome
Yes
Tempo Range
5 – 500
Transpose
-12 – 0 – +12
Tuning
414.8 – 440.0 – 466.8 Hz (approx. 0.2 Hz increments)
Bluetooth
Yes (Audio/MIDI)
Internal Memory
approx. 1.3 MB
External Drives
USB flash drive
Connectivity
Headphones: Stereo mini jack (x2)
MIDI: IN/OUT
AUX IN: Stereo mini jack
AUX OUT: [L/L+R][R] (Standard phone jack)
USB TO DEVICE
USB TO HOST
AC Adaptor: PA-500
Auto Power Off
Yes
Included Accessories
AC adaptor*, power cord*, headphones, headphone hanger
"50 Classical Music Masterpieces" music book, Owner's Manual
Separately Sold Accessories
USB wireless LAN adaptor (UD-WL01)
Yamaha U1 TA3 Transacoustic Upright Piano; Polished Ebony

"Yamaha's U-Series pianos have become an industry standard, and with good reason! The Yamaha U1 TA3 is a robust, professional standard instrument with Yamaha's latest Transacoustic technology"
Yamaha's Transacoustic system stops the hammers from hitting the strings, and instead triggers digital sound through headphones, or through the piano's own soundboard. This system uses Non-Contact 2-point Optical Sensors, and as the piano's keys do not directly touch the sensors, there is no discernable difference in touch between a transacoustic piano and standard Yamaha acoustic instrument.
Transacoustic is a groundbreaking technology that uses the piano's own soundboard to blend acoustic resonance with digital samples, and even allows you to layer the piano's acoustic tone with the in-built digital samples. TA3 is the very latest version of Yamaha's Transacoustic technology, and offers a selection of 25 voices as well as bluetooth connectivity and compatibility with Yamaha's Smart Pianist App.

Reasons to choose the Yamaha U1 TA3 Transacoustic Piano
Yamaha's U-series pianos are robust, professional standard instruments and the latest generation of the U1 benefits from several new enhancements including a redesigned frame for increased durability, refined scale design & redesigned hammers for better tonal response The U1 is known for its superb durability and with recent advances in Yamaha's manufacturing processes, the current model boasts exceptional stability while offering a particularly precisce touch & a crisp tone.
At 121cm tall, Yamaha's U1 offers a professional standard instrument with a rich and powerful tone to suit discerning pianists which is suitable for most domestic, educational and professional settings. The U1 is produced by Yamaha in their Kakegawa factory in Japan. which has become renowned across the industry for its high levels of craftsmanship and superb attention to detail. Once in the UK, all Yamaha U1s are further prepared at their facility in Milton Keynes to ensure each instrument is beautifully set up.
See & Try The Yamaha U1 Before You Buy
We keep the Yamaha U1 on display in our Reigate and Milton Keynes Piano Centres, along with equivalent instruments from manufacturers such as Kawai and Feurich. This piano should be considered alongside the Kawai K400 and the Feurich Design 125. There's free parking available at both of our Piano Centres & you are given ample time and space to try all the instruments on display to ensure you're making the right choice. If you need help or guidance, our friendly and knowledgeable piano staff are on-hand.
Free Piano Tuning
When we sell you a new Yamaha U1, it will have already been tuned multiple times in the factory, and then again at Yamaha's UK preparation centre. Once your new piano has arrived with us, we will deliver it at a convenient time for you. After your new instrument has had time to settle down following transportation, we will send one of our recommended piano tuners to give it a full tune and also attend to any queries you may have regarding your new Yamaha U1. We recommend the first tuning takes place approx. 6-8 weeks after delivery.
Finance For Your New Yamaha U1 Piano
A new piano is a lifelong investment and a wonderful thing to hand down through the generations for a family. We would always suggest that you purchase the very best instrument possible right from the start, as this means you won't have to worry about upgrading in the future and the piano will fulfil the needs of even the most advanced players. With this in mind, our Yamaha piano finance options are the very best you will find from any Yamaha piano shop. Applying for finance is easy, and we can give you a decision in just a few minutes. Give us a call on 01323 639335, or apply for finance today online - simply complete the finance application process at the website checkout stage.
TransAcoustic™ TECHNOLOGY
Making sounds resonate
Pressing a key on an acoustic piano causes its hammer to strike the corresponding strings, making those strings vibrate. The initial sound is small, but it's amplified by the soundboard with the entire body of the piano serving as a resonator. The result: the distinctively rich sound of an acoustic piano. TransAcoustic™ technology employs this same mechanism of resonance keyed by the soundboard through a digital tone generator.
Creating acoustic sound from digital audio sources
With TransAcoustic™ technology, there's no need for a speaker unit, even though the sounds are generated digitally. All that's required is a transducer. In TransAcoustic™ Mode, the hammers are stopped immediately before striking the strings, and sensors installed below the keys decipher how they are played. The transducer's job is to convert the digital signals that represent your input into vibrations, and then relay them to the soundboard. The soundboard amplifies the vibrations, and the entire piano vibrates sympathetically. Even though the sound is digital, it goes through the same mechanism of resonance, meaning that the sound that reaches your ears is as rich as that of an acoustic piano. You can also control the volume and still enjoy the feel of playing an acoustic piano.
A special transducer for acoustic pianos
Conventional transducers are too heavy to install on a piano soundboard; their weight compromises its essential functions. To address this problem, Yamaha developed a transducer exclusively for acoustic pianos. Yamaha's transducer faithfully reproduces the natural sound of acoustic pianos without inhibiting the functions of the soundboards.
Quick Escape System
Each TA3, SH3 and SC3 grand piano model is equipped with Yamaha's Quick Escape System to fully preserve the excellent playability and musical expressiveness demanded of grand pianos, even when playing in TransAcoustic™ or SILENT mode. When the hammers strike the strings, the system optimizes the distance between the hammers and strings to deliver the best feel, whether the piano is in acoustic mode, or one of the other modes.
Binaural Sampling
Binaural sampling creates the ambience and full, natural resonance of acoustic pianos*, making pianists feel as though they are sitting at a grand piano. Binaural sampling is a method of sampling in which special microphones are placed on a mannequin's head in the same positions as the pianist's ears to capture piano sounds the way that they are experienced in reality. Sounds based on binaural sampling deliver an experience so natural that pianists forget they are wearing headphones, no matter how long they continue to play. On these pianos, binaural sampling was used for the Bösendorfer Imperial as well as the Yamaha CFX.
Two Recording Functions
Built-in recording function for checking immediately after playing
Equipped with a built-in recording function for recording at the touch of a button.
USB flash drive recording to data for computer playback
A function for recording to a USB flash drive. This function creates audio files that can be saved or played back on computers or burned onto CDs. Recordings are saved in WAV format.
Articulation Sensor System
Both TransAcoustic™ and SILENT Pianos feature Yamaha's newly developed Articulation Sensor System, which accurately interprets how actual pianos respond to the movements of pianists' fingers, which are relayed from the keys through the action, causing the hammers to strike the strings. With Yamaha's proprietary algorithm, the system delivers high-precision simulations of the movements of the hammers at the moment they strike the strings, reproducing every piano sound exactly the way the player intended. These sensors are non-contact, so they do not impact the feel of the piano.
Grand pianos feature sensors on the hammers for more accurately detecting and deciphering a wider range of key motion (e.g., slow keystrokes, quick trills) when the hammers actually strike the strings. Like the key sensors, the hammer sensors are non-contact, so they do not impact the touch of the piano.
Yamaha U1 Dimensions & Weight:
Width 153 x Depth 62 x Height 121cm
Weight 228 Kg
Yamaha TA3 Transacoustic Silent Piano Features
Height:
1210mm
Width:
1530mm
Depth:
620mm
Weight:
228 Kg
Soft Close Lid:
Yes
Number Of Keys:
88
Number of Back Posts:
5
Pedals:
3 - Damper / Soft / Practice
Other Notable Features:
The U series sets a the standard to which others mark themselves
Used by exam boards for its consistently stable playability
Solid and reliable for year after year
Single caster wheels
Made In:
Japan
Warranty:
Acoustic Parts: 10 Years Manufacturer Warranty (Warranty is subject to product registration with manufacturer)
Delivery:
Free delivery (Ground floor, England only)
Call for other areas / upstairs
Tuning:
Free first in-home tuning & service check after delivery
Cabinet Finish:
Polished Ebony & Brass Fittings
TA3 Transacoustic Silent System Features Below
Soundbord Drive System
TransAcoustic™ technology
Key Contact
Non-contact continuous detection electromagnetic inductive sensor
Damper Pedal
Continuous detection sensor
Sostenuto Pedal
On/Off detection sensor
Soft/Shift Pedal
On/Off detection sensor
Mechanism
Hammer shank stopper operated by center pedal
Tone Generation
Yamaha CFX, Bösendorfer Imperial
Forte Piano
Yes
Binaural Sampling
Yes (Yamaha CFX, Bösendorfer Imperial)
VRM
Yes
Grand Expression Modeling
Yes
Key-off Samples
Yes
Smooth Release
Yes
Polyphony (max.)
256
Number of Voices
25
Voices for Song Playback
480 XG Voices + 12 Drum/SFX Kits
Effects
Reverb
Brilliance
Stereophonic Optimizer
Number of Preset Songs
25 Voice Demo Songs, 50 Classics
Recording
Number of Songs: 10
Number of Tracks: 2 SMF
Data Capacity(max.) approx. 500 KB/Song
Playback & Recording Format: WAV. SMF
Rhythm Patterns
20
Metronome
Yes
Tempo Range
5 – 500
Transpose
-12 – 0 – +12
Tuning
414.8 – 440.0 – 466.8 Hz (approx. 0.2 Hz increments)
Bluetooth
Yes (Audio/MIDI)
Internal Memory
approx. 1.3 MB
External Drives
USB flash drive
Connectivity
Headphones: Stereo mini jack (x2)
MIDI: IN/OUT
AUX IN: Stereo mini jack
AUX OUT: [L/L+R][R] (Standard phone jack)
USB TO DEVICE
USB TO HOST
AC Adaptor: PA-500
Auto Power Off
Yes
Included Accessories
AC adaptor*, power cord*, headphones, headphone hanger
"50 Classical Music Masterpieces" music book, Owner's Manual
Separately Sold Accessories
USB wireless LAN adaptor (UD-WL01)
Delivery & Lead Times
Delivery ETA's 
For accurate delivery information, please contact our sales team on sales@bonnersmusic.co.uk or call 01323 639335. As a guide, despatch times are detailed below.
Additional charges will be made for delivery of heavy items to some areas. Charges may also apply to upgrades including (but not limited to) timed deliveries, piano assembly, delivery of large items, and when matching deals from other retailers. If you are unsure about our delivery charges, please contact us.
In Stock Products
Products that are shown as in stock will be sent using our standard delivery service within 2 working days from when payment is received. This excludes piano deliveries with full installation - see below.
Pre-Order Products
Products which are shown as pre-order are not in stock, but can be ordered and reserved for you from the next available shipment. Order today to reserve your place in the queue! Call or email us for the latest lead times on pre-order products.
Digital Piano Deliveries:
We have many flexible delivery options for most delivery pianos, based on your location and whether you require it flat-packed, or fully assembled in your home. Digital piano delivery options are shown at checkout. 
Piano Deliveries
If you purchase a piano which is supplied with full installation, we will contact you once your order is received to arrange a convenient delivery date & time. Delivery & installation is usually within 14 days, but often sooner. Call us for current lead times on pianos.
Digital Piano Deliveries For Self-Assembly
Click here to see our specific information relating to piano deliveries.
If you choose our courier delivery/flat pack delivery method, please be aware that with larger items such as digital pianos, the courier is not contracted to carry them up any steps or stairs. If there are stairs leading to the front door of the delivery address, or you live in an apartment which is not on pavement level, it is your responsibility to arrange transportation from the pavement level to the delivery address. In this instance, the delivery driver may, at their own discretion assist you in carrying the parcels to the delivery address, but they are not contracted nor obliged to do so.
Do you need delivery upstairs, or delivery at a specific time?
For some larger items which need to be delivered upstairs - including pianos, we offer a timed delivery service using our own van and drivers. This service is free on some items and chargeable on others. Call us on 01323 639335 to discuss your specific delivery requirements.
No-one at home?
Our courier will try and deliver your parcel(s) twice. After the second failed attempt, your goods will be returned to our warehouse. If you would like us to try and deliver them again, we will charge the delivery charges associated with your order again.
Delivery Surcharges For Larger Items
For some larger items, delivery surcharges may apply to the following areas: Scotland, Wales, Channel Islands, Isle Of Wight, Cornwall, Ireland, North Of England above Leeds. Call us on 01323 639335 to check before ordering.
Spread The Cost With Finance
If you're set on buying your new instrument, there's no need to get weighed down by the total cost of it straight away. If you break it down into monthly payments over time, it's much more manageable than you might think. And our fixed interest rates mean you'll know exactly what you're paying from the start.
How it works
The finance options available are displayed on our individual product pages - just click the button under the price to see the available options for each product. Finance is available for most new and used instruments over £400.

Pay a fixed deposit, and the rest is split into monthly payments. At the end of your contract when you've made your final payment, the instrument or equipment is all yours. You could own that dream guitar, piano or keyboard sooner than you thought!

Which Finance Options Are Available?
Most products on our website show the available finance options. Some are interest free, and some are interest bearing. The options shown on the site are an example of what is available - if you would like to pay over a different period, give us a call on 01323 639335 and we'll try and arrange a finance option that suits your budget.

How To Apply For Finance
To apply for finance, please add the product to your cart, proceed through checkout and select 'Apply For Finance' as your payment option where you can complete the application form online.

The Lender
Bonners Ltd acts as a credit broker and only offers credit products from Secure Trust Bank PLC trading as V12 Retail Finance. Bonners Ltd is authorised and regulated by the Financial Conduct Authority. Our registration number is 718966. Bonners Ltd is registered in England and Wales 1994113. Registered office 34 North St, Hailsham, East Sussex BN27 1DW.

Secure Trust Bank is registered in England and Wales 541132. Registered office: One Arleston Way, Solihull, B90 4LH. Authorised by the Prudential Regulation Authority and regulated by the Financial Conduct Authority and the Prudential Regulation Authority. Registration number: 204550.
Not all products offered by Secure Trust Bank T/A V12 Retail Finance are regulated by the FCA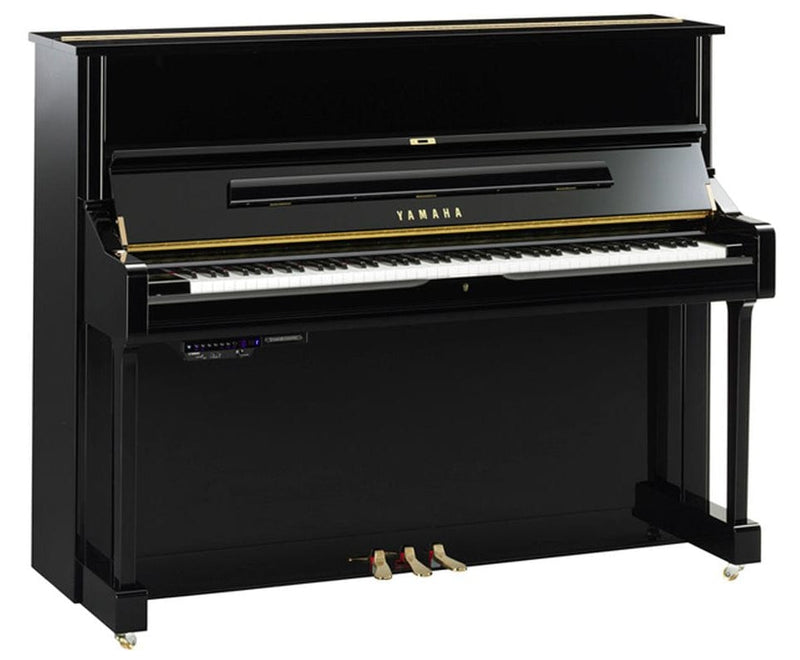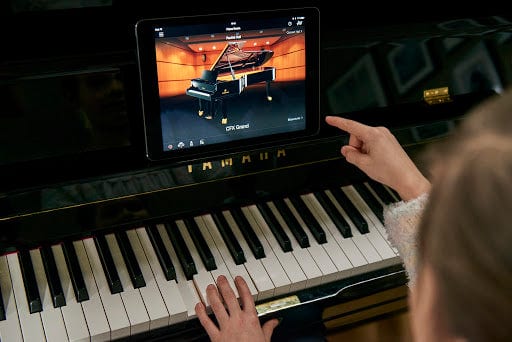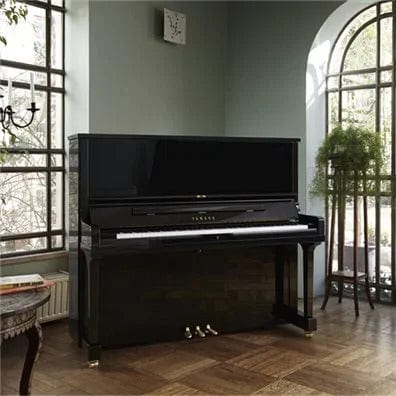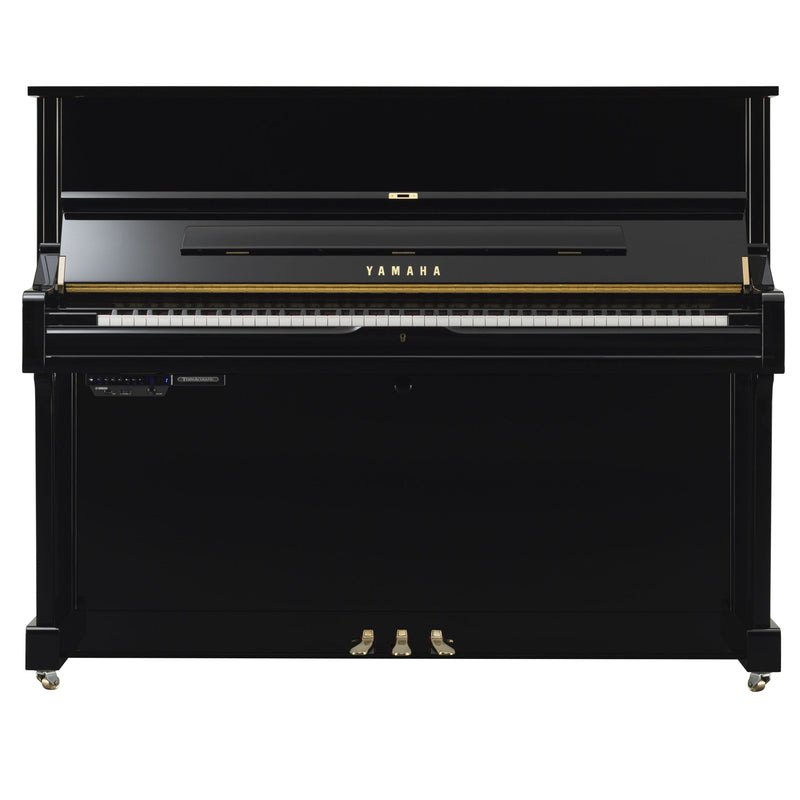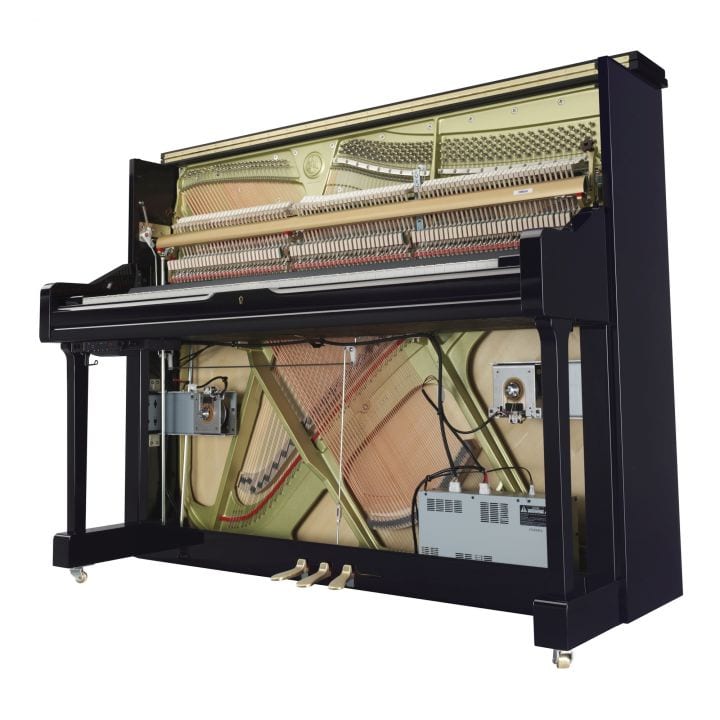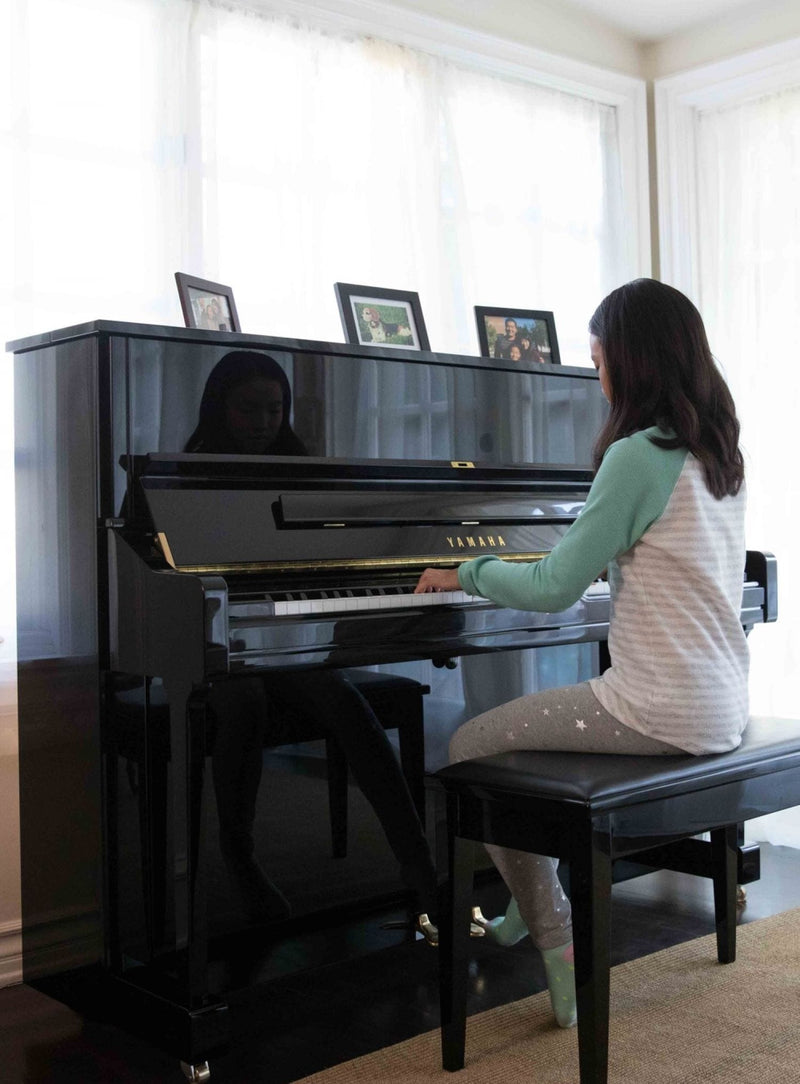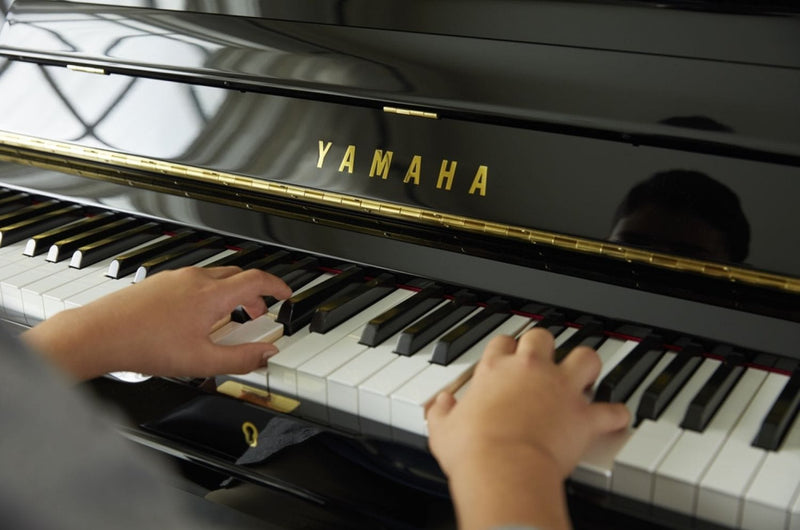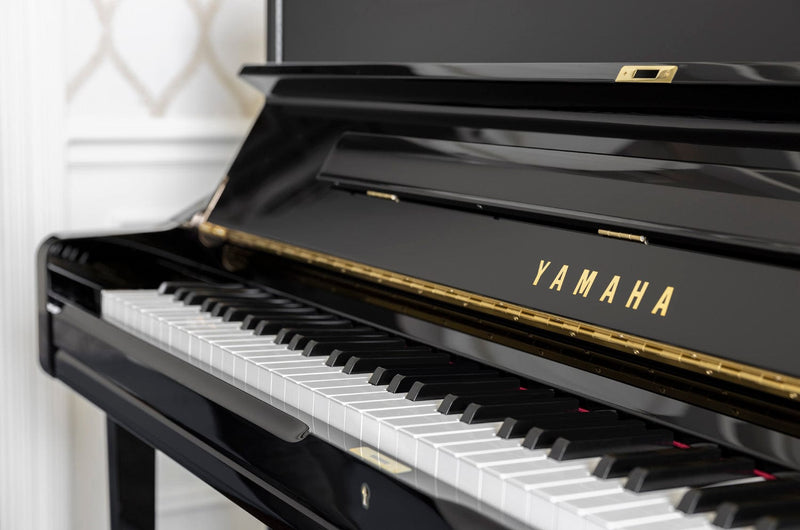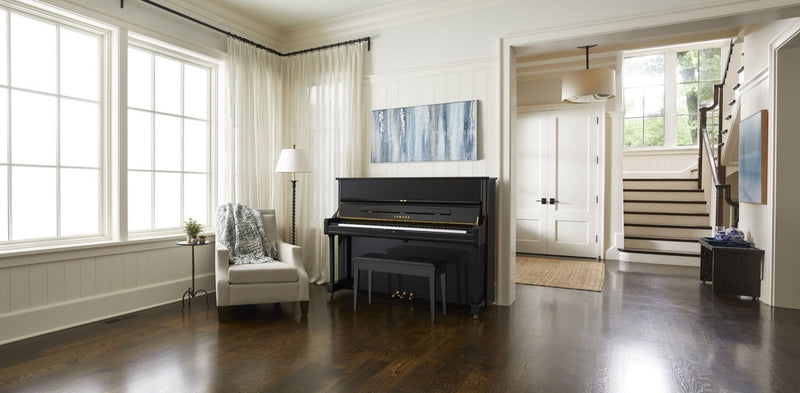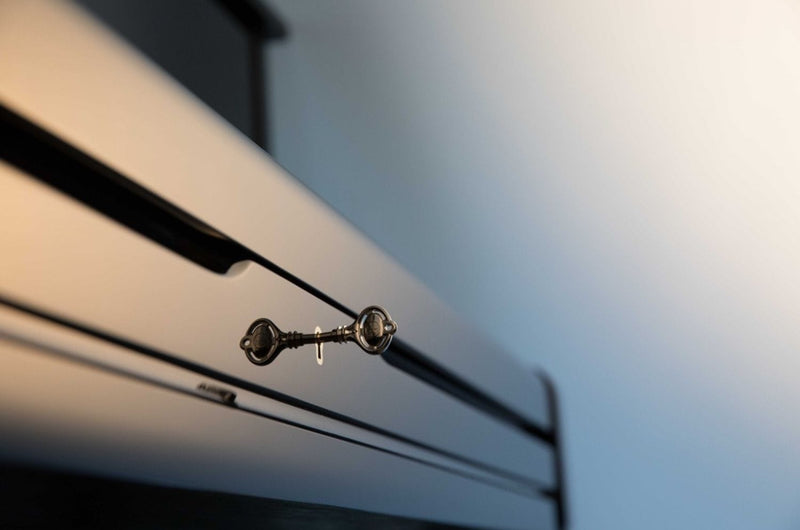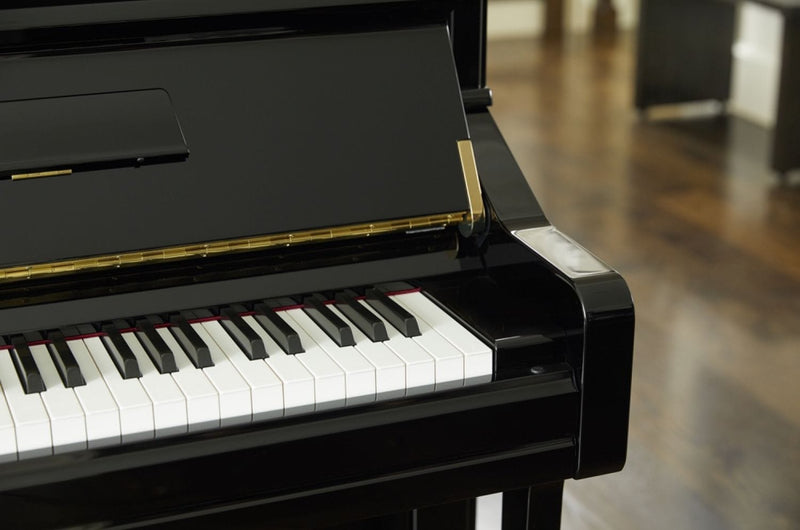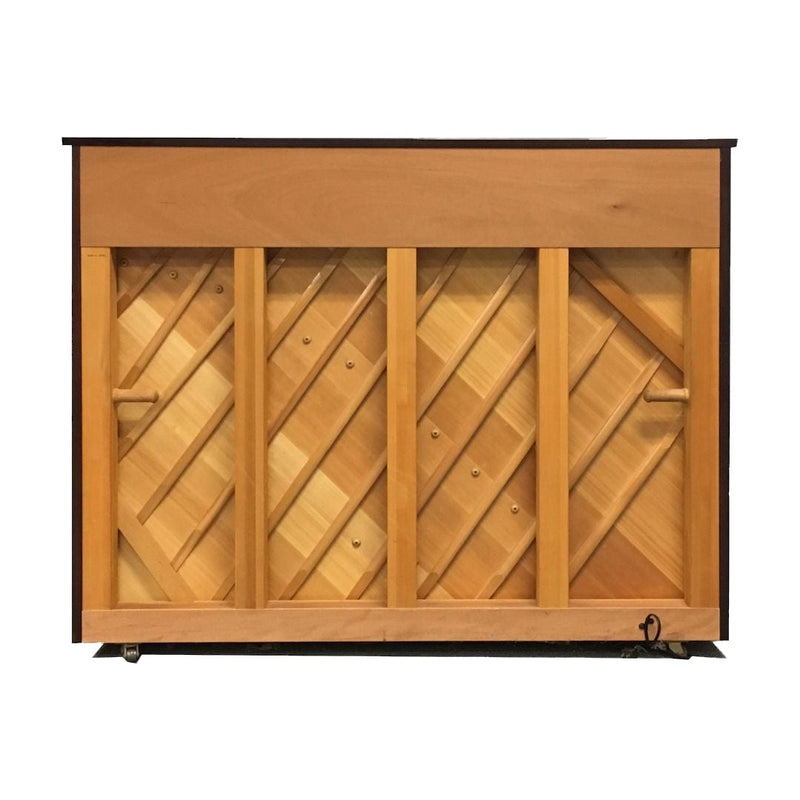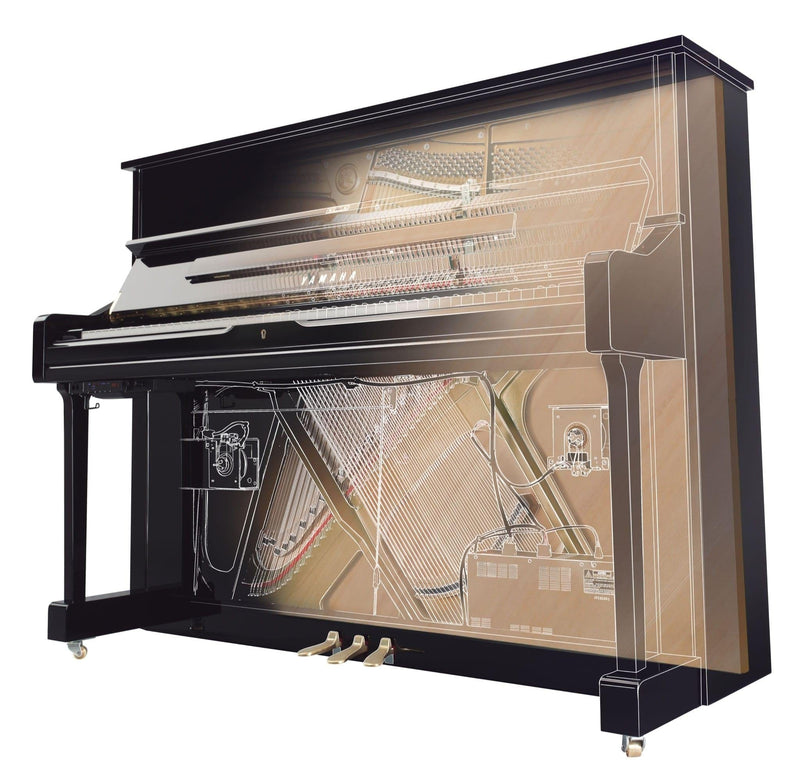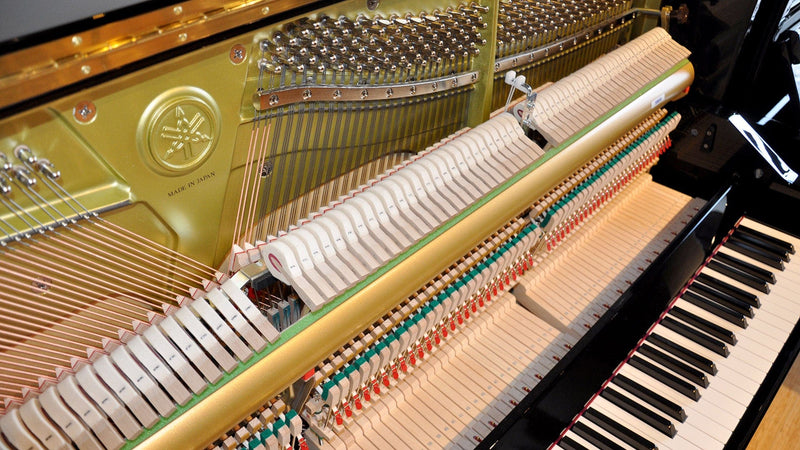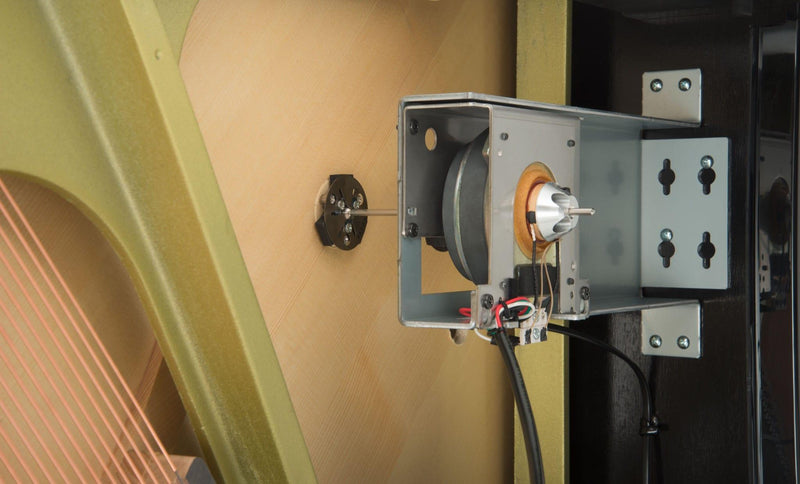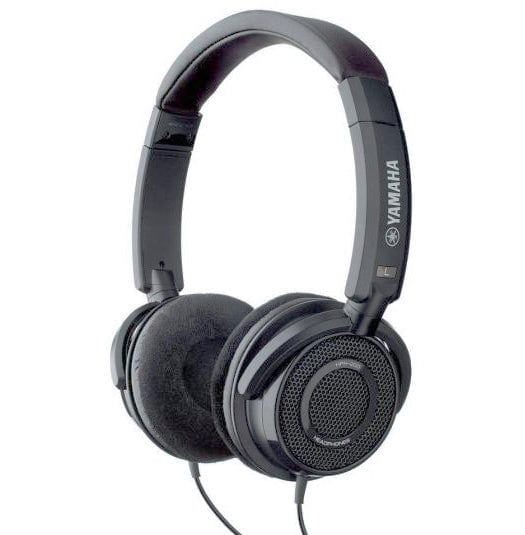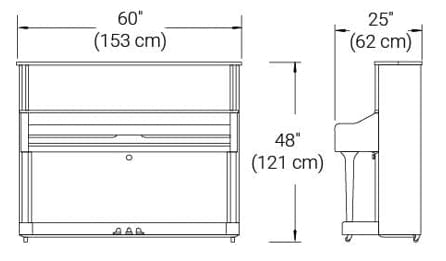 Yamaha U1 TA3 Transacoustic Upright Piano; Polished Ebony
U1TA3PE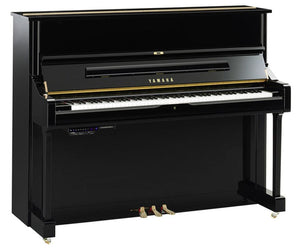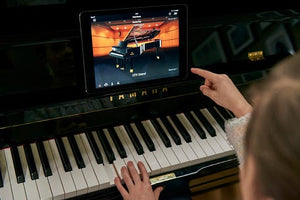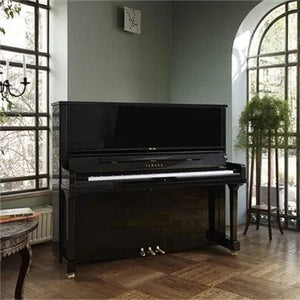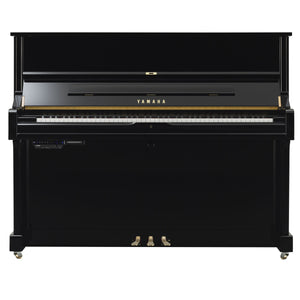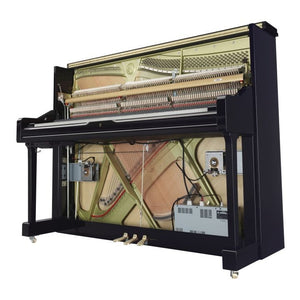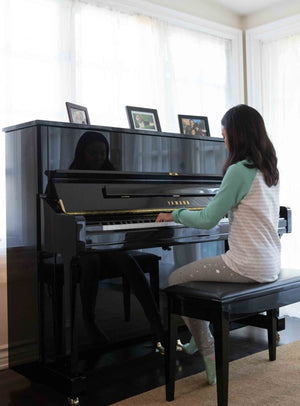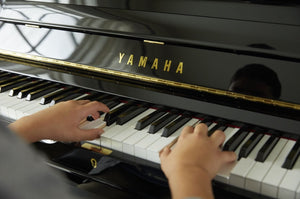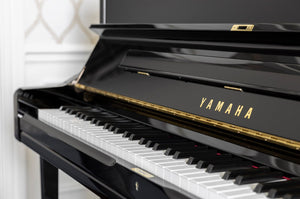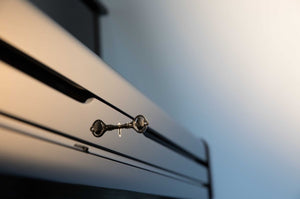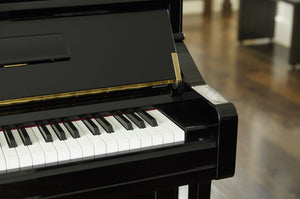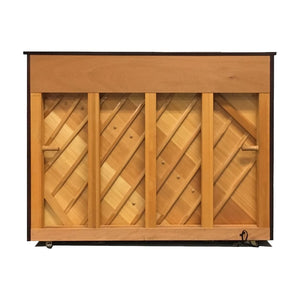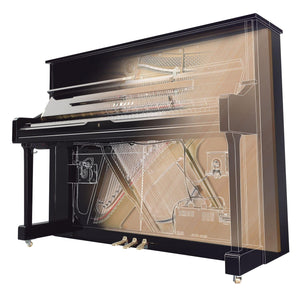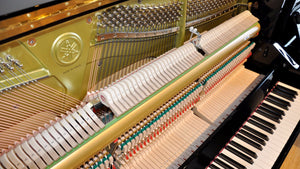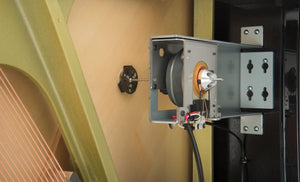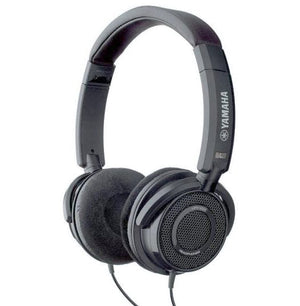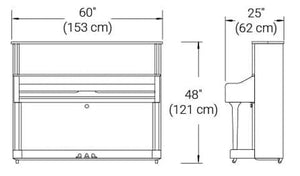 See & Try In Store
1 Ward Road
Bletchley
Milton Keynes
MK1 1JA

*Piano Cabinet Finishes Of Showroom Models May Vary
Request Price Match
We are only too happy to try and match a legitimate UK based musical instrument retailer's quote. We have been in business for over 30 years and will always do our best to be as competitive as possible.
If you have seen a product that you wish to purchase cheaper on another UK based retailer's website or shop, please call us on 01323 639335 or complete the form below. We will try and match (or beat) their quote – and still give you our award-winning service.
Alternatively, complete the form below and we'll get right back to you with our best price. Price matches are dependent upon stock availability.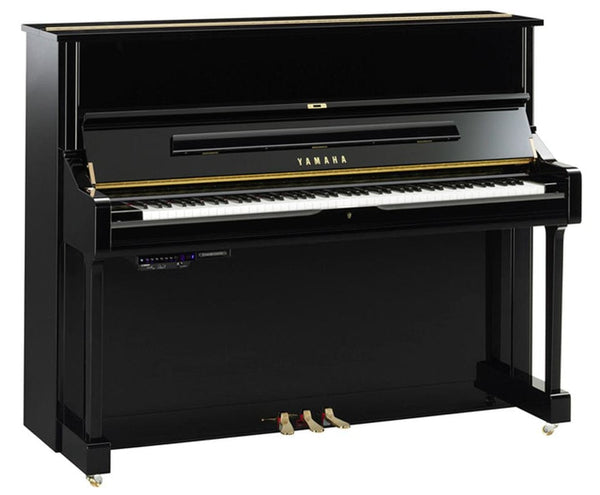 Yamaha U1 TA3 Transacoustic Upright Piano; Polished Ebony
£12,995.00